Mae West was an American actress in Hollywood in the late 1920s to 1930s. With her steamy settings and witty sayings and sexual innuendos, she was known as a sex symbol in the film industry. However, Miss West was more than that: she was a successful and witty playwright and screenwriter. She was a witty, sensual woman, and is an inspiration to women and aspiring actresses worldwide. Here we have some of the best Mae West Quotes to really get an understanding of her well-loved personality.
Mae West: The Beginning
Born as Mary Jane West in 1892 in Brooklyn, New York, Mae West was the oldest of three children and her mother's favorite. At a young age, she learned how to captivate an audience, do impersonations, and was immediately fascinated by dance and musical acts. Her mother took her to some performances, one including famous African American entertainer Bert Williams. Mae was deeply influenced by him and his art, and it was him from whom she learned the art of a good double entendre.
By age 7, Mae West was performing at local burlesque theaters. By age 14, she began dancing and performing professionally, with her mother as her manager, at the Hal Claredon Stock Company. Mae spent the next few years on the vaudeville circuit, taking on roles as an innocent girl dancing to popular songs with sexual overtones. Despite being a young girl in adult entertainment, Mae West thrived as a performer.  
Her Love Life
Sometime between 1909 and 1910, Mae West met Frank Wallace, an up-and-coming performer, who proposed marriage to her multiple times. She denied him every time, having affairs with her fellow male cast members. She finally agreed, though, and they married in secret.
Later that year, though, she got involved with another up-and-coming man named Guido Deirdo. The two of them were known to always outwardly show their desire for one another. He even asked for her hand in marriage while she was, at the same time, still married to Frank (they didn't divorce until 1920). 
Her Career
In 1918, Mae West got her big break in Sometime, and eventually, she started writing her own plays under the pen name Jane Mast. In 1926, she starred in Sex, a Broadway play that she wrote, produced, and directed. Broadway critics didn't love Sex, or it had such explicit sexual content. In fact, a year later, she was prosecuted on moral charges and spent 8 days in jail. Mae West continued to write plays over the years: Drag–a play about homosexuality–, The Wicked Age, Pleasure Man, and The Constant Sinner.
Mae West was getting noticed, with both good and bad press. It wasn't until she was 38 years old that she was offered a role in a Paramount Pictures film called Night After Night. When she was offered to star in another movie, My Little Chickadee, she agreed only if she could have complete creative control over it. She starred in several steamy films that were often critiqued as inappropriate and vulgar, but she couldn't care less about that because what she did, she did best. 
Mae West: The End
Mae West spent most of–if not all of–her life performing. Miss West was a woman of power, temptation, and sex appeal, as well as a brilliant and hardworking playwright and screenwriter. A few months before her death, she suffered from two strokes, a bad reaction to the formula doctors gave her through feeding tubes, and pneumonia. Mae died in November of 1980 at the age of 88.
To say Mae West was just a strong woman would be an understatement–she was that and so much more. She lived her life with confidence, wisdom, wit, and a love for a good and raunchy performance.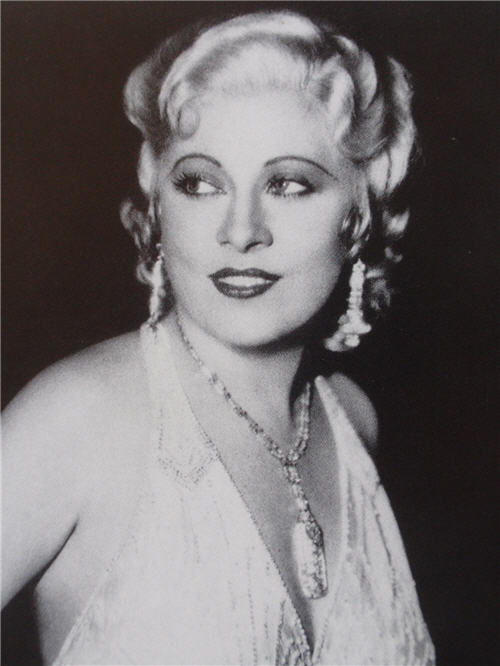 Mae West Quotes About Men
"Men are like linoleum floors. Lay 'em right, and you can walk all over them for years."
"All discarded lovers should be given a second chance, but with somebody else."
"I've been in more laps than a napkin!"
"When women go wrong, men go right after them."
"Save a boyfriend for a rainy day—and another, in case it doesn't rain."
"It's not the men in your life that matters; it's the life in your men."
"A man's kiss is his signature."
"Do not marry a man to reform him. That is what reform schools are for."
"Wow! All this meat and no potatoes!"
"I'm a good woman for a bad man."
"Never mind about the six feet. Let's talk about the seven inches."
"A hard man is good to find."
"Women like a man with a past, but they prefer a man with a present."
"Don't cry for a man who's left you–the next one may fall for your smile."
"His mother should have thrown him away and kept the stork."
"Men are my hobby; if I ever got married, I'd have to give it up."
"It's all right for a perfect stranger to kiss your hand as long as he's perfect."
"Don't keep a man guessing too long – he's sure to find the answer somewhere else." 
"I have found men who didn't know how to kiss. I've always found time to teach them."
Mae West Quotes About Sex and Love
"Sex with love is the greatest thing in life. But sex without love — that's not so bad either."
"I generally avoid temptation unless I can't resist it."
"Love conquers all things except poverty and toothache."
"Sex is like bridge; if you don't have a good partner, you'd better have a good hand."
"Marriage is like a book. The whole story takes place between the covers."
"Sex is an emotion in motion."
"Good girls go to heaven; bad girls go everywhere."
"Look your best—who said love is blind?"
"Is that a pistol in your pocket, or are you just happy to see me?"
"A dame that knows the ropes isn't likely to get tied up."
"There are no good girls gone wrong—just bad girls found out."
"Marriage is a great institution, but I'm not ready for an institution."
"Love thy neighbor — and if he happens to be tall, debonair and devastating, it will be that much easier."
"What's the good of resisting temptation? There'll always be more."
"Love isn't an emotion or an instinct – it's an art."
Mae West Quotes About Success and the Film Industry
"Right now, I think censorship is necessary; the things they're doing and saying in films right now just shouldn't be allowed. There's no dignity anymore, and I think that's very important."
"It's hard to be funny when you have to be clean."
"The score never interested me, only the game."
"I saw what a mess a lot of people could make of their lives when they're smitten. Some of them go temporarily insane. They find a person who they think holds the key to their happiness-the only key to their happiness… My work has always been my greatest happiness."
"She's the kind of girl who climbed the ladder of success wrong by wrong."
"Personality is the glitter that sends your little gleam across the footlights and the orchestra pit into that big black space where the audience is."
"Opportunity knocks for every man, but you have to give a woman a ring."
"No one can have everything, so you have to try for what you want most."
"I've been rich, and I've been poor, and rich is better."
Mae West Quotes About Herself and Women
"Ladies who play with fire must remember that smoke gets in their eyes."
"Women with pasts interest men because they hope history will repeat itself."
"I speak two languages, Body and English."
"When I'm good, I'm very, very good, but when I'm bad, I'm better."
"I'm a woman of very few words, but lots of action."
"A woman in love can't be reasonable—or she probably wouldn't be in love."
"The curve is more powerful than the sword."
"I never loved another person the way I loved myself."
"It isn't what I do, but how I do it. It isn't what I say, but how I say it, and how I look when I do it and say it."
"I didn't discover curves; I only uncovered them."
Other Quotes by Mae West
"I'll try anything once, twice if I like it, three times to make sure."
"I never said it would be easy; I only said it would be worth it.'"
"Too much of a good thing can be wonderful!"
"I'm no model lady. A model's just an imitation of the real thing."
"He who hesitates is a damned fool."
"We're intellectual opposites. Well, I'm intellectual, and you're opposite."
"Between two evils, I always pick the one I never tried before."
"Positive thoughts generate positive feelings and attract positive life experiences. You only live once, but if you do it right, once is enough."
"I never worry about diets. The only carrots that interest me are the number you get in a diamond."
"I used to be Snow White but I drifted."
–
Here is a compilation of some of the best performances done by Miss Mae West, where most of these quotes came from:
Or, listen to Mae West sing "A Guy What Takes His Time" from 1933.
For further reading, here are some plays by and starring Mae West, where you will find some of these infamous quotes: 
Goodness Had Nothing To Do With It
Three Plays By Mae West: Sex / The Drag / The Pleasure Man
She Always Knew How: Mae West, A Personal Biography
–
More Quotes: