The German language isn't known for being wistful or flimsy. In fact, it's quite the opposite — German is a strong language, so it's no surprise that their names are, too. It's taken centuries for German names to develop into what they are today with each last name meaning something unique. With this list of German last names, discover the origin of your surname and how your ancestors made it come to life.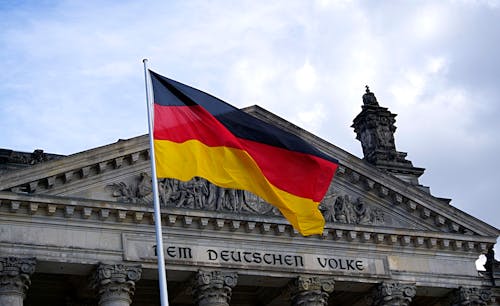 History of German Names
When names first came about in German history, people tended to only have one name. Within that name held two syllables which both held distinct meanings. Names that were comprised of syllables with the same meanings were trying to emphasize a feature that was important to the family. For example, if a man was a master swordsman, his name might be "schwerdecke", with "schwerd" and "ecke" both meaning "sword".
Surname Root Endings
Early on, root endings became an important aspect of the name as well. They worked as a means of classifying who the two syllables belonged to.
Suffix "er" or "ert": meant farmer or "doer" of a certain profession e.g. "Rothenberger" means "farmer at red mountain" or "Becker" means "baker".
Suffix "en": means "at" the terrain represented in the root word.
Suffix "ing": means "belonging to" e.g. "Kuenning" is "belonging to the brave (clan of warriors)".
Suffix "ingen": represented a person's roots e.g. the village "Sulingen" in northern Germany meant it was home to the "Sul" people.
Suffix "sen": means "son of".
Root Words of German Surnames
The root words that formed German names often stemmed from four categories that were flushed out over time. The four categories include military-related names, terrain-related names, names related to profession, and names related to personal characteristics.
Military-Related Names
Names related to the military are the oldest German names in existence. Germany had a very strong army and oftentimes people were named after various weaponry or militaristic words such as "Gund" for "battle".
Terrain-Related Names and Names Related to Profession
When the German population continued to grow, there became a need to diversify names as well as professions. Many became farmers, thus the terrain-related names, while others became fishermen, millers, smiths, etc., thus the names representing professions. In fact, farming in North Germany grew to be a popular profession. Despite the land being riddle with swamps, many Germans became experts at turning the swamp into flourishing farms. Names were derived from words representing landmarks that surrounded the farm each person had. For example, "Bergman" was "mountain dweller", "Riethman" referred to a farmer near a reedy site, and so on. In a similar fashion, people with other professions were named accordingly such as "Schmidt" for a smith or "Müller" for a miller and so on.
Names Relating to Personal Characteristics
With the ever-growing population, names continued to evolve. Germans needed a way to distinguish the difference between people in their towns that had similar names. Therefore, many were named things based on physical characteristics, nicknames, or religions. Some even had their names split into a first name and a last name. For example, if there were multiple Johanns living in the same area, Johann Eichner would be the one living by the oaks, Johann Bruecker would be the one by the bridge, and so on.
In the early 700s A.D., Germany was Christianized influencing names slowly. By the mid-1500s the Roman Catholic Church began requiring parents to name their newborn after a saint. Once the child had its holy name, the parent could provide them with whatever given name they chose. This is how the tradition of having a first name, middle name, and last name, began.
Knowing the history of how German names began, let's get into some of the most popular and common German names in history.
'A' German Surnames
Abel
Aber
Achen
Ackert
Adelberg
Ahlgrim
Aller
Altenberg
Altmann
Ames
Anders
Angert
Anschuetz
Appel
Asch
Ascher
Aulbach
Austen
'B' German Surnames
Babler
Bach
Bachmann
Bahler
Bahn
Ballmann
Balsinger
Bank
Banner
Bartel
Bauch
Bauer
Baum
Bayer
Beck
Beemer
Behringer
Bellinger
Belser
Berg
Berger
Bernd
Bernstein
Bertels
Bertram
Bickel
Bieber
Biehl
Biel
Birk
Blackert
Blaschko
Blatt
Bliss
Blum
Blumberg
Bluth
Boeder
Bohnert
Bohr
Bose
Brahm
Brandt
Brecker
Brenner
Brickle
Buck
Buller
Burger
Burr
Buseman
Butz
'C' German Surnames
Clemens
Cruse
'D' German Surnames
Dahm
Danner
Debus
Decker
Degler
Deichert
Dell
Denhart
Denning
Denzel
Deutsch
Dewitz
Dick
Dickmann
Dieleman
Dieter
Dinkelman
Dittmann
Doppler
Dorfman
Dorner
Dreiling
Duell
'E' German Surnames
Eben
Eberhhardt
Eckard
Eckelman
Edinger
Egle
Eichmann
Eidman
Eiker
Eisenberg
Eisenhauer
Eleazer
Elfman
Elm
Emmerich
Endorf
Engel
Erler
Esther
Eulberg
Eyer
'F' German Surnames
Fackler
Fahrer
Falkner
Fassbender
Faust
Federer
Fehler
Feldmann
Fey
Fickle
Fieber
Fink
Finkel
Fitz
Florman
Frankenstein
Frei
Friedemann
Fritz
Fuhr
Funke
'G' German Surnames
Gabel
Gebhardt
Gehr
Geiss
Geller
Gerner
Gerwig
Giebler
Ginger
Glaser
Glassmann
Goethe
Gossmann
Goth
Grande
Greber
Gressler
Grimm
Grimmer
Grof
Grund
Gunderman
'H' German Surnames
Haag
Haber
Hader
Hager
Hahn
Halberg
Haling
Hammerstein
Handler
Hansel
Hardt
Hardwick
Harling
Hasselbach
Haubert
Heffner
Heimlich
Heinkel
Helberg
Heller
Helsing
Hemp
Hendler
Henke
Hensel
Herber
Hertz
Hiegel
Hilde
Hilger
Himmel
Hoch
Hoffman
Hoffner
Hogg
Hopper
Hoss
Hummel
Hurst
'I' German Surnames
Ingman
Isaak
'J' German Surnames
Jackels
Jaeger
Jager
Janowitz
Jenner
Johannes
Judd
'K' German Surnames
Kafer
Kahl
Kalbach
Kant
Kaplan
Katz
Kaufmann
Kegel
Kehr
Kemper
Kiehl
Kimmel
Klamm
Klauss
Kleinfield
Kleinmann
Klopp
Kloss
Knapp
Koback
Koepf
Kohl
Konrad
Kopp
Kostner
Krall
Kramer
Kroll
Kroner
Krueger
Kuehler
Kupper
'L' German Surnames
Lachmann
Landt
Last
Lauer
Lehr
Lemmer
Lichtenberg
Liebe
Lillich
Linde
Lindt
Lockert
Loeb
Loewe
Lottman
Lowitz
Ludwig
Lukas
Lux
'M' German Surnames
Mahler
Majer
Mandel
Markus
Mauer
Mayer
Mechler
Mehr
Merkel
Messer
Metz
Moretz
Muehl
Muller
'N' German Last Names
Nacht
Naser
Neider
Nessel
Neuer
Neumann
Nickol
Nimz
Nix
Norder
'O' German Family Names
Oberhaus
Oberlin
Ockert
Odenwald
Offen
Osen
Ostermeyer
Ostwald
'P' German Family Names
Pahl
Palmer
Paxman
Peifer
Perleberg
Pfeiffer
Picker
Pier
Pine
Pittman
Plath
Platt
Pohl
Polk
Posner
Prather
Printz
'R' German Family Names
Radke
Rahman
Rand
Ranger
Rasner
Rath
Redmann
Reinhart
Rembold
Reuter
Rigler
Ringer
Ringwald
Rinkel
Ritter
Rockefeller
Rodebaugh
Roemer
Rosenbach
Roth
Rothschild
Ruben
Rucker
Rummel
'S' German Last Name
Sachs
Salzberg
Schaeffer
Scheffer
Schlei
Schmidt
Scholl
Schweiger
Schwimmer
Seifried
Seiss
Seltzer
Seyfried
Siegel
Simson
Sonderman
Spader
Spangler
Spielmann
Spier
Stahler
Stark
Stein
Sterling
Steuber
Stiller
Strick
Stueber
Suess
'T' German Family Name
Tannanbaum
Tinsman
Traeger
Tripp
Trump
'U' German Last Name
Uber
Uehling
Uhl
Ulrich
Ungerer
'V' German Last Name
Vasel
Visel
Voelker
Vogel
Von Berg
Von Stein
Voss
'W' German Family Name
Wack
Wagler
Walberg
Wall
Weigel
Weimer
Wein
Weisel
Weiser
Weiss
Weltman
Wendle
Werth
Wertz
Wicker
Wieber
Wiese
Wilhelms
Winkel
Wisser
Wurst
'X' German Last Name
Xander
'Z' German Family Name
Zachmann
Zaske
Zeiger
Zeller
Zimmermann
Zuckerman