Muhammad Ali was an American professional boxer, best known as "The Greatest." He is a World Heavyweight Champion and an inspiration to many. Here are some motivational and inspiring Muhammad Ali quotes to show what kind of hardworking fighter he was:
His Fighting Career
World Heavyweight Champion, Cassius Marcellus Clay Jr., better known as Muhammad Ali, was born on January 17th, 1942, in Louisville, Kentucky. Ali's passion for boxing was sparked at the age of 12.
After his bicycle was stolen, he reported it to Officer Joe Martin, saying he would "pummel the criminal." Martin, who was also a boxing trainer, took Ali under his wing. He told him that first, he needed to learn how to fight before pummeling them. Within six weeks, Muhammad Ali had won his first bout in a split decision. By the time he was 18 years old, he had two Golden Glove titles, two amateur athletic union titles, and 100 victories with only 8 losses.
It was no exaggeration that Ali soared within the ring. After graduating from high school, he traveled to Rome for the 1960 Summer Olympics and won the light heavyweight gold medal. His striking talent got him scooped up by the professionals immediately. On October 29th, 1960, Ali fought his first professional match and won. This is when his boxing career began.
After winning 19 fights, with 15 being knockouts, he scored his first title shot against reigning heavyweight champion Sonny Liston. Ali won the heavyweight championship and went on to defend his title 8 more times. After his first title win, Ali confirmed that he was converting to Islam. Elijah Muhammad, the Nation of Islam leader, had bestowed him with his famous name, Muhammad Ali.
Ali's refusal to be drafted and serve in the Vietnam War caused major difficulties for his career. He faced a potential prison sentence, major backlash from his fan base, and the stripping of his boxing license and heavyweight title. However, Ali stood by his reasoning, and as more opposition grew for the war, his license was reinstated. In 1971 the battle to restore his heavyweight title began.
Despite his loss in the title fight against Joe Frazier, Ali kept at his training. Seven years later, he won the title fight at the "Rumble in the Jungle" fight against George Foreman. He continued his legacy as the greatest boxer, defending his title ten times. He lost it once, but then won again in 1978. This marked him a world champion as he became the first boxer in the world to win the Heavyweight Championship title three times.
The End of the Legend
In 1981 at the age of 39, boxing legend Muhammad Ali finally decided to retire. During this time, he had an incredible record of 56 wins (37 being knockouts) and 5 losses under his belt. A few years later, in 1984, Ali was diagnosed with Parkinson's syndrome, which led to a severe decline in his motor functions. Despite his disease, he continued to live a full life, inspiring people worldwide with his humanitarian work.
Throughout his life, he had been married four times and altogether had seven daughters and two sons. At the age of 1974, on June 3rd, 2006, Muhammad Ali passed away. He left behind a legacy of determination and generosity to be noted for years to come. Enjoy the greatest quotes from the boxing legend Muhammad Ali below.
Muhammad Ali's Many Accomplishments:
In his later years, legendary boxer, Muhammad Ali, accomplished a multitude of prestigious accolades that include but are not limited to:
Inducted into the Hall of Fame (1990)
Lit the Olympic Cauldron in Atlanta's Summer Olympics (1996)

BET Humanitarian Award (2002)

Worked as the United Nation's Messenger of Peace in Afghanistan (2002)

Presidential Medal of Freedom (2005)

The Muhammad Ali Center (a nonprofit museum and cultural center) was Established in Louisville (2005)

NAACP Image Award, Presidents Award (2009)

Named " of the Year" in Ring Magazine 5 Times

Starred on the Cover of Sports Illustrated 38 times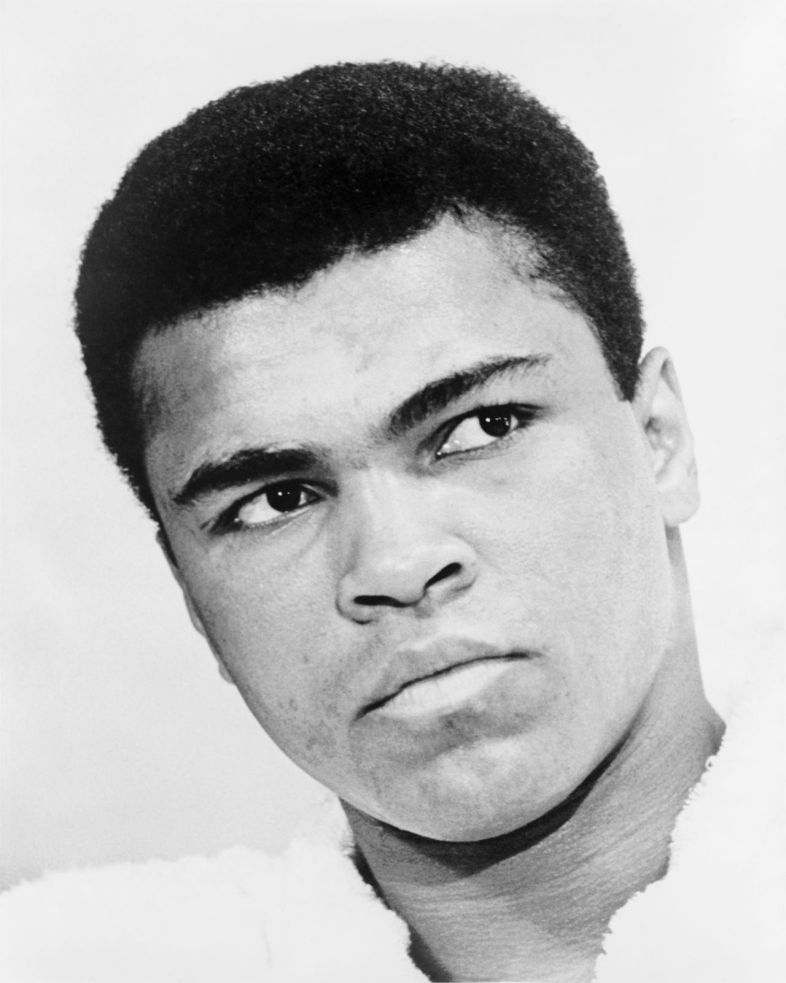 Muhammad Ali Quotes on Life
"A man who views the world at 50 as he did at 20 has wasted 30 years of his life." -Muhammad Ali
"Old age is just a record of one's whole life." -Muhammad Ali
"We spend more time learning how to make a living than we do learning how to make a life." -Muhammad Ali
"All through my life, I have been tested. My will has been tested; my courage has been tested; my strength has been tested. Now my patience and endurance are being tested." -Muhammad Ali
"I've made my share of mistakes along the way, but if I have changed even one life for the better, I haven't lived in vain." -Muhammad Ali
"Life is so, so short. Bible says it's like a vapor." -Muhammad Ali
"Don't count the days; make the days count." -Muhammad Ali
"You are as old as you think you are." -Muhammad Ali
"Live every day as if it were your last because someday you're going to be right." -Muhammad Ali
"Each time I thought I had achieved my 'life's purpose,' I discovered it was only another step in my journey." -Muhammad Ali
"I wish people would love everybody else the way they love me. It would be a better world." -Muhammad Ali
"I know where I'm going, and I know the truth, and I don't have to be what you want me to be. I'm free to be what I want." -Muhammad Ali
"The greatest victory in life is to rise above the material things that we once valued most." -Muhammad Ali
Powerful Muhammad Ali Quotes
"Silence is golden when you can't think of a good answer." -Muhammad Ali
"At home, I am a nice guy: but I don't want the world to know. Humble people, I've found, don't get very far." -Muhammad Ali
"I never thought of losing, but now that it's happened, the only thing is to do it right. That's my obligation to all the people who believe in me. We all have to take defeats in life." -Muhammad Ali
"Wisdom is knowing when you can't be wise." -Muhammad Ali
"My way of joking is, to tell the truth. That's the funniest joke in the world." -Muhammad Ali
"I had always been the one who picked up all the stragglers and stray followers." -Muhammad Ali
"It's the repetition of affirmations that leads to belief. And once that belief becomes a deep conviction, things begin to happen." -Muhammad Ali
"Float like a butterfly, sting like a bee." -Muhammad Ali
"Don't quit. Suffer now and live the rest of your life as a champion." -Muhammad Ali
"It isn't the mountains ahead to climb that wear you out; it's the pebble in your shoe." -Muhammad Ali
"Give up what appears to be doubtful for what is certain. Truth brings peace of mind, and deception doubt." -Muhammad Ali
"To be able to give away riches is mandatory if you wish to possess them. This is the only way that you will be truly rich." -Muhammad Ali
"If my mind can conceive it, and my heart can believe it — then I can achieve it." -Muhammad Ali
"What you're thinking is what you're becoming." -Muhammad Ali
"Others may know pleasure, but pleasure is not happiness. It has no more importance than a shadow following a man." -Muhammad Ali
Muhammad Ali Quotes on Growth, Hard Work, and Courage
"Only a man who knows what it is like to be defeated can reach down to the bottom of his soul and come up with the extra ounce of power it takes to win when the match is even." -Muhammad Ali
"I am an ordinary man who worked hard to develop the talent I was given. I believed in myself, and I believe in the goodness of others." -Muhammad Ali
"I've never let anyone talk me into not believing in myself." -Muhammad Ali
"It's a lack of faith that makes people afraid of meeting challenges, and I believed in myself." -Muhammad Ali
"I don't count the sit-ups. I only start counting when it starts hurting because they're the only ones that count. That's what makes you a champion." -Muhammad Ali
"We can't be brave without fear." -Muhammad Ali
"If your dreams don't scare you, they aren't big enough." -Muhammad Ali
"A man who has no imagination has no wings." -Muhammad Ali
"Impossible is just a big word thrown around by small men who find it easier to live in the world they've been given than to explore the power they have to change it. Impossible is not a fact. It's an opinion. Impossible is not a declaration. It's a dare. Impossible is potential. Impossible is temporary. Impossible is nothing." -Muhammad Ali
"He who is not courageous enough to take risks will accomplish nothing in life." -Muhammad Ali
"No one starts out on top. You have to work your way up." -Muhammad Ali
"The best way to make your dreams come true is to wake up." -Muhammad Ali
"Put yourself out on a limb, like me!" -Muhammad Ali
"Life is a gamble. You can get hurt, but people die in plane crashes, lose their arms and legs in car accidents; people die every day. Same with fighters: some die, some get hurt, some go on. You just don't let yourself believe it will happen to you." -Muhammad Ali
"The critics only made me work harder." -Muhammad Ali
Muhammad Ali Quotes on Winning
"Champions are made from something they have deep inside them— a desire, a dream, a vision. They have to have the skill and the will. But the will must be stronger than the skill." -Muhammad Ali
"To be a great champion, you must believe you are the best. If not, pretend you are." -Muhammad Ali
"I would like to be remembered as a man who won the heavyweight title three times. Who was humorous and who treated everyone right. As a man who never looked down on those who looked up to him and who helped as many people as he could. As a man who stood up for his beliefs no matter what. As a man who tried to unite all humankind through faith and love. And if all that's too much, then I guess I'd settle for being remembered only as a great boxer who became a leader and a champion of his people. And I wouldn't even mind if folks forgot how pretty I was." -Muhammad Ali
"Champions aren't made in gyms. Champions are made from something they have deep inside them— a desire, a dream, a vision. They have to have last-minute stamina; they have to be a little faster; they have to have the skill and the will. But the will must be stronger than the skill." -Muhammad Ali
"To be a great champion, you must believe you are the best. If not, pretend you are." -Muhammad Ali
Muhammad Ali Quotes on Boxing and Becoming a Sensational Fighter
"I am the greatest. I said that even before I knew I was. I figured that if I said it enough, I would convince the world that I really was the greatest." -Muhammad Ali
"My principles are more important than the money or my title." -Muhammad Ali
"I should be a postage stamp. That's the only way I'll ever get licked." -Muhammad Ali
"My toughest fight was with my first wife." -Muhammad Ali
"When I won the Golden Gloves in 1960, that made me realize I had a chance. And when I won at the Olympics, that sealed it: I was the champ." -Muhammad Ali
"If you even dream of beating me, you'd better wake up and apologize." -Muhammad Ali
"There are no pleasures in a fight, but some of my fights have been a pleasure to win." -Muhammad Ali
"I do everything to make the fight come out my way, but if I'm defeated, I have to get up and come back again, no matter how humiliating the loss." -Muhammad Ali
"It's just a job. Grass grows, birds fly, waves pound the sand. I beat people up." -Muhammad Ali
"What keeps me going is goals." -Muhammad Ali
"Truly great people in history never wanted to be great for themselves. All they wanted was the chance to do good for others and be close to God." -Muhammad Ali
"People don't realize what they had till it's gone. Like President Kennedy, there was no one like him, the Beatles, and my man Elvis Presley. I was the Elvis of boxing." -Muhammad Ali
"Too many easy victories can ruin a fighter just as much as a long line of defeats." -Muhammad Ali
"I know no fighter can survive the loss if he feels sorry for himself when he's defeated." -Muhammad Ali
"When you can whip any man in the world, you never know peace." -Muhammad Ali
"His hands can't hit what his eyes can't see." -Muhammad Ali
"It's in my blood to be around people while I was training." -Muhammad Ali
"I don't care how small the ring is; I'll fight that chump in a telephone booth." -Muhammad Ali
"When you want to talk about who made me, you talk to me. Who made me is me." -Muhammad Ali
"The fight is won or lost far away from the witnesses, behind the lines, in the gym, and out there on the road; long before I dance under those lights." -Muhammad Ali
"It's hard to be humble when you're as great as I am." -Muhammad Ali
"It's funny, but those who hate me the most sometimes inspire me the most." -Muhammad Ali
"It takes pride and tiger's drive to build up the confidence, the ego, the power to defeat an opponent in the ring." -Muhammad Ali
"Now you see me; now you don't." -Muhammad Ali
"I know I can learn to hit without getting hit." -Muhammad Ali
"Not only do I knock 'em out, I pick the round." -Muhammad Ali
"I am the astronaut of boxing. Joe Louis and Dempsey were just jet pilots. I'm in a world of my own." -Muhammad Ali
"I'm so fast that last night I turned off the light switch in my hotel room and was in bed before the room was dark." -Muhammad Ali
"You don't have to be in a boxing ring to be a great fighter. As long as you are true to yourself, you will succeed in your fight for that in which you believe." -Muhammad Ali
"No one knows what to say in the loser's locker room." -Muhammad Ali
"Inside a ring or out, ain't nothing wrong with going down. It's staying down that's wrong." -Muhammad Ali
"If you lose a big fight, it will worry you all of your life. It will plague you— until you get your revenge." -Muhammad Ali
"I learn to put my head within hitting range, force my opponent to throw blows, then learn back and away." -Muhammad Ali
"I believe in the 'an eye-for-an-eye' business. I'm no cheek turner." -Muhammad Ali
"I have never heard anything that affected me like those words: 'Heavyweight Champion of the World.'" -Muhammad Ali
"I may have been the best fighter, but I was also the poorest. I had never been able to afford a first-class mouthpiece to protect my teeth. I had to wait until other fighters finished, so I could borrow their headgear, or their trunk or bandages." -Muhammad Ali
Muhammad Ali Quotes on Race, Prejudice, and Politics
"All I can do is fight for truth and justice. I can't save anybody. He's a science fiction character, and I'm a real character." -Muhammad Ali
"I am a Muslim, and there is nothing Islamic about killing innocent people in Paris, San Bernardino, or anywhere else in the world." -Muhammad Ali
"Boxing is a lot of white men watching two black men beat each other up." -Muhammad Ali
"I know I got it made while the masses of black people are catchin' hell, but as long as they ain't free, I ain't free." -Muhammad Ali
"You lose nothing when fighting for a cause." -Muhammad Ali
"I am America. I am the part you won't recognize. But get used to me. Black, confident, cocky; my name, not yours; my religion, not yours; my goals, my own; get used to me." -Muhammad Ali
"Think well of all, be patient with all, and try to find the good in all." -Muhammad Ali
"There are more pleasant things to do than beat up people." -Muhammad Ali
"Hating people because of their color is wrong. And it doesn't matter which color does the hating. It's just plain wrong." -Muhammad Ali
"I don't trust anyone who's nice to me but rude to the waiter. Because they would treat me the same way if I were in that position." -Muhammad Ali
"Wars of nations are fought to change maps. But wars of poverty are fought to map change." -Muhammad Ali
Best Quotes from His Rhymes and Speeches
"I've wrestled with alligators / I've tussled with a whale / I done handcuffed lightning / And throw thunder in jail. / Only last week, I murdered a rock / I injured a stone / hospitalized a brick / I'm so mean I make medicine sick."
"This is the legend of Cassius Clay, / The most beautiful fighter in the world today. / He talks a great deal, and brags indeed-y, / of a muscular punch that's incredibly speed-y. / The fistic world was dull and weary, / But with a champ like Liston, things had to be dreary. / Then someone with color and someone with dash, / Brought fight fans are runnin' with Cash. / This brash young boxer is something to see / And the heavyweight championship is his des-tin-y. / This kid fights great; he's got speed and endurance, / But if you sign to fight him, increase your insurance. / This kid's got a left; this kid's got a right, / If he hit you once, you're asleep for the night. / And as you lie on the floor while the ref counts ten, / You'll pray that you won't have to fight me again. / For I am the man this poem's about, / The next champ of the world, there isn't a doubt. / This I predict, and I know the score, / I'll be champ of the world in '64. / When I say three, they'll go in the third, / 10 months ago / So don't bet against me, I'm a man of my word. / He is the greatest! Yes! / I am the man this poem's about, / I'll be champ of the world, there isn't a doubt. / Here I predict Mr. Liston's dismemberment, / I'll hit him so hard; he'll wonder where October and November went. / When I say two, there's never a third, / Standin' against me is completely absurd. / When Cassius says a mouse can outrun a horse,/ Don't ask how; put your money where your mouse is! / I am the greatest!" -Muhammad Ali's Poem, "I Am the Greatest"
Muhammad Ali Quotes on Love and Friendship
"Friendship is the hardest thing in the world to explain. It's not something you learn in school. But if you haven't learned the meaning of friendship, you really haven't learned anything." -Muhammad Ali
"Friendship is a priceless gift that cannot be bought nor sold, but its value is far greater than a mountain made of gold." -Muhammad Ali
"When we devote all of our actions to a spiritual goal, everything that we do becomes a prayer." -Muhammad Ali
"Service to others is the rent you pay for your room here on earth." -Muhammad Ali
"My wealth is in my knowledge of self, love, and spirituality." -Muhammad Ali
"When it comes to love, compassion, and other feelings of the heart, I am rich." -Muhammad Ali
–
More Quotes: