When a close friend or loved one has a birthday around the corner, one of the hardest things to decide is how to give them a unique 'happy birthday' message. A birthday wish signifies happiness, celebration, and gratitude for a good friend all rolled into one and is given on a friend's birthday: in many ways; through a birthday card, a gift of some sort, a party, etc. When struggling to find a way to wish a lovely friend a fantastic birthday, read through the happy birthday quotes below to gain inspiration! These happy birthday quotes can be used in so many different ways but all with the same intent of wishing a dear friend a wonderful day.
How to Use These Happy Birthday Quotes
Message Inspiration: These

are perfect for using as the starting line in a

. Pick out a beautiful blank card from the store, begin the

with a sweet quote, and then top it off with a personal note for an

.

Card Inspiration: Another way to channel inspiration from these

is by making a personalized

for that

's

. Print out one of the

and use it as artwork for the front or purchase some stamps, stickers, etc. and get creative with the design. Finish it off with a meaningful quote on the inside and a personal note any

would adore and cherish forever.

Decor: For some, it doesn't feel like a

without a fun

. Whether it's a small get together with friends and family or a big blowout, use these

as inspiration for a cute banner or set of balloons! There's no better way to say '

' than a sweet gathering of people they

with some original decorations.

 Picking up the cake for the party or surprising a

with a sweet treat on their

? Skip the normal '

' inscription and go for something special like one of these

great

! When they blow out their

this year, a

will already be granted with this meaningful cake and the company of their thoughtful

.
Positive Birthday Quotes and Wishes
Some cute birthday magic is bound to come if one of these positive birthday wishes is put to good use! Write them on a birthday card, banner, or cake to help wish a wonderful friend a great birthday.
"A birthday is like a new year, and my wish for you is a great year full of happiness and sunshine!"
-Catherine Pulsifer
"I believe that no matter what condition you are in, when someone close to your heart remembers your birthday and wishes you a happy birthday, you feel happy."
-A. Singla
"Today is the oldest you have been and the youngest you will ever be. Make the most of it!"
-Nicky Gumbel
"Today, you are another year older, and we know how fast time flies as we get older; therefore, live each day and be happy!"
-Kate Summers
"Today, you are you! That is truer than true! There is no one alive who is you-er than you!"
"Life is too short to be small."
-Benjamin Disraeli
"My life is better with every year of living it."
-Rachel Maddow
"Birthdays are nature's way of telling us to eat more cake."
-Edward Morykwas
"On your birthday, may your spirit be enriched in light, love, and hope for a prosperous year ahead."
-Unknown
"Birthdays, birthdays, birthdays – – everybody's got one. / Most kids wish they had more. / Older people wish they had fewer and find them a bore."
-Sally Huss
"A birth-date is a reminder to celebrate the life as well as to update the life."
-Amit Kalantri
"Your age isn't you. Use today to feel your best, celebrate, and be your very happiest."
-M. Rivers
"A birthday is not a day to fear. It is a day to celebrate and look forward to the coming year."
-Byron Pulsifer
"You can't live the life you owe yourself without living it loudly, boldly, and without apology."
-Natalia Vela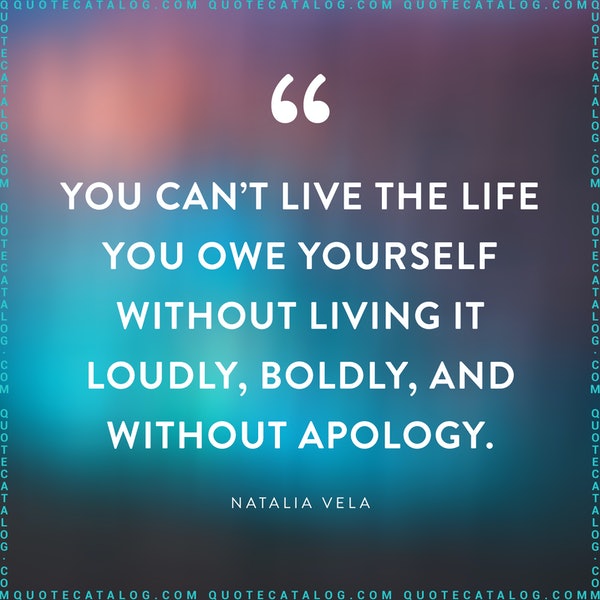 "The way I see it, you should live every day like it's your birthday."
-Paris Birthday
"Eat cake for breakfast."
-Kate Spade
"Live long and prosper."
-Mr. Spock
"Celebrate your journey of life."
-Lailah Gifty Akita
"It takes a long time to become young."
-Pablo Picasso
"I like birthday cake. It's so symbolic. It's a tempting symbol to load with something more complicated than just 'Happy birthday!' because it's this emblem of childhood and a happy day."
-Aimee Bender
"For some people, it's all about the party. For others, it is a sentimental day for remembering the special people and times of birthdays past."
-Jim McCann
"A birthday is just another day where you go to work, and people give you love. Age is just a state of mind, and you are as old as you think you are. You have to count your blessings and be happy."
-Abhishek Bachchan
"May you receive many gifts, and may your day be joyous, and best of all, may you be surrounded by family and friends. May all you wish for come true."
-Theodore W. Higginsworth
"Youth has no age."
-Pablo Picasso
"Most of us can remember a time when a birthday—especially if it was one's own—brightened the world as if a second sun has risen."
-Robert Staughton Lynd
"Birthdays are inevitable, beautiful, and very particular moments in our lives! Moments that bring precious memories back, celebrate the present times, and give hope for the future."
-Babe Arish
"Birthdays come but once a year, celebrate and be of good cheer."
-Robert Rivers
"You are not a drop in the ocean. You are an entire ocean in a drop."
–Rumi
"Celebrate your birthday today. Celebrate being happy every day."
-Unknown
"At 19, everything is possible, and tomorrow looks friendly."
-Jim Bishop
"Each ten years of a man's life has its own fortunes, its own hopes, its own desires."
-Goethe
"At twenty years of age, the will reign; at thirty, the wit; and at forty, the judgment."
"Cakes are special. Every birthday, every celebration ends with something sweet, a cake, and people remember. It's all about the memories."
-Buddy Valastro
"They say it's your birthday. We're gonna have a good time. I'm glad it's your birthday. Happy birthday to you."
Meaningful Birthday Quotes and Wishes
Help a friend have a special birthday by sharing one of these meaningful birthday wishes with them. These quotes are sure to leave a lasting impression.
"Don't just count your years; make your years count."
-George Meredith
"May you live as long as you want and never want as long as you live."
-Irish Blessing
"Today, you have added another candle of knowledge and wisdom to your life. May it give you the power to enlighten the whole world. On your birthday, I wish you joy and happiness."
-Debasish Mridha
"There are two great days in a person's life— the day we are born, and the day we discover why."
-William Barclay
"The more you praise and celebrate your life, the more there is in life to celebrate."
-Oprah Winfrey
"Life is not a series of problems to be solved; it's a journey that you should be fascinated by."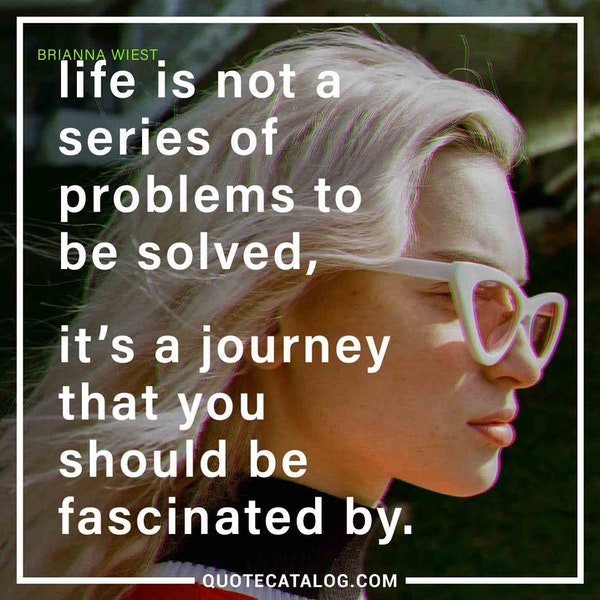 "You take away all the other luxuries in life, and if you can make someone smile and laugh, you have given the most special gift: happiness."
-Brad Garrett
"If I could save time in a bottle, the first thing that I'd like to do is to save every day."
-Jim Croce
"From our birthday, until we die, is but the winking of an eye."
-William Butler Yeats
"The greatest gifts you can give your children are the roots of responsibility and the wings of independence."
-Denis Waitley
"When you were born, you cried, and the world rejoiced. Live your life so that when you die, the world cries and you rejoice."
-Cherokee Proverb
"You turn my life into something light, amazing, rainbowed— you put a glint of happiness on everything."
-Vladimir Nabokov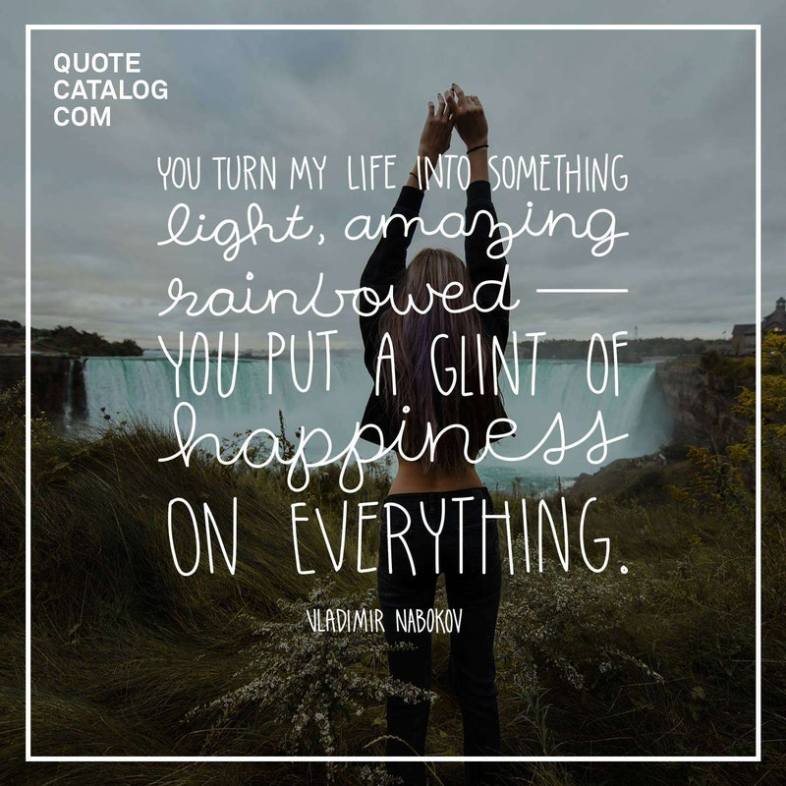 "And in the end, it's not the years in your life that count. It's the life in your years."
-Abraham Lincoln
"Count your age by friends, not years. Count your life by smiles, not tears."
-John Lennon
"We turn not older with years, but newer every day."
-Emily Dickinson
"How old would you be if you didn't know how old you are?"
-Satchel Paige
"Whatever with the past has gone, the best is always yet to come."
-Lucy Larcom
"Every age can be enchanting, provided you live within it."
-Brigitte Bardot
"Because of you, I laugh, smile, and I dare to dream again."
-Heather Krueger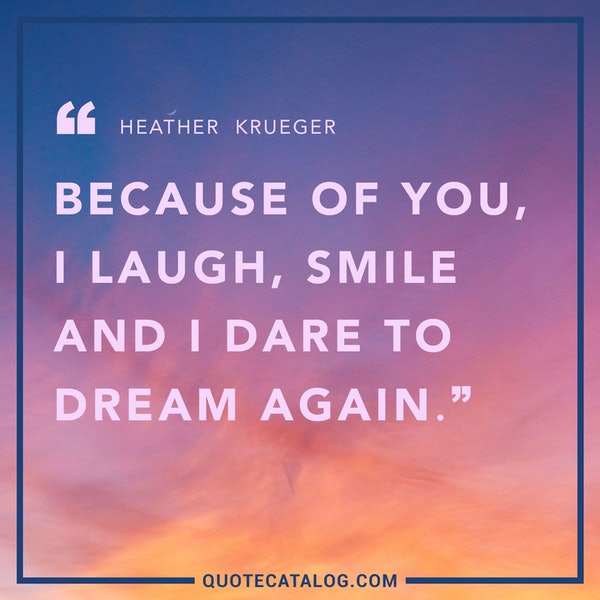 "Your birthday is the beginning of your own personal new year. Your first birthday was a beginning, and each new birthday is a chance to begin again, to start over, to take a new grip on life."
-Wilfred Peterson
"Our birthdays are feathers in the broad wings of time."
-Jean-Paul Richter
"We are always the same age inside."
-Gertrude Stein
"You are never too old to set another goal or to dream a new dream."
-Les Brown
"Every birthday is a gift. Every day is a gift."
-Aretha Franklin
"Every year, on your birthday, you get a chance to start new."
-Sammy Hagar
Birthday Quotes and Wishes About Growing Older
For some, birthday reminders link them to negative thoughts about getting older. Help them change their mindset by sharing one of the birthday quotes below on the beauty of growing older.
"Wisdom doesn't necessarily come with age. Sometimes age just shows up all by itself."
-Tom Wilson
"The great thing about getting older is that you don't lose all the other ages you've been."
-Madeleine L'Engle
"To me, old age is always 15 years older than I am."
-Bernard Baruch
"I think all this talk about age is foolish. Every time I'm one year older, everyone else is too."
-Gloria Swanson
"Grow old along with me! The best is yet to be."
-Robert Browning
"Don't regret another birthday; the good news is that you are alive and can celebrate it."
-Catherine Pulsifer
"Let us never know what old age is. Let us know the happiness time brings, not count the years."
-Ausonius
"Age is a case of mind over matter. If you don't mind, it don't matter."
-Satchel Paige
"You don't get older; you get better."
-Shirley Bassey
"We have to be able to grow up. Our wrinkles are our medals of the passage of life. They are what we have been through and who we want to be."
-Lauren Hutton
"With mirth and laughter, let old wrinkles come."
"No wise man ever wished to be younger."
-Jonathan Swift
"Youth is happy because it has the ability to see beauty. Anyone who keeps the ability to see beauty never grows old."
-Franz Kafka
"Everything I know I learned after I was 30."
-George Clemenceau
"Nature gives you the face you have at 20, but it's up to you to merit the face you have at 50."
-Coco Chanel
"Men are like wine: some turn to vinegar, but the best improve with age."
-Pope John XXIII
"To keep the heart unwrinkled, to be hopeful, kindly, cheerful, reverent—that is to triumph over old age."
-Thomas B. Aldrich
"Old age is like everything else. To make a success of it, you've got to start young."
-Fred Astaire
"Wrinkles should merely indicate where smiles have been."
"Aging seems to be the only available way to live a long life."
-Kitty Collins
"Wisdom doesn't necessarily come with age. Sometimes age just shows up all by itself."
-Tom Wilson
"Old age is like a plane flying through a storm. Once you are aboard, there is nothing you can do about it."
-Golda Meir
"Please don't retouch my wrinkles. It took me so long to earn them."
-Anna Magnani
"Life really does begin at forty. Up until then, you are just doing research."
-Carl Gustav Jung
"I still think of myself as I was 25 years ago. Then I look in a mirror and see an old bastard, and I realize it's me."
-Dave Allen
"Inside every older person is a younger person wondering what the hell happened."
-Cora Harvey Armstrong
"We don't stop playing because we grow old; we grow old because we stop playing."
-George Bernard Shaw
"I was brought up to respect my elders, so now I don't have to respect anybody."
-George Burns
"For me, the end of childhood came when the number of candles on my birthday cake no longer reflected my age, around 19 or 20. From then on, each candle came to represent an entire decade."
-Yotam Ottolenghi
"Let us respect gray hairs, especially our own."
-J. P. Sears
"Youth is the gift of nature, but age is the work of art."
-Garson
"Today, you are not just a year older but have become a little wiser also. Wishing you a very happy birthday."
-Unknown
Birthday Quotes and Wishes About Partying
A little bit of alcohol and great music to dance to is the perfect way to kick off a wonderful birthday. Share these happy birthday wishes with your best partying guys and gals on their special day to help them recall some fun times and make them smile.
"Tell 'em that it's my birthday when I party like that."
"Let us celebrate the occasion with wine and sweet words."
-Plautus
"When life hands you lemons, grab the nearest bottle of vodka, and make yourself a cocktail."
-Brandi Glanville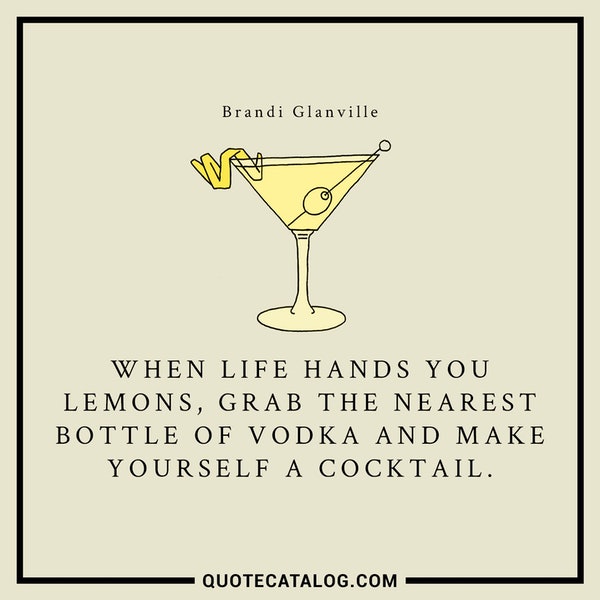 "Live for today, plan for tomorrow, party tonight, party tonight."
-Drake
"Here's to the nights that turned into mornings with the friends that turned into family."
-Unknown
"A little party never killed nobody."
"You gotta have life your way. If you ain't losing your mind, you ain't partying right."
-Young Jeezy
"You know another word for "party"? Celebration. You know another word for "celebrate"? Have fucking fun. Make fucking merry."
-George Saunders
"Life is short; wear your party pants."
-Loretta LaRoche
"Alcohol may be man's worst enemy, but the bible says love your enemy."
-Frank Sinatra
"Why is partying and having a good time bad?"
-Tara Reid
"That's what life is all about: Let's have a party. Let's have it tonight."
-Lilly Pulitzer
"Good parties create a temporary youthfulness."
-Mason Cooley
"It's not about going to a party. It's life as a party."
-Diane Von Furstenberg
"Live to work. Work to party. Party to live."
-Yevgen Reztsov
"My advice for life: dance and sing your song while the party is still on."
-Rasheed Ogunlaru
"Friends will always be there for the party. REAL friends will be there after the party."
-Bray Love
"Every time a champagne bottle pops, a party angel gets its wings."
-Terri Guillemets
"I work hard, and I party hard. When I go to work, I know what I am doing, and I do it to the best of my abilities. When I party, I take exactly the same rule book with me."
-Rhys Ifans
"I thought that the older I got, that partying would change – and it has – in the way that now I know how to party."
-Brendon Urie 
"Go shawty. It's your birthday. We gon' party like it's your birthday."
Funny Birthday Quotes and Wishes
These funny birthday wishes are perfect for making a good friend laugh! There's no better way to say 'happy birthday, best friend' than with a little humor to keep them lighthearted on their special day.
"I wanted to buy a candle holder, but the store didn't have one. So I got a cake."
-Mitch Hedberg
"You know you're getting old when the candles cost more than the cake."
-Bob Hope
"The secret of staying young is to live honestly, eat slowly, and lie about your age."
-Lucille Ball
"Just remember, once you're over the hill, you begin to pick up speed."
-Charles Schulz
"Middle age is when you still believe you'll feel better in the morning."
-Bob Hope
"The best way to remember your wife's birthday is to forget it once."
-H. V. Prochnow
"A diplomat is a man who always remembers a woman's birthday but never remembers her age."
-Robert Frost
"Few women admit their age. Few men act theirs."
-John Glenn
"Life seems to fade our memory, so on this birthday, I will forget yours if you forget mine!"
-Kate Summers
"When a man has a birthday, he takes a day off. When a woman has a birthday, she takes at least three years off."
-Joan Rivers
"All the world is a birthday cake, so take a piece, but not too much."
-George Harrison
"Last week, the candle factory burned down. Everyone just stood around and sang Happy Birthday."
-Steven Wright
"The older you get, the better you get unless you are a banana."
-Betty White
"When the candles on your cake burn down before they are all lit, you know you are getting up there."
-Catherine Pulsifer
"Birthdays are a great time to stop and appreciate gravity. Sure, it makes things sag as you get older, but it also keeps your cake from flying all over the room, so you don't have to chase it."
-Greg Tamblyn
"As you get older, three things happen: The first is your memory goes, and I can't remember the other two."
-Norman Wisdom
"You can live to be a hundred if you give up all the things that make you want to live to be a hundred."
-Woody Allen
"The old believe everything; the middle-aged suspect everything; the young know everything."
-Oscar Wilde
"Why is a birthday cake the only food you can blow on and spit on, and everybody rushes to get a piece?"
-Bobby Kelton
"Put candles in a cake, and it's a birthday cake. Put candles in a pie, and somebody's drunk in the kitchen."
-Jim Gaffigan
"Time flies like an arrow. Fruit flies like a banana."
-Groucho Marx
"Cherish all your happy moments; they make a fine cushion for old age."
-Booth Tarkington
"There is still no cure for the common birthday."
-John Glenn
"You know you're getting old when you get that one candle on the cake. It's like, 'See if you can blow this out.'"
-Jerry Seinfeld
"When someone asks if you'd like cake or pie, why not say you want cake and pie?"
-Lisa Loeb
"My policy on cake is pro having it and pro eating it."
-Boris Johnson
"Like many women my age, I am 28 years old."
-Mary Schmich
"Birthdays are good for you. Statistics show that the people who have the most live the longest."
-Larry Lorenzoni
"You are getting kind of old, but I still like you anyway."
-Unknown
"I feel a very unusual sensation—if it is not indigestion, I think it must be gratitude."
-Benjamin Disraeli
"God gave us our relatives; thank God, we can choose our friends."
-Ethel Watts Mumford
Birthday Wishes for Best Friend and Other Loved Ones
A beautiful friendship that lasts over the years is hard to come by. The perfect birthday greeting for a true best friend lets them know how much they matter, and these quotes can help.
"To me, a birthday means celebrating the presence of an individual in our lives."
-Meena Bajaj
"I've realized that sometimes you get no second chance and that it's best to accept the gifts the world offers you."
-Paulo Coelho
"I appreciate you more because of the road I've traveled. My story brought me to you, and I wouldn't revise a word of my past if it led me anywhere but to your door."
-Aaron Polson
"If you have one friend who understands you on your level of crazy, one friend is all you will ever need."
-Unknown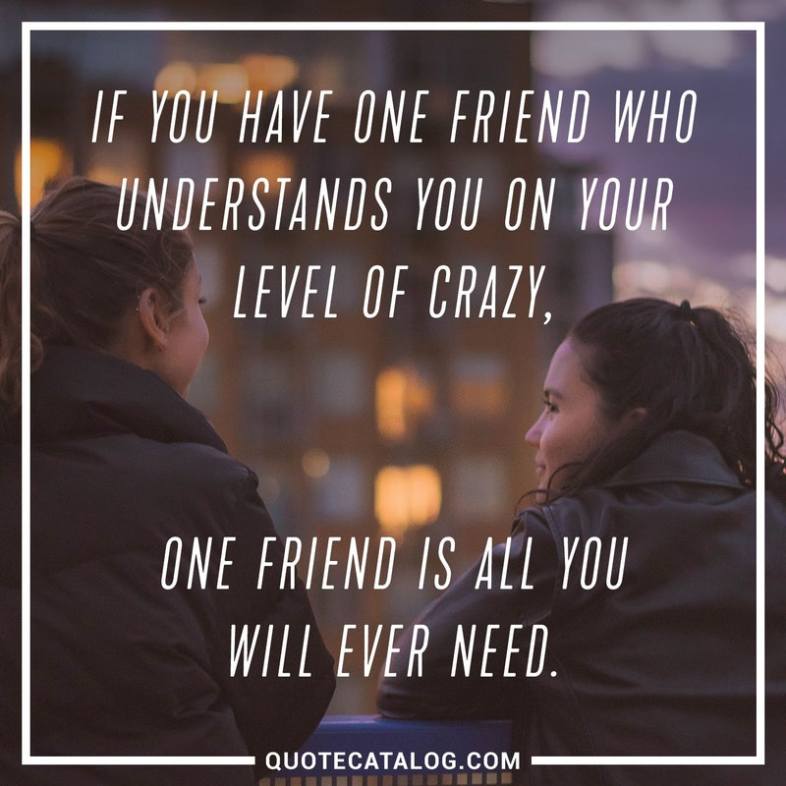 "Appreciation is a wonderful thing. It makes what is excellent in others belong to us as well."
-Voltaire
"Let us be grateful to the people who make us happy; they are the charming gardeners who make our souls blossom."
-Marcel Proust
"Appreciation can make a day, even change a life. Your willingness to put it all into words is all that is necessary."
-Margaret Cousins
"A true friend is someone who never gets tired of listening to your pointless drama over and over again."
-Lauren Conrad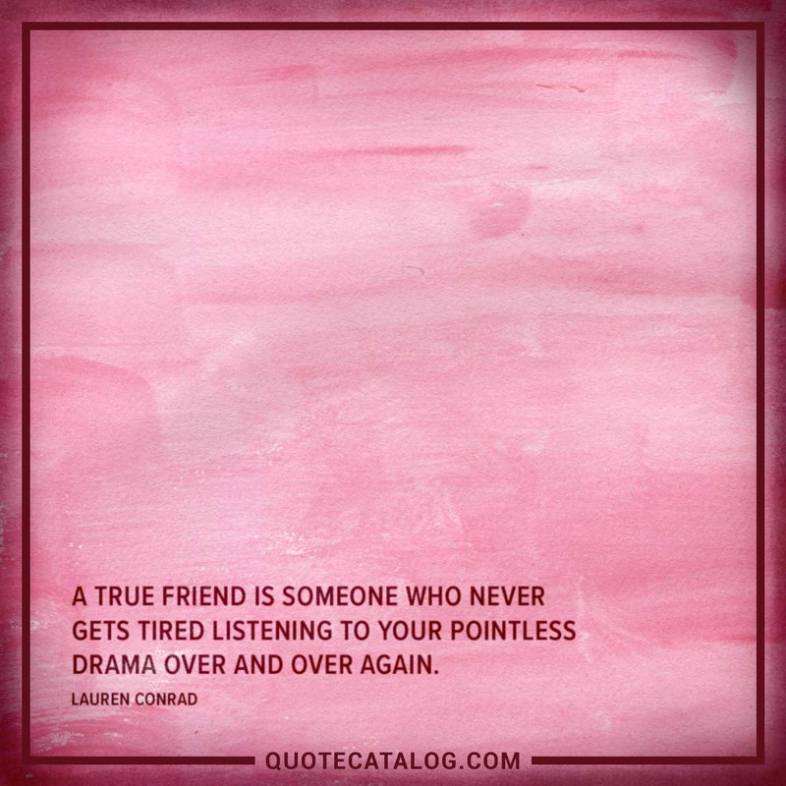 "You changed my life without even trying, and I don't think I could ever tell you how much you mean to me. I can't imagine what things would be like if I hadn't met you."
-Steve Maraboli
"The best kind of people are the ones that come into your life and make you see the sun where you once saw clouds. The people that believe in you so much, you start to believe in you too. The people that love you, simply for being you. The once in a lifetime kind of people."
-Anonymous
"There's nothing quite like the pain in your stomach from laughing too hard with your best friend."
-Unknown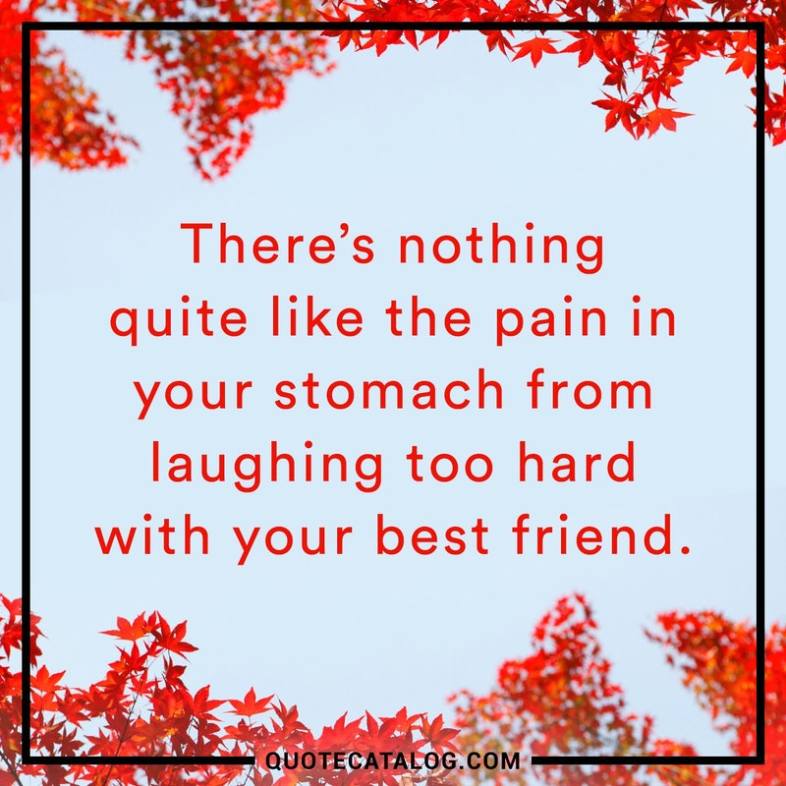 "A real friend is one who walks in when the rest of the world walks out."
-Walter Winchell
"We must find time to stop and thank the people who make a difference in our lives."
"A friend is what the heart needs all the time."
-Henry Van Dyke
"Friends like you make life's challenging moments more bearable. Thanks for being you."
-Catherine Pulsifer
"When I count my blessings, I count you twice."
-Unknown
"There's no possible way, I could ever repay, How I wish, there were more I could do, But, I thank you, my friend, my friend to the end."
-Jim Thistle
"I'm glad I have you for the rest of my life as a best friend, lover, and fellow adventurer. Thank you for constantly supporting me, forgiving me, loving me, making me laugh, and challenging me to be a better person."
-Raquel Martin
"You have influenced my life in such a positive way; words cannot express my appreciation. You are truly an inspiration."
-Catherine Pulsifer
"Thanks again for saving me. Someday I'll save you too."
-Zelda Fitzgerald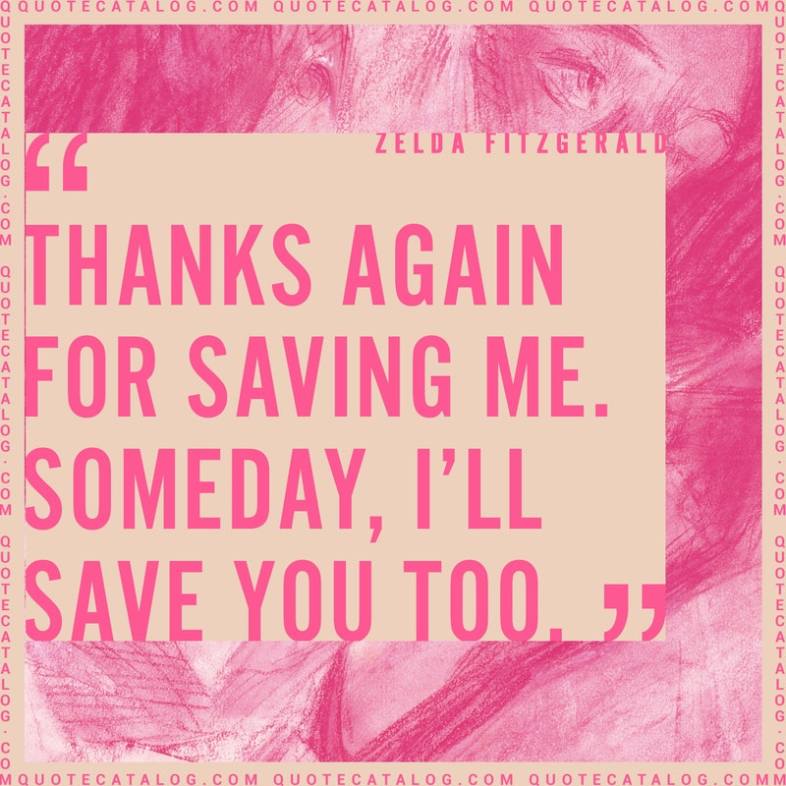 "The greatest gift of life is friendship, and I have received it."
-Hubert H. Humphrey
"People give one another things that can't be gift wrapped."
-Nadine Gordimer
"Nothing in the world like a sore stomach for the right reasons."
-Stephen Chbosky, The Perks of Being a Wallflower
Religious Birthday Quotes and Wishes
Send some love to a friend on their birthday with one of these beautiful Bible verses or religious quotes. After reading one of these inscriptions, the happiness and love they feel will be a birthday image they will never forget!
"For by me, your days will be multiplied, and years will be added to your life."
-Proverbs 9:11
"This is the day that the Lord has made; let us rejoice and be glad in it."
-Psalm 118:24
"May he grant you your heart's desire and fulfill all your plans!"
-Psalm 20:4 
"Thanks be to God for his inexpressible gift!"
-2 Corinthians 9:15
"Beloved, I pray that all may go well with you and that you may be in good health, as it goes well with your soul."
-3 John 1:2
"You crown the year with your bounty; your wagon tracks overflow with abundance."
-Psalm 65:11
"However, many years a man may live, let him enjoy them all."
-Ecclesiastes 11:8
"You make known to me the path of life; in your presence, there is fullness of joy; at your right hand are pleasures forevermore."
-Psalm 16:11
"He has made everything beautiful in its time."
-Ecclesiastes 3:11
"Even to your old age, I am he, and to gray hairs, I will carry you. I have made, and I will bear; I will carry and will save."
-Isaiah 46:4
"And I am sure of this, that he who began a good work in you will bring it to completion at the day of Jesus Christ."
-Philippians 1:6
""For I know the plans I have for you," declares the LORD, "plans to prosper you and not to harm you, plans to give you hope and a future.""
-Jeremiah 29:11
"Teach us to number our days, that we may gain a heart of wisdom."
-Psalm 90:10
"'The LORD bless you and keep you; the LORD make his face shine on you and be gracious to you; the LORD turn his face toward you and give you peace.'"
-Numbers 6:24-26
"For he will command his angels concerning you to guard you in all your ways."
-Psalm 91:11
"Have I not commanded you? Be strong and courageous. Do not be frightened, and do not be dismayed, for the Lord your God is with you wherever you go."
-Joshua 1:9
"Because time itself is like a spiral, something special happens on your birthday each year: The same energy that God invested in you at birth is present once again."
-Menachem Mendel Schneerson
"God gave us the gift of life; it is up to us to give ourselves the gift of living well."
-Voltaire
–