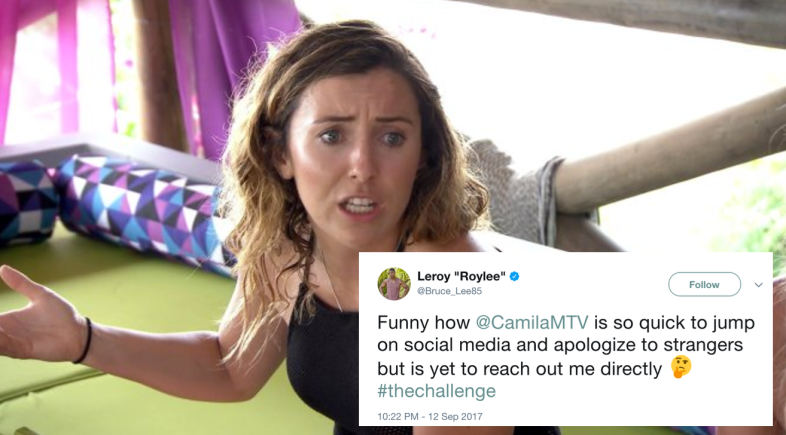 If you watched last night's The Challenge you were treated to a 'Camilanator' meltdown fans of the show have long seen coming. When you reward someone for getting belligerently drunk and screaming at people, how long do you have until something like this happens?
We saw Camila Nakagawa get drunk and make a regrettable hookup with Tony who has been talking about proposing to one of his baby mamas back home. Camila then drunkenly circles the house, as if looking for some drama to start to earn her place on a show she is recast season after season for her willingness to start this kind of drama. Last night, however, Camila finally crossed the line.
Entering Leroy's room, we see her start yelling at him while he calmly stares back at her. Failing to get a rise out of him, Camila's blows get lower and she began a long bleeped-out rant where the only word the viewers can really hear is "black". It's clear from this and from cast reactions that what Camila said was incredibly offensive, but for some reason MTV doesn't show the audience why the cast is reacting so strongly.
According to fans who attended the taping of the reunion for this season, the fight actually went down like this:
"Camila went off on Leroy during filming this season in Colombia and said multiple racial slurs such as the N word and black mother f***** to him and everyone praised Leroy for just standing there and letting her dig her own grave. Multiple cast members think the footage should be shown because of how well Leroy acted. And obviously to show how disrespectful Camila was."
Cast member Veronica Portillo, who was present on the show for the fight seems to confirm this version of events on her Twitter:
U didn't see Camila coming in2 our room saying MANY racist comments while @MTV_NellyT was lying there biting his tongue #TheChallengeXXX

— Veronica Portillo. (@v_cakes) September 13, 2017
She also notes that when producers went to remove Camila from the house, Camila claimed she was the victim of racism:
1/ Claiming SHE was the one that was a victim of racism bc she had to leave the house #TheChallengeXXX

— Veronica Portillo. (@v_cakes) September 13, 2017
2/ Her white Brazilian self had a big black man in her face & since they chose to remove her from the house #TheChallengeXXX

— Veronica Portillo. (@v_cakes) September 13, 2017
3/ They they were being racist against her, while not giving a shit that @MTV_NellyT was stuck there listening to her TheChallengeXXX

— Veronica Portillo. (@v_cakes) September 13, 2017
I'm not sure why the full extent of Camila's racism wasn't show while the cast reactions to what she did were (which may lead viewers to believe cast members are overreacting or "playing the race card") but it may have to do with rumors that Camila makes it far into this season and the fact that she not only was not asked to leave after this fight, but was subsequently recast for a Challenge spinoff, All Stars vs. Pros.
For her part, Camila has issued an apology:
https://www.instagram.com/p/BY-D1UGFM7p/?hl=en&taken-by=camilamtv
She claims to have apologized to Leroy, while Leroy himself said on his Twitter than he hasn't heard from her:
Funny how @CamilaMTV is so quick to jump on social media and apologize to strangers but is yet to reach out me directly 🤔 #thechallenge

— Leroy "Roylee" (@Bruce_Lee85) September 13, 2017
Leroy himself has been praised by his cast members and fans alike for how he handled the situation.
Update: cast member Brandon Nelson posted on Facebook that Camila has called him the n-word as well.