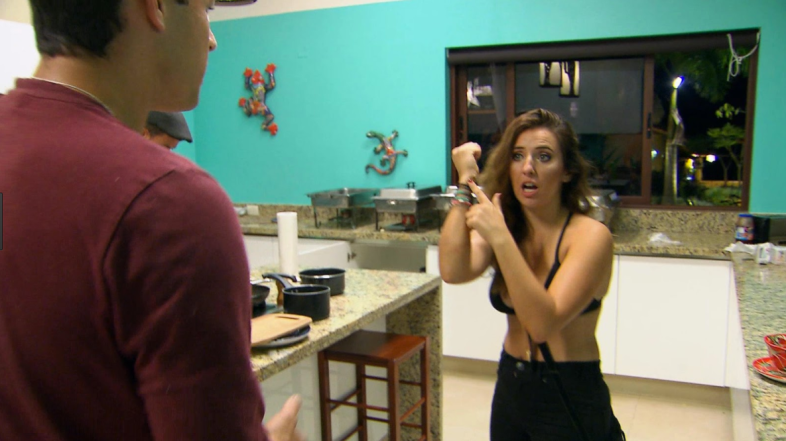 Edit 9.12.17: an update after this episode aired has been posted here.
The reunion for the currently still airing season of The Challenge XXX: Dirty 30 was filmed in Manhattan last night and fans learned of a fight between Camila Nakagawa and Leroy Garrett that won't be shown to viewers despite MTV using racial arguments as a plot line on their reality shows as recently as the last few seasons of The Real World. In season 31 The Real World: Go Big or Go Home racial arguments were a huge plot point as Ammo (whose name was Chris Ammon Hall during filming) lied about leaking stories about his roommate Jenna Thomason being racist to the media, and Jenna was allowed to antagonize her roommate Ceejai Jenkins with racial remarks far past the point where even the audience was comfortable, until the argument ended in physical violence.
According to fans who were in the live audience during the filming of the reunion MTV didn't show any footage of the incident, but cast members talked about what happened:
"Camila went off on Leroy during filming this season in Colombia and said multiple racial slurs such as the N word and black mother f***** to him and everyone praised Leroy for just standing there and letting her dig her own grave. Multiple cast members think the footage should be shown because of how well Leroy acted. And obviously to show how disrespectful Camila was."
Camila was not present at the reunion.
Earlier in the season Shane Raines and Simone Kelly were booted after a racially charged argument turned physical. According to rumors and what fans have learned from cast member's social media accounts, the two were arguing about whether MTV was casting enough people of color on it's shows. Shane was booted for being physically violent, and Simone was removed from the house after she broke open a liquor bottle to use as a weapon. Cameras were not present during the altercation.
It hasn't been made clear why MTV won't air the extent of the fight, or even show it as context at the reunion, but a good guess might be that Camila is a winner (or at least a finalist) this season and seeing the bad guy win doesn't make a great story (except, when this was literally the story of Rivals III). Camila was also asked back by MTV to film a spinoff challenge immediately following this season called All Stars vs. Pros.