38-year-old Michele Hundley Smith lived in the tiny rural town of Stoneville, North Carolina with her husband, and her children; 14-year-old Amanda, a 7-year-old son and a 19-year-old daughter had already moved into a place of her own. Michele is described by those close to her as a doting mother who was there when her kids got off the bus every day and loved to cook her family's favorite meals. She was also struggling with alcoholism, a struggle that had recently cost her her job at a local veterinarian clinic and was either a reaction to or the cause of problems within her marriage.
On December 09, 2001 at 8:30pm that day Michele kissed her kids goodnight and told her family she needed to pick up some last minute Christmas gifts. Neighbors saw her drive her 1995 Pontiac Trans Sport van toward Martinsville, Virginia but she never returned home. Martinsville was a 30-minute drive from the Smith's home in Stoneville, but her family says it was normal for the busy mother to use evenings to shop. However, Michele never returned from her shopping trip. At 12:30am, Mr. Smith woke up Amanda and told her Michele was missing. The couple had fought before and Michele had stayed overnight at her mother's home, but there was no fight before Michele left, and she would have said she wasn't coming home.
The Rockingham County Sheriff's Office was notified that Michele was missing and her family was worried about her. Neither Michele, nor the Pontiac van she drove were ever found. Michele also had her children's social security cards with her when she disappeared (her purse was where she kept them). Around April, 2002 the family received an anonymous letter that was addressed to Michele and Amanda that claimed Amanda's social security number had been used in a North Carolina county two hours away from Stoneville. Contacting the phone number included in the letter did not give the family any more information.
Michele's husband says that she left to "start a new life". It wasn't until years after her disappearance that he suddenly recalled Michele had left a "goodbye" note to her family. However, the note was never produced to police and he now denies that he claimed it existed.
Amanda believes that Michele would never have voluntarily left her children. She recalls trying to endure Christmas with her now-missing mother: "I'll never forget that first Christmas without her…We didn't even care about presents or anything — our mom was gone. Nothing was ever the same after that." She also says that she and her mother were "best friends" and that Michele was "a really good mother…we had a special bond."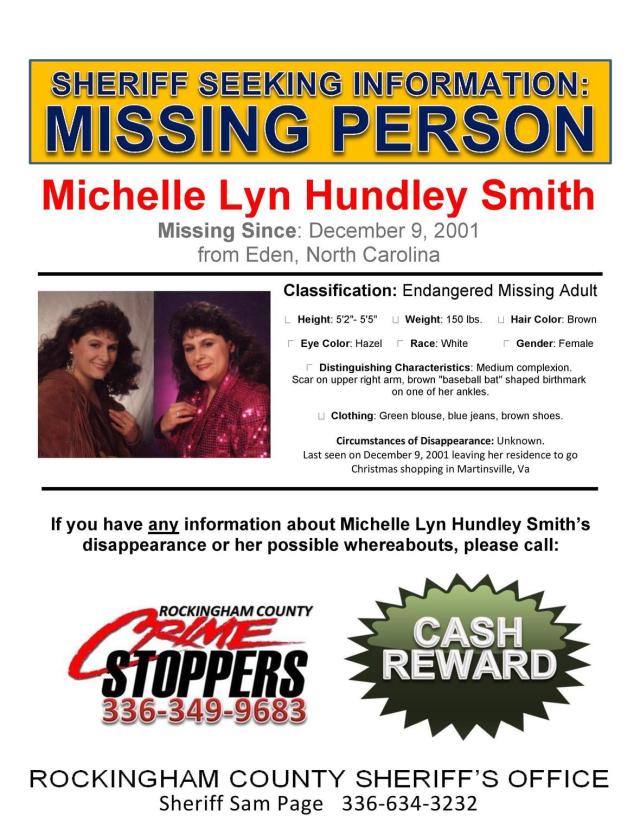 Amanda made the Bring Michele Hundley Smith Home Facebook page to bring public awareness to her mother's case and post photos and updates. The case has also been covered on an episode of The Vanished podcast. If you know anything about the disappearance of Michele Hundley Smith, you can contact the Rockingham County Sheriff's Office at 336-634-323.