18-year-old Tayler Jade van Diest lived in a rural town in British Columbia called Armstrong. The town's population in 2011 was just under 5,000 residents. Taylor lived with her mother and her twin sister, Kirstie. She had recently graduated high school and was well-liked in the close-knit town.
On October 31, 2011 it was Taylor's favorite day of the year, Halloween, and she planned to have one last year trick-or-treating with friends. She dressed up as a zombie left her home on foot at 5:50pm to meet two friends, Zoe and Clay, as well as her boyfriend, Colton. The trail Taylor took to meet her friends was well-travelled by local kids and was parallel to railroad tracks and near an elementary school.
At 6pm, still walking, Taylor sent Colton a text that read "Being creeped". It was the last text message anyone would get from her. Alarmed, Colton, Zoe and Clay drove around looking for Taylor but did not find her.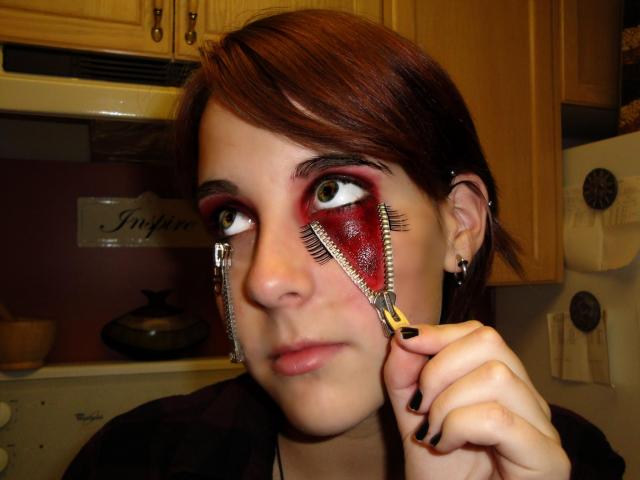 At 7:30pm Kirstie van Diest was alerted by some local boys that they had found Taylor's phone while playing near the railroad tracks. Kirstie called Taylor's friends and they all went to the area to search for her. At 8:45pm they found Taylor face-down in a ditch near the railroad tracks. She was alive, but unconscious. Taylor had been beaten and strangled so badly that at first doctors thought she had been hit by a train. Unfortunately, Taylor succumbed to her injuries and died at the hospital.
Tragically, residents of Armstrong had heard Taylor screaming for help but thought that it was just Halloween festivities.
Taylor fought her attacker and had numerous defensive wounds, including broken fingers and scratches on her own neck where she'd tried to pry his hands off of her. She carried DNA from him underneath her fingernails. This DNA was matched to an unknown attacker in another case, this one where a sex worker was raped at knife-point in 2005. That case had never been solved.
It's not clear why this wasn't done at the time of the first woman's assault, but now that the unknown attacker had committed a murder, police created a sketch based on her description of him. The person in the police sketch was recognized by residents of the town of Cherryville, BC as 25-year-old Matthew Foerster. When Matthew appeared to have fled the county, police tapped the phone calls of his father, Stephen Foerster. For months police listened in as Stephen helped his murderer son evade justice by buying faked identification documents for him.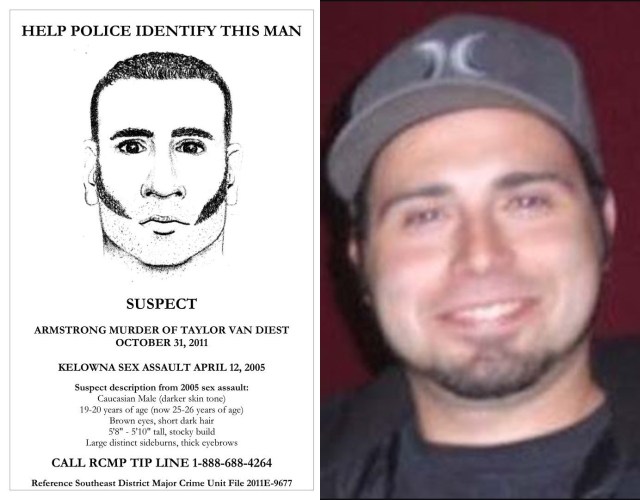 On April 4, 2012 Canadian police finally found and arrested Matthew Foerster in Ontario where he was living under his new identity and working at a factory. It was also discovered that Foerster had committed (at least) a third attack on a 19-year-old neighbor back in Cherryville when he broke into her home while she slept. He was charged with first-degree murder, assault causing bodily harm, and sexual assault for all three attacks.
Matthew Foerster then confessed to killing Taylor van Dierst. He said on Halloween he was drinking and smoking weed when he drove to Armstrong for the sole purpose of finding a woman. He claims he was looking for "consensual sex". He said he beat Taylor with a metal flashlight and strangled her with a shoelace and then disposed of the murder weapons on his drive home. A steel pipe found next to Taylor was also used, and resulted in Taylor's skull being fractured. Taylor's DNA was also found in Foerster's truck.
Matthew Foerster was convicted of first-degree murder but appealed the decision and was granted a new trial. He maintained that he was guilty of manslaughter, not murder, because he was "trying to have consensual sex with Taylor". He was convicted of only second degree murder. This means he will be eligible for parole in 2029. Matthew's father, Stephen Foerster, received only a 3 year sentence and a $100 fine for helping his son evade police under a false identity.
Matthew Foerster's lawyer submits there are a number of mitigating factors in this case including Foerster's young age at the time of the murder. He was 25 at the time.

— Megan Turcato (@meganturcato) June 4, 2018
Defence says Foerster had serious drug and alcohol problems leading up to offence. Starting drinking that day around noon also took mushrooms and used marijuana. Lawyer says he was "very drunk" and "very stoned" the evening of Taylor Van Diest's murder.

— Megan Turcato (@meganturcato) June 4, 2018
Of Matthew's sentencing, Marie Van Diest said, "That is not very long for taking a life, particularly as brutally as he took Taylor's life… I don't think he feels remorse." She also points out that in the killer's "letter of apology" he never once mentioned Taylor by name. In 2013, Taylor's mother and twin sister made the trail where Taylor last walked a memorial, the Taylor Jade Van Diest Memorial Trail. It is now paved and surrounded by flowers and landscaping the community added in Taylor's memory. There is even a bench and an angel statue dedicated to Taylor.
Your favorite tradition is back. Follow @nowscreamingpv for screams all year long.