A Native American woman named Mary Johnson has been missing from Washington state since November 25, 2020. Mary was last seen walking on Firetrail Road on the Tulalip Reservation north of Seattle. She was meeting a male friend who was supposed to give her a ride to a couple's home in Oso, a small town north west of the reservation. Like many indigenous people, Mary did not have her own vehicle and relied on help from friends to get around.
When she disappeared, Mary was having problems with her husband. On November 24, her estranged husband (Driver #1) gave Mary a ride to a friend's house on Firetrail Road. Mary brought a suitcase and spent the night at the house so that her friend (Driver #2) could take her to the Tulalip Tribal Court where she could get legal advice. The advice Mary sought was based on her marital problems and her worry that her estranged husband may take her belongings with him to California. Mary's friend did drive her to Tulalip Tribal Court, but it was busy and Mary did not meet with an attorney.
On November 25, this friend (Driver #2) planned to give Mary a ride to the church on Firetrail Road where she could meet with another friend (Driver #3) who would give her a ride to Oso. However, this friend (Driver #2) got annoyed at Mary and another person he promised a ride to and Mary and the other passenger decided to walk to the church together.
Mary's friend who promised to drive her to Oso (Driver #3) was a man she was in daily contact with before her disappearance. When he didn't see Mary at the church, he drove down Firetrail Road until he saw Mary and the other passenger walking. He continued to drive and messaged Mary that he didn't have room for two people in his car. The passenger spotted walking with Mary says he went to a friend's home near the church and Mary continued on down Firetrail Road.
At 1:52pm Mary texted the man who promised to drive her to Oso (Driver #3), "I am almost to the church."
At 2:30pm Mary called a female friend who was busy and told Mary she couldn't talk. Later, the couple she was supposed to stay with in Oso received a "desperate" voicemail from Mary pleading with them to pick up the phone. They say she never arrived in Oso.
These were the last text message and phone call from Mary's phone. Her cell phone records indicate that her phone did make it to Snohomish County where Oso is about half an hour later. At 8:30pm on November 25th, Mary's cellphone pinged a tower near Marysville, south of Oso and near the Tulalip reservation.
On November 26, Mary's phone turned off and has never been turned back on.
On December 9, Mary's estranged husband gave police a typed statement reporting Mary missing. Because they were estranged, he was not in close contact with her but says Mary usually contacted him every few days. He says he knew something was wrong when he hadn't heard from her in weeks and noticed her mail (including checks she usually cashed right away) were undisturbed.
Mary's siblings say this was the first time they heard Mary was missing.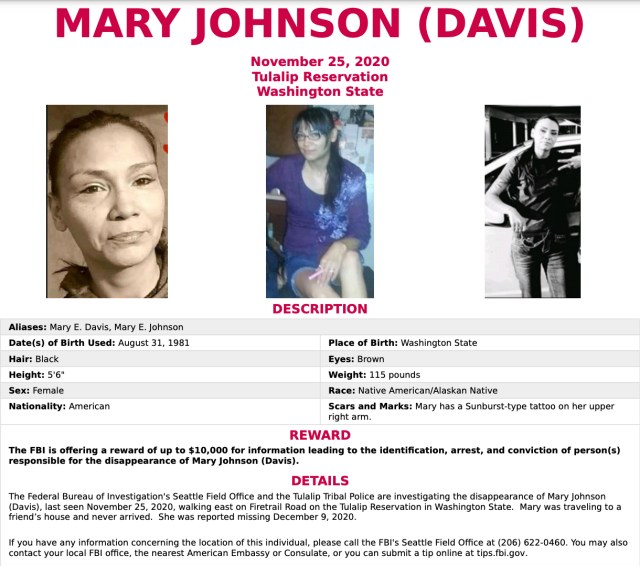 Now, the FBI has announced a $10,000 reward for information that helps them solve her disappearance:
The #FBI is offering a reward of up to $10,000 for info leading to the identification, arrest & conviction of person(s) responsible for the disappearance of Mary Johnson (Davis). See poster for more details. Contact https://t.co/i8Q6W0Fdnf @Tulalip_Tribes https://t.co/dkdSwrcwJg pic.twitter.com/tbhbDXiwdA

— FBI Seattle (@FBISeattle) September 15, 2021
Mary Johnson is part of an epidemic of missing and murdered Indigenous women. Indigenous women, girls, and two-spirits are murdered 10x more often than the general public, it is the third most common cause of death for indigenous women. Along with the FBI, Tulalip Tribal Police are also investigating Mary's disappearance.
Mary Johnson was 39 years old when she disappeared. She also goes by Mary Davis or Mary Johnson Davis. She is of Native American ancestry, 5'6 and about 115 pounds. Mary has a "sunburst" tattoo on her right upper arm and a scar on her nose. You can send the FBI tips about Mary Johnson's disappearance here.