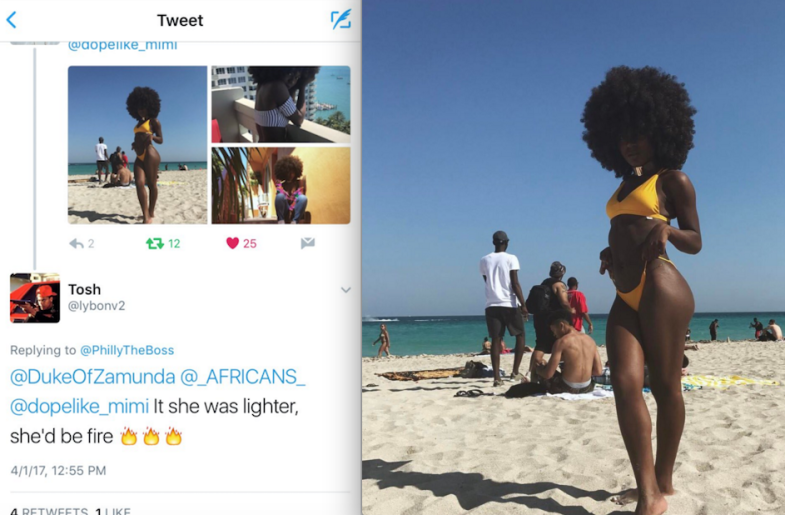 Women can't catch a break these days. Despite the push toward body positivity, we still face all kinds of discrimination — sizeism, agism and, in this particular instance, colorism.
Mimi Mbah is an aspiring model from Maryland. She's seriously stunning, and she's got the following to prove it.
Melanin. pic.twitter.com/kp4PsYahV9

— Mimi (@dopelike_mimi) March 24, 2017
And yet somehow it's not particularly surprising that some asshole had a douchey comment to make about her appearance.
https://twitter.com/lybonv2/status/848217191707291648
Really, now? Really?
But Mimi had the perfect response — it was simple, sweet and exactly the kind of positivity we need in the world.
No thanks
I wouldn't trade my skin color for the world ! Still 🔥 tho 😊 pic.twitter.com/85aUYD6oJ7

— Mimi (@dopelike_mimi) April 2, 2017
Yaaaaaas queen, you tell him!
When a queen is still classy but still can get her point across https://t.co/mKqUexMuPA

— mattaduasamoah (@mattaduasamoah) April 2, 2017
People on Twitter were definitely there to back Mimi up, not that she particularly needed it. Still, we could all use some Twitter love every now and then.
I know you don't need my confirmation at all, but I agree that you truly are beautifully made as you are. Keep shining, sister.

— C.J. Lawrence (@CJLawrenceEsq) April 2, 2017
Lighter? Skin perfect as fuck

— Mekhi Pfizer (@BlkSaiyanGod) April 2, 2017
He knew that too. He was just insecure with his self and hated the fact she loved herself. She's gorgeous by the way.

— LaTasha (@downtown7thave) April 2, 2017
Fuck him, you're gorgeous and you're skin is gorgeous https://t.co/xEAO2qnzQq

— bipolewhore (@sinfulweeknd) April 2, 2017
https://twitter.com/thottydeluxe/status/848640123688407040
I wish I could produce a baby this color I ain't lying . I Love it . https://t.co/XlQH6dhxUT

— XO (@paijeee_) April 2, 2017
Of course, people were properly pissed as well.
Skin glistening and looking like gold and the sun and this fool has the audacity to say you'd look better if you were lighter?? LMAO NEXT. https://t.co/0cZoLTX2OS

— sasa (@chocoolatseh) April 2, 2017
He tried it pic.twitter.com/qkmt6KjVCB

— rosechocglam (@rosechocglam) April 2, 2017
If I got a dollar for the number of times an ignorant mf has said this to me! Ugh. Black is beautiful yo. Deal with it. 😒🤗

— Adomaa (@adomaa_music) April 2, 2017
https://twitter.com/laurrKIDD/status/848613025363963904
Honestly though, who cares about his opinion anyway? He obviously wouldn't know beauty if it slapped him in the face, as I'm sure we'd all like to do.
Keep slaying, Mimi, and keep spreading all the self-love.