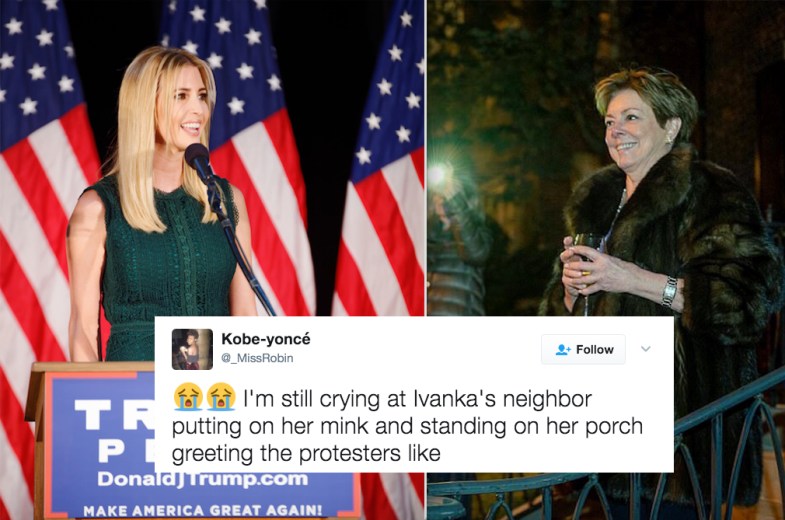 I can't imagine that being Ivanka Trump's neighbor is particularly pleasant, but this woman is definitely making the best of it.
It all started on Saturday, when hundreds of LGBTQ protestors gathered outside Ivanka's house for a "dance party" as a response to Donald Trump's recent change to environmental policies. And while I'm not really sure how Ivanka felt about that, some of her neighbors were totally digging it. Like this one, who we can all kind of relate to on a spiritual level.
https://twitter.com/vuIgaire/status/848938405413212160
In case you can't tell what's going on, not only was this woman watching the protests from across the street, but she was doing it in style — fur coat, luxury watch, glass of wine and all.
But seriously, just look at her.
A mood: Ivanka Trump's neighbor watching protestors on Ivanka's lawn. pic.twitter.com/npR5Izy2q9

— Antwaun Sargent (@Sirsargent) April 4, 2017
Obviously people were obsessed with this perfect specimen, mostly because we all want to be her.
DO Y'ALL SEE THE NEIGHBOR THO??? SHE MESSY AS FUCK. SHE DONE POURED HER SELF A GLASS OF WINE AND PULLED OUT HER FINEST FUR. ICONIC https://t.co/13cVbC2HaJ

— NOTORIOUSAALI (@ASHES7ll) April 3, 2017
😭😭 I'm still crying at Ivanka's neighbor putting on her mink and standing on her porch greeting the protesters like pic.twitter.com/uw0tzDdM7L

— Robin (@_MissRobin) April 3, 2017
Ivanka Trump's neighbor came outside to cheer on queer protestors while drinking wine in a fur coat.

SHE IS MY SPIRIT ANIMAL pic.twitter.com/IUXZBeW9CZ

— Cole Ledford (@ColeLedford11) April 3, 2017
https://twitter.com/DenaOgden/status/849276724743241731
Some might say the neighbor — and the rest of us — are a little petty. We're not really denying it.
— 🌬Neera's Valkyrie 🐎💛🐝 (@PenalvaCubana) April 4, 2017
https://twitter.com/mitchsunderland/status/848981612045848576
Does our love go a little too far? I wouldn't say that. Why do you ask?
https://twitter.com/carpeydiem/status/849266507020480512
She truly encompasses not just the American spirit, but the spirit of all humankind.
We are all Ivanka's wine sipping neighbor

— Rory (@ciaobellaalora) April 3, 2017
Thank you, Ivanka's neighbor, merely for existing.