Here are all the best and funniest social distancing memes.
Social distancing that new phrase unleashed upon us in early 2020 as the most effective way to combat the health situation we now face. While it's a serious mitigation method we should all be practicing, it's also a ripe phenomenon for the world of jokes and humor. Oh, and if you're in the dating world and looking for some social distancing pickup lines, we got you covered.)
Because even in the most serious of serious situations, it's hard not to laugh at yourself when you're socially isolated and distanced from the world. Let's get into the memes and social distancing pictures!
Kera Till explains with a clever illustration the new way we commute.
This quarantine routine meme sound familiar?
grandpa be like: 😳😳😳
future grandson: "hey grandpa want a corona?"

me: pic.twitter.com/ZJbdz22Lps

— ayo wtf (@YEESSSIIIRRR) March 21, 2020
PSA from Missy Elliot:
👍🏾🙂 pic.twitter.com/YfNIpZK3u2

— Missy Elliott (@MissyElliott) March 24, 2020
Cheers. 🍸
Shocked, hurt, confused, upset.
BREAKING NEWS: Due to the recent COVID-19 outbreak, the Piston Cup has been cancelled. pic.twitter.com/sgF0UT3uOK

— layla 💌 (@layloserr) March 18, 2020
Mood.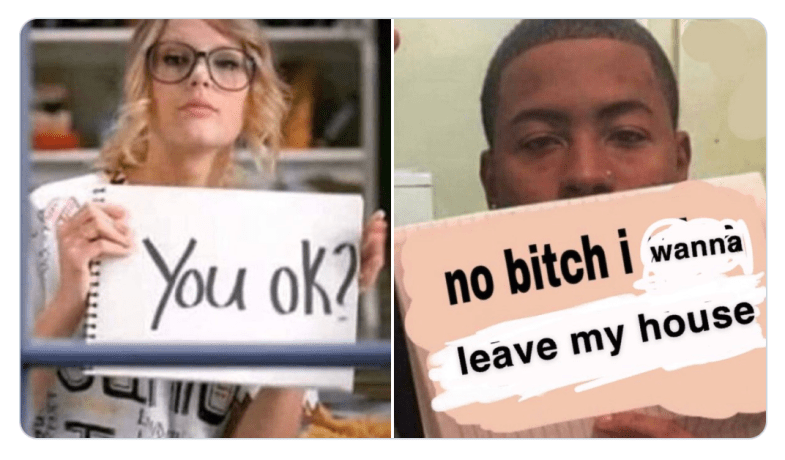 Introverts are heroes now. 😌
"i can't go because of coronavirus"
– whiny
– boring
– weak

"i've sworn an oath of solitude til the blight is purged from these lands"
– heroic, valiant
– they will assume you have a sword
– impossible to check if you really have a sword because of coronavirus

— soul nate (@MNateShyamalan) March 17, 2020
Thanks, Turbotax.
https://twitter.com/lukeisamazing/status/1240392732532789250
Any ideas?
What is there to do besides masturbate

— Erica (@eerrriiicaa) March 23, 2020
Maybe dating isn't so bad…
So many things…
THINGS U CAN STILL DO WHILE SOCIALLY DISTANCING:

-Stare at the blank page b4 u
-Open up the dirty window
-Let the sun illuminate the words that you cannot find
-Reach 4 something in the distance (so close u can almost taste it)
-Release ur inhibitions
-Feel the rain on ur skin

— Connor (@dougiec0n) March 16, 2020
Seriously what's the point
Have you resorted to this yet?
https://twitter.com/gnuman1979/status/1239523796542992387
Or are you just feeling really bleak?
poor Baby Nut 🙁
I can't name a single good thing that has happened since you were born. this is all your fault https://t.co/Np0Jbl2gBF

— Beans After Dark (@goodbeanalt) March 24, 2020
Maybe a virtual hug from Poppy will help…. Or that might make it worse…
Well this funny antidote should make you chuckle
Me: wanna hear a joke?

Daughter: sure.

Me: knock knock : )

Daughter:

Me: knock knock.

Daughter:

Me: you're supposed to say who's there.

Daughter: I don't care who's there I'm not opening the door during a pandemic.

— NewDadNotes (@NewDadNotes) March 21, 2020
Are inanimate objects making jokes yet?
OMG.
It's on sight hoe pic.twitter.com/5SkHbwS5IH

— ✨inspo✨ (@LaChinaHaydeee) March 12, 2020
It's worked once or twice before…so…
Casey Frey, we love you.