Widely regarded as one of HBO's best original series, Six Feet Under is finally streaming on Netflix. The 5-season series from writer, director, and producer Alan Erwin Ball — oft-noted for his Academy Award-winning work on American Beauty — explores existential themes via beautifully flawed three-dimensional characters and episodic snapshots into the grieving process. This show boasts many admirable qualities — thematically influencing the likes of Transparent, The Leftovers, and Rectify — but we'll aim to spotlight its greatest attributes. 
Genre-bending approach to storytelling
Six Feet Under seamlessly blends genres that (theoretically) have no business coexisting. The show, incorporating elements of dark comedy, drama, and even fantasy, boasts an overall atmosphere that complements the unpredictable nature akin to the grieving process. It never feels tonally incongruous. Rather, the jumps from chuckle-inducing mortuary mishaps to melancholic marital messes only augment the show's sense of realism. And, when characters engage with the deceased, the dearly departed become stand-ins for the unresolved issues that the living carry. Blurring the line between life and death, the show established a surreal yet utterly tangible atmosphere that emphasizes its deep reflection on mortality and the importance of closure. 
Exploration of death and grief  
Though these topics may be heavy, the show rarely veers into the melodramatic or saccharine. Rather, Six Feet Under emphasizes how various individuals cope with grief — from bargaining and anger to denial or depression. There is no "appropriate" way to grieve…despite the guilt that non-cryers tend to experience at funerals. 
Because the Fisher family works in the funeral business, the show is able to explore the long-term impact that daily grief and unbridled mortality awareness have on individuals, as opposed to shows that often emphasize such matters in singular sad episodes. The show's unexpected deaths create an immediate and visceral reaction among the characters and viewers, while the more drawn-out ones at the hands of illness depict the painful journey to a death delayed. It's a gloriously human show that incorporates humor as its coping mechanism (or it would simply be too heavy), yet the comedic moments also highlight the paradoxical nature of grief — moments of levity can and do exist alongside profound sadness.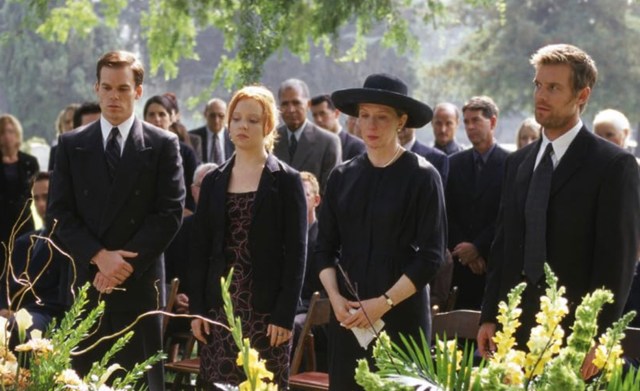 Outstanding ensemble
An outstanding ensemble led by Frances Conroy, Michael C. Hall (pre-Dexter days), Peter Kraus, Lauren Ambrose, Richard Jenkins, and Rachel Griffiths established a family structure — with individual connections teeming with consistent quirks and qualities — that felt all too genuine. There's Frances Conroy's journey as Ruth Fisher from a traditional housewife to a woman seeking fulfillment and self-discovery. Michael C. Hall's resilient but vulnerable David skillfully balances internal struggles as a closeted funeral director with family and professional crises. And, Lauren Ambrose sinks her teeth into Claire's coming-of-age rebellious spirit as she discovers her artistic inclinations while dealing with the everyday Fisher functional dysfunction. Each character is on an individual journey but their lives interweave when it matters most. When it comes to matters of the heart, this family proves that blood is thicker than water. 
Score and soundtrack 
Thomas Newman's haunting main theme — at once moving and ever-so-subtly eerie — emphasizes the show's contemplative and melancholic mood. It's also quite in harmony (pun intended) with the show's more surrealistic moments.  The evocative melodies throughout the series also adapt to the character's ever-changing emotional states, whether joy, sorrow, or tension. Newman is known for his atmospheric compositions that never work to overpower the story or stand in for dialogue or narrative. Rather, his work underscores the quality that already exists functioning as a nuanced and emotionally resonant backdrop to the storytelling. 
Six Feet Under also boasts some exceptional needle drops, with songs from Sia, Coldplay, Radiohead, Jeff Buckley, The Arcade Fire, Bob Dylan, Nina Simone, and Tori Amos all thoughtfully integrated into the narrative. 
One of the best series finales of all time 
Without spoiling the ending, the Six Feet Under finale successfully ties up loose ends and provides closure for the many characters you've been following for years. While it is utterly in line with all the show has done up to this point, it also succeeds at total unpredictability and subverts traditional TV finale expectations. While it's difficult to get at the depth of greatness at play without revealing what happens, it is cathartic and innovative, and it only works to enrich the very themes of life and death that have been at the show's center since the get-go.