With over 800 million active users on Instagram per month, it's no surprise that getting your feed noticed can be a little more difficult than it used to be. However, fear not — there are a lot of tips and tricks that can help you to pull in prospective new followers and widen your audience. In this article, we focus on Instagram themes, why they are important, and how they create a cohesive, beautiful canvas for your content that will inspire others to click that follow button.
Why are Instagram themes?
When you're trying to gain followers, or simply just trying to turn your Instagram into something artistic and beautiful, you should absolutely focus on locking down your Instagram theme. Instagram themes are an incredible way for you to gain attention from those who do not follow you, and inspire those who do. When you put your own spin on your feed, while keeping it consistent, you leave your fingerprint on Instagram and you stand out, you become recognizable, and you leave a lasting impression on anyone visiting your little corner of the internet.
Think about all of the times you have clicked into someone's Instagram feed only to click right out. The first few photos that you saw either pulled you in, or did not inspire you to continue scrolling. This is a testament to how powerful first impressions are when it comes to Instagram. So, within those first few seconds, if you want to make the greatest impression on potential followers, you have to show them that your photos are worthy of being on their feed every single day. You have to show them that your content will visually inspire them. How do you do this? You create an Instagram theme — something that represents you, while still being extremely stimulating and visually artistic.
If you're thinking about themes now, and need a little inspiration, look no further! We've created a list of our top ten favorite kinds of Instagram aesthetics that will hopefully encourage you when it comes to dreaming up your own.
Colour Coordinated Theme
A color popping gallery gives off a young and playful vibe, and it is quite easy to achieve. All you have to do is take photos of anything colorful and fill the entire tile as much as possible with the bold colour – the brighter, the better. Sometimes, you will have to rely on upping the vibrance of your photo or the saturation, but that is super easy, and the payoff is beautiful.
The Tonal Intagram Theme
A tonal theme adds a certain sense of emotion to an Instagram feed, and works incredibly well when trying to achieve a grainy, film-like kind of feeling on your profile. This kind of theme is perfect for anyone trying to curate a travel feed, though it still looks beautiful with lifestyle photography as well.
Light And Whimsical Theme
Having an airy and cute theme is perfect for those trying to curate a feed that is playful, and a testament to their own personality. This theme works especially well for lifestyle bloggers, and those who are trying to cater to a younger audience.
Filtered Theme
When you create a filtered theme, it stands out a lot of how vibrant and consistent it is. A lot of photographers will sell presets in order to help those who want this kind of aesthetic, and these presets will be used for each and every photo they put up. This adds cohesiveness to a feed, but it also makes it beautiful to look at.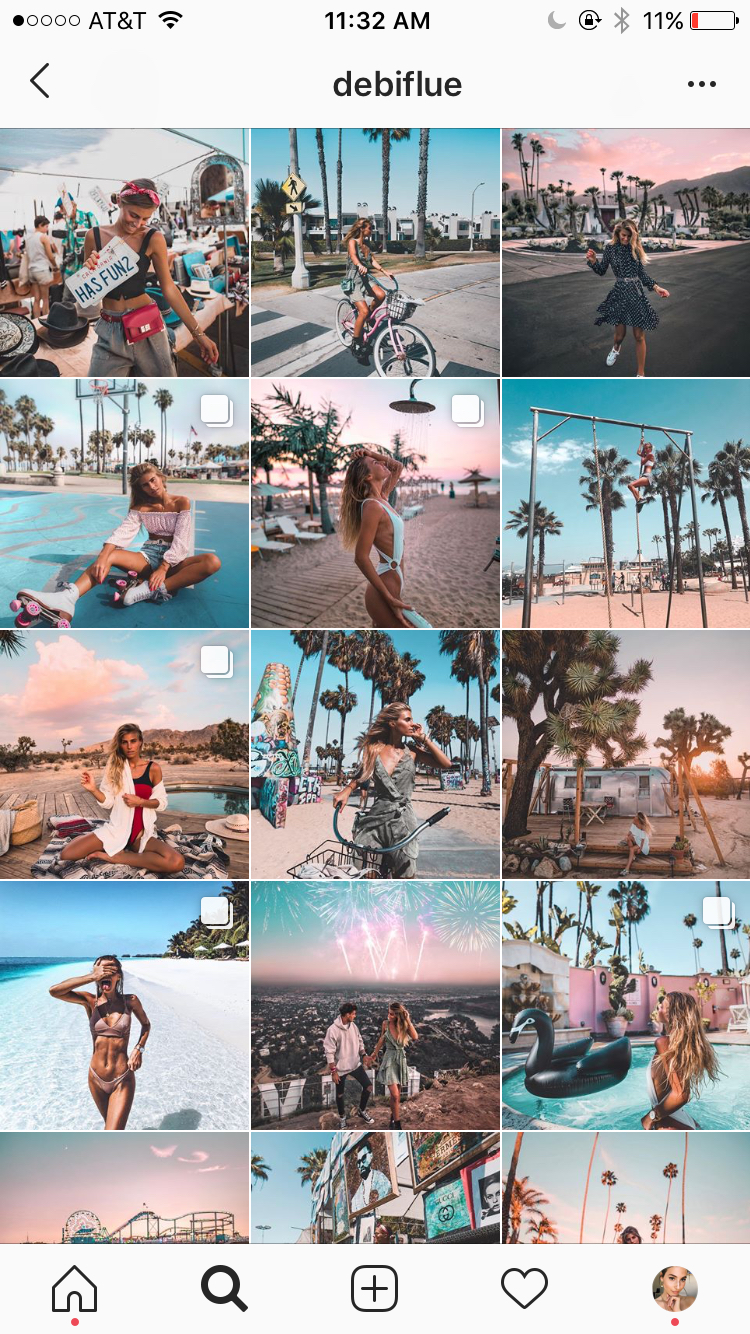 Subject Theme
If you want to focus in on a certain type of content, having a consistent tonal theme that pays attention to photo placement, and the subject matter in the photo, is very important. These themes can really make you stand out in the world of Instagram, because they are very specific and niche. A lot of decor, food, and recommendation Instagrams focus on having a theme like this.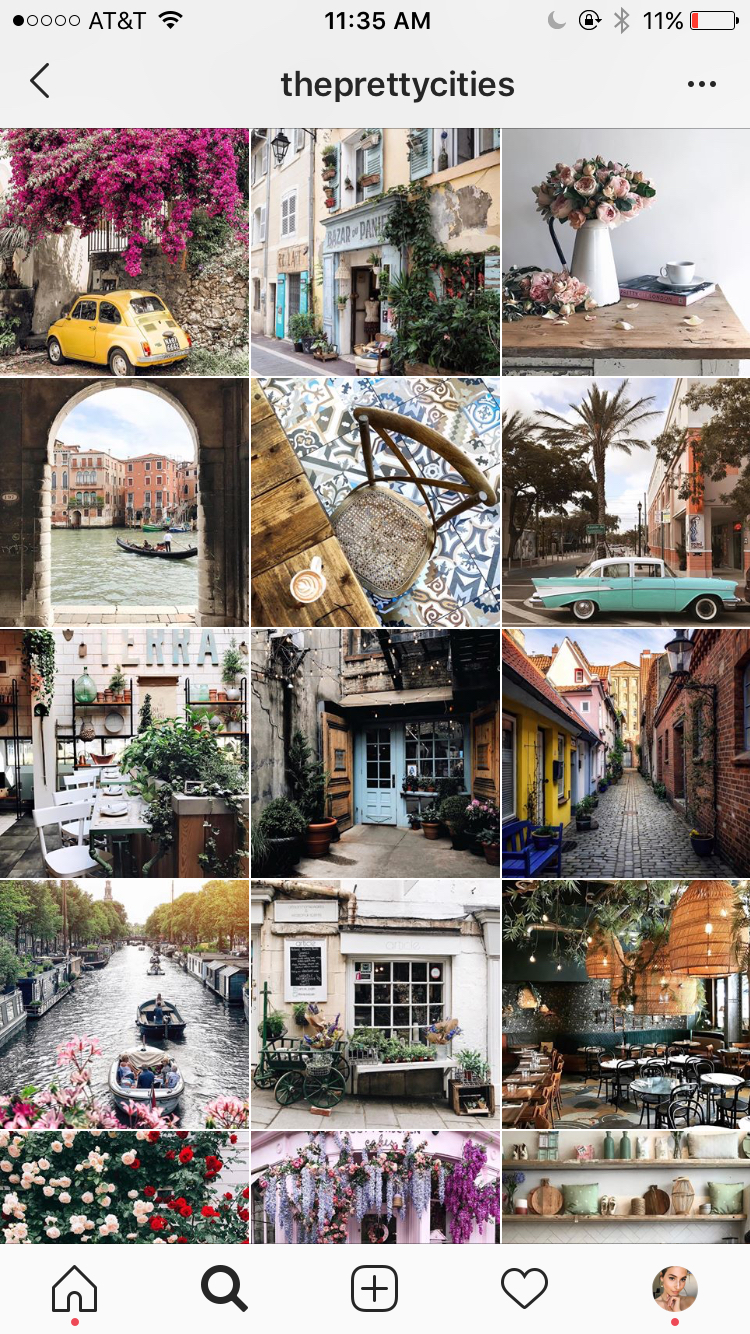 Moody Theme
If you want to have a bit of a bolder Instagram theme, a moody approach to your aesthetic is the perfect fit. This kind of theme makes a statement because it stands out amongst a lot of accounts that focus on highly saturated, and minimalist, aesthetics. A moody theme is great for fashion and lifestyle photography, and allows you to showcase a really grungy, cool look, that will attract an audience.
Pastel Theme
If you want an Instagram that is easy on the eyes, and also very fun to create, a pastel theme is for you. By lowering the contrast on photos to blend the subject matter, and upping shadows in a similar, light colour like pink, or baby blue, you create a mask over your photos and make them both cute and cohesive. Themes like this pull people in because they are calming.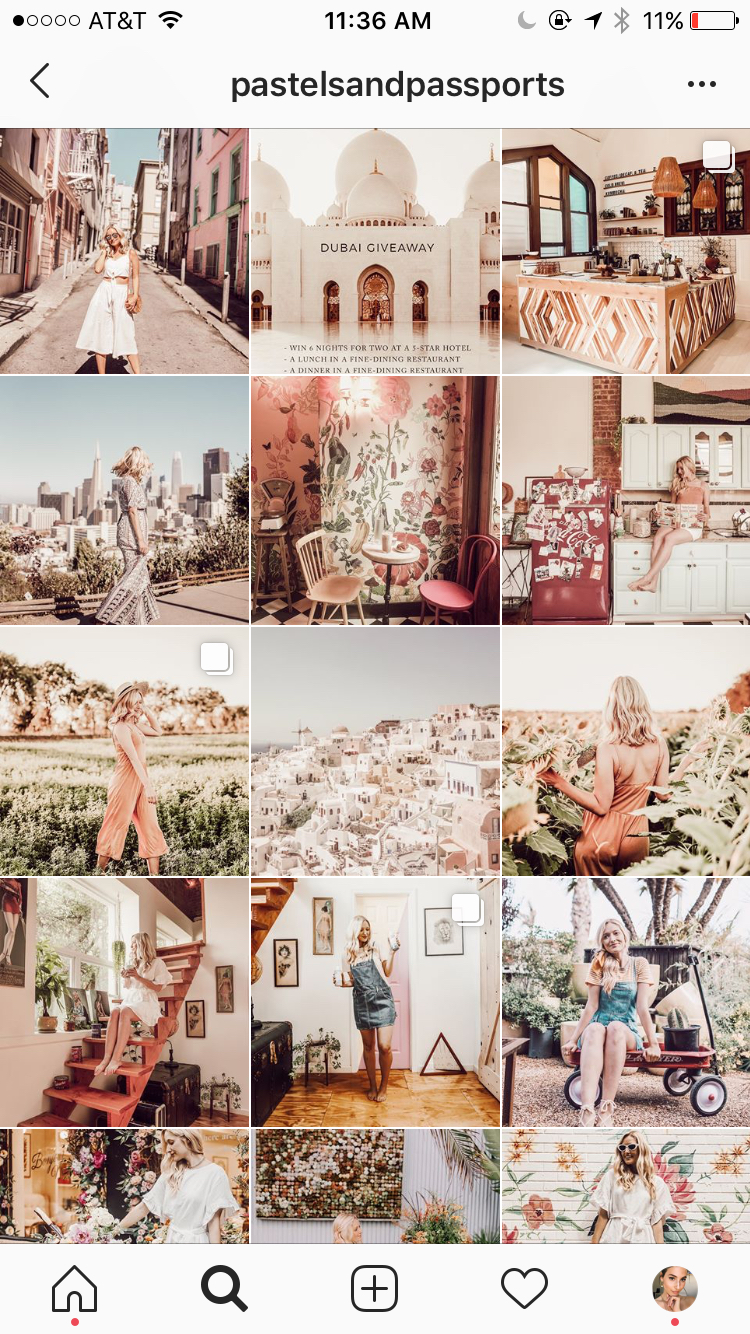 Saturated Theme
A lot of photographers often focus on making their Instagram feed follow a saturated theme. By upping sharpness, and upping saturation, this kind of theme allows for your travel and lifestyle photos to really stand out. Everything is heightened, and there is a bold, inviting contrast to all photos that really makes these themes pop.
Desaturated Theme
When you choose to use a desaturated theme on your Instagram, you create a very cool vibe, while staying minimalist in your approach to your aesthetic. A lot of lifestyle photographers, and bloggers who focus on flatlays, will use a desaturated theme in order to allow for specific colours in clothing or product to stand out. These themes also make a feed extremely cohesive without much work, so if you want a simple, but beautiful, way to amp up your Instagram — this is it.
Retro Theme
Vintage vibes are in, and through presets and filters, every single person can easily achieve this theme. When looking at an Instagram that utilizes this kind of theme, there is a level of playfulness, but also coolness that exudes the content. Grainy filters, and contrasts between light and dark tones, really paint a picture and make the Instagram stand out.
Which one are you most drawn to?