As travel buffs, we know how important it is to dream about all of the places you will go on your adventures. We scour the internet constantly looking for new and exciting places to stay, things to do, and food to eat. Here you'll find a list of bucket items we are itching to cross off. So, if you need some inspiration to book that ticket, look no further.
Adventure
1. Swim with whale sharks in Belize
2. Skydive over Rottnest Island in Australia
3. Take a hot air balloon ride in Cappadocia, Turkey
https://www.instagram.com/p/Bk1sMAqHLXG/?taken-at=708390005
4. Visit the Zhangye Danxia Landform in Gansu, China
5. Experience magic at The Salt Flats in Bolivia
6. Look down at the Tianzi Mountains in China
7. Take in the beauty of Hitachi Seaside Park in Japan
8. Walk through the Sagano Bamboo Forest In Kyoto, Japan
9. Take in the historic views of Halong Bay in Vietnam
10. Take a thermal bath in Pamukkale, Turkey
https://www.instagram.com/p/BkzdAM-HmFs/?taken-at=344303690
11. Visit the pink lagoon in Mexico called the Las Coloradas
12. Trek the GR20 trail in Europe
13. Walk through the ancient Batu Caves in Malaysia
14. Take in the eerily quiet scenery of Gásadalur on the Faroe Islands
15. Hike through the dreamy Antelope Canyon in the United States
16. Snowboard down a volcano in Nicaragua
17. Hike the Salcantay trail to Machu Picchu
18. Sit on top of the world after hiking Mount Kilimanjaro
19. Swim in Mexico's Yucatán cenotes
https://www.instagram.com/p/BjfF42Wnlew/?taken-at=1015684297
20. Hike the Mendenhall glacier in Alaska
https://www.instagram.com/p/Bk0sa0hFc9j/?taken-at=336832277
21. Face your fears and bungee jump in New Zealand
22. Do the Mt. Huashan plank walk in China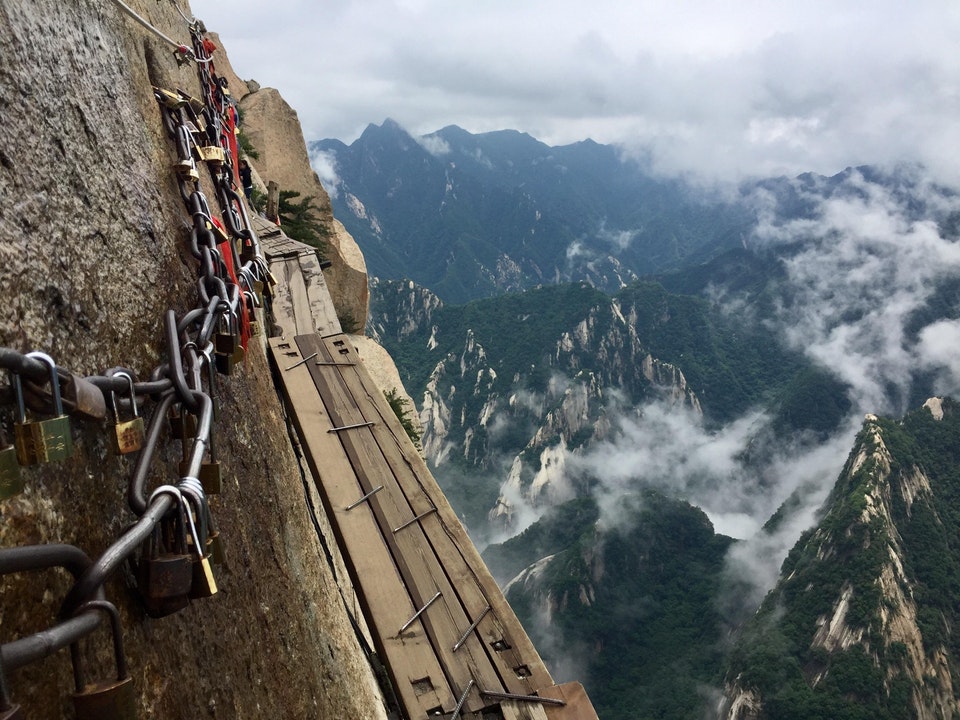 23. Swim in Iceland's Blue Lagoon
24. Find the hidden blue grotto of Capri
25. Hike and camp along the Na Pali Coast
26. Dare to do the Chomolhari Trek and the Tiger's Nest in Bhutan
27. Sleep on a remote island in the Philippines
28. Rock climb Crazy Horse Buttress in Chiang Mai
29. Visit one of the famous night markets in Chiang Mai
30. Become a certified diver in Ko Thao
31. Swim in the Devil's Pool at Victoria Falls on the border of Zambia and Zimbabwe
32. Sail through Croatia on a Yacht
33. Explore the beauty of the Amalfi Coast
34. Go on a safari in Kenya
35. Travel to Finland to see the Northern Lights
36. Sail through the Galapagos
https://www.instagram.com/p/Bj-kGRNANM1/?taken-by=galapagosisland
37. Sleep in a jungle treehouse in Bali
38. Bathe and get to know rescued elephants in Chiang Mai
https://www.instagram.com/p/Bk0XgjiA-8t/?taken-at=834357270057075
39. Go on an overnight hike of Mt. Batur
40. Surf the sand dunes in the Sahara
41. Visit the Sistine Chapel in Italy
42. Do the Everest base camp trek in Nepal
https://www.instagram.com/p/Bk5Th5NFJZT/?tagged=everestbasecamptrek
43. Swim with turtles in Ningaloo, Western Australia
44. Descend into a volcano in Iceland
45. Drive the Road To Hana in Maui
https://www.instagram.com/p/Bk1qk4cBVjW/?taken-at=1862537593989955
46. Ride through Wadi Rum in Jordan
47. Hike through the Columbia River Gorge
48. Take in the beauty that is Whistler Backcomb at night
49. Defy the odds and hike the Pali Notches in Hawaii
50. ATV through "Jurassic Park" on the island of Oahu
Food & Drink
51. Have a coffee at Les Deux Magots in Paris, France
52. Search for the famous $3 Fa Hua Dumplings in Shanghai
53. Visit Kappacasein in London for the world's best grilled cheese
54. Eat the critically acclaimed hummus at Abu Hassan (if you can get there before they run out for the day)
55. Go on a tapas crawl in Barcelona
56. Eat a bagel from the Montreal staple, St-Viateur Bagel
57. Taste the "best damn sloppy joe on Earth" at Town Hall Deli in New Jersey
58. Lick your fingers after feasting at Daddy D'z' BBQ Joynt in Atlanta
59. Try the "greatest burger on the planet" at Shiso Burger in Germany
60. Try an authentic, non touristy, Italian meal at Osteria Barberini in Rome
61. Eat Swedish meatballs at Riche in Stockholm (they're NYT approved)
62. Find out why so many celebrities eat at Abou El Sid in Cairo, Egypt
63. Rowboat to a delicious seafood meal at The Saltry in Alaska
64. Experience the true art of sushi at Sukiyabashi Jiro in Tokyo
65. Let the owner of Opal decide what you eat for dinner at Opal Thai in Oahu
66. Try the tasting menu at The French Laundry — the "best restaurant in the world"
67. Indulge in high tea at The Ritz, London
68. Eat a famous slice at Roberta's pizza in NYC
69. Refuel with a latte at the famous Cafe Kitsune in Paris
70. Eat a papaya bowl at the Sunrise Shack in Hawaii
71. Dine in an actual cave at the Ristorante Grotta Palazzese in Italy
72. Share breakfast with a giraffe at Giraffe Manor in Kenya
73. Dine 5 metres below the surface at Ithaa Undersea Restaurant in the
74. Let the LOTR fan in you come out at the famous Green Dragon Pub in New Zealand
75. Dine in an actual snow castle at the Snow Castle of Kemi in Finland
76. Have dinner in the middle of a waterfall at the Labassin Waterfall Restaurant in the Philippines
https://www.instagram.com/p/BeMrbw2Fe7k/?taken-at=962887704
77. Have your food cooked for you over an active volcano at El Diablo in Spain
78. Hang off a cliff while eating your dinner at Fangweng Restaurant in China
79. Eat high above the trees at The Treepod in Thailand
80. Have a drink at Please Don't Tell — the speakeasy that is hidden inside of a hotdog stop
81. Take in the sights, and the cocktails, at Aer in Mumbai
82. Get boujee and drink at Chandelier Bar in Las Vegas
83. Try a world famous cocktail at Artesian in London, the "world's best bar"
84. Soak up the sunset, and the cocktails, at Potato Head Beach Club in Bali
https://www.instagram.com/p/Bk4_TCWBLxs/?tagged=potatoheadbeachclub
85. Make like Charlie Chaplin, Orson Welles, and Truman Capote and have a drink at Harry's Bar in Venice
Hotels
86. Soak up Santorini with your own private cave pool at the Katikies Hotel
87. Rest your head inside a palace in the middle of the lake at Taj Lake Palace in India
https://www.instagram.com/p/Bk4HCArn5Pp/?taken-at=670061
88. Bathe in paradise at the Kawaguchiko Onsen Konanso in Tokyo
https://www.instagram.com/p/BUZLMwcAXMs/?taken-at=411557465894392
89. Go off-grid and glamp in the beautiful bubble tents at Camp Katur in England
https://www.instagram.com/p/BLMNXDRlr3U/?taken-at=252733061
90. Sleep deep within the African plains at Madikwe Hills
91. Stay at COMO Maldives — the most secluded, and luxurious, resort in the Maldives
92. Wake up surrounded by glaciers in Patagonia at Explora Hotel Salto Chico
93. Wake up beside the Eiffel Tower at the Plaza Athenee
https://www.instagram.com/p/Bk3i2JZH5D6/?taken-at=368706245
94. Sleep in a geo-dome and ski the alps at Whitepod in Switzerland
https://www.instagram.com/p/BkmZVUfFdze/?taken-by=whitepod_hotel
95. Step into a real life fairytale at Magic Mountain Lodge in Chile
96. Experience our luxury at Amangiri Resort in Utah
97. Sleep under the stars at Hotel Kakslauttanen in Finland
98. Live on the edge with a stay at the Äscher Cliff Hotel in Switzerland
99. Sleep in a spherical treehouse in British Columbia
100. Become one with nature at the Tinyeleti Treehouse, Lion Sands, in South Africa
Festivals
101. Go to Burning Man and experience Black Rock City
102. Celebrate colour at Holi Festival in India
https://www.instagram.com/p/Bk5TyDpgcdB/?tagged=holifestival
103. Drink all of the beer at Oktoberfest in Munich, Germany
104. Get your dance on at Carnival in Brazil
105. Party until the early hours of the morning celebrating Mardi Gras in New Orleans
https://www.instagram.com/p/BeiXWI6A_pi/?tagged=mardigrasneworleans
106. Run with the bulls in Spain (or just watch)
https://www.instagram.com/p/BkxDYjnFlIp/?tagged=runningofthebulls
107. Set yourself free at a Lantern Festival in Thailand
Personal Goals
108. Learn how to ask for what you want
109. Actually learn how to budget and have a healthy relationship with money
110. Do a 30 day healthy eating challenge
111. Walk away from any and all toxic relationships in your life
112. Truly learn how to be alone
113. Learn another language
114. Master the art of letting go
115. Take a class in something you've always been interested in but haven't pursued
116. Forgive someone who hurt you
117. Thank someone who is always there for you; let them know you appreciate them.
118. Learn how to say no
119. Learn how to say yes when your fear is holding you back from doing so
120. Learn how to separate love and fear