Since you never want sex (or foreplay) to become predictable, you should spice up your love life with games meant to make you orgasm. That way, you won't have to resort to lip kisses and missionary for the millionth time. Every night will be a brand new adventure.
1. Roll some dice to see how long your partner should go down on you. "One" means one minute. "Six" means six minutes, and so on and so forth.
2. See how well your partner can recite the lyrics to their favorite song while you're going down on them. Whenever they stop talking, you stop sucking.
3. Kiss for as long as you can without taking off any clothes or feeling each other up. See which one of you caves first and initiates sex.
4. Play truth or dare, but make every question naughty.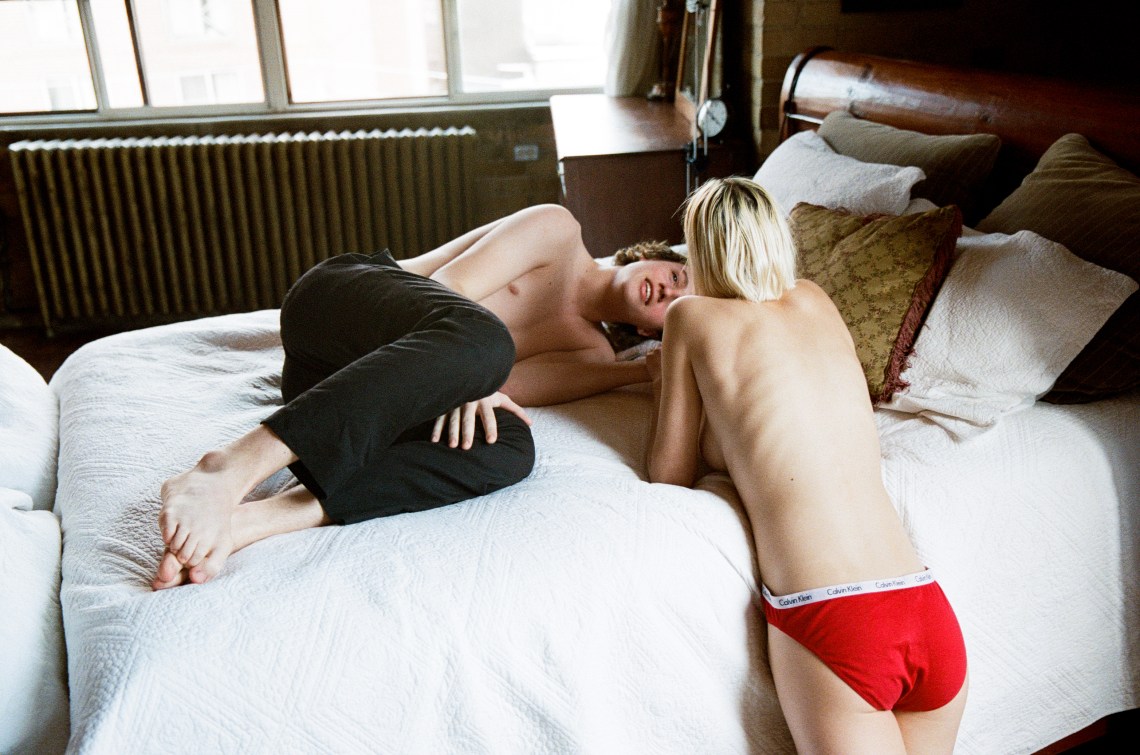 5. Do a puzzle together naked.
6. Pretend that you're in a room with other people. Your goal is to keep quiet, and your partner's goal is to try to make you moan.
7. Put on a song for your partner and see how well they can do a strip tease to it. You can either pick something sultry or silly.
8. Make a DIY Twister board with body paint.
9. Play porn roulette. Head to a porn site, scroll down, and click on a random video to watch together.
10. Turn on Periscope and ask strangers what you should do to your partner. When it's time to follow through, you get to choose whether you want to turn the camera off or leave it on.
11. Buy an adult board game. If you follow the instructions, you'll end up doing some pretty dirty shit.
12. Play naughty charades by acting out different sex acts. If your partner guesses correctly, perform the act with them.
13. Set a timer and try to make each other orgasm before it goes off.
14. Play strip Poker. Or strip Uno. Or strip Go Fish.
15. Blindfold your partner and make him guess whether you're about to touch him with your hands, a feather, a vibrator, or your mouth.
16. Watch a porn movie and act out what the characters are doing to each other.
17. Play the "what's in my mouth challenge" like you've seen your favorite YouTubers do. Except, instead of using food, you should place different body parts in your partner's mouth and make them guess what they're sucking on.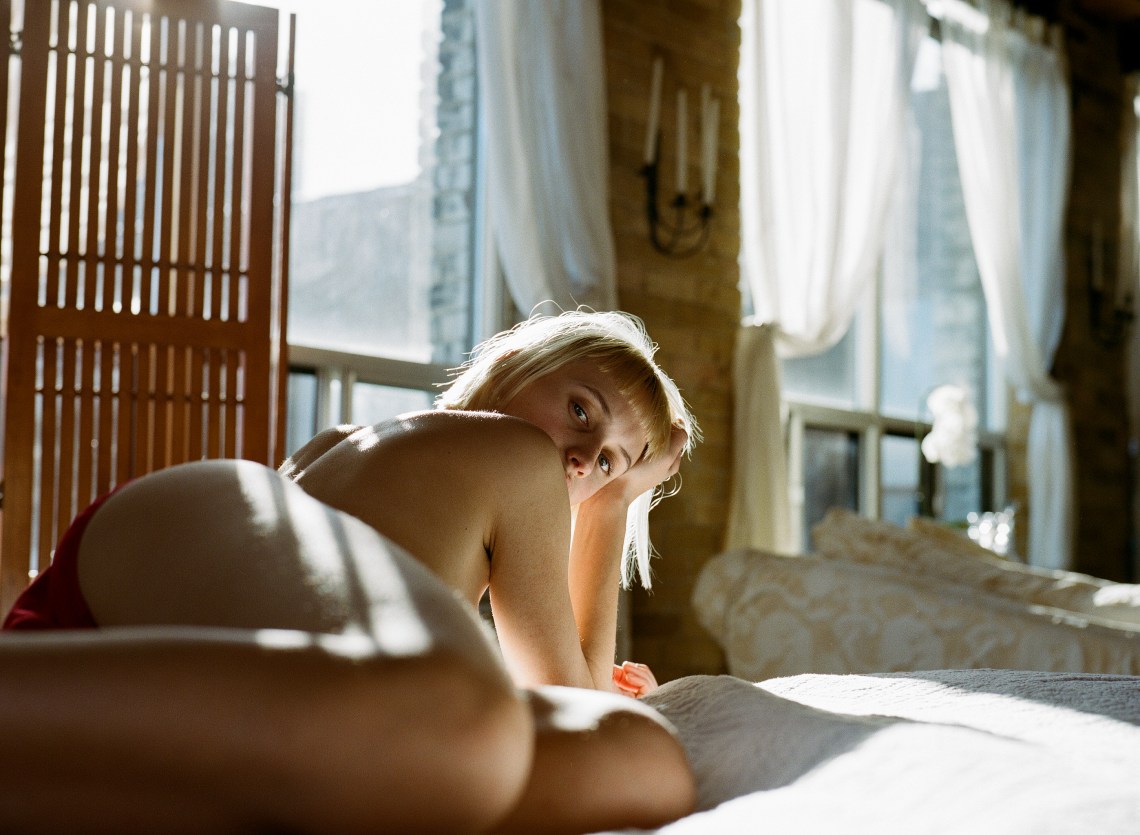 18. Switch to a random television channel. Then role play as whatever couple stars on the show.
19. Challenge him to a video game that you both enjoy. The winner gets to choose what the loser has to do to them.
20. Quiz him with questions about your kinks and fantasies. Whenever he gets one wrong, he has to remove an item of clothing.
21. Scroll through a sex toy site and order whatever item you randomly land on. Then use it the next time you have sex.
22. Channel your inner-child and play hide and seek. Wherever he finds you, he has to fuck you.
23. Watch a movie together. Try to turn your partner on in any way that you can without removing your eyes from the screen.
24. Go out in public and try to make each other horny without engaging in massive PDA. Try bending over so he can see your cleavage and sneaking kisses when no one else is looking.
25. Touch him while he touches you. See who can make the other person orgasm first by only using their hands.
26. Get naked in bed and make a rule that you can't talk, kiss, or touch each other's genitals. See who can get the other person worked up enough that they break one of the "rules" first.
27. At the beginning of the year, make a bucket list of sexy things you want to do together. Cut the list up and place all the items in a jar. Each week, draw one thing out of the jar and promise you'll do it that week.
28. Make a pact to stay naked together for an entire day no matter what.
29. Start a tradition where you place sex bets on things like a sporting event, or the outcome of a trivia game.
30. Pull any game out of your closet that you have an find a way to make up a "strip" version of it.
31. Find a book of erotica and take turns reading it out loud to each other paragraph by paragraph. Whoever makes a move first loses.
32. Buy a Jenga game and grab a sharpie and turn it into your own "sexy dares" Jenga game by writing a dare on each game piece. When you remove a piece from the Jenga tower, you also have to complete the action written on it.
33. Or, just play your own game of sexy dares without the Jenga aspect.
34. Leave each other voicemails of reading erotic stories without bringing it up in person or breaking character. See who cracks first.
35. A tried and true sex game: sex dice.
36. Use the sex dice but with one person blindfolded so they can't see what is rolled and have to wait to experience it with their other senses.
37. Instead of playing a drinking game while watching your favorite show, play a stripping game. Make a list (or find one online and convert it from drinking to stripping) of "take off an article of clothing every time x happens" and play along.
38. Use a timer that's set to go off every one or two minutes and take turns touching or pleasuring each other knowing that when the timer goes off, you have to switch no matter how (temporarily) frustrating it is to be "interrupted".
39. Make a sexy drinking game: ask each other these 50 dirty questions. You have to take a shot every time you refuse to answer one.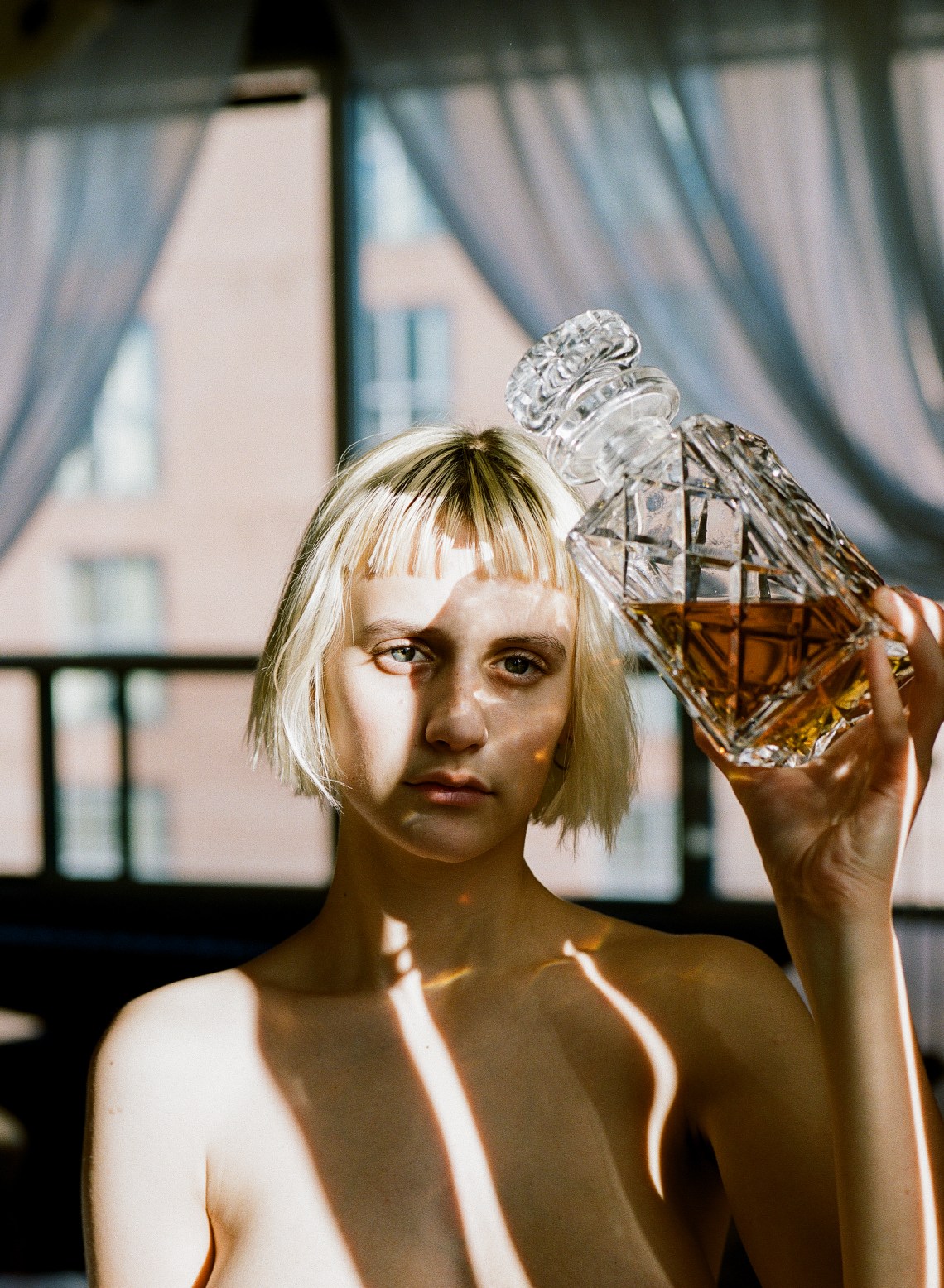 40. Find a sexy story that turns you on and then send it to your partner and make a promise that you'll act it out together and pretend to be Very Serious Actors while doing it.
41. Sign up for any kind of art class that interests you, but use your new skills to paint, sculpt, or draw sexy pictures of your beloved. Leave them under their pillow or tucked into their book for them to find.
42. Alternatively, buy some body paint and get creative in a more hands on fashion.
43. Think of a topic you two both know a lot about and find an appropriate trivia game for it like Game of Thrones trivia or a Harry Potter spelling bee and the loser has to remove any object of clothing the other person wants for each round.
44. Pick a TV show you want to watch together every week and make a rule that the commercials are "foreplay breaks". You must spend the entire commercial break kissing or engaging in some other form of foreplay.
45. Kiss each other for as long as you can without breaking contact or touching any other part of the other person's body. The first person to break the rules loses.
46. Find different spots in public to make out in like you are teenagers without getting caught (ex: the back of a movie theater, a parked car, a walking path at night).
47. When you're out somewhere you know your partner won't be able to respond or get a private moment with you, send them a sext that will drive them crazy for the rest of the evening.
48. Watch a movie while taking turns every 10 minutes massaging each other with a scented oil. See how surprisingly turned on the other person is by the end of it.
49. Make a bet on which of you is actually the most sexually experienced and find out for real with a dirty game of "Never Have I Ever".
50. Find a book of sexy stories. Read them out loud while your partner is blindfolded. Stop and take breaks to tease them a bit and drive them crazy.
51. Buy a copy of the Kama Sutra and take turns each week picking a new position to challenge each other to try.
52. Take a sharpie and write 10 sexy dares on the bottom of 10 solo cups. Have your partner do the same. Fill the cups up with water or alcohol and set them up on a table. Play beer pong and each time you get the ball in a cup, your partner must complete the dare.
53. Challenge each other to see how many different positions you can try before either of you orgasm.
54. Naked Twister.
55. Play 20 questions but with a part of your body. You think of a specific area of your body and your partner has to "guess" by kissing different body parts until they find the correct place.
56. Write out on a notecard a place you want your partner to touch you. Make them guess where it is. The person guessing can touch all the want but the other person cannot speak, touch, or gesture.
57. See how many different locations you can hook up in a one month period.
58. When you get dressed up to go out on a date, play Seven Minutes in Heaven first. Set a timer for 7 minutes and get as much action as you can in before you have to walk out the door.
59. Blindfold your partner and direct them to touch or kiss different parts of your body and then guess which part it is.
60. Make a challenge to have the longest and shortest duration of sex you've ever had within a 30 day period.
61. With a vibrator or just your hands have a "race" to see who can make themselves orgasm the fastest.
62. Next, see who can spend the longest pleasuring the other person and still make them cum.
63. At the beginning of a week, assign a special word or dead as the "magic" one for the week and tell your partner you will pleasure them every time it is said or done — but they won't know what it is. Watch them go crazy trying to guess!
64. Use the "body parts" die of your sex dice to roll and take body shots off different parts of each other's bodies.
65. Play a dirty version of Stoplight. Make your partner start far away from you and ask them questions about yourself. When they get one correct, you can briefly give them a "green light" to move toward you before you say "red light" and make them stop again.
66. Play "two truths and a lie" with all dirty questions.
67. Challenge each other to send each other a song by the end of the day that describes what you want to do to the other person later. When you get together, act out both songs.
68. Tie your partner up and tease them until they can't stand it anymore. Time it and see who can hold out the longest.
69. Play an adult version of spin the bottle by placing different items in a circle (whipped cream, sex toys, a blindfold, an ice cube, chocolate sauce, etc) and spinning the bottle. Wherever the bottle points, you have to use that item on your partner.
70. Get naked and play Marco Polo all alone in your home.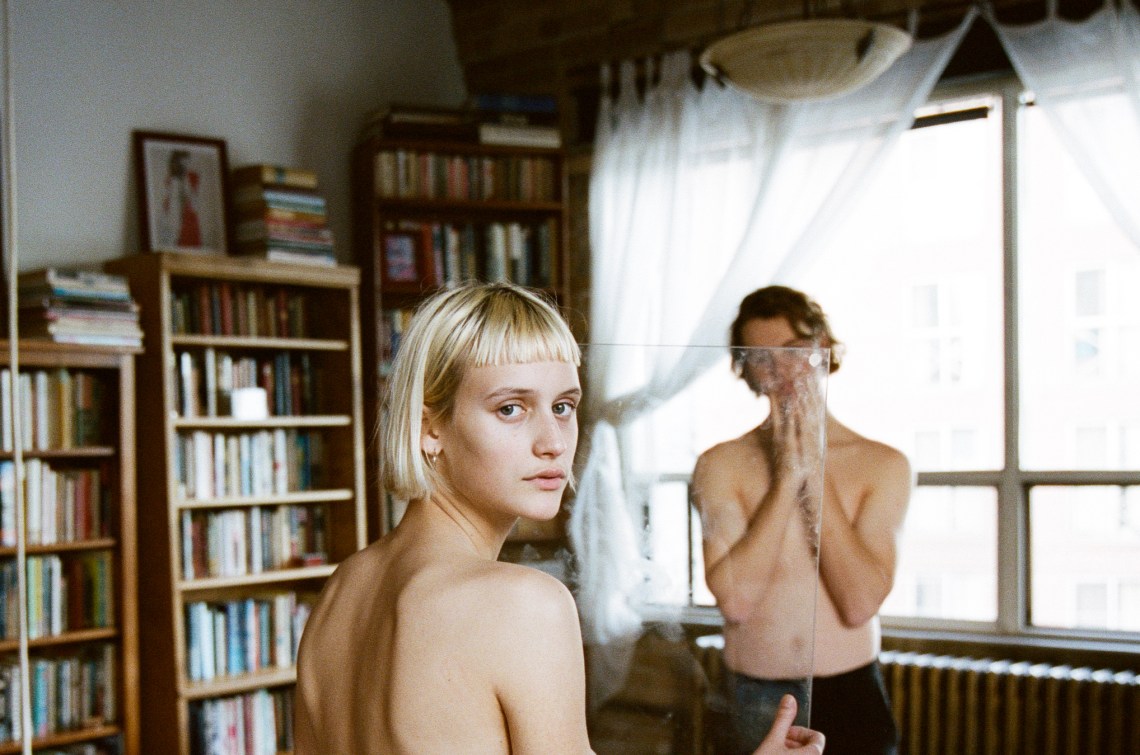 71. Have your partner think of a part of their body and tell you if you're getting "hotter" or "colder" as you try to guess what it is with your mouth.
72. Get a long distance vibrator and play a dirty guessing game over the phone while one of you is out of town. Correct answers get rewarded with a zap.
73. Order each other a sex toy that you think the other person would enjoy. Wrap it up somewhere and keep it visible, but don't let the other person open it until they can beat you at a very specific challenge you've made up.
74. Buy a blindfold and take turns using it as a way of saying basically "tag, you're it". Whoever has the blindfold gets to decide when to use it and putting it on means "I am ready to be teased". Afterwards it is the other person's turn to keep the blindfold and bring it out whenever they want.
75. Print out this list and place all the options in a jar. Pull one out once a week and make a promise to play whatever it is.
Bonus Content: 30 People Describe the Wacky Sex Games They Play With Their Partners (NSFW)
Want to hear it directly from the couples themselves? Here are 30 couples describing all their favorite and completely naughty sex games.
GF uses my erect penis as a microphone and sings songs.
She likes to inflate my foreskin when I'm not erect and play with it like it's a balloon.
He tries to do sexy talk in a Kermit voice. It inevitably ends in tears of laughter so I don't mind :)
My girlfriend and I live on the first floor of a two story building with four residences and our bedroom window is about waist level with cars and pedestrian passer-byes. When we have sex in our bedroom we spread the curtains wide open and let any potential observers *take it in. It's quite exciting and provides for excellent post-sex topics i.e. who stopped and watched or slowed down and almost crashed.
It started the morning after the first time we had sex. He said, "I hope you didn't have any plans today because I'm not letting you leave." I asked, "Are you going to kill me?" He said "yes" and we laughed. Then he told me how he'd kill me, and I said "sounds great but I'm going to kill you first." Then we wrestled which turned into fucking. Now we get turned on when we threaten each other's lives.
I like to wrap her in bubble wrap, and then strike down with my penis with enough force to pop the bubbles. Really turns us both on.
Few years back, I would slap my dick against the ex's face/forehead area. She would say "I object, I object", and I would yell as loudly as possible "Overruled"! This became an ongoing thing. The roommates at the time would be like, WTF are you guys doing in there?? We called it The Gavel.
An ex of mine broke her spine when she was a teenager. Luckily she had full movement but had a side effect. On her lower back right where back dimples go above her butt was really sensitive and would tingle a lot. If you rubbed that spot she would go insane. Get wet, moan, the works. She said after the back break it formed a line from that spot on her back to her clit and would tingle like mad. She said when she was younger she would masturbate rubbing that spot.
Sometimes, if there's a marker lying around I'll put two dots on the head of my dick and use the opening as a mouth and start talking to my dick. My current gf is the only one who's ever responded to him. When she did that I knew it was serious.
My girlfriend does this hilarious "bird of paradise" dance pre and/or post sex. She copied the nature channel during our first hook up and it stuck. It's not sexy per se, but it lets me know that she's in the mood and cracks me up.
The Penguin! Me and my ex went to an aquarium and saw the penguin exhibit. Well, that day the penguins were just fucking away and we saw that they initiated it by the male walking up behind the female and hitting her with his flippers until she laid down. It was hilarious. After that I would occasionally walk up behind my ex and pretend I was hitting her with flippers as a joking sign I wanted sexy times.
When I do something stupid that hurts my wife's feelings, my best solution is always to make her laugh. Then tell her I'm sorry. Works 100% of the time, usually.

Anyway, when I fuck up particularly bad and after she's cooled off a bit, I go over to the refrigerator and grab a couple of limes/lemons. I then walk over and hand them to her. Instantly she cracks a smile.

I will then go and stand at one end of the hallway, and she will stand at the other end, she'll throw the lemon/lime and try to hit me in the balls. I give her a number of tries based on how much I fucked up. She always ends up laughing. She usually misses. But it always makes her feel better.

We call it the Citrus Game.
My ex and I created a game called "Nake & Bake." You make Shake & Bake in the kitchen naked and then put it in the oven for 45 minutes to cook. You go have sex until the timer goes off then go eat.
When we finish we look at our cats sitting on the end of the bed and ask for a score.

Bastards never give us more than a 7.5.
One time an ex and I were filming ourselves while having sex, and half way through I totally "Patrick Bateman'd" that shit and looked directly at the camera and started flexing, looking badass, "yeah you like that" "yeah you fucking stud" "oh fuck yeah," pointing at the camera, flexing more, for like 5-10 min. We were doggy style so she had no fucking clue. Afterwards we re watched it and when it happened we both just lost it.
After I'm done giving him a blowjob, I lay my head on his thigh and ask his dick questions. He answers one flex for yes and two flexes for no. His dick and I are besties.
My wife likes me to get glazed doughnuts and watch me eat some of them while sucking my dick. We have also played ring toss with them, which started as a joke but then she discovered that an icing flavored dick was pretty amazing and it just turned her on even more. So she would rub it on my dick or take a bite of the doughnut and then continue the bj. It was awkward at first but I have to admit it probably the best bj I've ever had. Dunno why it turns her on so much but doughnuts and an amazing bj at the same time is pretty much a win-win for me.
After sex, my boyfriend sucks my boobs until he falls asleep.
My old SO and I would get dinner, some sort of alcohol (preferably a few bottles of shitty champagne or tequila), smoke copious amounts of weed, then head to bed.

Once we were in bed she'd have me lay on my back, hands folded up behind my head, real relaxed and naked like. Then shed take my watch off and put the oversized watch on her wrist, and set the timer. Depending on how bad I had bugged her, the time would range from 10-20 minutes. During that time, I was not allowed to move or touch her back, she could do whatever she wanted. It was the sexiest torture imaginable. If I caved, she'd set the clock over. If I made it the full time, first try, she'd let me have whatever I wanted.

So fucking awesome.

9.5/10 Definitely recommend trying.
Not my wife but I used to have a girlfriend that had an odd habit that I enjoyed. When wed watch a movie in my apartment she liked to lay her head in my lap and keep my dick in her mouth. Even if we just had sex. She wouldn't actively blow me, just keep it in there soft and roll it around like a jawbreaker. Don't get me wrong, eventually id get hard and shed blow til I came, the. Shed go right back to watching the movie with it in her mouth. She was really a good egg.
After sex when my husband's dick is flaccid again, and we are laying there peacefully, I grab it and smack his stomach with it while repeatedly saying "stop hitting yourself. stop hitting yourself. stop hitting yourself." I laugh for a good five minutes and he stares at me with a look of love and concern…OK…mainly concern.
We pretend to be dinosaurs. And not just any dinosaurs, we have specific species and personalities. It's not during sex, but before foreplay we start kissing and all a sudden he's making screeching noises and I'm pretending my arms can't reach his face and we are fighting to the death.

It's funny and we just giggle and laugh and wrestle naked until we both get very turned on.
The "sleazy doorman"

Hang one of those pull-up bars from the doorframe and have the girl hang from the bar while you go to town from behind or from the front, its a good workout for her too!
I really really like laying back after a good fuck and having her scratch my balls, sometimes for an hour or so if in lucky. It's one of the best feelings I can describe, yunno, outside of the fucking of course.
My boyfriend and I beat the shit out of each other as foreplay. I don't mean BDSM, I mean we full-out Fight Club destroy each other.
One night many years ago I told her to pretend my cock is her vibrator so she grabbed the lube, rubbed it on my throbbing head and slowly rubbed it against her clit until she came. As she cums I thrust deep inside and we fuck until we're both sweating and satisfied.

We do this every time now, she cums every time and our sex life is amazing for it!
Koala sex. Pretty sure no one else does this but when you have her in missionary she wraps her legs around your back as well as arms and holds herself under your belly like a baby koala.. then while on your hands and knees you sway back and forth… Not sure if that's how koalas do it but that's what we call it.
My ex SO was playing 2048 on the couch and I was extremely horny so I naturally decided he was going to get a surprise blowjob. I had it in my mouth for half a second and he goes to put the game away and I said no keep going, if you stop or lose, I stop. Long story short as far as I know the score he got was and still is his personal best for the game by far (he did extremely well) and one of the best times ever between us that night. Once he tossed his phone to the side and tackled me to the floor, demanding he couldn't take anymore.
According to my girlfriend, I've come home super-drunk, woken her up, and tried to seduce her with a cow dance, complete with mooing noises. I use my fingers to demonstrate where the udders would be and how they swing based on my hip movements.
An ex and I would always have to slip a reference to Hitler in our post-coital conversation. It was always something like, "I love that thing you do with your tongue." "Know who else loved it? HITLER."

I miss her.