A man found in a septic tank in an unincorporated area in Alberta, Canada in 1977 has finally been identified, ending a decades long murder mystery. The case has been known as the "Septic Tank Sam" case and centered around the body known for decades as "Sam Doe". The mystery of Sam Doe's identity was actually solved in January 2021, but the results of the new investigation were not made public until the summer of 2021.
The Mystery
On April 13, 1977 a couple who owned an abandoned farmhouse in rural Alberta discovered the body of a man in the home's septic tank when they went to scavenge it for parts. The man had been beaten, shot, sexually mutilated, and tortured. His body was wrapped in a yellow bedsheet and tied with a nylon rope before being dumped in the septic tank. He was had been sexually mutilated so severely that he could not immediately be identified as male. The body was also covered in Calcium oxide, a chemical compound also known as quicklime that was believed to cause bodies to decompose faster. The body had been in the septic tank for several months when it was discovered.
Clues
What we knew about Septic Tank Sam prior to 2021:
He was either Indigenous or caucasian.
He was 5'5-5'7.
He was between the ages of 26 and 32.
He had a medium build and weighed weighed 145-165lbs.
He had a childhood illness at about age 5.
He had dark brown hair.
He had all of his teeth and had recently gotten dental work.
He was right-handed.
He wore clothing that may identify him as a migrant worker not local to Alberta: a blue Levi's shirt with snap buttons, jeans, and off-brand Clarks (in this style).
Police working this case called the events that lead to the man's death "one of the most vicious, vindictive, and sadistic crimes" they had seen.
Septic Tank Sam was originally laid to rest in an unmarked grave at an Edmonton cemetery. His body was exhumed in 1979 and was flown to Oklahoma so a forensic anthropologist and medical illustrator could create a 3d rendering of Septic Tank Sam. These experts believed he was 35 and Indigenous. His body was exhumed again in 2000 and studied by another medical examiner.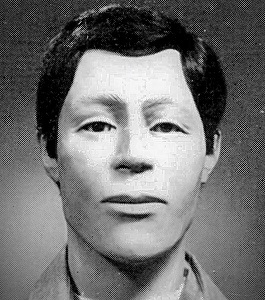 What we know or suspect about Septic Tank Sam's killer(s):
They may be local to Beaver County, Alberta as they seem familiar with the area
Sexually mutilated Sam as well as burning him with a blowtorch and cigarettes. It's believed that Sam was tied to a bed while tortured based on marks on his clothing.
Appear to have known the victim, as the murder was personal and vicious.
Owned or had access to a .32 calibre semi or automatic weapon.
Septic Tank Sam's Identity
It turns out, Septic Tank Sam is actually a man named Gordon "Gordie" Edwin Sanderson. As a 9-year-old child Gordon was taken from his Indigenous parents and placed in foster care as part of a racist government policy called the "Sixties Scoop". As a result of being taken from his family, Gordon grew up struggling with addiction.
In 1977 when Gordon was murdered, he had last been known to be traveling to visit his brother in Alberta. When Gordie never showed up, his sister reported him missing. She didn't hear an update for 44 years.
Inspired by the apprehension of the Golden State Killer, Canadian police used a similar technique to find Septic Tank Sam's identity. A DNA profile for the unknown decedent was created by a lab in Texas and uploaded to a genealogy website. One of Gordon's family members happened to already be participating on the website and they were able to trace his identity back to Gordon Sanderson.
Police have not released more information as their investigation is active and ongoing. They are hoping that over four decades after Gordon's tragic murder, they might be able to bring his murder(s) to justice. For now, what we know is that Gordon Sanderson lived a short and tragic life. RIP Gordie. He is survived by his sister and his daughter.