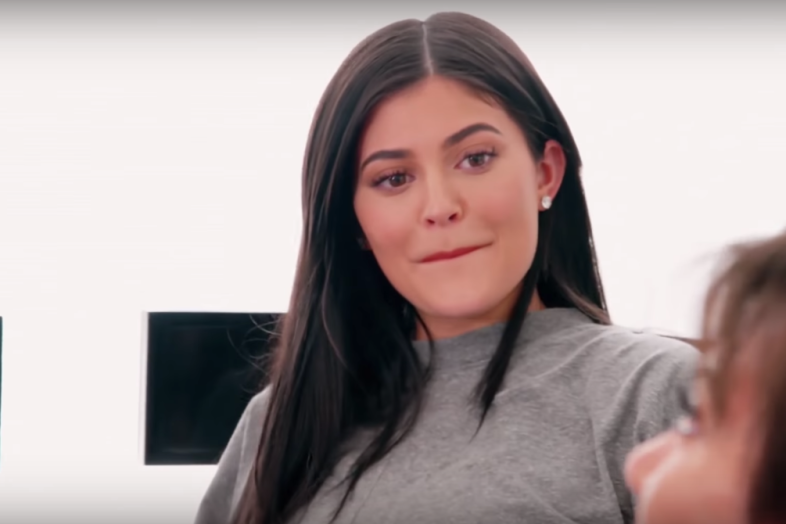 Kylie Jenner has become the most buzzed-about sibling from the Kardashian clan, but it's not that surprising — not only is the teen an actual millionaire thanks to her cosmetics line, but she's also reportedly pregnant. At least, we think she is. The social media personality hasn't actually confirmed her pregnancy, and there's already nearly 100 theories about why.
Of course, not all the talk is about the Jenner girl. Kylie is just one of the Kardashians that are currently pregnant — both Khloe and Kim are expecting children this year as well. Khloe even went so far to make this cute Instagram post with her boo Tristan Thompson.
But Kylie is the only of the three who hasn't commented about her pregnancy at all, and she's been lying pretty low lately, to the point where she wasn't even included in the family's Christmas card. And, of course, that had everyone talking.
Now there's a new conspiracy theory about Kylie's pregnancy circulating the Internet that, well, actually kind of makes sense? I hate to admit it, but it's totally something I could see coming true.
conspiracy: the reason why kylie isn't coming out and saying she is/isn't preggo is bc khloe is covering up for her. kylie is in hiding until she gives birth and khloe will claim the child as her own since she is "pregnant."

— kalkidan tadesse (@kalkidan__) December 26, 2017
I mean, let's just look at some of the evidence, as seen in this Twitter thread:
https://twitter.com/McVeighPatrick/status/945039261128159238?ref_src=twsrc%5Etfw&ref_url=https%3A%2F%2Fwww.romper.com%2Fp%2F9-theories-about-why-kylie-jenner-wasnt-in-the-kardashian-christmas-card-7686782
https://twitter.com/McVeighPatrick/status/945039839442939904
https://twitter.com/McVeighPatrick/status/945040028157272064
https://twitter.com/McVeighPatrick/status/945040360128110595
https://twitter.com/McVeighPatrick/status/945040692061057024
https://twitter.com/McVeighPatrick/status/945040913939693569
I'm not usually a conspiracy theorist but someone make me a wall full of pictures of the Kardashians and some red string to start connecting the dots because I'm all for this one. Especially considering Khloe was told she wouldn't be able to have kids, which was one of her biggest public struggles.
Of course, it doesn't really explain photos like these, but also the Kardashians are masterminds of public image. I wouldn't put it past Mama Kris to concoct some plan to make it look like she has a baby bump.
It's also totally possible that Kylie is saving the big reveal for their show, Keeping Up With The Kardashians, to help boost ratings, but I'm not totally convinced, especially since it was revealed earlier this year that she makes significantly less than her sisters do from the show (except, of course, Kendall, who's pretty detached from the whole Keeping Up brand).
Whatever's going on with the Kardashians, we all have a lot of questions, especially regarding Kylie. Where you at, girl?
going by the Kardashian christmas card, Kylie Jenner is either totally pregnant or her whole family absolutely fucking hates her.

— Becca van Sambeck (@beccavansambeck) December 24, 2017
Once the truth comes out, someone needs to make a movie about this. After all, this shit is the greatest mystery of our generation.