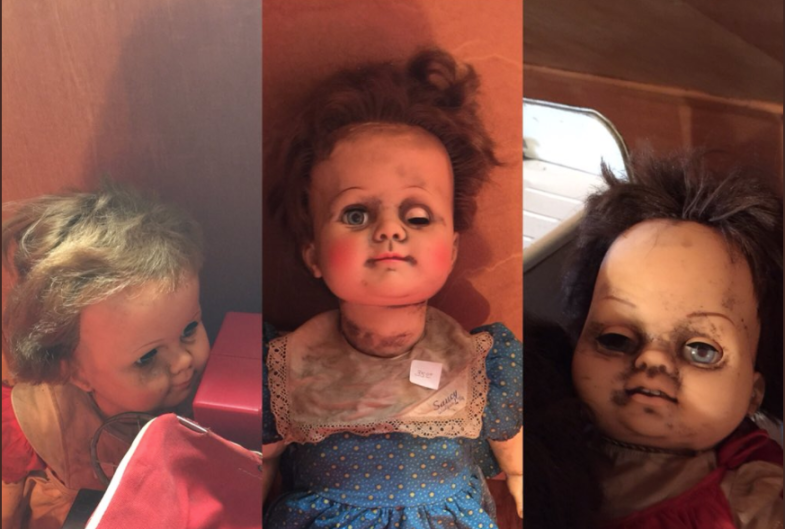 It's almost Halloween, which means we're all going to spend the last few days of the month scaring the shit out of ourselves for "fun." Seriously, I couldn't sleep last night because I stayed up into the early hours of the morning reading true ghost stories and then couldn't fall asleep because I was convinced something was watching me. But, you know, in a fun way!!!
Dear Prudence's Mallory Ortberg has another idea of Halloween fun, I guess. On the podcast, she asked fans to send her photos of the most terrifying dolls they owned, and Twitter definitely delivered.
few weeks ago I put out a call for more pictures of creepy dolls on the prudence podcast and boy howdy have people delivered

— Daniel M. Lavery (@daniel_m_lavery) October 25, 2017
My only question: how are any of y'all even still alive???
Story: I was house and petsitting for friend's parents. Went to the bedroom and saw the closet light was on. Looked inside: pic.twitter.com/fcARCF4yjF

— ghost of kristin past (@yestervegh) October 25, 2017
Like, most of these look like something straight out of a horror movie. You know, the kinds of dolls that get possessed by something evil and then peel your skin off in your sleep.
A friend of my mother's made this for me, which was very sweet, and she's a legit artist so that's cool too, but … pic.twitter.com/3AbviHAzjR

— yet another Sarah (@solidbee) October 25, 2017
https://twitter.com/signedsjd/status/923268865861316608
This one hasn't killed us all. Yet. pic.twitter.com/MqNHv3ky9V

— Eleanor's Trousers (@eleanorstrouser) October 25, 2017
The ONLY thing I wanted for Christmas after Toy Story came out was that little spider doll head thing, and my mom actually FOUND it pic.twitter.com/q3ffGL10Rk

— Maggie Horne (@MaggieSoaresRex) October 25, 2017
My ex sent this photo to me this week, an actual thing he has purchased. I feel like I can just send it to a divorce attny with his address pic.twitter.com/209pIrIb2j

— Maddox (@MKPinDC) October 25, 2017
https://twitter.com/pauligirll/status/923322126374813697
Like seriously, people???
https://twitter.com/Nicole_Cliffe/status/923293051241447424
https://twitter.com/Nicole_Cliffe/status/923293416129097728
Okay, question for everyone who owns these dolls: WTF ARE YOU DOING?!?! YOU NEED TO BURN THESE WHILE YOU CAN!!!
But not everyone owns a creepy-ass demonic doll (thank god). Other people were smarter: they found creepy dolls, but they sure as hell weren't going to buy them.
@Nicole_Cliffe I encountered this gem in my parents' RV pit/workshop. pic.twitter.com/vTfbm0yM6Z

— The Vaxedinator (@cathinator) October 25, 2017
My sister is always wary at incoming texts from me. pic.twitter.com/l6fxazZAgY

— Allison (@ATweetsville) October 25, 2017
https://twitter.com/DammitJacqui/status/923282366025564162
Saw this in a thrift store yesterday. pic.twitter.com/CVS2e3Ymjm

— Ann Kriss (@akriss253) October 25, 2017
This is 100% not okay.
https://twitter.com/signedsjd/status/923327474448007168
Saw this creepy doll in a shed at a squatters home. The words creepy dolls make me think of it right away. pic.twitter.com/AkW8Z5Uq0E

— Mark Teasdale ★ (@MarksGonePublic) October 26, 2017
Left at a bus stop pic.twitter.com/68UvpQwmYI

— Weltschmerzchnitzel (@luciaaleblanc) October 26, 2017
This abandoned crew was haunting. The eyes kept following me as I walked down the block pic.twitter.com/nL1YrKvhKI

— g.i.l.l.y (@gillyarcht) October 26, 2017
On someone's dashboard, Los Angeles. Of course. pic.twitter.com/ALLavIBgcf

— elaine layabout 🙊 (@elainelayabout) October 26, 2017
Okay, not to be overdramatic, but I would literally DIE if I saw any of these in real life. Probably from lack of sleep, tbh, because there's no way I'd ever be able to recover from the thought that they probably followed me home and are watching me through my bedroom window.
All I'm saying is that if you own any of this shit and you notice your stuff goes missing/the dolls start mysteriously moving around your apartment when you're not there, don't even think about calling me. You're gonna have to deal with that one alone.