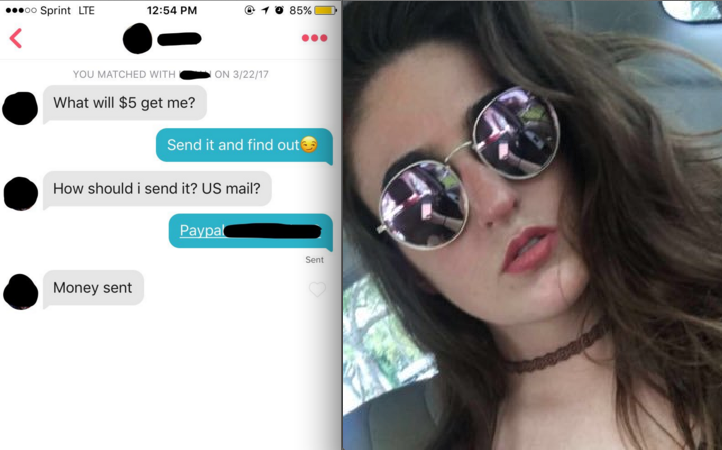 So maybe I was wrong about Tinder being terrible. I mean, don't get me wrong, it's still full of horrible people and horrible things, but when done right, it sounds like an absolute delight. Just ask Maggie, who uses the app to scam unassuming men out of money.
OK, it sounds kind of terrible, I guess, but also kind of genius, right?
https://twitter.com/maggiearch3r/status/844654772011589633
Maggie's profile says it all: "Send me $5, see what happens."
Apparently, that was enough to catch some guys' attention.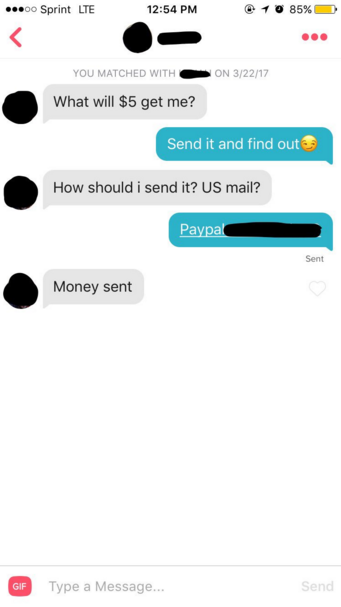 Once the guys sent her money, Maggie kept her promise — by unmatching them immediately.
I mean, it's harsh, but she wasn't lying — she never specified what she'd do. Really, what did these guys expect for $5?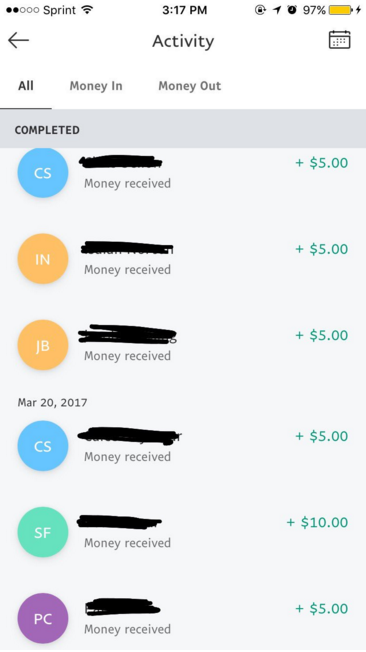 Whoever sent her the $10 was really getting ahead of himself.
A lot of people were pretty impressed by her scam, as am I.
https://twitter.com/Jesus_Margar_/status/845920173882298368
https://twitter.com/Kcam617/status/846075226161078272
— daniellexo (@daniellexo) March 25, 2017
Some thought Maggie was an inspiration.
it's genius wish I would've thought of it 😂

— kayla (@Kay_bell48) March 22, 2017
— myah (@myah_dennis) March 26, 2017
https://twitter.com/supremesace/status/845328407944708097
I hope this doesn't go viral too quick I'm tryna scam my way into a car

— ᕙ(`▽´)ᕗ (@chelswds) March 25, 2017
Others, well, not so much.
lmfao paypal will close her account and keep her money so waste of time.

— 𝖏𝖔𝖏𝖔 (@joannekittenxo) March 24, 2017
so are you going to donate the money you've been defrauding or????

— gills (@llamaqueen24) March 27, 2017
You know what they say — don't hate the player, hate the game. Or love both because I'm sorry, this is absolutely beautiful and if you don't agree, you're wrong.