If you're an avid member of a group chat, you know things can get a little crazy in them on nights out, when everyone is wasted and eager to share every weird moment, triumphant conquest or drunk declaration of love. But this group of friends got a very different surprise when things got a little too crazy: a message from the police.
So last night the police interrupted our group chat in the most spectacular way 😂😂 pic.twitter.com/prA8HfJOu8

— Loaf (@Loafc7) March 14, 2017
It all started with this message from Cameron's phone claiming that the police had picked him up, but that he was a little too far gone to remember his address.
Of course, Cameron's friends were immediately skeptical. After all, why would the policeman have chosen to message a group chat called "Pres Poosay"?
However, being the badass he is, the officer quickly dispelled all doubts.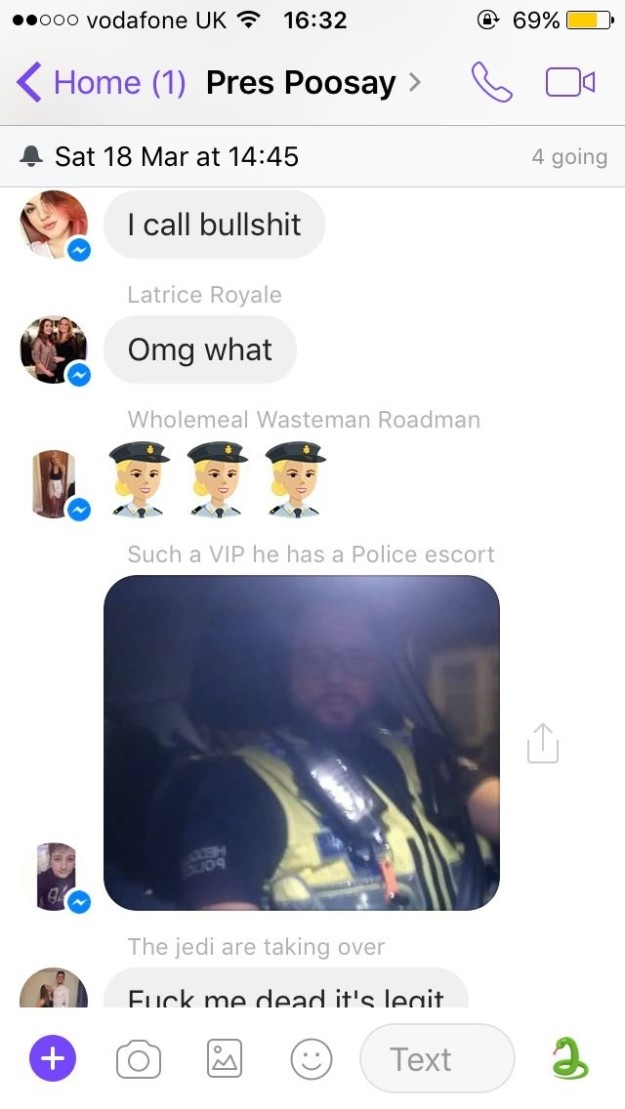 "Fuck me dead it's legit," indeed.
Of course, people found the exchange hilarious.
WALES

— Le Public Space (@Lepub) March 15, 2017
without a doubt, you sir, have made my year

— Will (@willpcourt) March 14, 2017
@MattyJordan95 @samuelbriffa @Sam_wade94 @Navraj_SK if they did this to our group chat we are all fucked hahaha😂

— Jamal (@jamalmuloma1) March 16, 2017
You win this time, South Wales Police. You win this time.