In the fall of 2016, a lot of important topics were dominating the news cycle. It was eight days before Donald Trump would be elected 45th president of the United States. The Access Hollywood tape of him describing to Billy Bush how he liked to "grab women by the pussy" had been leaked less than a month earlier. Hillary Clinton's "illness" and emails were also being widely discussed.
That's probably why no one outside of Florida heard of the most horrifying Florida-style crime that occurred on October 31.
On Halloween night, 2016 at 11pm, 20 people wearing clown masks in the style of the Purge movies attacked a family who were driving home. A group of two brothers and two women were with five children traveling home from trick-or-treating when something hit their truck, the two men got out of the vehicle to investigate. That's when one man was stabbed in the head with a "machete-like weapon" and the other was beat with a hockey stick. The rest of the attackers carried clubs and bats.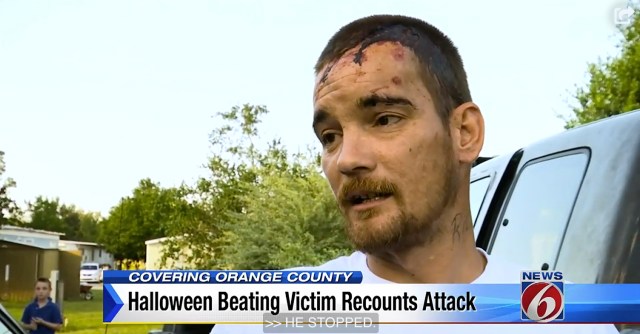 One of the attacker's masks was lifted during the struggle and the victim recognized the attacker as a kid from the neighborhood.
The victim and his brother were able to keep the women and children in the truck safe. The victim's wife was able to get into the driver's seat and drive the children to their home a block away before returning to help. When she got back to the intersection, the clowns had dispersed.
Earlier, two students in a nearby county got in trouble at school for threatening fellow students and teachers:
Deputies say a student showed them this message last night. Deputies contacted the district and Lake High Schools were put on alert. pic.twitter.com/H2Ahc50vqs

— Myrt Price (@MPriceTV) September 30, 2016
This was believed to be just talk and part of the greater hysteria of the 2016 Clown Sightings all over North America. However, after this attack, we know for a fact the group was not "just talk". One of the men needed staples in his head after the attack:
Just talked to one of the victims. He and his brother are out of the hospital. Says attackers were teens w/ clown/purge masks #WFTV pic.twitter.com/Ef4GrM7FJb

— Deneige Broom (@deneigebroom) November 1, 2016
He told a local news channel, "They're lucky that my wife told me to leave my gun at home. Because if I would've brought my gun, I would've shot every one of them, everyone I could because, they rushed me with weapons and I was in fear for my life."
No arrests were ever made in this attack. The clowns are still at large.
A homeless man in Colorado Springs was also attacked by clowns at a community park in early October 2016. He suffered a head injury, but his wife who was with him was unharmed. No arrests were made in that case either.