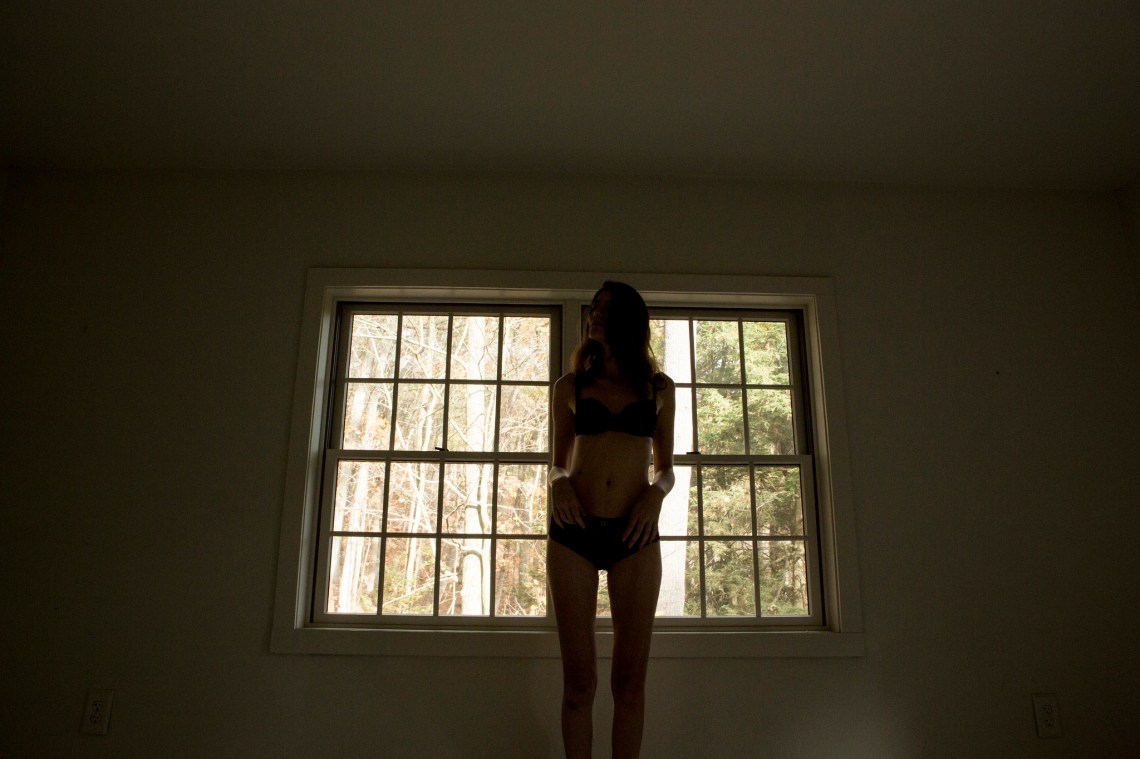 Laziest fucking lay in the world. It was terrible. Basically, "I have a giant cock, I don't have to do work." It was really pretty though…
— Anonymous
My first and only "big dick" was a 9-incher…the girth was awesome, but the length was way too much. I kept asking him to ease up and not enter me all the way, and he kept getting over-enthusiastic…I still wonder what the best compromise would have been, since taking all of him was too much for me, but stopping short was not enough for him.
My biggest was a 9′ with massive girth. Loved the fact that I was the only one he's had that could fully deep throat him. He wasn't the most caring/attentive guy, but when he was in me, thrusting away, there was just nothing else like it. Being completely filled and stretched like that is pretty amazing.

That said, I couldn't deal with having that every day. I usually cramped up afterwards (we always went super hard at it… again, the only girl that could take all of him in me with it still being good and rough). I think if he'd been a regular/long time thing, I would have lost the ability to walk.
— Maxxters
My first boyfriend was pretty well endowed. Oral was incredibly intimidating and I never really enjoyed it with him. The sex itself was alright at the time, but after having smaller penises I've realized that it shouldn't have hurt so much. Also it made doggy rather difficult and that's my favorite position.

All in all I'd take an average or even a small penis over a large one any day, they are far less cumbersome.
The biggest guy I've been with was 9″ and it wasn't great. He was just kind of boring and admittedly I wasn't super into him, just fascinated by his enormous penis. He knew that, though, and was cool with it because he was getting laid.

Then of the other two runner ups, one was my worst sexual experience ever. He was 7.5″ and fucked like a jackhammer, but he was so rough that it was incredibly painful. When I started saying it hurt and saying "no" to him, he didn't stop, and later claimed that he heard "ow" as "wow" and "no" as "oh". I couldn't say for sure that that was bullshit, but I have a strong suspicion, so, that was a pretty horrible experience. I nearly went to the hospital after he left because I was in so much pain I thought maybe he did some internal damage. Then I also found out he had a girlfriend (she contacted me). So, double horrible.

And last, but most definitely not least, was the 8″ guy. He was amazing. Super sweet, considerate, got me off before he got himself off, etc. Just the right amount of assertive – not cocky, just really fucking confident. It was mindblowing, and I think all the neighbours knew it, too. We were together for almost two years but he didn't want exclusivity and I'm a monogamous type, and I eventually gave up trying to deny that about myself.
— fucktoy
My current boyfriend is enormous. I was actually a little scared when I first saw it. I was thinking "That's going inside of me?! Am I going to live?" He can last forever (3 hours one time. I couldn't walk for 2 days.) and he's the best I've ever had. Cumming has always been easy with me, so when I'm with him it's like a non-stop cumfest.

He knows what he's doing in bed; he doesn't rely on the the fact that his dick is huge, he actually knows how to use it. In regards to oral, he told me it's never been a good experience and had many horror stories involving gratuitous amounts of teeth and gagging. challenge accepted. I am pleased to report that there has not been a single gag or chomp from me (like a boss!) but that's due to the fact that I've known many dicks. Also, he blows quite the load.
I had some of the most mind blowing, earth shattering I-am-involuntarily-crying-due-to-extent-of-orgasm sex with someone who had an 8 incher once. On top of a table, lying with my back down and he was able to hit depth and angles previously unexplored. I literally thought I was going to hyperventialite I came so hard.

I've also had sex with men that have cocks so big that it literally feels like he's fucking my stomach cavity. Which is an INCREDIBLY painful experience, and I would strongly caution those ladies who are boning a dude with a horsewang to engage in a fuckton of foreplay.
— Anonymous
I thought I was a size queen, then I hooked up with a 9″ guy and, uh, ow in the cunt. It was a great size for blowjobs though, and it was incredibly hot to go down on him. Just enough circumference for a stretch, but not encumber working on the considerable length; I thought I was going to come from deep-throating him. Maybe I am only an oral size queen?
I've had a few partners who were very well-endowed, and it was often as frustrating as it was fascinating or fun. I like penises in pretty much any shape or size, so it was always interesting. Girth is more fun than length, in my opinion.

But it can hurt, a lot. Even when you have a very considerate partner (and my experience has been that men with long penises are very considerate out of necessity if nothing else), lots of lube and warming up, you both hold back a bit, because getting your cervix bruised hurts like hell. You can't help but flinch, and most guys don't find that enjoyable either. It's a lot of "no, not quite that deep" "let me change position a bit" "not quite that hard". I think that it's more frustrating for the guys, because they can rarely just let go. I'm sure that there are assholes out there who think of it as a weapon, or a 'pass', but the guys that I've known who are very large find it more of a problem than a blessing.
— aenea
He was the size of my wrist in girth and about 9 inches in length. It was pretty intimidating the first time I saw it. We tried to have sex a few times but there was no way that was happening. I actually felt bad for him when he told me he usually was flat out refused when he took off his pants.
11.
One night I went home with this guy I'd met. We basically stumbled into his place, not even bothering to turn a light on anywhere. I get a glimpse of his cock in the light of a lamppost outside and it's huge… Just long and thick and ridiculous. My drunk self decides I can take this and I'm so drunk and so horny that we get to it and he goes in dry. Hurts at first and then I'm getting wetter and wetter and it's crazy. Anyways, everything reaches its conclusion and he gets up to go for the inevitable post coital piss. On his way out he flicks on the light. There is blood everywhere. Between him splitting me open and the lack of foreplay his bed has turned into that hallway from The Shining. And I'm so drunk and embarrassed I throw on my clothes and thirty seconds later I'm running out of his house barefoot with blood down my legs.

Was good sex though.
I lost my virginity to a guy with a big dick. It was like 8 or 9 inches and was really thick. The first few times were so painful. He got frustrated that I kept asking him to stop so he just started plowing me because he said I would have to get used to it. I bled a lot and there were chunks of my hymen on his dick.
This top honor would have to go to my dear husband. I was a 20 year old sweet little thing when I met him. After a few weeks we finally did the deed, at that point I had only been with one other man.

He whipped it out and I was visibly shaken, but tried to keep my cool. IT WAS ENORMOUS. I'd never seen something so big.

It was one of the most painful nights of my life, and 8 years later… I can't get enough.
— Anonymous
My very first had a 9 1/2 incher. When he first whipped it out, I didn't know whether to suck it or feed it a peanut. And I am 5′ 1″ and was pretty petite at age 15. I thought all dicks were like his. My 2nd lover's was about the size of my thumb. Confusion ensued.
Woman here. I was a bit of a late bloomer, so I took full advantage of the skewed male/female ratio of the Air Force during training. Snuck a guy up into my room and started to get hot and heavy.

I reached into his pants only to discover a dick the size of a toddler's leg. He proudly stated it was 11″ long, with the girth about the size of my wrist. I immediately decided he was going nowhere near my vagina, and attempted to give him a blowjob instead. Key word is attempted, because my mouth barely fit around it and I'm sure there was more than a little bit of tooth than is normally preferred. 2/10.
My ex had a pretty large cock. He was a little over 8 inches and very girthy, and a grower, not a shower. The first time I saw it, I was so disappointed (I'd been led to believe by a previous lover he had a "horse cock" and it was the size of my pinky) then he got hard and my jaw dropped. The first thing out of my mouth was " Oh my god, you're going to break me".

The sex was absolutely amazing, but I ended up getting a lot of bladder infections, which really seriously sucked. We ended up not working out in the long run but I'm convinced he's the best sex I'll ever have. I may have plateaued sexually at 23 :(
— vikinglizzie