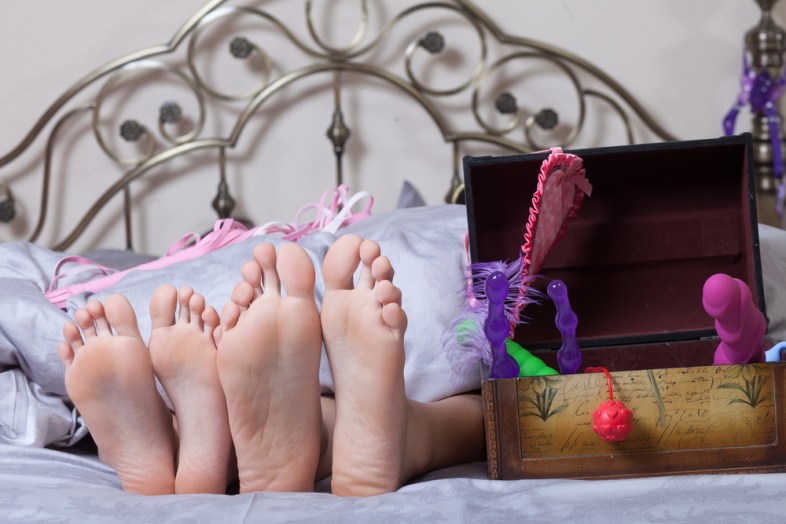 1. If she says she is about to orgasm… Steady as she goes.
2. Don't forget kissing! People get so excited about below the waist body parts going into other body parts that they forget the simple sensual awesomeness of kissing. My lips are super highly sensitive and a good long lippy/nibbly kiss in the middle of some fuckin' is one of my favorite things.
3. Tell each other what you want.
4. Make noise. To moan, tell me how tight I am, grunt, tell me how much he wants me, gets my Niagara falling.
5. Go for the neck! THE NECK!

If the nibbles are well timed, she'll freak.
6. Work up to it, it's not just jump in and go. Start sending some dirty texts earlier in the day, start subtle but then work up to more intense dirty talk.

If you're in the kitchen cooking/cleaning walk up behind her and move her hair to the side and slowly start kissing her neck from behind, gently pull her against you with your free hand so she can feel you. Turn her around and put on hand on her lower back and the other on the side of her face and kiss her like you haven't been together in years. Slowly start kissing your way down her neckline until you get to her breasts.

Want her and she'll want you.
– DexRogue
7. Put a pillow under her lower back. Makes the angle for g spot stimulation just right.
8. Missionary position.

Lean your pelvis onto her clit. Just kind of arch your self slightly and lean on it.

Do this while you thrust in. Then let up a little.

You can be pulling out and arch as well.. kind of mix it up. You can thrust in deep and lean on the clit and just kind of hold it there. Then just increase the pressure a bit then let off.. whatever you like.

It finishes my wife off every time I use it.

That plus using your non balancing hand to work around the vulva when you're inside her. Hey o. The ladies start making all sorts of guttural noises.
– _Doos
9. A well placed thumb can make all the difference.
10. Ok, here's something I've always done but apparently not many people know it. Vary your strokes bros. Change your pace, change your depth, change your angle of approach. Lean back and rub the roof and then shift and go left, right, right left, etc. Keep her guessing. Stimulate her entire sex. But when she get close, FUCKING STAY IN THE SAME SPOT. When the lady starts to get really close, you make it your job to keep the exact same pace and hit the exact same spot until she has an earth shattering bed melting orgasm.

You're welcome.
11. Make a sound. Jesus Christ it's so off-putting having the silent type in bed. To all you guys out there; moan, groan, grunt – ANYTHING to show you're lost in the moment and couldn't give two shits as to how you may come across.
12. I echo Chef's advice to Stan in the South Park movie – "You just gotta find the clitoris."
– sorin255
13. Laugh. Have fun, enjoy each other. Sex doesn't have to be this serious "romantic" thing. It's fifteen minutes of squishy noises. Be silly, explore, experiment.
14. Thighs! Kiss them, lick them, touch them! Gives me butterflies.
15. Combine fingers and tongue: 2 fingers inside her rubbing the G-spot, your tongue working her clit. Just go slowly first and for as long as you can as this will exercise your arm muscles. You must not stop when she gets close even if your arm burns, trust me on that one.
– MsEwa
17. Tips from a female, for a female:

Masturbate more often and if you don't masturbate…there's no better time to start. Masturbation helps you to understand your body and become comfortable with your sexual self. It also relieves stress.

Try going on top, your chances of orgasming are higher because of deeper penetration.

If you are giving oral sex to a man, use your tongue!! Porn would have you believe that it's all about suction but it's really not. Flatten your tongue and pretend you are licking a delicious ice cream cone. Use your hands also (the head of the penis is the most sensitive part) and never neglect his balls!
18. Good sex is like good BBQ:

Don't rush it. The longer you spend preparing, the better it will be.

It's better with some big, hot buns.

Keep some paper towels handy, in case it gets all over your face.

Rub your meat with olive oil. And cayenne pepper.

Try it with corn on the cob!