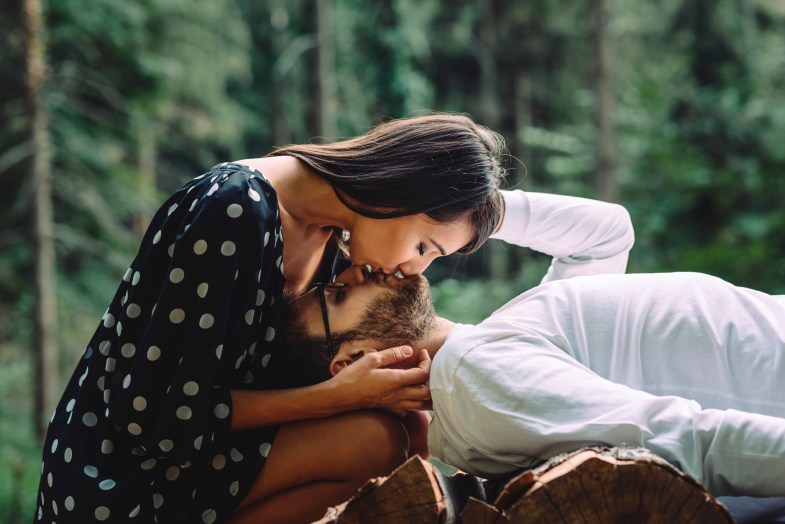 1. Life is better with him.
He frustrates me most of the time but I keep asking myself if life is better with or without him, and the answer is always with him, so I just know he is the only one who can keep annoying me as much as he wants to and get away with it.

~ Sofia, 25
2. He makes me forget about my worries.
It's like he has a magic wand or something, every time I see him or talk to him, I feel like all my worries just vanish. He just knows how to make me smile and knows how to convince me that life will be good again and I love him even more for that.

 ~ Alessandra, 27
3. He is my best friend.
He is my best friend. We can do anything together and still have a blast, we can even just sit on the couch not saying a word and I will still feel like I am having the best time of my life. We talk about everything and I trust him with my life.

~ Erika, 26
4. I don't even want to look at other guys.
You know you are deeply in love when you don't even want to look at other guys. If I go out with my girls, he's the only one on my mind and I don't even find anyone else as charming or as attractive as he is. All I can think of is when I'm going home to him.

~ Diana, 30
5. All I want for Christmas is him.
I knew I was in love with him when he spent Christmas with my family and I saw the effort he was putting in to get along with them and how he kept playing with my niece and carrying her around the house. I thought it was the cutest thing ever and I couldn't help but picture him as a father and I just melted. I don't know, I felt like he just blended in well with me and my family.

~ Linda, 29
6. A double date sealed the deal.
I was forced to go on a double date with my best friend's crush and his best friend. I was mainly there to be her wing woman but of course I had to entertain the guy, after talking to him for hours I realized how comfortable I am in my relationship and how effortless the conversation between my boyfriend and I is. It made me feel like I just don't want to even talk to anyone else.

~ Mary, 24
7. He's my bad boy turned good.
He was the ultimate bad boy and I finally locked him down so I am not getting rid of him anytime soon. But the more I get to see his softer side and less of the playa side, I fall in love even more. He is my ultimate fantasy of a bad boy turned good just for me. I am living the dream.

~ Kristin, 27
8. He pays attention to details.
I fall in love with him more and more every day because he pays attention to the things I say and remembers important dates and deadlines. He is always the first to wish me good luck or send me uplifting messages before my work presentations. It makes me feel that he truly cares about me and wants to be part of my life.

~ Mai, 29
9. He snatched me out of my depression.
He did what my therapist couldn't do, he just snatched me out of the bleakness of my depression and into the light again. And it wasn't because he was trying to 'fix' me or all that crap, he just genuinely made me smile and made me happy. I never knew one person could make such a difference but he did and I thank God for him every day.

~ Inji, 31
10. I just miss him when he's gone.
This might sound cheesy but I truly miss him every time he leaves. When he goes out of town or I spend a whole day without seeing him, I just don't feel like myself and all I can think about is him. I know it's too much but it's the truth. I can't wait till we move in together.

~ Brie, 26
11. My psychic told me he's the one.
I went to a psychic three weeks before I met Brian and she told me that I was going to meet a man who is not my type and that he will be the one. When I met Brian, I wasn't really into him but after getting to know him I just couldn't resist him. We've been together for two years now and only getting stronger. Blame it on the magic spell or the universe, I'm just happy I found him.

~ Mariana, 32
12. There are no games.
Finally I met a guy who didn't keep me guessing. I was just happy to finally meet a mature man who knew he wanted me from the first date and made that clear. He keeps proving to me that he is just an assertive and mature man and I feel safe with him. There are no games which makes me trust him even more. His maturity turns me on!

~ Denise, 32
13. He had me at hello.
I'm sorry but it was love at first sight. As soon as I saw him I just knew this guy is going to make me lose my mind, and he did but I lost my heart too and I don't plan on getting it back. It's in good hands. Celebrating our three year anniversary next month.

~ Amy, 28
14. I am his number one stalker.
We had a lot of mutual friends and I would always look at his pictures then I did some more stalking on his other social media accounts and there was just something about his smile and his aura that was just so attractive, until we finally met and I just knew that I was stalking this guy for a good reason. He has the kindest heart and the most caring personality I've ever seen. I keep telling him I will always be your number one stalker.

~ Jazzy, 26
15. I was the player but he changed me.
I was definitely the one dating around when we first met, I just didn't want to commit at all and I was happy just having fun without having to worry about 'serious' relationships, but then he came in the picture and I started feeling calmer and happier around him. He made me want to be a better person, I know it sounds like a cliché but he definitely changed me and I am glad he did. It is possible to change for the one you love.

~ Tania, 32.