Read the original batch of real sex stories
here
, the second saucy installment
here
, the third
here
, the fourth
here
, the fifth
here
, and the sixth
here
.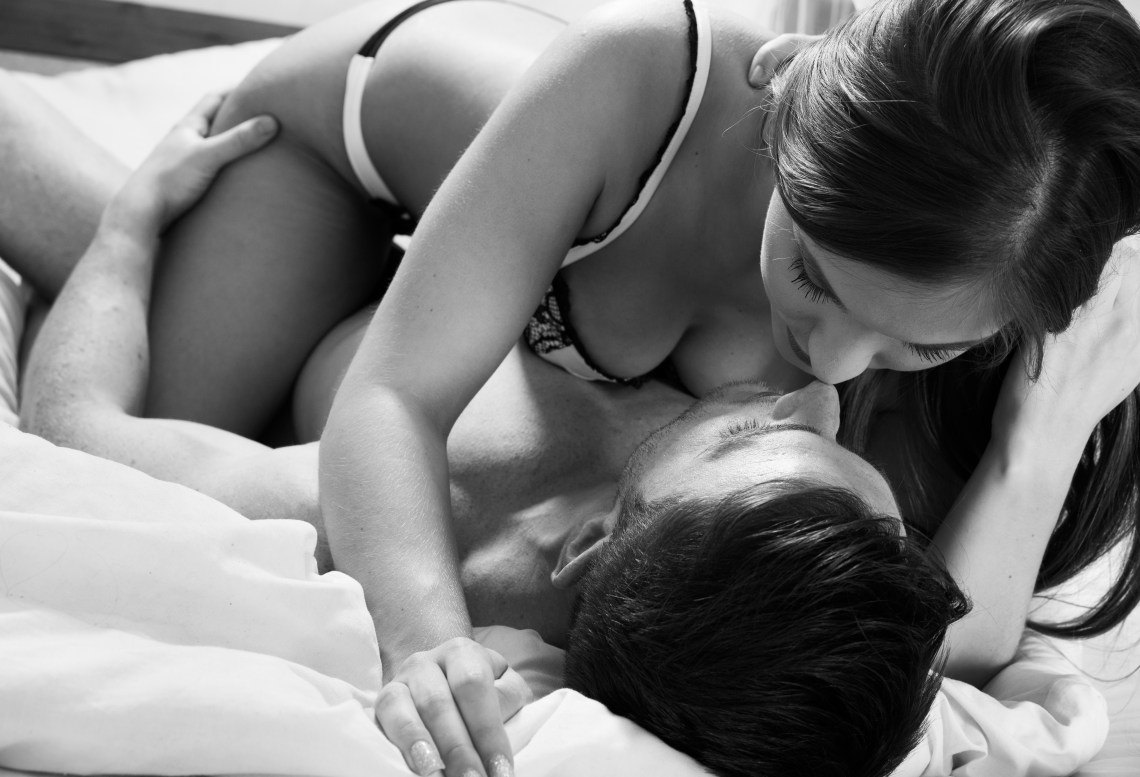 1. Cocktails and (tits and) dreams.
"I was in New York a few months ago and I wandered into this nondescript bar in a decent neighborhood that turned out to be some kind of titty bar—like Hooters, but classier. The waitresses were young and beautiful and shirtless and none of them had fake boobs or anything so I decided to stick around even though I'm definitely straight.
Around vodka number three, the hottest girl working sat on the stool next to mine in her itty bitty booty shorts, with her impossibly perky b-cups jiggling right out in the open. All I could think about from the second her lips parted to introduce herself was what it would be like to lick her pussy. As soon as the elevator doors closed behind us in my hotel lobby, we started making out like two sexually starved, closeted teens. At one point, she stopped for a split second to lick two of her fingers and slip them between my legs and it was like she had a GPS tag on my clit. Naked in bed, she straddled me and kissed my neck tenderly but aggressively and bit my bottom lip while she massaged my breasts. Then she went down on me, circling my clit and fingering me so expertly I was convulsing with pleasure for several minutes straight. It was hands down the best oral sex experience of my entire life."
— female, 34
2. The unsuspecting seductress.
"Middle of the night last Thursday, I felt this tickling sensation in my crotch, so I rolled over onto my other side. A minute later, the tickling sensation was back, and then it was more like this gentle squeezing and my dick was suddenly stiffer than a two-by-four. I opened my eyes then and realized that my wife was massaging my package like some kind of professional temptress. She muttered something about a dream she'd just had about being a geisha that turned her on like crazy and begged me to 'pound her.' It was the most dick hungry I've ever seen her—like she was hypnotized by her own libido or something—and we got it on like we used to when we first started dating. She fucked me on top, then we did it doggy style, and finally in this scissor position we made up on the spot. She even sucked me off as I came. If you wanna hold onto to your husband, ambush-seduce him every once in awhile."
— male, 27
3. Masturbating on the company's dime.
"About two years back, I was sitting at my desk at my old job eating lunch when I shifted in my seat and my jeans happened to rub up against my vagina in a way that made me incredibly horny in an instant. So I stood up and headed straight to the bathroom to chase the sensation. After triple checking that the door was locked, I sat on the toilet with my pants pushed down to my ankles and my legs spread as wide as possible. Then I pulled the underwire of my bra up over my nipples so it pushed down on them, which got them nice and hard. I fingered myself right there with the water running so no one could hear me moaning until I orgasmed like a champion."
— female, 32
4. A little pleasure delay goes a long way.
"Once, I literally walked right into this insanely sexy Swedish woman because I was staring down at my phone like an idiot. As soon as I realized I'd bumped into a bombshell, I was zapped into horny high gear. I had to have her, and I could tell she wanted me too. Problem was, we were both in a rush, so we exchanged numbers and agreed to meet for a drink that night. An hour later, she sexted me a shot of her cleavage and I responded with a dirty voice note because no one actually likes a dick pic. I had to hide my boner at least a dozen times at the office that day.
By the time we finally met up, I was in sexual overdrive, and so was she. I could sense it. We barely finished a round of drinks before we were tearing each other's clothes off back at my office, in a conference room no one ever uses. Fuck, that woman knew what she was doing. The way she tongued my dick from the base to the tip. The way she clenched her pussy so it squeezed my cock when I slowed the pace to tease her a little. The way she wrapped her legs around my back and pulled me towards her, closer and closer, further and further inside her. That's the kind of mind-blowing sex that comes around once in a lifetime. We did it three times in an hour, until her pussy and my dick were too sore to keep at it. Next day, she flew back to Europe. "
— male, 29
5. The beauty of fucking like beasts.
"The other night I walked in the door after the worst day at work and before I even put my bags down or took off my shoes, I screamed, 'I need your cock. NOW!' My boyfriend got the message and hung up on whoever he was talking to. By the time he reached me in the hallway, I'd already stripped off all my clothes. I told him to get his shirt off as I plunged my hand down his pants to double check that he was hard. He was. So I jumped up into his arms, right onto that pulsating mushroom of a cock and took it like I needed to. I bounced up and down like his dick was my Pogo Stick, screaming 'Fuck me! Harder!' the whole time. He pressed me up against the wall and pummeled me just like I wanted. I needed to be fucked. And I needed him to come all over me."
— female, 28