Read the original batch of real sex stories
here
, the second saucy installment
here
, the third
here
, the fourth
here
, and the fifth
here
.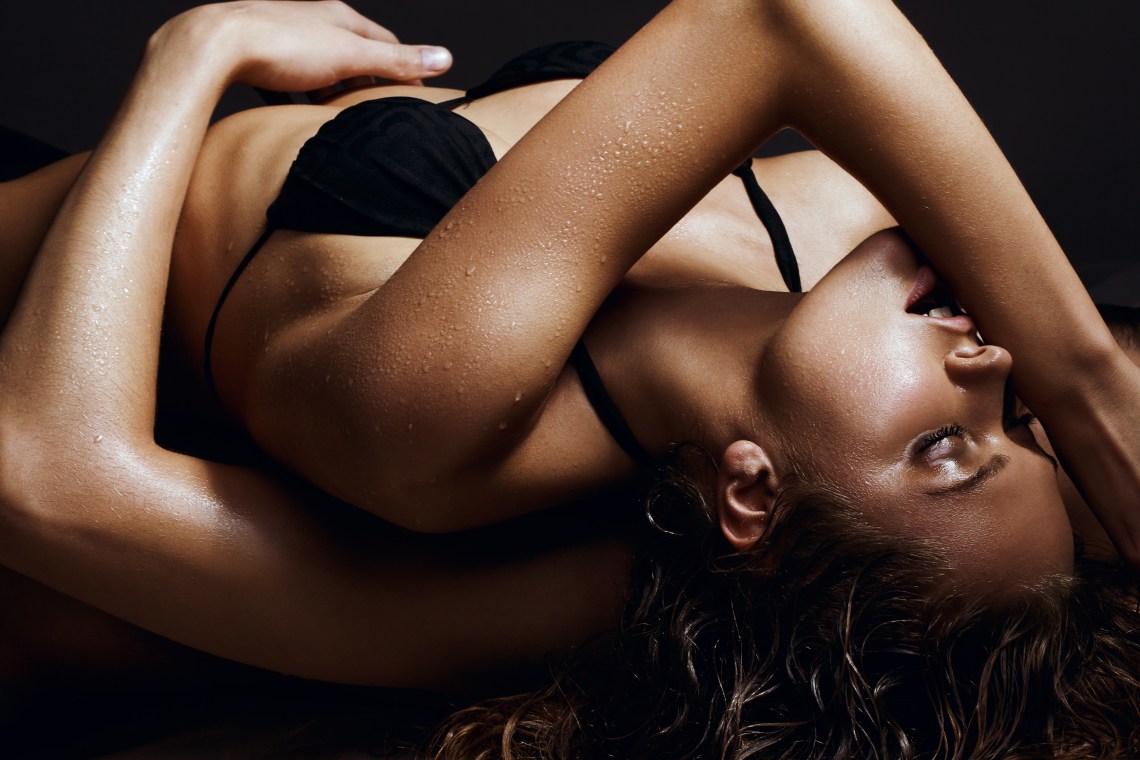 1. When a college girl thirsts for her mom's new man.
"I was back from school for winter break when I met my mom's new boyfriend for the first time. My parents divorced when I was five, so it wasn't like it was traumatic or anything to meet the guy. I didn't expect him to be so damn hot, though. He's a personal trainer, and fit as hell—six-pack-abs-and-ripped-arms fit, like you see in advertisements for weight loss supplements and gym memberships. When he rang the doorbell one night around 6pm looking for my mom, who was out at the time, I decided to play hostess in my comfy but clingy sweats. I invited him inside and poured us each a glass of wine.
Two hours later, we were two bottles deep and neither of us had heard from my mother. I made the first move, touching his knee and then sliding my hand up his inner thigh. When I got to his crotch, he leaned back and said, 'Fuck it!' Then he stood up. I stood up too, on the seat of the couch. Then I jumped into his arms, legs wrapped tightly around his waist and impressively firm ass. His dick felt so good poking through his pants, rubbing up against my vagina, I knew I could orgasm from dry humping him just like that. But I wanted him inside me, so I reached down and grabbed it. We fucked—fast—in the laundry room, where we had a view of the driveway in case my mom came back. Most of our clothes were still on, and we powered up the washer so it would vibrate beneath me as he pumped and pumped, deeper and deeper. It was the dirtiest thing I've ever done, and I'd do it again."
— Female, 21
2. Seven minutes in high school heaven.
"Last year, as a junior in high school, I was at a house party in my buddy's attic while his parents were out of town. We were all boozing, downing whatever beer or liquor we could skim off our parents when this girl stopped the music suddenly and announced that it was time to play Seven Minutes In Heaven. Sounds lame, maybe, but there's not much to do in the burbs. I got tossed in the closet with this average looking girl but I was okay with it since she had above average tits.
When she explained that she'd never given head before, but wanted to try, I was obviously psyched. I unbuttoned my pants and sat down on the carpeted floor and she approached my erection with equal parts fascination and ambition. She started massaging my balls and licking my cock like she really wanted it. I swear she must've watched some Jenna Jameson tutorials online or something because she had skills, man. I couldn't believe it was the first blowjob she'd ever given. When I came, she swallowed it all up like it was the best vanilla milkshake she'd ever had. Then she wiped her mouth with her wrist, and whispered, 'I'll be waiting in the guest room after this. Come fuck me when you're ready.' If only it were always that simple."
— Male, 18
3. When gal pal sexting goes to the next level.
"I've never sexted a guy, like, ever, because my parents used to hammer me nonstop with stories about girls whose reputations were totally ruined by naked photo scandals. Thing is, I'm addicted to frexting, which is essentially sexting, except you do it with a trusted girlfriend who's way less likely to share your career compromising photos with a thousand of her closest friends. I love sending my besties sexy pics and waiting to see how they respond. I'll get a little stoned and put on my best cleavage-y bra and a matching thong or maybe a silk camisole and boy shorts and sprawl out on my futon and snap 'til I get a shot worth sending. Then I caption it with something funny and flirtatious and wait for my friend to one-up me.
What I never suspected is that things would ever escalate from there. But the other night, instead of hitting me back with a frext, one of my best friends barged right into my dorm room, grabbed my ass, and started tonguing me. I squirmed in shock for approximately three-point-five seconds before melting into her rough but tender embrace. I'd never experimented with a girl and it was weird at certain points, like when our boobs grazed for the first time, but weird in a hot way. When she inched her head down between my legs, I was more nervous than I've ever been during oral sex. But I relaxed as soon as I realized how amazing it is to be eaten out by someone who understands vaginas firsthand. I returned the favor, of course, and I can honestly say I like licking pussy more than sucking dick. I don't think I'm bisexual, exactly, but who knows!"
— Female, 20
4. Long lost hook-up buddies meet (and fuck) again.
"The other day I was on Facebook cyberstalking every woman I've ever slept with because my wife and I separated a month ago and I'm pretty psyched to be back on the market, free to fuck whoever I want without any guilt. Tinder's great, but sometimes I ache for something a little more familiar. So I messaged this girl I haven't seen—clothed or naked—in at least ten years, and she hit me back immediately. Turns out she split from her husband a few months back and she was craving some action too.
That same afternoon, I went over to her place while her kid was napping. She answered the door with two shots of tequila in hand so we could toast our reunion. Then she hugged me, pressing her breasts into my chest, and nodded towards the couch. Without missing a beat, I scooped her up into my arms and started nibbling on her neck, remembering with each taste of her flesh how great she'd been at dirty talking in our twenties. We fucked in the living room, her on top, flicking her own nipples like a pro as she rode me, whispering all sorts of sexy shit in that seductive voice of hers. Fifteen minutes after we both came, she wanted it again, so I gave it to her—in the kitchen, from behind this time. After round two, we sipped coffee together naked at her dining table and scheduled another meet-up for the following week. I'm getting hard just thinking about banging her again."
— Male, 34
5. A truly trippy romp in the grass.
"I'm not into drugs, but when the guy I'd been crushing on for ages asked me to shroom with him second semester senior year, I couldn't say no to a psychedelic experience with the dude of my steamy college dreams. The magic mushrooms were actually rolled into small chocolates, so they seemed pretty innocent, and they weren't hard to stomach. After we ate them, we walked to this remote corner of campus with a cooler of beers and some chips to snack on.
By the time we started tripping we'd finished a six-pack, so we were good and buzzed. We stripped, clumsily, down to our underwear and rolled around in the grass laughing our faces off for what seemed like an hour before he finally made his move. When he touched me, it was like a thousand male hands were caressing my flesh all over at once. I felt him massaging my pussy, breasts, neck, and thighs simultaneously. It didn't matter that I was hallucinating. It was incredibly sexy. I orgasmed three times, seizing with pleasure throughout every climax. I didn't even know I was capable of feeling that unbelievable."
— Female, 22