Read the book based on the popular "real sex stories" series
here
.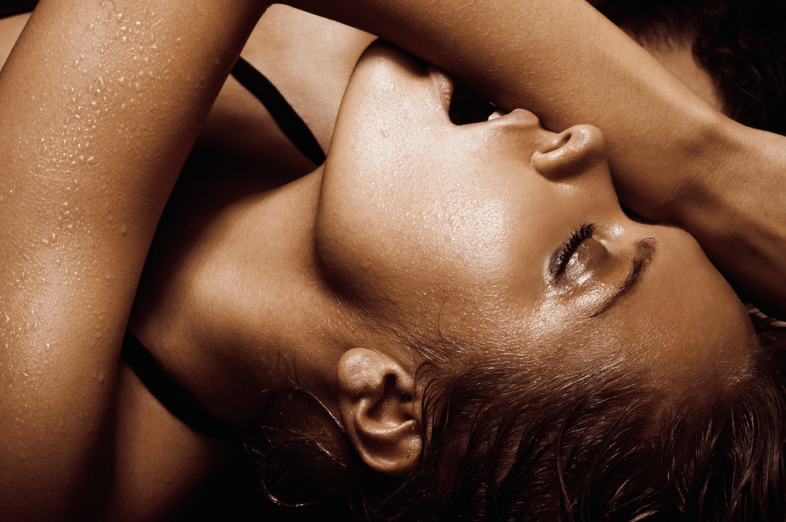 1. This is what happens when you trade fruit for a make-out session.
"On the last day of Burning Man (the annual arts festival held in the middle of the Nevada desert, in case you don't know about that kind of shit), my girlfriend and I found ourselves with a surplus of fruit but nothing substantial to eat. Since there's nothing to buy at Burning Man, you have to trade what you've got for what you want. So my friend and I decided to do some bartering. Wearing jean shorts, pasties, and cowboy hats, we marched around camp screaming: "Melons! We've got melons! Who wants some melons?"
We attracted a lot of attention and earned some hearty snacks. But when this one super hot guy approached us and asked for some watermelon, my gut told me to demand a kiss instead of food in exchange for the fruit. We embraced in the most amazingly passionate, impromptu way, and then he handed me his business card and ducked away.
Two months later, I was passing through my watermelon crush's hometown of San Francisco and we met up for dinner. Back at his place, it quickly became apparent that he was into BDSM. Since our entire relationship up until then was based on seizing the moment, I decided to go with the flow, even though I had zero related experience. I let him pin me down and tie me up. It was intense and fun. I woke up with the distinct feeling that I'd never see him again (to this day, I haven't)—but that only made the whole thing more memorable."
— Female, 27
2. My wife and I made a pact to have sex at every wedding we attend.
"After I got married, understanding how much work and money goes into the whole thing made me determined to make the most of every wedding I'm invited to. It was during my wife's best friend's reception (yes, she was a bridesmaid) that I suggested making a pact to fool around during every single wedding we go to. She was down.
We figured the best time to execute our secret mission was during the father-daughter dance, since all eyes would be focused on the bride. As soon as "Tiny Dancer" started playing, we slipped out and ran towards a garden shed we'd spotted earlier, on the outskirts of the country club hosting us.
We screwed like mad, and we both came really fast. As we were getting dressed, we noticed a waiter leaning up against a nearby tree, smoking a joint. The idea that we'd been watched didn't creep us out at all—it was sexy, and hilarious. We waived to the guy, high-fived and headed back to the party like nothing had happened. We've fucked at ten different weddings since, but nothing compares to that first time when we had a little audience of our own. I really do love my wife."
— Male, 24
3. A lunchtime quickie gone (somewhat) wrong.
"Since I work really close to my boyfriend's apartment, it's not unusual for me to head over on my lunch break (he's a freelance web designer) for an afternoon quickie. One afternoon this past winter, I walked into his place and started unbuttoning my shirt immediately, calling for him to join me in the living room. After five wasted minutes, I found him cowering in the bathroom. In an effort to "get ready" for me, it turns out he'd decided to try my dildo out on himself and he'd gotten the thing stuck really far up his ass!
I ended up spending my lunch hour using various kitchen tools (turkey baster, tongs, scissors etc.) trying to dislodge the thing. Unfortunately, I hadn't made much progress when it was time for me to go back to work.
When I came home that night, the dildo was still protruding from his butt, so I drove him to the Emergency Room. To save him the indignity of admitting that he'd been playing around by himself, I told the doctors I'd shoved the thing up his ass. They were able to remove the sex toy, thank goodness, and as soon as we exited the hospital, we started cracking up. There's nothing like a dildo lodged in a man's ass to bring a couple closer together. To celebrate—and because we were both so damn sexually frustrated by then—we did it in the car right there in the parking lot. I swear the windows steamed up, Titanic style."
— Female, 30
4. I couldn't resist the hot male stripper at my best friend's birthday party.
"My best friend from college is a total prude. She needs someone like me in her life to make sure she gets out and has a little fun once in a while—or so I tell myself. For her twenty-fifth birthday, I conspired with a few of our sorority sisters to throw her a party with a little special entertainment.
The male stripper arrived around 9pm, and he was as ripped and chiseled as I'd hoped (I handpicked "the talent," of course). The man was straight-up gorgeous, and I knew I had to have him. Obviously I couldn't hit on him right away, though, because it wasn't my night. What I did is let my bestie get near-alcohol-poisoning wasted. Sure enough, around 11pm she passed out on the couch and I saw my opportunity.
I grabbed my jacked friend by his muscley arm and led him to my best friend's bedroom. We started getting it on right away and it was awesome—maybe even more so because we were rolling around in those untouched sheets, dirtying that pristine bed. But fifteen minutes in, my friend stumbled into the room and screamed at us to get out. My gigolo packed up and left, but not before tucking a napkin with his number on it into my handbag. Twenty-four hours later, we were at it again—at my place. The pleasure delay only made us more ravenous for each other. That orgasm was one of the greats."
5. What doggy style really means.
"Recently, I was on the rebound from a five year long relationship when I found myself alone at home on a Friday night with absolutely nothing to do. When you date someone for that long, your whole lives become intertwined and separating socially is complicated and frustrating. After sipping a few whiskeys at my place, I decided to head to the bar down the street instead of sitting around looking at my half empty apartment, which my girlfriend—the love of my life, I still thought—had just abandoned. That place depressed the fuck out of me.
At the bar, I ordered a Bud and a shot of Jameson and sat there for a while, keeping to myself. Soon enough, though, a really hot girl sat down next to me and starting chatting me up about this and that. It was unbelievable, really, how beautiful she was (or how drunk I was). And then the impossible happened: She asked me if we could go somewhere to be alone.
Ten minutes later we were back at my place, ripping each other's clothes off. I could sense that something was different about this chick, so it wasn't even all that surprising when she unbuckled the thin belt she had on and demanded that I wrap it around her neck like a leash and walk her around like a dog. Not really my thing, but I obliged. Then I banged her, doggy style, on my kitchen floor! I don't care what anyone thinks: Random sex is the best way to get over your ex."
— Male, 32