Thee are the sexiest lingerie brands that will make your partner horny AF.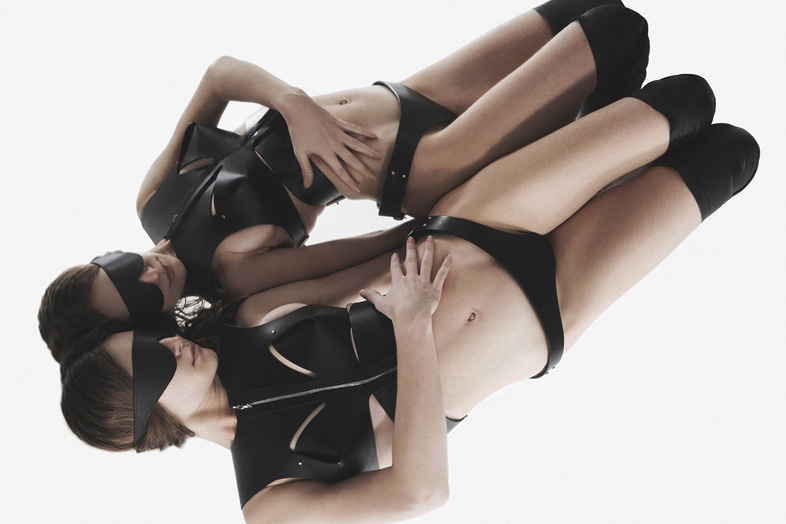 Fleet Ilya merges the world of sexual fetish, high fashion, and quality manufacturing to make the hottest leather goods in the lingerie market. Their aesthetic merges the worlds of high fashion and dungeon S&M, toying with eroticism of restriction through leather and restraint. Based in the UK, they dive into the darker side of lingerie through themes of domination and submission.
Toru and Naoko
Toru and Naoko not only manufactures world-class lingerie items designed to enhance your erotic experiences, it is unique among apparel manufacturers in that its team consists solely of women. The company was founded three years ago by Argentinean designer Camila Leguizamón and is now based in Santiago, Chile. Its carefully handcrafted designs are made by female workers from Chile, Perue, and Argentina who are ethically compensated at a wage rate nine times the average garment worker's salary worldwide.
World-class corset maker Simone Perele specifically designed her lingerie to seamlessly complement a woman's natural shape. She founded her company in Paris—the world's fashion center­—in 1948. Using the best fabric, lace, and ribbon available, she meticulously designed items that are both stylish yet comfortable. According to Simone, "A woman should not have to choose between being comfortable and feeling beautiful….She can have it all." Peruse her elegant designs at her website.
Wacoal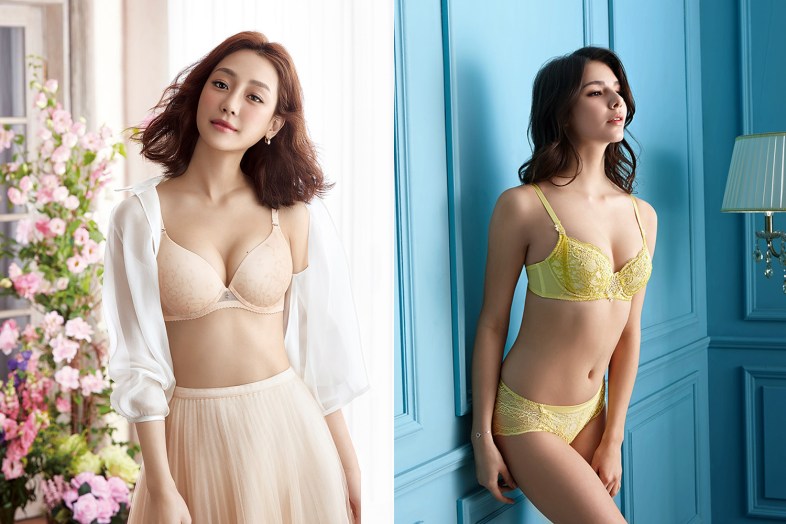 The Waco brand's crowning innovation is to feature "fit consultants" in dressing rooms that counsel women on finding the best size and model to complement their natural shape. Fashion designer Koichi Tsukamoto founded Wacoal in postwar Japan in 1949. His stated goal was to provide high-quality and elegantly designed intimate apparel to women across the world. And he succeeded beyond his wildest dreams—in 2005, Wacoal bras achieved the #1 spot for sales in department stores worldwide. Their handy online store locator will guide you to a Wacoal vendor near you.
The Great Eros
This lingerie attempts a perfect balance between masculine and feminine energies. Brooklyn-based but with customers across the planet, the designer couple of Christina Viviani and Emilio Ramirez hatched the idea for their company while drinking a bottle of wine together. And thus was born The Great Eros—sensuous lingerie crafted in a family-owned factory in Italy that balances old-world charm with new-world innovation.
Honey Birdette
In 2006, frustrated with what they saw as a stale and overly safe lingerie market, Honey Birdette's founders decided to add a dash of danger into the lingerie experience. Like The Great Eros, the company was conceived while drinking—but in this case it was champagne rather than wine. Their boutiques—which are found around the world­—feature not only erotic apparel, but also leather crops, collars, harnesses, and cuffs. In keeping with the spirit of the company's founding, you can also sip champagne in a Honey Birdette boutique while perusing all the sexy accessories designed to add spice to your love life.
Marika Vera
Marika Vera is sexy and comfortable lingerie from Mexico. Founded in 2010 by Marika Versa, a stylist and fashion designer, their lingerie sets have the magical capacity of being completely alluring and also as comfortable as your favorite pajamas. It's perfect for seduction and for a quiet night at home by yourself when you want to feel good and look good, just because. It's one of the best lingerie brands in Mexico. They ship worldwide on their website marikavera.mx, and their lingerie is carried at select boutique retail stores.
Bordelle
Bordelle lingerie is designed with the "unconventional bride" in mind—a woman who's traditional enough to get married but liberated enough to indulge in "luxury kink." The company was conceived by Alexandra Popa, and its bondage apparel is handmade by artisans throughout Europe to perfectly fuse high fashion with gritty themes of domination and submission.
Damaris
London-born fashion designer Damaris Evans is the queen of "avant-garde lingerie" and perfectly melds exquisite quality with practicality. She conceived of her company at her kitchen table in Notting Hill and developed into a brand that's available in 37 countries through over 400 vendors. "Through lingerie a woman shows her true style," Damaris says. "It is integral that my designs are luxurious, fun, interesting, cool and essentially, functional."
Lise Charmel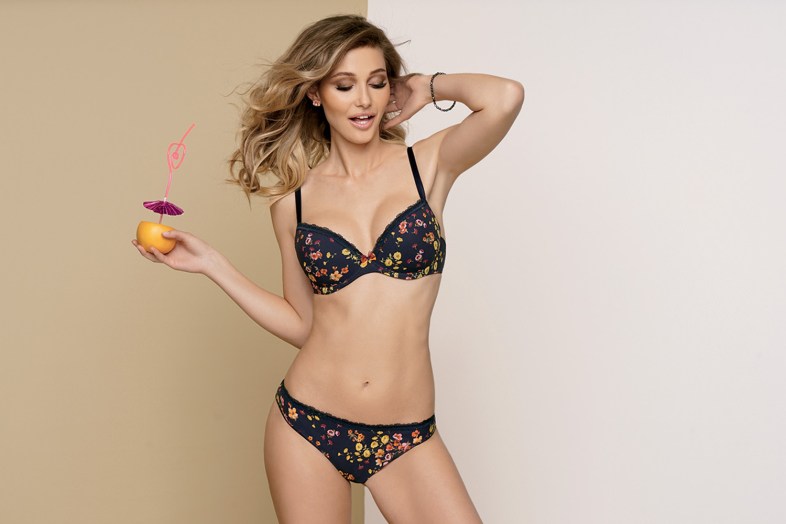 Lise Charmel's designs are inspired by the endless pulsing romanticism of French and Italian cultures, all woven together in the spirit of haute couture. Lyon, France is known as the world's silk capital. The Lise Charmel company was born in the 1950s and has forever since established a sterling reputation as a vendor of superlative designs rendered in the finest satin, silk, and lace.
Loveday London
Luisa Loveday was born with a name that predestined her to become a world-class purveyor of hardcore romanticism. She realizes that every woman has an "irresistible desire to be irresistibly desired," which led her to create exquisitely designed lingerie as well as erotic boudoir accessories to create a total environment that is both romantic and sexy.
Eberjey
The Eberjey company was founded in 1996 by a pair of restless ad execs named Ali Mejia and Mariela Rovito who sought to design pretty undergarments made for real bodies. In addition to basic female lingerie, they also branched out into boy shorts, thongs, bralettes, pajamas, and camisoles. Their upscale erotic wear can be found in finer boutiques across the US and in Europe, Canada, and Japan.
Tableaux Vivants
This luxury latex line was created by Sonia Agostino and intended to market latex products beyond the confines of being a mere "fetish" item. The French phrase Tableaux Vivants is pronounced "tah-blow vee-von" and literally means "living picture." Handmade in Brooklyn, Tableaux Vivants latex items are the perfect blend of beauty and lust. They have been worn by superstars such as Madonna, Beyoncé, Lady Gaga, Kylie Jenner, and Gwen Stefani.
Only Hearts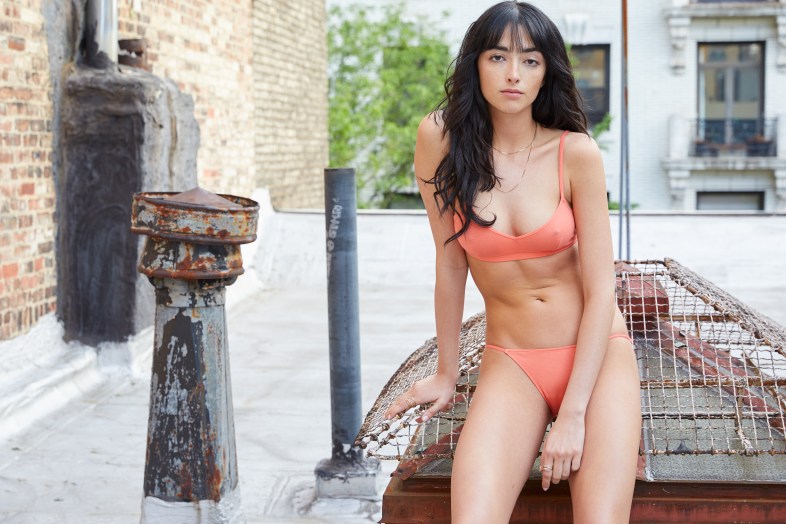 Only Hearts offers sleepwear, undies, bralettes, and loungewear designed to make women feel sexy and men feel desire. Fashion maven Helena Stuart founded the company way back in 1978 in an attempt to bring undergarments out in the open. Lovingly crafted in New York City using strictly local and green textiles, Only Hearts' pieces have been worn by such world-class beauties as Kate Moss, Scarlett Johansson, Demi Lovato, Maggie Gyllenhall, and both Kim and Khloe Kardashian.
Intimissimi
Intimissimi's lingerie combines strength, personality, subtlety, and mystery to capture the essence of eroticism in a single item of clothing. Founded in Italy—perennially one of the most heartbreakingly beautiful places on Earth—Intimissimi is the Italian equivalent of Victoria's Secret. From their Italian home base, they have blossomed out to 31 countries and 1,200 stores.
Maison Close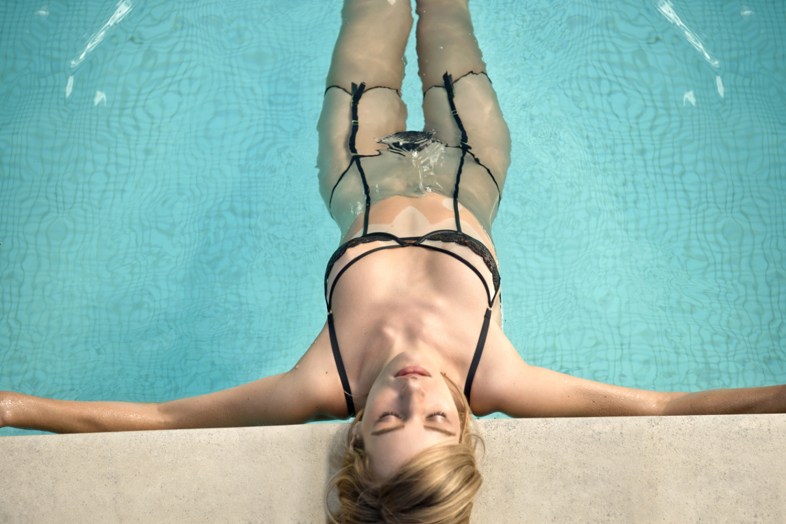 Using only the most luxurious fabrics such as satin and chiffon, Maison Close offers erotic loungewear made with extra loving care that somehow manages to be both chic and earthy at the same time. A shadowy freelance marketer and public-relations manager variously known as Nicolas Busnel and Monsieur le Français launched Maison Close in 2006.
Bare Necessities
Bare Necessities is unique in that their products are designed to accommodate the vast array of female body types. Founded in 1998, the company has expanded to become the world's largest online vendor of women's and men's intimate apparel. Its bras alone come in over 200 sizes—bands ranging from 28 to 56 and cups from AA to M. No matter where your body falls along the spectrum, Bare Necessities has the erotic clothing to make you just that much sexier.
Victoria's Secret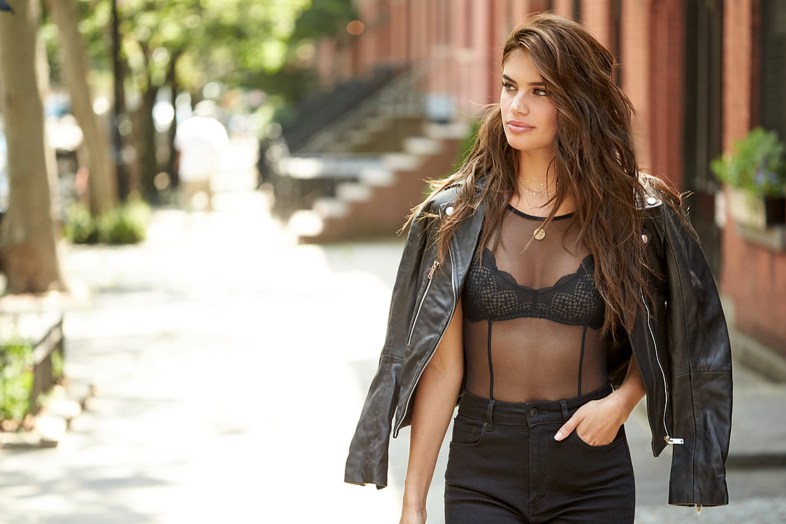 Founded in 1977 by Roy Raymond after he found himself embarrassed trying to buy his wife lingerie in a traditional department store, Victoria's Secret has gone on to become the world's most famous manufacturer of erotic apparel. The "Victoria" was in honor of Queen Victoria—suggesting magisterial dignity—and the "Secret" is what lurks beneath the lingerie. As of 2006, Victoria's Secret accounted for a full third of all purchases of intimate apparel in the USA.
Agent Provocateur
Kinky yet tasteful—like a plush velvet couch with a few barely discernible stains on it—Agent Provocateur was founded in the early 1990s in England by Joseph Corré and Serena Rees. From its humble British beginnings, the company has branched out to the point where it has stores in 13 countries and employs 600 full-time workers.
Fleur du Mal
Fleur du Mal is lingerie that is sexy and artsy, with an added touch of danger. Founded in 2012 by Jennifer Zuccarni, Fleur du Mal started out as an online boutique and over the years has evolved in a major lingerie brand carried by boutiques and large department stores alike.
Clo Intimo
Whereas most lingerie seems to be designed to arouse male passion, Designer Claudia Ochoa focuses on the woman instead: "You give the guy more when you design for the girl," she famously proclaimed. Ochoa was raised in Medellin, Colombia—one of the world's most dangerous cities—among the garment sweatshops where peasants toiled to eke out a living. Her Clo Intimo line seamlessly combines the heart and passion of her South American upbringing with the sublime fashion sense of New York City tastemakers.
Leonisa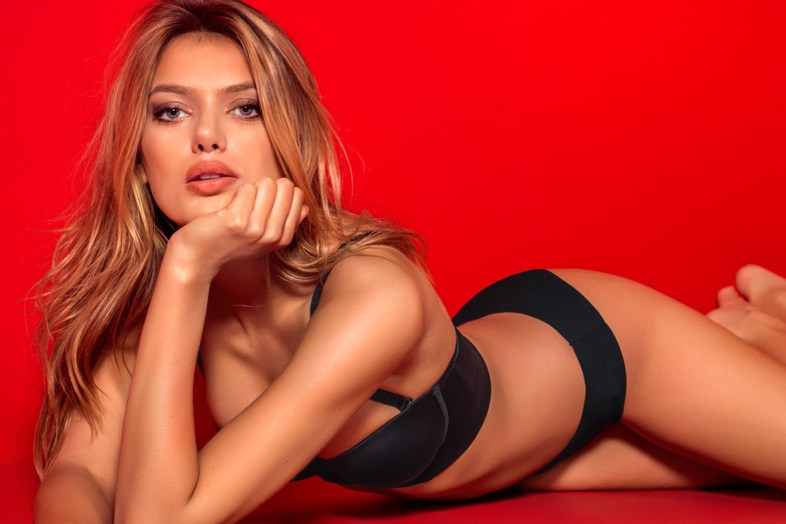 Leonisa is based on Colombia and produces stylish and sexy women's lingerie that has been worn by top supermodels around the world. The company is responsible for such famously sexy innovations such as the "Bullet-Point Bra" and the "Magic Up" bra. Founded in 1956 by a pair of brothers, Leonisa has expanded to the point where its undergarments are sold in nine countries and move 37 million pieces per year.
Jean Yu
Female designer Jean Yu's  style manages to be both universal and personal, both understated yet dramatic. Yu was born in South Korea, grew up in LA, and moved to New York to become a fashion titan. Her  Her sexy and mysterious designs are available online through Nancy Meyer.
What Katie Did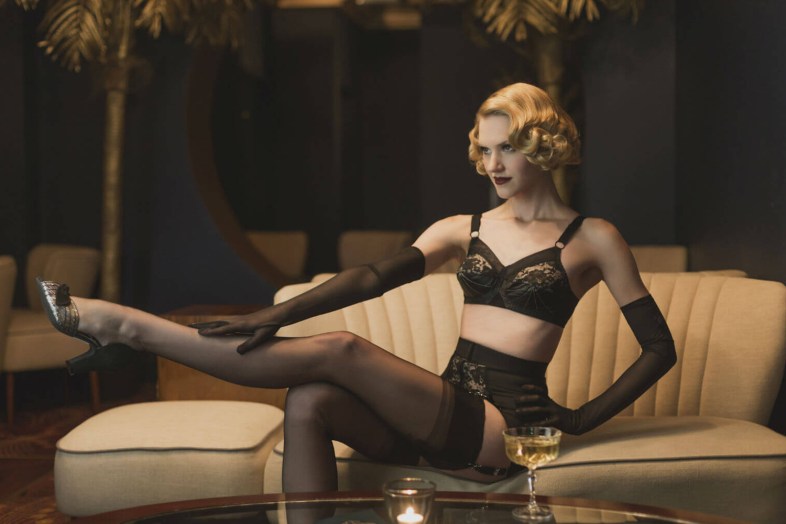 Perhaps the most traditionally "burlesque" of all lingerie manufacturers, What Katie Did harkens back to the vintage lingerie of the 1940s and 1950s—the sort of naughty, sexy, playful undergarments that made Bettie Page an enduring star. They focus on making garter belts, corsets, and especially the iconic Bullet Bra which has been modeled by such international superstars as Katy Perry, Rihanna, and Madonna.
Carine Gilson
Carine Gilson's designs manage to be both universal yet personal, modern yet traditional. At the tender age of only 23, art graduate Gilson bought a humble lingerie workshop. From there, she lovingly built a lingerie empire mostly with her own hands. Her haute couture lingerie is available in luxury boutiques from France to China and from New York to London.
Hopeless Lingerie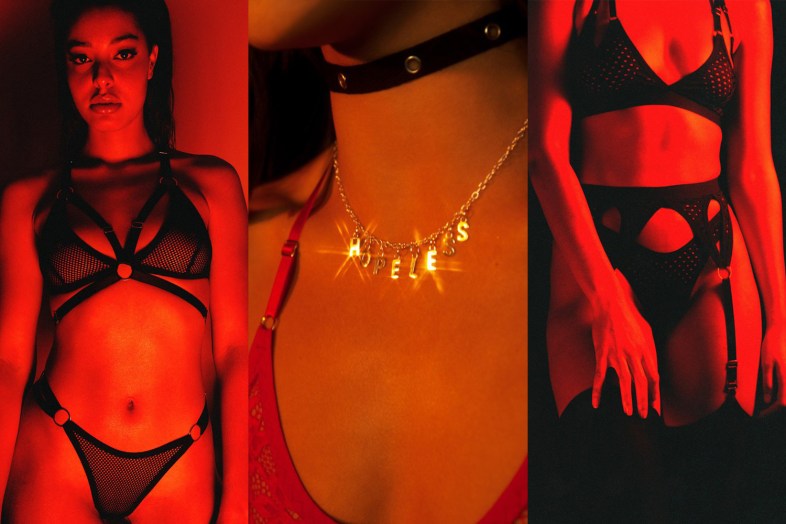 One of the world's darker and more dangerous romantic apparel makers, Hopeless Lingerie teeters on the edge of S&M danger while retaining a classic vintage fashion sense. They take their inspiration from generations gone by—an era where "naughty" ruled rather than "explicit," a place of horror movies and deep-sea monsters lurked awaiting to seize damsels in distress. Yet they manage to take this outmoded images of female weakness from the past and turn them into a modern statement of empowerment.
Elise Anderegg
Crafted with a nearly baroque sense of high fashion and elegance, Elise Anderegg lingerie is a thunderous testament to Parisian women's consummate style and beauty. Rendered in distinctive pastel colors and woven from silk and Calais lace, her erotic wear is among the most haute of all the world's couture.
Playful Promises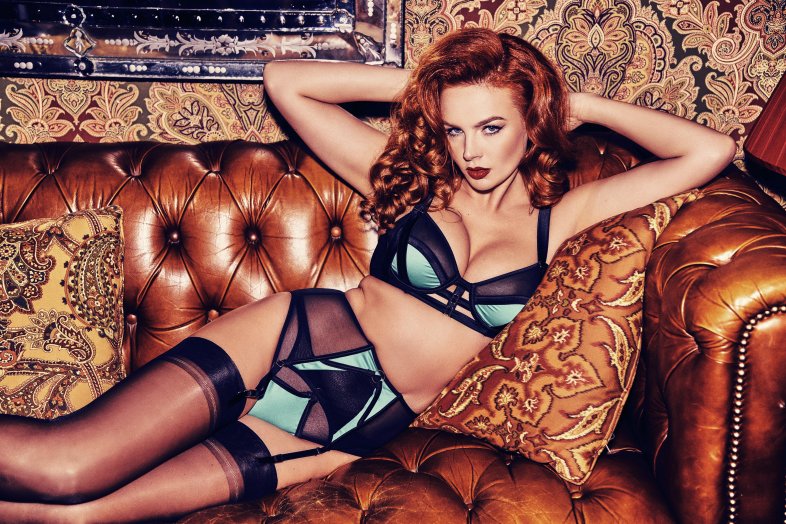 London designer Emma Parker founded Playful Promises in 2004 with the intent to provide erotic wear for women by women—women of all shapes, colors, and sizes. Her style is more flamboyant and dramatic than most others and employs a playfully naughty retro sensibility expressed through the finest modern technology.
Huit
Founded in France in the late 1960s, "Huit" captures Parisian flair through meticulous design and vivid colors, harkening back to classic styles while anticipating a thrilling future. "Huit" is the French word for the numeral 8—and the company was so named because rendered horizontally, this numeral is shaped like a woman's breasts.
Negative Underwear
Negative Underwearcame into being when its female founders realized that most lingerie companies were male-owned and operated. So they took design classes, traveled to Paris to mingle with manufacturers and mill hands, and learned how to pick the finest fabrics from Belgium and the highest quality elastics from Japan. In the end, they produced some of the best erotic wear for women in the world simply because they operated from a woman's perspective.
Sian Hoffman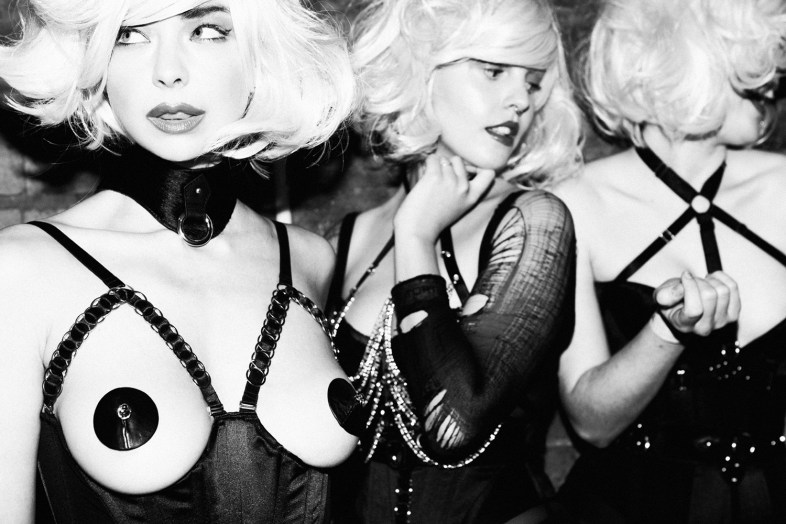 One of the world's consummate and most revered corset-makers, Sian Hoffman effortlessly blends fashion with fetish and high class with deep desire. Each of her meticulously designed corsets features at least twelve steel bones to ensure durability and to perfectly complement the female figure. And whereas corsets were once a symbol of female repression, Hoffman now sees them as an emblem of liberation: "Where once corsets represented the repression of women, my garments are intended to symbolise the antithesis: liberation from society's constraints—in terms of gender; size; sexuality; status; class—essentially one's identity."
Nubian Skin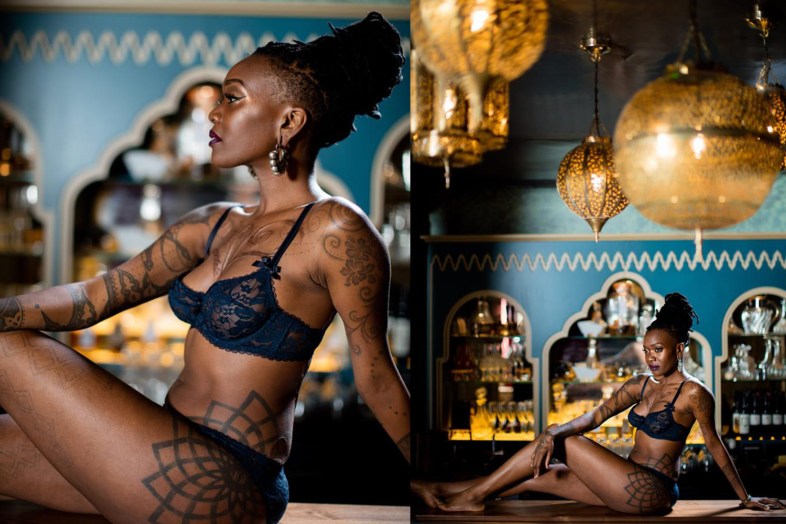 Designed exclusively to cater to women of color—who have always been underserved in the fashion market—Nubian Skin offers bras and hosiery that according to founder Ade Hassan appeal to "a different kind of nude." The company is based in London but reaches out across the globe to fill the needs of a largely untapped market for erotic wear.
Clare Bare
Each vintage-styled piece is designed and painstakingly handmade exclusively by women using organic dyes and original artwork. They are both functional and fashionable, flirty and fun. In 2006, Clare Bare was hatched as an idea in a Brooklyn apartment and rapidly grew to the point where its headquarters was moved to Los Angeles. Clare Bare products range from boy shorts to garter belts to soft-cup bras, all designed to make women feel sexy and to make men blush.
Stella McCartney
Stella McCartney is an avid supporter of vegetarianism and animal rights, and this lingerie is perfect for anyone with a vegetarian lifestyle. Her erotic creations shun the use of wool, silk, leather, and other animal-derived products. She started her own fashion house in 2001 after working for other clothing designers in Paris. She describes her clothing line's aesthetic as "sharp tailoring, natural confidence and sexy femininity."
Lonely Lingerie
Based way, way down under in New Zealand, Lonely Lingerie manufacturers erotic apparel for women who wish to be strong and soft at the same time. The brand features two dedicated boutiques in New Zealand but is stocked from LA to Tokyo. According to designer Helene Morris, her creations are intended "For women who wear lingerie as a love letter to themselves."
Guia La Bruna
Founder Guia La Bruna says her secret is that she designs for herself: "I think my style appeals to women between 20 and 40…fashionable, in love with colors, prints, quality fabrics, edgy taste. I guess just someone like me, who loves wearing quality and well—cut garments, both in accessories clothing and lingerie—romantic and feminine women, too." La Bruna's parents were in the lingerie business. Growing up while playing in her parents' textile factories, she became the perfect vessel to continue the family tradition and spread it across the globe.
Marie Yat
Hong-Kong born designer Marie Yat sees the gender binary as oppressive, which is why she focuses on gender-neutral erotic clothing. Her understated and seamless undergarments are designed to be unisex. Unlike so much of the fashion industry, though, they are also designed to highlight imperfections rather than cover them—"I have been exploring women in Chinese erotic art and images of women that show the truth about our bodies," she explains," "like stretch marks, scars and bruises, which I find intriguing and beautiful."
Brook There
At first, Brook There's erotic lingerie appears to be a mass of contradictions—both rebellious yet traditional, natural yet fabricated, iconoclastic yet classic. Yet it all comes together in a seamless whole when one realizes it is designed to simultaneously inspire confidence and comfort. Brook There's lingerie is produced in the USA using organic cotton and real silk.