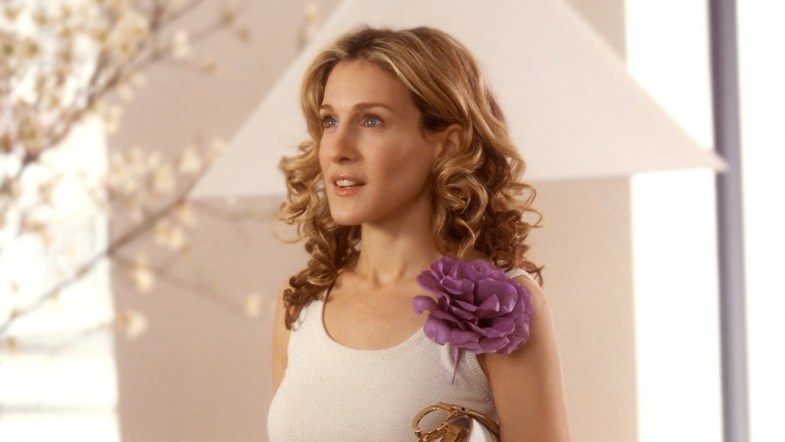 1.
"Maybe some women aren't meant to be tamed."
---
2.
"I've spent $40,000 on shoes and I have no place to live? I will literally be the old woman who lived in her shoes!"
---
3.
"There is a good way to break up with someone, and it doesn't… involve… a post-it!"
---
4.
"When it comes to finance and dating, why do we keep investing?"
---
5.
"I like my money where I can see it — hanging in my closet."
---
6.
"I will never be the woman with the perfect hair, who can wear white and not spill on it."
---
7.
"I couldn't understand a word she was saying, but I felt I had in my possession all the Italian I'd ever need to know: Dolce, Dolce, Dolce."
---
8.
"Being single used to mean that nobody wanted you, now it means you're pretty sexy and you're taking your time deciding how you want your life to be and who you want to spend it with."
---
9.
"If he never calls me again, I'll always think of him fondly, as an asshole."
---
10.
"Why are there so many great American women and no great American men?"
---
11.
"Beauty is fleeting, but a rent-controlled apartment overlooking the park is forever."
---
12.
"I used to think those people who sat alone at Starbucks writing on their laptops were pretentious posers, now I know: they are people who have recently moved in with someone."
---
13.
"Are there women in New York who are just there to make us feel bad about ourselves?"
---
14.
"They say nothing lasts forever; dreams change, trends come and go, but friendships never go out of style."
---
15.
"If we know the house always wins, why gamble?"
---
16.
"Oh my God, he's online! Can he see me?"
---
17.
"Maybe pessimism is something we have to apply daily, like moisturizer."
---
18.
"I'd like a cheeseburger, large fries, and a cosmopolitan."
---
19.
"I have a style, and jewelled panties aren't it."
---
20.
"Soulmates: reality or torture device?"
---
21.
"I revealed too much too soon — I was emotionally slutty."
---
22.
"Cosmopolitans plus scotch equals friendship with an ex."
---
23.
"Men who are too good looking are never good in bed because they never had to be."
---
24.
"Twenty-something girls: friends, or foe?"
---
25.
"And we were dressed from head to toe in love… the only label that never goes out of style."
---
26.
"The fact is, sometimes it's really hard to walk in a single woman's shoes — that's why we need really special ones now and then to make the walk a little more fun."
---
27.
"Can you get to a future if your past is present?"
---
28.
"Some labels are best left in the closet."
---
29.
"You knew I was more Coco Chanel than Coq au Vin."
---
30.
"Somewhere out there is another little freak who will love us and understand us and kiss our three heads and make it all better."
---
31.
"When it comes to relationships, maybe we're all in glass houses, and shouldn't throw stones."
---
32.
"Life gives you lots of chances to screw up which means you have just as many chances to get it right."
---
33.
"He was like the flesh and blood equivalent of a DKNY dress…. you know it's not your style, but it's right there, so you try it on anyway."
---
34.
After all, seasons change, so do cities; people come into your life and people go."
---
35.
"The most exciting, challenging and significant relationship of all is the one you have with yourself."
---
36.
"Meanwhile, all I wanted to do was run away."
---
37.
"Manolo Blahnik Mary Janes! I thought these were an urban shoe myth!"
---
38.
"New York Magazine says Brooklyn is the new Manhattan."
---
39.
"Why is it that putting a tie around a man's neck is sometimes even sexier than taking it off?"
---
40.
"Don't forget to fall in love with yourself first."