The 2009 Taconic Parkway Crash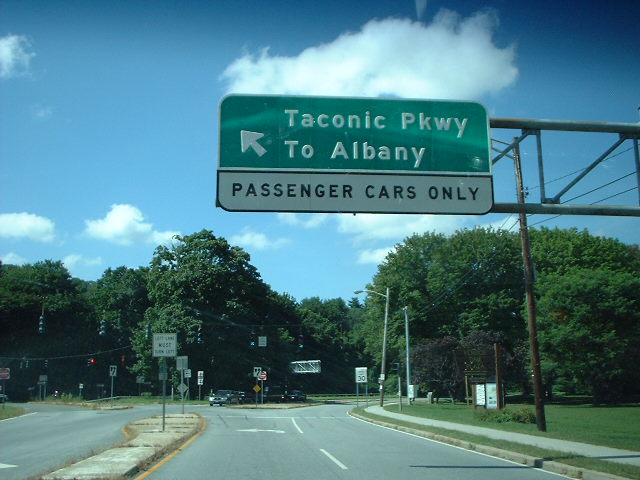 Shortly after 1:30 pm on July 26, 2009, Diane Schuler and her five passengers were in a head-on collision with an oncoming SUV. Schuler and four of the children were killed on impact as well as all three people in the SUV.
For some reason, Schuler had driven almost two miles in the wrong direction on the busy Taconic State Parkway at speeds of upwards of 60 mph. The reason appeared to become obvious after her autopsy; she had a BAC of 0.19 (the legal limit is 0.08) which is, for her weight and height, the equivalent of 10 drinks in her system, as well as THC, the active ingredient in marijuana. So of course, she was driving erratically because she was intoxicated.
Except when she left their family campground that morning at 9:30 am she appeared to be stone sober. She was sober when stopping at a McDonald's on the way home. She was sober when she stopped at a gas station for painkillers (which they did not have) at 11 am. She reported to her brother around 11:30 that they were being delayed by traffic. About 10 minutes later, she was seen on the roadside bent over as if vomiting.
Around 1 pm, her brother received another call from Schuler's cell phone, but this time it was one of her nieces. She claimed "Aunt Diane" was having trouble seeing and speaking. Schuler took the phone, corroborated this claim, and said she was disoriented. Her brother told her to stay put (as they were parked on the shoulder) and he would come get her; no more calls were answered when placed to Schuler. Her cell phone was later found abandoned nearby.
After 1:30 pm, multiple witnesses reported a minivan driving erratically the wrong way down the parkway. It ended in the fatal crash described above.
Though the autopsy makes things seem cut and dry, the timeline (as well as Schuler's family's claims that she would never have behaved so recklessly with children in the car) seems to argue otherwise. There's only a gap of 30 minutes between Schuler behaving normally and beginning to exhibit strange signs; she herself even claimed she couldn't see or figure out where she was going.
Could she have really gotten that drunk that fast? If so, wouldn't she have understood what was happening, why she was having trouble seeing? Why did Schuler get back on the road when her brother was coming to get her? Why did she get rid of her cell phone?
As the documentary "There's Something Wrong With Aunt Diane" puts very plainly, no one will know what happened in that minivan that day except the sole survivor, Schuler's son Brian. And all he can seem to remember is this: "Mommy's head hurt, Mommy couldn't see."
The Unusual Deaths of the Jamison Family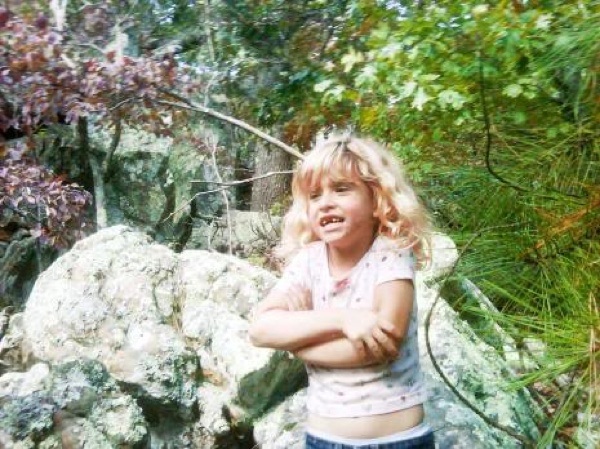 Everything has been guessed in the case of the deaths of Bobby, Sherilyn, and Madyson Jamison — from murder to meth to even witchcraft. The family disappeared together on October 8, 2009 under mysterious circumstances. The family dog was found in their abandoned truck, almost dead from malnutrition. Inside the truck was also the parents' IDs, cell phones, wallets, and almost $32,000 in cash.
Popular theories include that they were faking their own deaths, went into a witness protection program, committed group suicide, were killed by a cult, or were involved in drugs/drug dealing. Oddly enough, the Jamisons had previously met with their pastor on several occasions, saying that they had seen spirits in their home. After their disappearance, a "witch's bible" was found inside the house.
Their bodies were found in 2013, more than four years after they'd gone missing. The remains were unidentifiable at first and found less than three miles from where the pickup truck had been abandoned. Upon forensic testing, it was determined the bodies belonged to all three of the Jamisons, but cause of death was undetermined.
The above photo of Madyson Jamison was the last known photo of their whereabouts and was discovered on Bobby Jamison's cell phone that had been left in the truck. It's been speculated the photo was taken by a possible killer, as friends of the family noted Madyson looks very distressed.
"I've Got Her."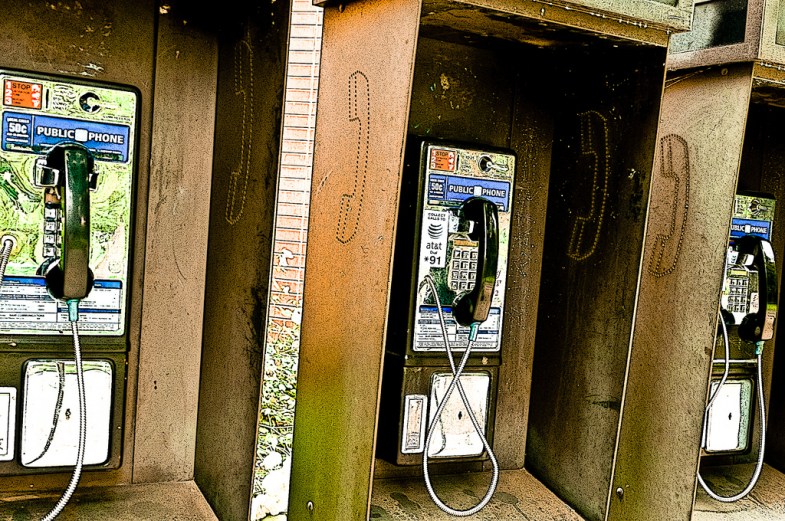 The year was 1980. For months, Dorothy Jane Scott — a 32-year-old single mother — had been getting unsolicited, anonymous phone calls at her place of work. She couldn't recognize the voice, which swung from telling her how much he loved her to threatening unspeakable violence. The caller told her he was following her… and described details of her day-to-day life that proved it.
Dorothy began studying karate to protect herself. She considered buying a handgun. Neither of these things would save her.
On May 28, after taking a fellow employee to the ER for treatment of a spider bite, Dorothy left the lobby to pull her car around front. Her companions waited for her to arrive but it took quite a while. When they finally spotted her car, it was traveling at a high rate of speed and promptly took a sharp right out of the parking lot.
They were left puzzling over Dorothy's strange behavior — perhaps she needed to get her son or there was an emergency of her own. Except several hours later, Dorothy Jane Scott's car was found about 10 miles away in an alley. It was burning and abandoned and there was no trace of Dorothy to be found.
Dorothy's family was advised to stay quiet about her disappearance in regards to the media. A week after she went missing, her mother Vera received a phone call. "Are you related to Dorothy Scott?"
When she replied yes, the caller said, "I've got her," then hung up.
This taunting behavior repeated as weeks went on. The same caller would tease her family about "having" Dorothy and confessed to a radio station "I killed her. I killed Dorothy Scott. She was my love." He went on to describe details that hadn't been released to the press — Dorothy's red scarf she wore that night, her coworker's spider bite. The calls finally stopped in 1984.
Almost four months later, a construction worker discovered both dog and human remains in some brush. With the bones were a turquoise ring and a watch that had stopped at May 29, 1980, 12:30 am.
Dorothy's mother identified the ring as having belonged to her daughter. A week after the bones had been positively identified as Dorothy Scott and an announcement was run in the local newspaper, her family got two more phone calls from the same mysterious caller, asking only in a knowing voice:
"Is Dorothy home?"
Her killer was never identified.
The Lead Masks Case
On August 17, 1966, two Brazilian repairmen left Campos dos Goytacazes under the guise of buying supplies and a car — which was meant to explain why they had a large amount of cash on their persons. They were spotted by a bartender as the men, Miguel Jose Viana and Manoel Pereira da Cruz, stopped in his bar to get a drink of water. The bartender noted that Viana especially seemed to be in a hurry and kept checking his watch. It was the last time they were seen alive.
Their bodies were found three days later on Vintem Hill in Rio de Janeiro. They were dressed in suits, wearing waterproof coats. With them were lead masks (like you'd wear to protect from radiation,) an empty water bottle, a notebook, and two towels. Inside the notebook was a confusing note in Portuguese which read:
16:30 be at agreed place, 18:30 swallow capsules, after effect protect metals wait for mask signal.
The money was gone.
Unfortunately, no autopsies could be performed, and there were no visible signs of death. All clues point to the chance they were duped out of their money, but the mystery still remains: what were they promised, and why the lead masks?
The Oakland County Child Killer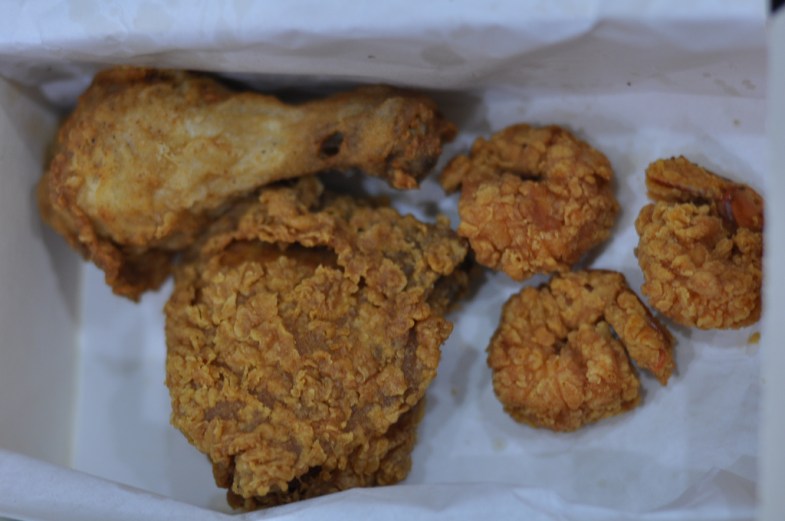 For 13 months between 1976 and 1977, an unnamed serial killer targeted and murdered at least four children — if not more. Dubbed the Oakland County Child Killer, this person was responsible for the grisly deaths of Mark Stebbins, 12; Jill Robinson, 12; Kristine Mihelich, 10; and Timothy King, 11. At least two of the murders included sexual assault.
Timothy King's parents turned to the media. His father appeared on television to beg for his son's safe return during his disappearance. His mother wrote a letter to the Detroit News and promised to serve him his favorite meal, Kentucky Fried Chicken, when he came home.
His body was found in a shallow ditch six days later. His skateboard, which he had been using when he went missing, was placed beside him. His clothes were neatly pressed and washed, and the worst part — postmortem analysis showed that Timothy had eaten fried chicken shortly before he was murdered.
The murderer was never found.
The Sodder Family Tragedy
On Christmas Eve 1945, five of the Sodder Children — Maurice, 14; Martha 12; Louis, 9; Jennie, 8; and Betty, 5 — were trapped inside the family home when it caught fire at 1 am. Their father George tried valiantly to save them, but he couldn't reenter the house. His daughter Marion raced to a neighbor's place to call for the fire department, but no help arrived until 8 am. By then, the house was nothing but a pile of ash.
The remaining Sodders assumed the children were dead, but the Christmas Day search of the remains showed no bodies. It was suggested by the fire chief that the fire had been hot enough to completely cremate all five bodies.
But there was something else to consider. George Sodder, born Giorgio Soddu in Italy, was no fan of Mussolini — and he was not quiet about it. After refusing to purchase insurance from a salesman mere months prior to the fire, the salesman threatened him by saying, "Your goddamn house is going to go up in smoke and your children are going to be destroyed. You are going to be paid for the dirty remarks you have been making about Mussolini." Additionally, the older Sodder sons had noticed just before Christmas a man parked near their house, watching the children as they came home from school.
Jennie Sodder, the matriarch of the family, didn't understand how there could be five children who died in the fire and not leave anything behind. A crematorium employee told her that bones could still remain intact in a two-hour fire at 2000 degrees. Their house had burned down in 45 minutes. She also noticed that in the basement of their house, household appliances were burned and melted, but recognizable.
Many more odd occurrences turned up as the family wondered how and why this happened to them — their wiring had been cut and was not faulty as previously expected, a witness said they saw someone fiddling with George's car, a family member said they had heard something hit the roof shortly before the fire — but one of the strangest things that happened was almost 20 years later in 1968.
Jennie Sodder received a letter addressed only to her, postmarked Kentucky with no return address. There was a photo of a dark-haired man in his 20s. On the other side was a handwritten note:
Louis Sodder. I love brother Frankie. Ilil Boys. A90132 or 35.
The man bore a striking resemblance to presumed-dead Louis Sodder. The family jumped at the opportunity and sent a private investigator to Kentucky — he was never heard from again.
The last remaining Sodder, Sylvia, still doesn't believe her siblings died in that fateful fire, but no one has any further clues as to where — or why — they disappeared.
Where Is Nicholas Barclay?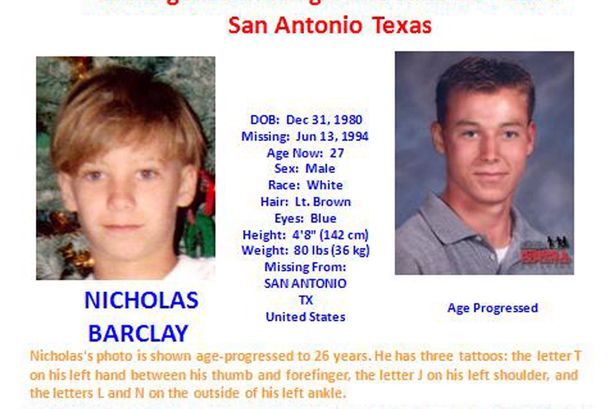 On June 13, 1994, 13-year-old Nicholas Barclay left his home to play basketball at a neighborhood court. When he was done he called his mother to come pick him up, but she was sleeping. His older brother didn't wake her. He never came home.
At first, it was thought he may have run away (as he'd done it before) but he never stayed gone for long. He was a problem child, according to his family, and had recently stolen a pair of shoes. His juvenile hearing was set for June 14, just one day after his disappearance, so that was taken into consideration as well.
Years went by with no sign of Nicholas. In October of 1997, over three years later, a call was made to the Barclay family from Spain. A young man was identifying himself as Nicholas and asking to come home. He was claiming he'd been involved in a child sex ring. Nicholas' sister flew to Spain, agreed that it was her brother, and they both flew back to Texas together.
However, nothing quite fit with the young man's story. His hair was dark brown, which could've darkened from Nicholas' light brown color, but his eyes were brown as well — and Nicholas had blue eyes. His response? His captors had altered both his hair and eye color during his abuse. His pattern of speech was off and he had a distinctly French accent and yet, the Barclay family believed him.
In fact, they believed him so desperately that they were indifferent to DNA and fingerprint testing until it was ordered by the FBI. These tests proved it was not, in fact, their teenage son — but a 23-year-old French man posing as the missing child.
In the documentary "The Imposter," said French man — Frederic Pierre Bourdin — said that while he was aware of his deception, he thought Nicholas' family went along a little too easily with his charade. Even with his enormous lie, he felt he saw a subtle desperation in this family — as though his appearance in their lives were some sort of alibi.
Nicholas remains missing.
The Springfield Three
June 6, 1992. Springfield, Missouri. Teen friends Suzie Streeter and Stacy McCall had just graduated from Kickapoo High School. They attended several graduation parties that evening, then headed back to Suzie's mother Sherrill Levitt's house to retire for the evening. They had previously planned to stay with a friend but that friend's house proved too crowded and Levitt's house was plan B.
The next day, the women were proclaimed missing after McCall's parents contacted police in regards to their daughter. All three women left behind all their personal property — keys, wallets, purses, cars — and the family dog was found in the house, unharmed but distressed.
That's all that's known about the disappearance of the infamous Springfield Three, other than the local speculation that the bodies are buried beneath Springfield's Cox Hospital Parking Garage. Their whereabouts remain unknown.