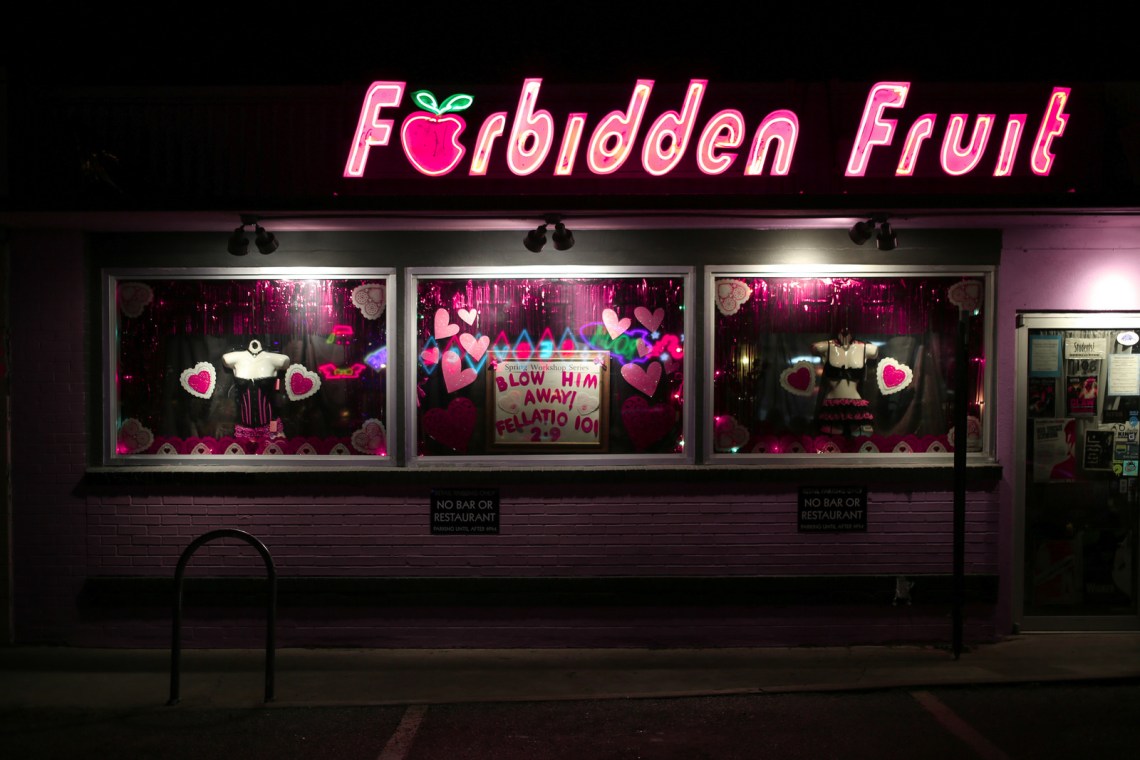 It's confession time. I had never bought and-or have played with a sex toy before. To be perfectly honest, the idea of inserting a phallic-like, silicone object up my ass had never sounded particularly appealing. However, with my newfound desire to become a better bottom—meaning able to have sex for longer than five minutes without asking my partner to pull out—a dildo appeared to be the best—and only—solution.
So, in a last minute fleeting decision to avoid hypothermia earlier this month my friend and I found ourselves pitted in some hole-in-the-wall sex shop in Midtown, Manhattan.
It was overwhelming, to say the least. There were more dildos, vibrators, butt-plugs, penis sleeves and cock rings than I could have ever truly imagined and it made me sort of uncomfy. Yet, I weirdly wanted to try each of them out.
It felt like a little secret. After all, the shop was situated on the 13th floor of a garish office building, leaving the only witnesses to my venture being my friend and the two shop employees. It was in this instance that an orange, 6-inch vibrator was purchased with leftover holiday funds. Her name would come to me later that night—"Whisper."
And there I went, wobbly and unhinged with child-like enthusiasm, texting my boyfriend, anxious about how he might react. His immediate—positive—replies comforted me; it's not weird to be sex-positive and-or "kinky."
Suffice to say, I needed to get home. The remainder of the night seemed like a simplistic tease. The little black bag that held Whisper continually provoked me throughout the evening's happenings, even turning on by itself at one point, stimulating my thigh, making me not-so-flaccid in public.
Fast-forward seven hours—two of which were spent traveling back upstate to my college's campus—and I am deliriously tired, in need of a significant dosage of melatonin or a glass of merlot. However, I became alive again as I was embraced by my inebriated boyfriend.
Murmuring in my ear as we began to go further, he beckoned, "Let me fuck you with your dildo."
I was apprehensive. Firstly, because I had not known how I would react to the toy plus its ten speeds of vibrations. Secondly, the idea of using the toy with him—I had thought—would never come to fruition, especially on the night of its purchasing.
The hesitation only lasted so long. In the following moments I jolted out of bed, thrashed around the moonlit room in search of Whisper and changed the oh-so classic slasher movie that had been streaming to a less-gore filled one that I had thought would much better suit the setting: Kill Bill: Vol. 1.
Then, it happened. He lubed me up, gently pressed the vibrator on the outskirts of my hole—a friendly introduction—and stuck it in.
Although a bit unyielding once inside, the experience was magical. M-a-g-i-c-a-l. Whisper broke me down relentlessly—quite literally—with each twist, bump, and pulsating motion, all while I remained wholly at ease. I usually refrain from making sweeping statements, but Whisper allowed for the best, most divine orgasm of my life.
Despite my enamored, unapologetically budding romance with my vibrator, I find myself hiding her in the crevices of my drawers alongside other essentials. She's been past third-base, but I still get scared trying to hold her hand.
It's sad because I've been systematically trained to sexually please myself in certain, normative ways and am combatting these processes daily.
Friends and family who've stumbled onto Whisper in my drawer while searching for Q-tips and-or hand sanitizer, have asserting a significant amount of shame and judgement on my queer sexuality and sexual exploration. It's enrooted in our culture that pleasure outside of cis-normative relations is explicit in nature and dangerous to the community.
When these thoughts begin to consume and deter me from getting off—in both plural and solo settings—I recall the moments prior to Whisper's purchase. Undeniably withdrawn, fearful of judgement, yet in a space where sexual exploration was not only encouraged, but demanded, I was thriving in the most silenced of ways. It's in these quintessential, yet private moments where I find myself living out my truth while remaining sheltered.
And then I think: Silicone or real, orgasm or not, exploring your body in ways you want is of the highest importance and fuck everything else.