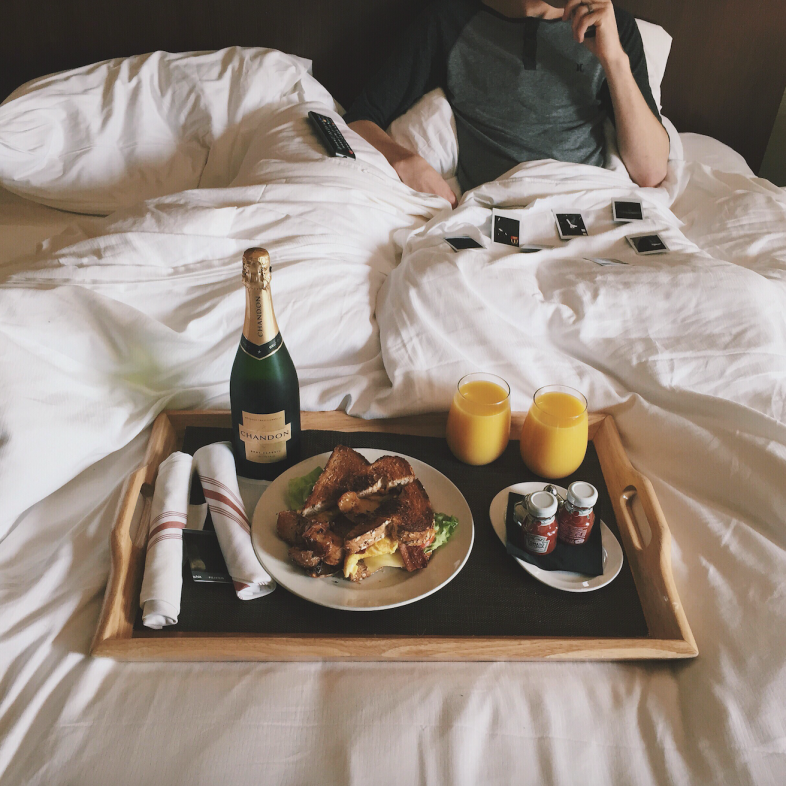 Now that I'm an adult lady with a real professional job, sometimes my work sends me out of town on trips. It's pretty cool. I have a corporate card all shiny and new to charge my meals and hotel rooms to, which is the biggest perk. Plus, it's fun to spend a few nights in a new city and pretend I'm a mysterious, beautiful stranger with a big secret, soap opera-style.
They sent me to New York for five days a few months ago, which was just what I'd been craving. I was getting a little bit bored in my routine and the energy and buzz of New York would snap me right out of that, besides reminding me why I love my current city.
I spent my first day doing a bunch of exhausting work stuff, running all over and grabbing cab after cab. (I'm not taking the train if the company is paying!) My feet hurt. My head hurt. My arms were sore from carrying around my bags, computer and all the work supplies I was required to haul around. Even though I had a bunch of friends clamoring for my attention and company during my stay in their city, I was just too tired to even consider meeting anyone for dinner.
"ZIIIIIING!" went my vagina. "GET IN HERE, DUDE."
Hotel restaurants are usually pretty mediocre at the Marriott/Hilton level, which is the kind of hotel I tend to get booked at. Hotels are hotels, though, and I love tinkering with the tiny shampoos and watching "Law & Order: SVU" while stuffing my face with room service in one bed, then sleeping in the other sans crumbs. Plus, staying solo in a hotel room gives you plenty of space to get yourself off to sexy hotel-based fantasies!
Anyway, I was so zonked that I just flung myself at a table at the hotel restaurant, which claimed to be Italian and looked authentic enough for my exhausted ass at that moment. "CARBS!" shrieked my brain. "I NEED CARBS! (And a shower!)" I wanted two glasses of red wine and a big plate of creamy, calorie-laden cheese and noodles. I'm a simple woman.
I sipped my water (OK, I chugged it) and devoured an entire loaf of olive bread before the waiter approached the table to take my drink order. "I'll have the pinot noir," I ordered, not looking up immediately. I wasn't trying to be rude, but I had like 50 work emails to answer. "Thanks!"
"Yes, miss, anything else right now?" OK, the voice sounded hot. I looked up and there was the hottest waiter I'd ever seen. "Thank you Jesus for this blessing!" I thought to myself.
He was tall, a little over six feet, with thick, dark hair swept back from his face in that pompadour style all dudes do now. On most of them, it looks douchey and try-hard, but on this guy it was sexy as hell. A little tendril had escaped the pomade-ing and fell over his eyes, which were deep, dark brown. He wore little black glasses and was just scruffy enough to please me. "Hmmm," I thought. "This place isn't so bad."
I smiled. "What else do you recommend?"
He stammered through a few suggestions. Oh wait – he was legit Italian. That was an accent, not a put-on. "ZIIIIIING!" went my vagina. "GET IN HERE, DUDE."
I don't really remember what I ordered, besides a second glass of wine. He kept my water glass filled and my every need attended to, and I put the work emails down to watch him move from table to table. Strong, chiseled shoulders under a white work shirt? Check. Long legs? Check. Well-defined hands? Done and done.
I've never been the kind of girl to write my number on the check or try to flirt my ass off with a hot bartender or server. I've dated too many bartenders for that shit. But this one seemed different: sweet, cute, with no idea how handsome he was. He kept calling me "miss" and blinking rapidly in my direction; I made him nervous. "It's OK, you can call me Jillian!" I chirped. "Everything's great, thanks!" I was just trying to get him to chill.
I had a plan. Hey, I was alone here for five days and needed a little distraction from work. 

"When do you close?" I asked him.
"We close at 11 P.M.," he said, shifting his gaze from me to the floor.
"Mmmmmmm …" I murmured. "Do you do … room service?" It was cheesy, I know, but sue me. Dude was hot.
"We do, miss."
"I'm in Room 1209. I'd like dessert, and another glass of wine, sent up to my room. And I'd like you to deliver it." I paid my check and headed up to my room. I could feel his eyes following me, and man was I glad I'd worn my sexiest pencil skirt and a good pair of heels.
In my room, I got undressed and slid into the cushy white hotel robe, a pair of black lace panties and matching bralette underneath. I pulled my hair up into a bun so I looked chill and relaxed, not too sexy.
I waited for the knock-knock-knock of my delivery, and felt my hands moving down almost of their own accord to play with myself. I imagined the hands on my nipples were his, teasing, pinching and playing. I leaned back against the pillows and let my imagination go wild. Dammit, I'd forgotten to pack my favorite little vibrator.
I imagined the waiter leading me into the bathroom and turning on the shower really hot, steaming up the whole room so we could barely breathe. Then he'd make me watch in the mirror as he kissed my neck and played with my clit as he stood behind me. We wouldn't talk. He'd get me worked up, all wet and panting, and then he'd shove me forcefully up against that cold marble sink and thrust into me, real hard at first and then slowly, gently, making me beg for it.
After we'd fucked like that for awhile, the steam making us sweaty and sticky, our skin hot and wet, we'd move onto one of my two crisp, white beds and I'd lower myself onto him, watching my reflection in the mirror above the headboard. Subtle, hotel, real subtle. He'd lose his mind as I rode him backwards; he'd grab my hips and shove them up and down fast, forceful, and I'd hold his balls in one hand, play with my tits with the other.
Me and the waiter would fuck around all night, I just knew it. He'd eat that dessert off my naked body, licking the chocolate sauce slowly off one nipple, then the other. He'd prop me up against the window, my legs around his hips, and we'd put on a show for the city below.
My hands were moving pretty furiously when someone finally knocked on the door. I leapt out of bed and checked my reflection, pulled the robe around me and tied it loosely. He was coming! It was going down!
It wasn't him. "Anthony sends his apologies, but his shift ended," said the woman holding my wine and Styrofoam box of dessert I didn't want anymore. "But he's working tomorrow night…"