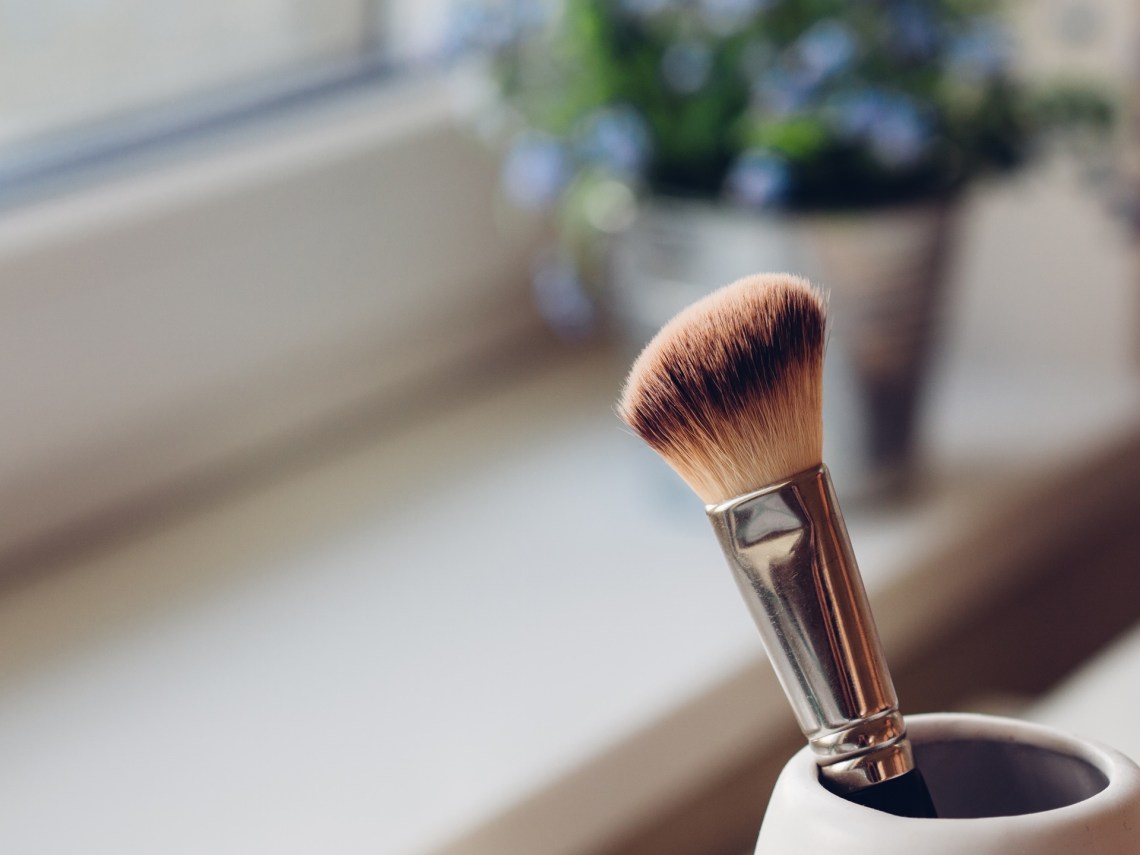 I want to just spit it out, I absolutely hate make up. Putting on make up is by far the worst part of my day. Contouring whatever that means? Yeah, too much work for me. I am a mascara and go kinda girl. I believe in enhancing your natural beauty. Some girls may believe they "NEED" more make up. We live in a consumer world of excess and indulgence. All these products we use take away our individuality and we all end up looking like different versions of the same.
The flaw that you are desperately trying to cover up, maybe the most beautiful unique thing about you. When I was a child I used to hate my freckles, I absolutely despised them. I would secretly pray at church, begging God to give me a clear complexion like my sister. I was convinced the brown spots on my nose were leprosy. Then something called "Abercrombie and Fitch" came out and all of sudden freckles were beautiful and so was I. Now ironically, I embrace my freckles and wish they were as prominent as they were when I was a child. I may not be a strong supporter of make up, but I am a firm believer in skin care.
Make up is a trend, Skin care is timeless. Preserve your skin, so you don't need botox at 25. You don't look younger, you look like a "Real Housewife" .Girls these days are running around looking like clowns, rocking fake eyelashes to the grocery store. It is like every day is Halloween and every day their costume is hooker. I understand make up can be fun, like dress up. It is an art, but do you need to paint a full face every day? Hate to break it to you girls, but long term you can be doing some serious damage to your skin (if you are not protecting it right). Your skin is an investment, treat it like one. You need to TAKE CARE of yourself, NOT FIX YOURSELF.
Now, that we got that out of the way. I am going to show you how to become a timeless beauty instead of a make up fad clone. Now is the perfect time to start working on your skin, because it is the most difficult season of all Winter. Winter is here which means pale complexions, dry skin, chapped lips, and frost bitten cheeks. Here is a list of the finest defences to mother nature's inevitable cold front.
Like i said ladies winter = dry, dry. dry for our skin. Not to sound biased, but Dermalogica is my personal favourite brand, I swear by it. It is how I keep my 12 year old girl complexion. I have everything from the miracle making "age smart eye cream", "skin smoothing cream" and the "daily microfoliant". The " DERMALOGICA PHYTO REPLENISH OIL" is their latest miracle skin creation, it is a feather light oil treatment that works in 3 phases. 1) TO STRENGHTEN 2) HYDRATE 3) SHIELD. This is your ultimate winter defence! While defending your skin, it also corrects your skin! A beautiful natural blend of orchid flower and chia seed oil smoothes visible already there lines and locks in moisture!
The rice bran oil is rich and vitamins B and E, it also helps protect your skin against UV rays, free radicals and aids in cellular circulation. Protection against UV rays are key to keeping your skin looking young. The sun is the most damaging to our youthful complexion! The 4 areas it covers 1) forehead wrinkle release 2) revitalize eyes 3) glow point detox 4) jaw line stress release. After cleansing your skin press 4-6 drops on your skin or mix with Dermalogica moisturizer. Moisture is the key to well kept skin ladies. If you want your skin looking young forever, less make up more moisture. Hydrate over cover up.
AKA BABY SKIN. Speaking of youthful looking skin, this is your new go to mask! Not to mention Gigi Hadid, Kim Kardashian, and Sienna Miller practically swear by this stuff! You are kept in good company my friends. The beautiful scent alone can make you feel like you have just walked into a 5 star spa, while perfecting your skin in the comfort of your own home. This age rewind mask is simply like no other.
It stiffens and strengthens your skin. You can literally feel the tightness on your face in this masque. It is like an ageless time capsule. With just 10 minutes this masque boost collagen, hydrates, and plumps poreless skin. What is most intriguing about this mask, is that is mostly clay. In theory "clay" is known to dry up your skin while Charlotte Tilbury does the exact opposite and hydrates! This mask is fit to make you a VS angel over night, in just 10 minutes actually to be exact. Just ask Gigi.
I can't stress this enough moisture is your best friend. We found the youth fountain and it's called hydration. Your face isn't the only place that needs hydration your whole body does. Do not make this rookie mistake and only moisturize your face, because then your body won't match! Especially around the neck area (we all easily miss this!). You can't have a tight fresh face, with a loose wrinkly neck! The Face Shop Body Chiffon Creme comes in various flavours like gold kiwi and strawberry. They all smell like your childhood.
The Green Grape greatly resembles the coveted gummy bear scent! But these cremes are more than just fun, they are also good for you! They all contain jojoba seed oil, which is great moisturizing oil! Performance wise it is a thick strong chiffon creme, (not as thick as body butter, but more than body lotion). The main appeal is the formula is not greasy!
This soap is your god forsaken hero, for dry irritated skin. All natural products. The pumpkin pulp relieves the itch. and wheat germ gently exfoliates your dead skin. For your skin to look perfect, it has to be clean. Sounds simple to some, but soap can come a really long way. The sweet almond oil provides your moisture intake. Spoiler alert all of these items are moisturizing! Just in case you haven't caught the pattern ;) Moisture= MIRACLE WORK.
Much more than a regular chapstick my friends. As I said before these are our darkest hours….Winter. The rapid climate change, it gets dark by 6 pm, is it snowing or raining? We are all bound to get sick. This illness is going to creep up on our lips first. It will be dry, chapped and maybe even a bit painful. Prevent this the best way possible with "Dermalogica Climate Control Lip Treatment".
It smoothes already damaged skin and creates a barrier against future weather changes. It is an all in one action it protects your lips against pollution, temperature, extreme stress, and horomonial factors. This chap stick is basically a fortune teller. What else can save you from future weather changes, that haven't even happened yet.
As I mentioned before it is important to keep your skin hydrated, not just your face! Shea Butter and Coconut Oil are the perfect combination for a long lasting lotion. Extremely easy to spread on and smells like an all inclusive vacation. This is the perfect in a rush, throw some lotion on my razor burn legs to make them feel smooth product. It is quick and easy and will make a world of a difference to your skin. It is those little extra things, that go a long way!
Now I saved the most iconic/ironic for last. I know I mentioned the dangers of too much make up earlier, but you can't argue with a classic red lip for winter (or any season, really). Every natural beauty needs a good red lip. This look is timeless and will never get out of style. What I absolutely adore about Charlotte Tilbury is that she tells a story with her creation.
"Lipstick is POWERFUL. It has the ability to completely change your state of mind: It can boost your CONFIDENCE, pick you up when you're feeling down, REENERGISE you, add INSTANT GLAMOUR to any outfit and immediately enhance your beauty – there's HAPPINESS in every tube! With Hot Lips I want to celebrate the mood-enhancing power of lipstick by creating a shade that captures the personality of each of the 12 incredible women that I admire, and in so doing raise awareness for an amazing charity, Women For Women." Charlotte Tilbury. As Demi Lovato would say whats wrong with a little confidence?
The shade I chose for this season is called "Tell Laura" who is inspired by Laura Bailey."Laura is the ultimate bright, bohemian British beauty. I like to think of her immersed in an English secret garden in summertime, or as the quintessential, cool, Portobello girl. This fresh Geranium red encapsulates her irreverent, fun, eclectic style!" In case you were wondering the other 11 muse styles are : Miranda Kerr, Nicole Kidman, Cindy Crawford, Kate Bosworth, Salma Hayek, Liv Tyler, Poppy Delevinge, Emily Ratakjowski, Helena Bonham- Carter, Carina LAU, and finally Kim Karadashian- West.
If those incredible style muses have not convinced you, did I mention this if for charity?
"When I first sat down with the charity and heard the many stories of the women in the programme, I was shocked, devastated and determined to do something to make a real difference. Not only do I aim to help Women For Women by raising money through the Hot Lips collection, I have also called on an army of powerful, influential women to help raise awareness of their cause and highlight the hidden suffering of so many women." Charlotte Tilbury
Charlotte Tilbury is practically a reincarnated angel, just trying to make us all beautiful and give her profits to charity. If that isn't inspiring to you, I don't know what is. We live in a media crazed world of indulgence. With technology advancing by the second we have lost all sense of control and privacy. Beauty in the media, will always be an uphill battle for women.
Charlotte Tilbury is using her super hero powers for good. Giving back in this consumer world, is the closest we have to control. Charlotte Tilbury has changed the game for beauty in the media. Beauty in the media can easily broadcast all the ugly truths, it can cause eating disorders, plastic surgery, and low-self esteem issues. Charlotte Tilbury's "Hot Lips" charity fund saves women. She is empowering women to be confident and helping the unfortunate at the same time. It is too easy to drown down the rabbit hole. It is refreshing to see an amazing influencer change the perspective of "true beauty."