Sometimes a kitchen makeover is much-needed. Whether if you just want to update the backsplash to subway tile or replace the cabinets to open shelving, a remodel can help you reach your dream kitchen. However, it's important to take into consideration the kitchen layout you're working with and set a budget for what you want to update or replace.
Though it might seem like a lot at face value, the average cost of a kitchen remodel is somewhere in the $30K range. When you break down all that this includes plus the long-term value and efficiency that you are adding to your home, it makes sense.
If you're looking to accomplish a standard, all-inclusive kitchen remodel — this would include new appliances, cabinetry, as well as features like a sink, faucet, lights, and so on — you should budget somewhere in the $23K-$35K range. If you only want to do a partial renovation, you can cut the cost in half, but that would also mean not quite having a finished room.
Below is a standard price module from HomeAdvisor.com that outlines what you can anticipate for your remodel. The left-hand column refers to the most inexpensive options you can try to find for each of the main elements that a kitchen requires, and the right-hand column is the luxury option, though it's possible to spend far more if you want to make your space truly state-of-the-art.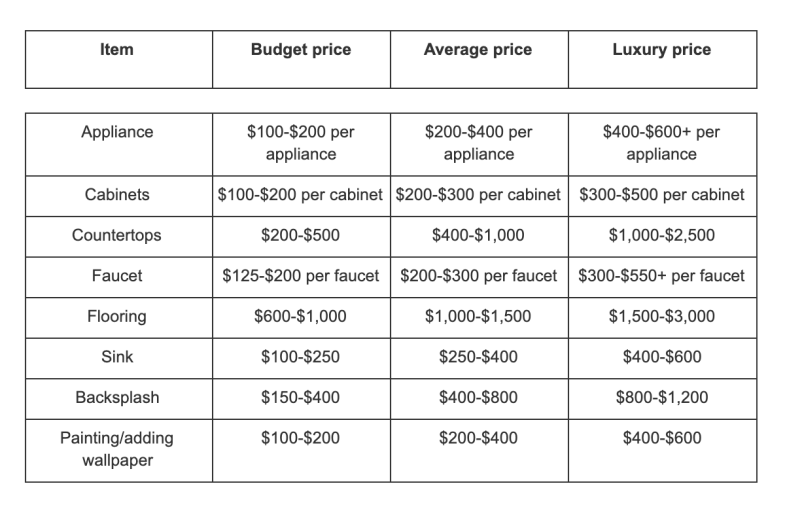 Where To Cut Costs
Even if you're going in with a standard budget, there are ways to reduce your costs and perhaps even have more money to invest in other parts of the space that you value. Maybe, if you have a relative who knows how to install backsplash or can create custom cabinets, you can save installation fees there and put them into the refrigerator of your dreams. On the other hand, if you can teach yourself how to do some basic repairs — painting cabinets, let's say — you can save yourself lots of money by not having to completely replace the cabinetry, and you'll learn a new skill along the way.
Remodel

Your

Existing Cabinets

At a few hundred dollars per cabinet, this can be one of the more expensive aspects of a redesign. You have to pay for the materials and the installation as well. The cost will only increase, then, if you need someone to come and install the new pieces.

However, there's an alternative: Paint your cabinets and then change out the hardware. With just some paint and sealer, you can completely change the look of the cabinet itself, then add some new hardware such as trendy gold handles.

Another option is to take out the upper cabinets altogether and install shelves for the open shelving look.
Do Some Of The Labor Yourself
Along with the cabinetry, there are other things that you can learn to do on your own. Though you generally want to leave anything hazardous, dangerous, or particularly complicated to a professional — like reinstalling plumbing or electric, for example — there's still a lot you can do yourself.
For example, you can pull out and then replace tile or backsplash, you can paint the room yourself, and then you can maybe opt for exposed shelving (as many modern kitchens have), which you can also install yourself. With all of that done, you're saving yourself a significant amount of money and time already.
Update
The
Kitchen
Appliances
Though some appliances will need to be replaced because they simply don't work anymore or you'd like to upgrade, there are others that you can fix or clean up and get a similar result.
For example, if one of your appliances can be repaired, the cost is a lot less than replacing it, and then you can get creative. Perhaps you add a chalkboard paint to your refrigerator, making it stylish, sleek, and functional. The options are endless; you just have to be willing to think outside the box.
What You'll Be Able To Invest In
With a standard $30K budget, you should be able to replace or update many of a kitchen's core needs. Keep in mind that if your space has anything salvageable or any original fixtures that you'd like to keep, capitalize on that, because anywhere you can save money is where you can also reinvest in another part of the space that really matters to you.
Cabinets
In this budget range, you will be able to replace your cabinetry if you don't want to paint or repair your cabinets on your own. However, you should take into consideration that replacing cabinets and restructuring the layout of the space are two different things entirely, as a lot of plumbing, wiring, and other appliances will have to be moved as well. If you want to be able to do more with your budget, you'll want to stick as closely to the original layout as possible.
Countertops
A staple feature of any kitchen is the countertops. While it's an opportunity for you to invest in some beautiful stone, it's also an opportunity to show off some style. Perhaps you opt for concrete or wood countertops, which are in style right now. (Note that the wood will need to be adequately sealed to ensure it remains sanitary and doesn't erode from water and food.) Or maybe you like the look of a quartz countertop.
Sinks
You'll probably want to update your kitchen sink, too, and given that they tend to fall somewhere within the few-hundred-dollar range, you should be able to afford it. Perhaps you invest in a beautiful farmhouse sink or one with a double basin. Similar to the cabinet issue, keep in mind that replacing your sink and creating an entirely new space for a differently sized or shaped one in your countertop are different tasks. To keep costs as low as possible, you'll want one sized to match the cutout that exists. For example, if you have white granite countertops, you could pair it with a stainless steel sink or white ceramic farmhouse sink – both would work well together!
Faucets
Of course, you're not going to want a new sink without a new faucet. Though they are smaller, these fixtures tend to pull a room together and give it a sleek, updated look. Given that they are on the less expensive side of all the materials you need for a remodel, they're a great investment tool.
Appliances
This is where the costs can start to add up. If you're going to replace all of the appliances in your kitchen — refrigerator, dishwasher, oven/stove, range, microwave, and so on — put aside at least a few thousand dollars. With each of them running in the few-hundred-dollar to few-thousand-dollar range (refrigerators can go up to $3K, though they average about $700), you'll want to outline exactly what you're getting and from where. Note that some appliances are cheaper than others (a microwave, for example), and any new pieces change a space's look and functionality, so they're a great idea regardless.
Recessed Lighting
To really change the look of your kitchen, don't forget that lighting is everything. You'll want to invest in recessed lighting to create a bright but adjustable look to the space. This will probably require professional installation.
Pendant Lighting
Unlike your recessed lighting, which tends to either be in the ceiling or underneath a cabinet, your pendant light fixtures will be the visible, main lighting in the kitchen. Go for an option that both fits into your style and provides the type of lighting you want. If you want a bright room, go for one with multiple bulbs; if you want something dim and cozy, consider a fixture where the bulbs are shielded so the light is only going down. A dimmer is always a great feature if you can install it as well.
Flooring
If your kitchen floor is divided from the other flooring in your home, it will be an easier fix than if you had to replace the floor on multiple rooms. Fortunately, the flooring in kitchens tends to be tile, which is not only the most sustainable and sanitary option, it wears the best over time. It's also a lot less expensive than, say, hardwood. With a lower budget, you'd maybe consider something like laminate, but with a $30K budget, you can opt for some nicer tile.
What Else To Consider
Remember that when you're creating a budget for your remodeling project, you need to not only include the price of the materials and labor, but some other variables as well.
Are you moving any plumbing work?
Are you planning to knock any walls down?
Are your material and labor costs split evenly? (They should be about 50/50.)
Do you have backup funding in case of an emergency?
It's generally recommended that you reserve about 10-15% of your initial budget as a safety net, because in kitchens especially, unexpected issues tend to crop up and you want to be sure you're able to cover them, especially if it's something really important like a technical issue.
This example is definitely high-end and very contemporary, but it doesn't mean that you can't create a similar look in your own space and within your own budget. Stick with a monochromatic color scheme (perhaps all black, or even white or grey) and consider keeping it neutral as well. There are no exposed fixtures here (even the dishwasher is concealed) and no pops of metal or accent colors such as with a gold faucet or farm sink.
This design stays distinctly away from any Mid-Modern elements, but if you think that makes it easier, don't be fooled. Creating a streamlined, minimalistic space is one of the most challenging design tasks there is, which is why you'll need to get creative when it comes to a kitchen like this.
This pendant will create a dimming effect in the kitchen while still maintaining that darker design. However, this option comes with a hammered copper shade, which might be just the subdued pop of color you need.
It's clear that in a kitchen like this, there are no exposed elements, and that also means the sink. This flush mount option is large, super functional, and easily concealed within a countertop.
With this type of minimalistic style, streamlined fixtures are necessary. This faucet is angular, contemporary, and all of the features are combined in one.
Another very popular kitchen design right now is farmhouse chic. This involves rustic features tied together with a lot of whites, greys, and neutrals. The appearance you're going for here is old-timey but sleek and updated. Here are some of our favorite products to achieve it.
This antique bronzed pendant is one of the most common lighting designs you'll see in a farmhouse chic kitchen. It is the perfect mix of rustic and contemporary, with an updated, geometric build but the same look and feel of a rustic piece.
No matter what metal you decide to incorporate in your kitchen (and in this case, you have many options), a large, detailed faucet is often in order. The goal is not to be as minimal as possible with a farmhouse chic look; it's to be detailed, sturdy, and functional.
This product has the look of a classic farm sink and yet is an undermount, meaning it is installed into the countertop and the side of the sink isn't visible. Especially if you get it in white, this is the perfect mix of classic farmhouse and updated chic.
–
When you're creating a new kitchen, it's important to establish the style you're going for and the kitchen remodeling budget, and then the rest will follow. The costs will vary too, depending on the floor plan; if you want to remodel a small kitchen, the costs will evidently cost less than an upscale remodel of a larger, possibly more open kitchen.