If you're searching for a new tattoo design, you don't need a huge sketch that will take up an entire sleeve. You can get a small tattoo that's just as beautiful as a larger piece. And the more small tattoos you have, the more you can fit on your body! Here are some cute, small tattoo ideas for anyone heading to the tattoo parlor.
Cute Small Tattoos
Your tattoo is going to be on your body forever, so you don't want to pick a design without thinking it through. Make sure you love what you choose and love the spot where you're going to get it. If you're not sure exactly what you want to get yet, here are some cute small tattoos ideas for you to consider!
"Enough."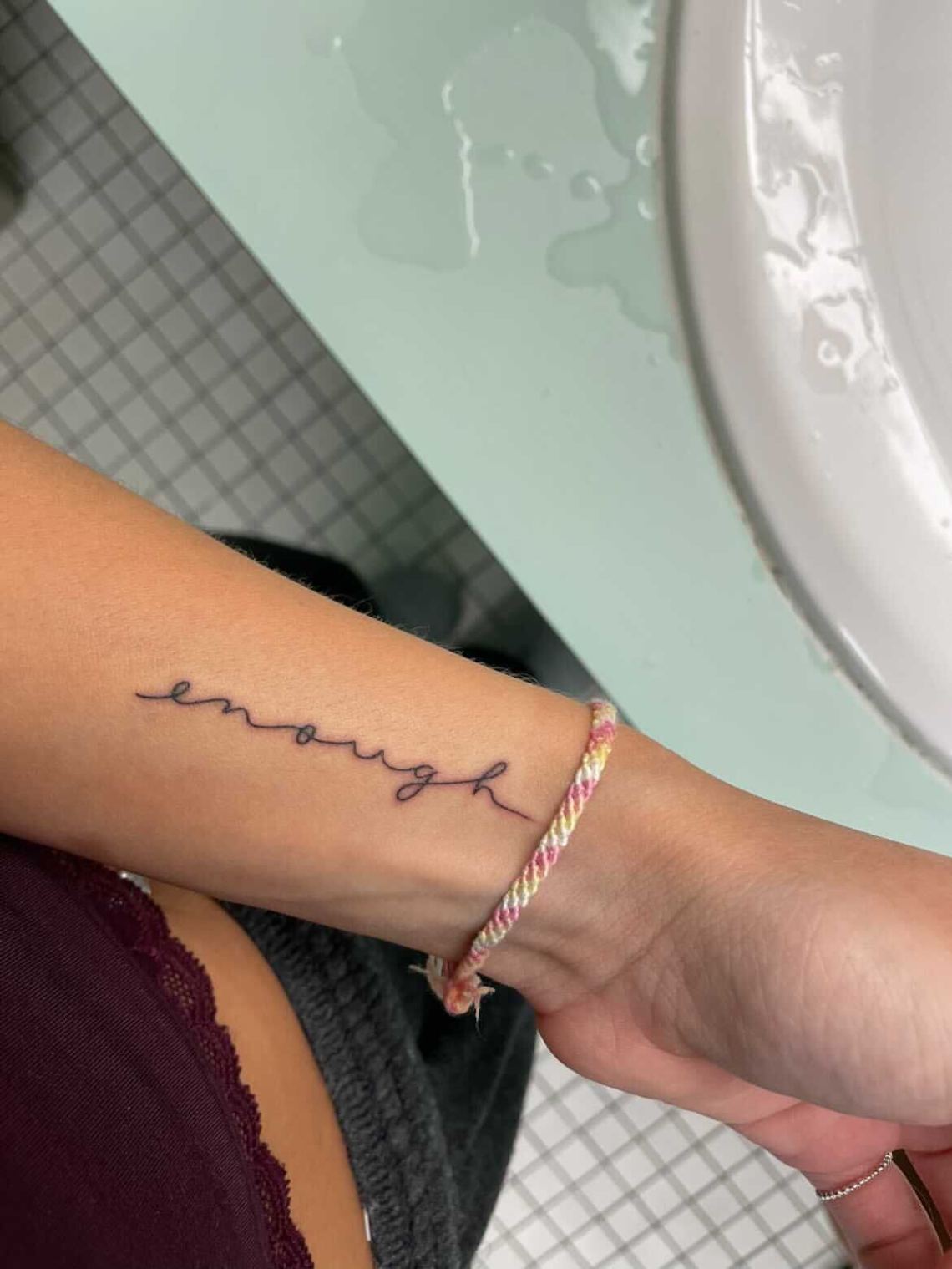 This quote tattoo will serve as a reminder that you are smart enough. You are strong enough. You are talented enough. You are enough. Never let anyone or anything convince you otherwise. Whenever you're having doubts about yourself, this tattoo will talk some sense into you.
"Breathe"
When life gets rough, remind yourself to breathe. Inhale, exhale, and repeat until you start to feel your body unwind. Remember, the mind and body are connected more than you realize.
You Have Always Been Enough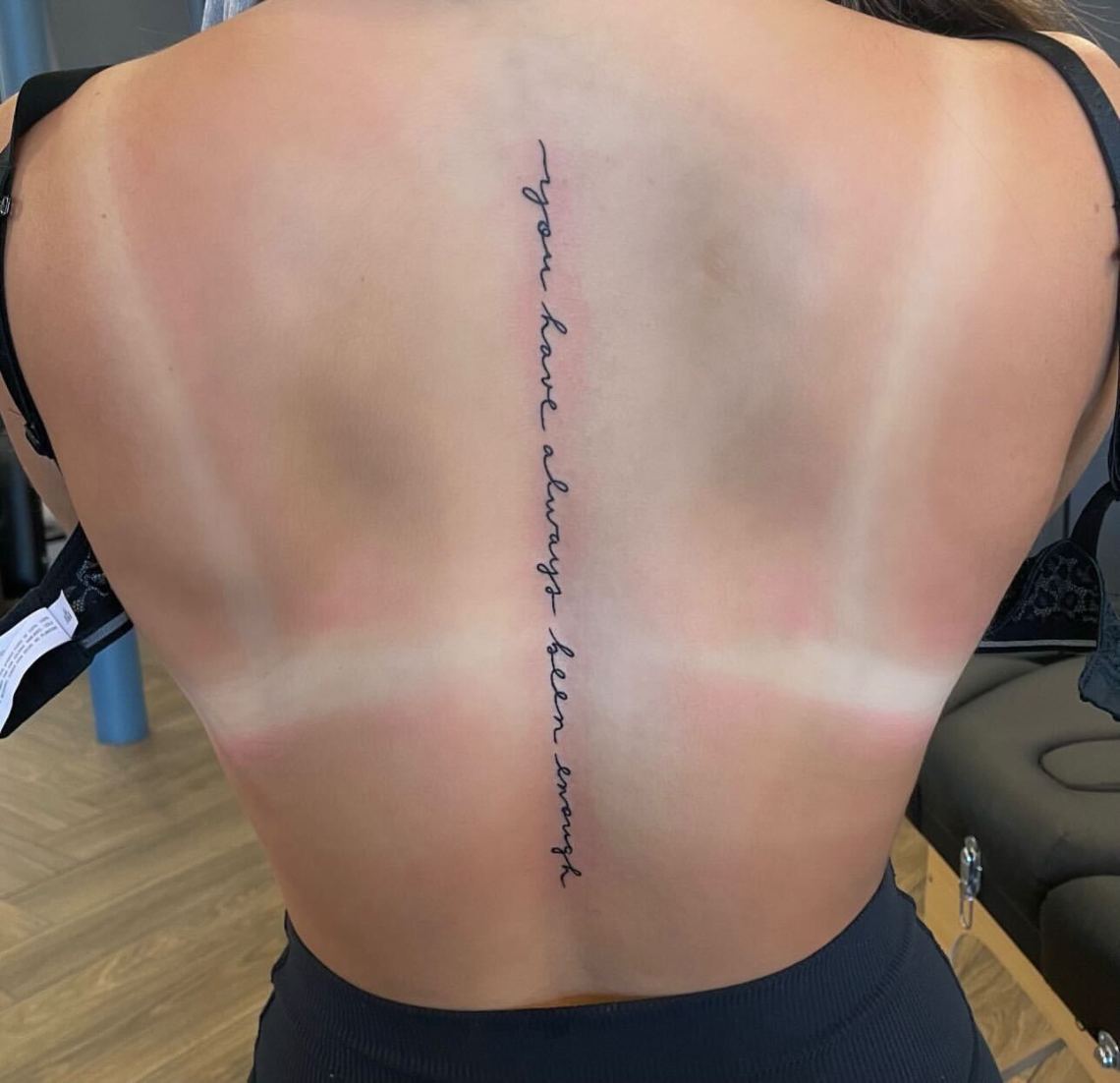 This tattoo became popular on TikTok because of poet Jacquline Whitney. While it's one of the bigger tattoos on the list, it's minimal enough with only a few words about self-worth and your intrinsic value as a human being.
Until Tomorrow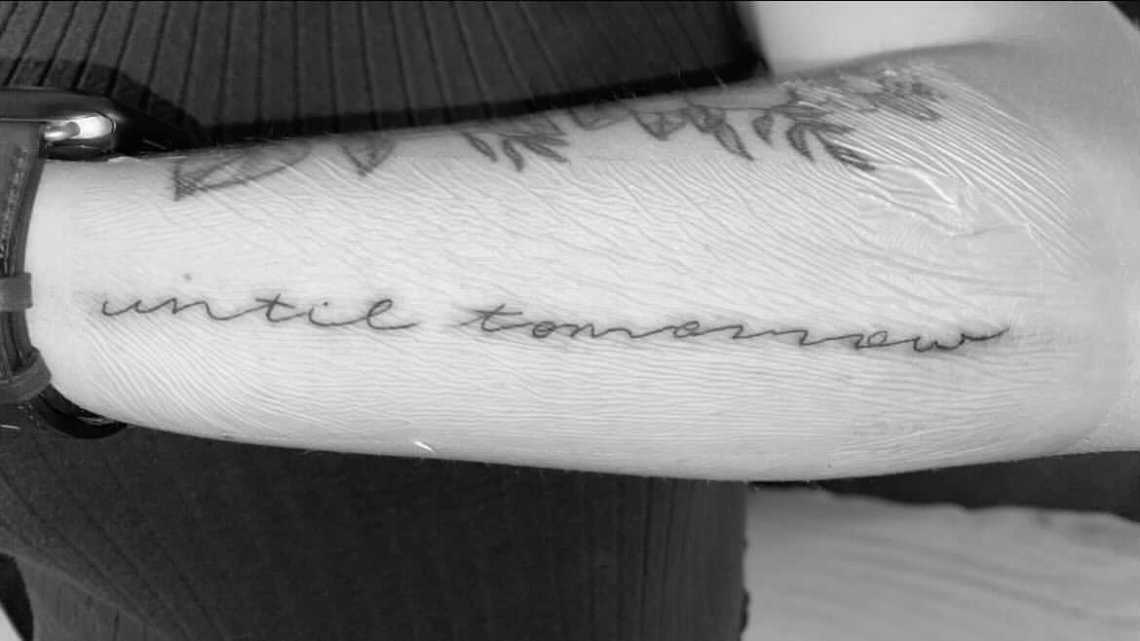 Don't rush yourself. Don't assume you're running out of time. You always have tomorrow to work toward your dreams. Be gentle with yourself and if you don't fulfill your goals today, there's always tomorrow.
Small Dragonfly Tattoo
Dragonflies represent purity, peace, and harmony. A small dragonfly tattoo will bring you positive energy. And they'll look beautiful on any part of your body! You can place them on your thigh, your upper arm, or your forearm. Pick the spot that suits you the best!
Flock Of Birds Tattoo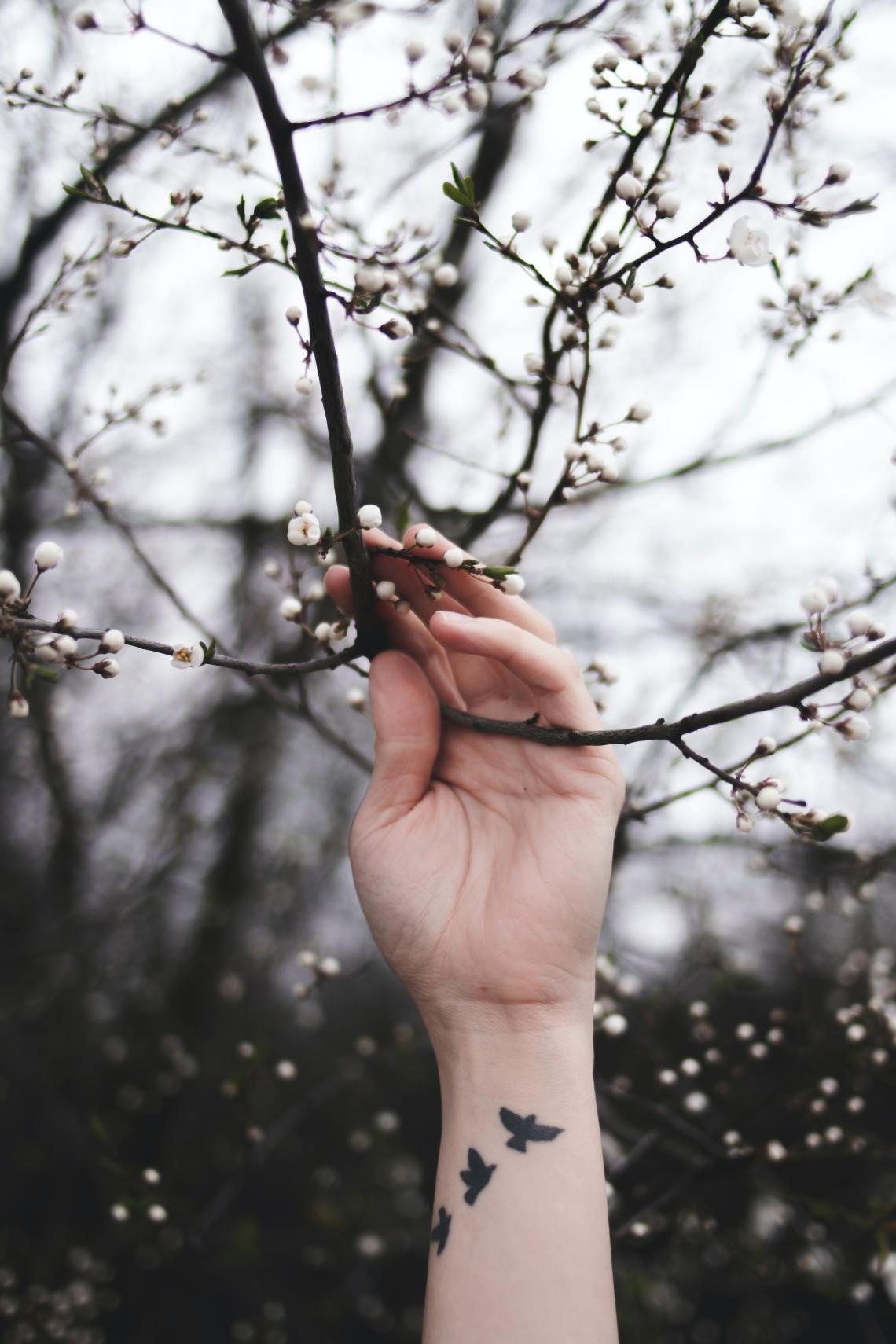 Birds symbolize freedom. They represent a strong desire to travel, to see the world, and to make your own decisions. A flock of birds tattoo will show the world that you don't want anyone else to tell you what to do. You want to live your own life.
Small Cross Tattoo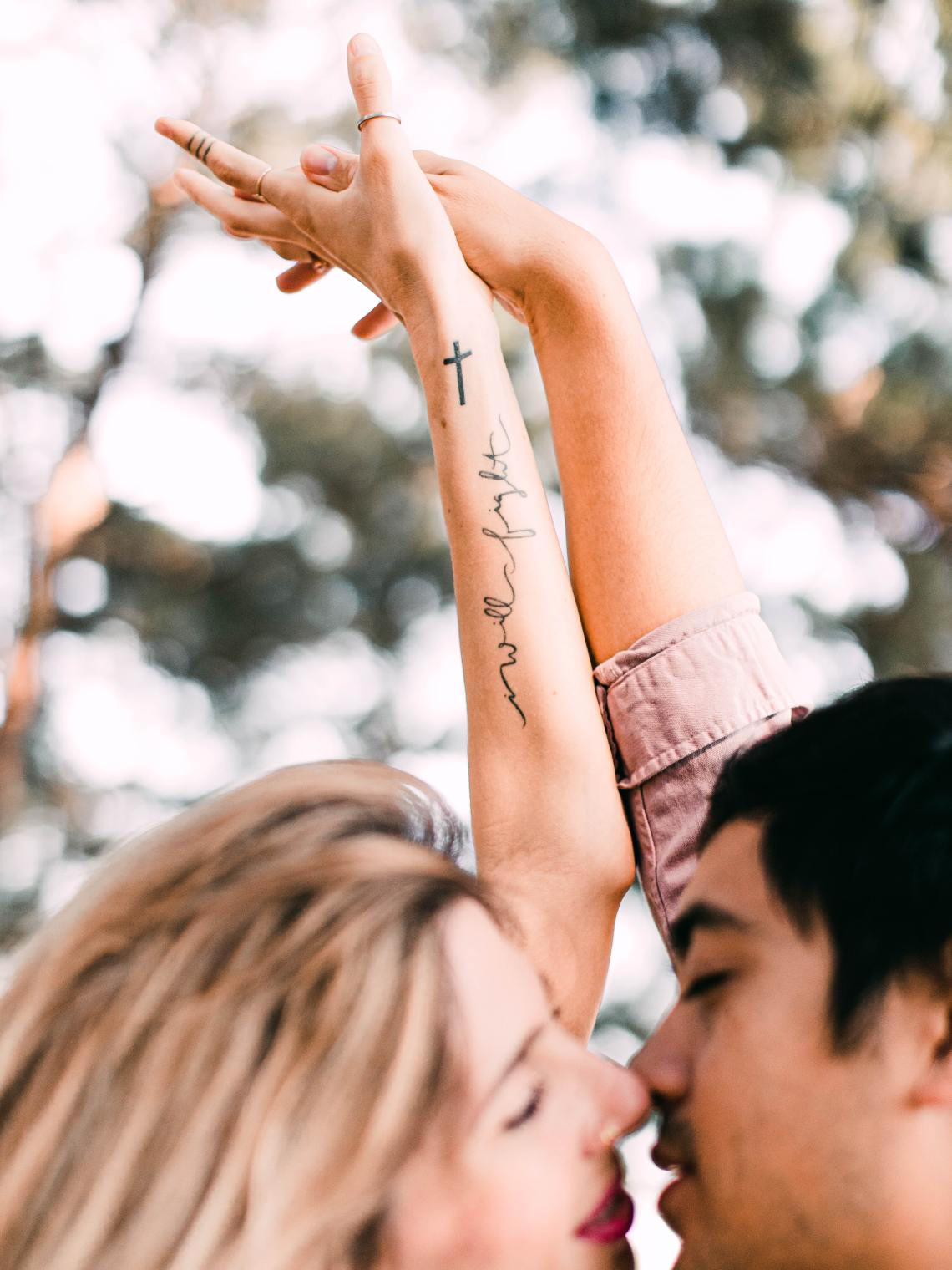 If you're religious, then you can get a small cross tattoo as a sign of your faith. Look at it whenever you need a reminder you are not alone. Everything is going to be okay. You just have to have faith. Of course, this could also work as a memorial tattoo to remember someone you love that has passed.
Small Wave Tattoo
Waves can represent independence, self-sufficiency, and rebellion. Of course, this tattoo design can also represent your love of the ocean or beach! If you spend most of your summers by the water, then this is a great tattoo to showcase your personality.
Small Elephant Tattoos
Elephants are good luck (especially when their trunks are facing toward the sky). These animals are also a symbol of loyalty and strength. Not to mention, they're absolutely adorable. Remember, it's okay to get a tattoo just because you like the design.
Small Skull Tattoo
If you want something edgy (or simply love Halloween), then you can get a small skull tattoo. This design will represent the fact that death doesn't scare you. You're going to live your life fearlessly. No one can convince you otherwise.
Small Compass Tattoo
A compass tattoo will remind you that you will always find your way again. Or it could simply represent your love of adventure and exploration. If you travel often, this is the perfect piece of body art for you. You can show it off in countries around the world.
Small Angel Wing Tattoo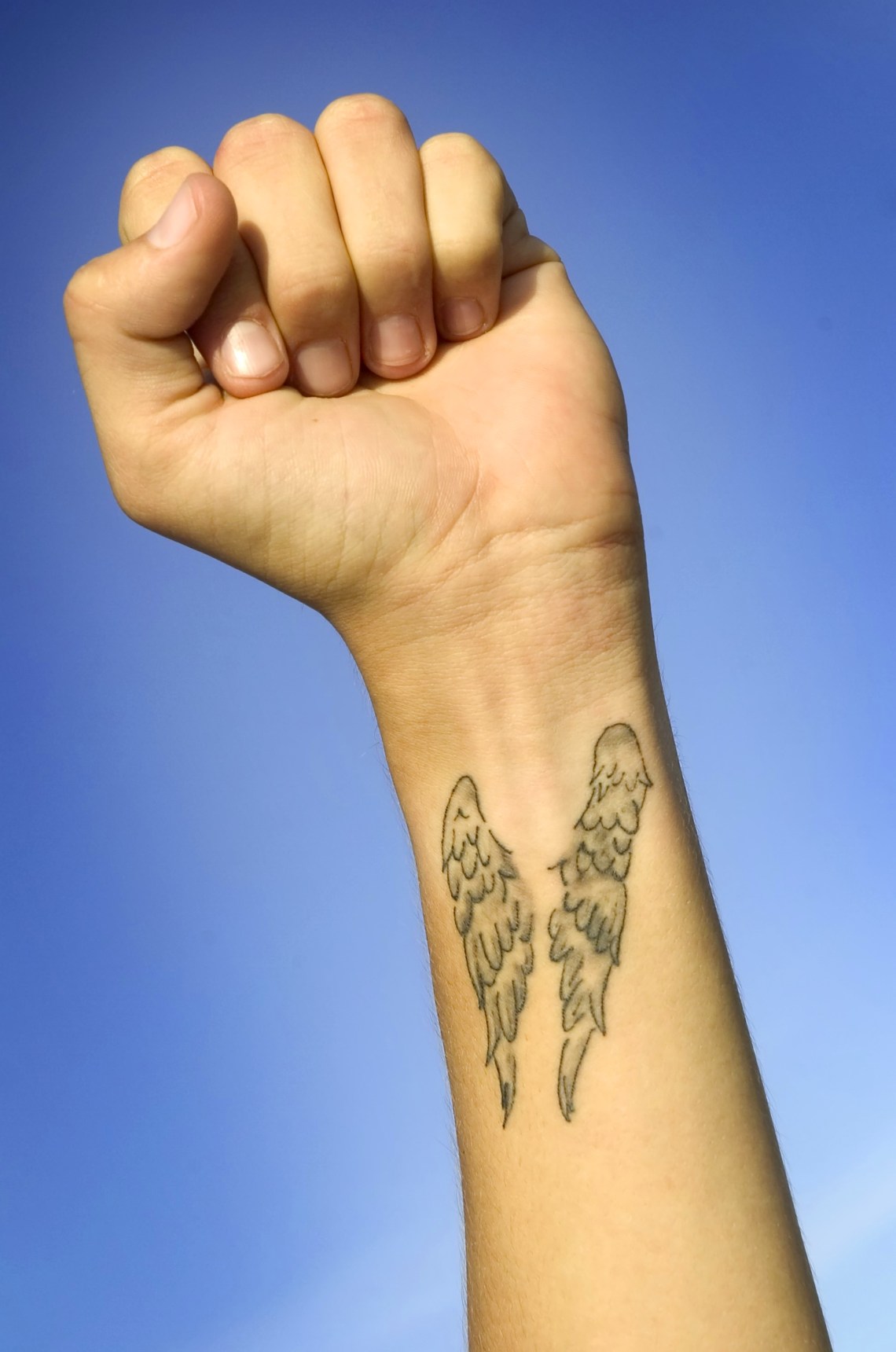 If you feel like you have a guardian angel watching over you, this small tattoo will have a huge meaning. It will remind you that you're never alone. Someone is always there to guide you.
Small Lion Tattoo
Lions are magnificent animals. They represent courage and strength, both physically and mentally. Get a small lion tattoo to show the world you're capable of overcoming any challenge that you're given. Or to show them how much you enjoy The Lion King. You could even get a Hakuna Matata tattoo to go with it.
Small Heart Tattoos
Different color hearts represent different things. Red hearts represent passion. Yellow represents friendship. Black represents death. And purple represents physical attraction. Pick the color that speaks to you the most!
Small Star Tattoo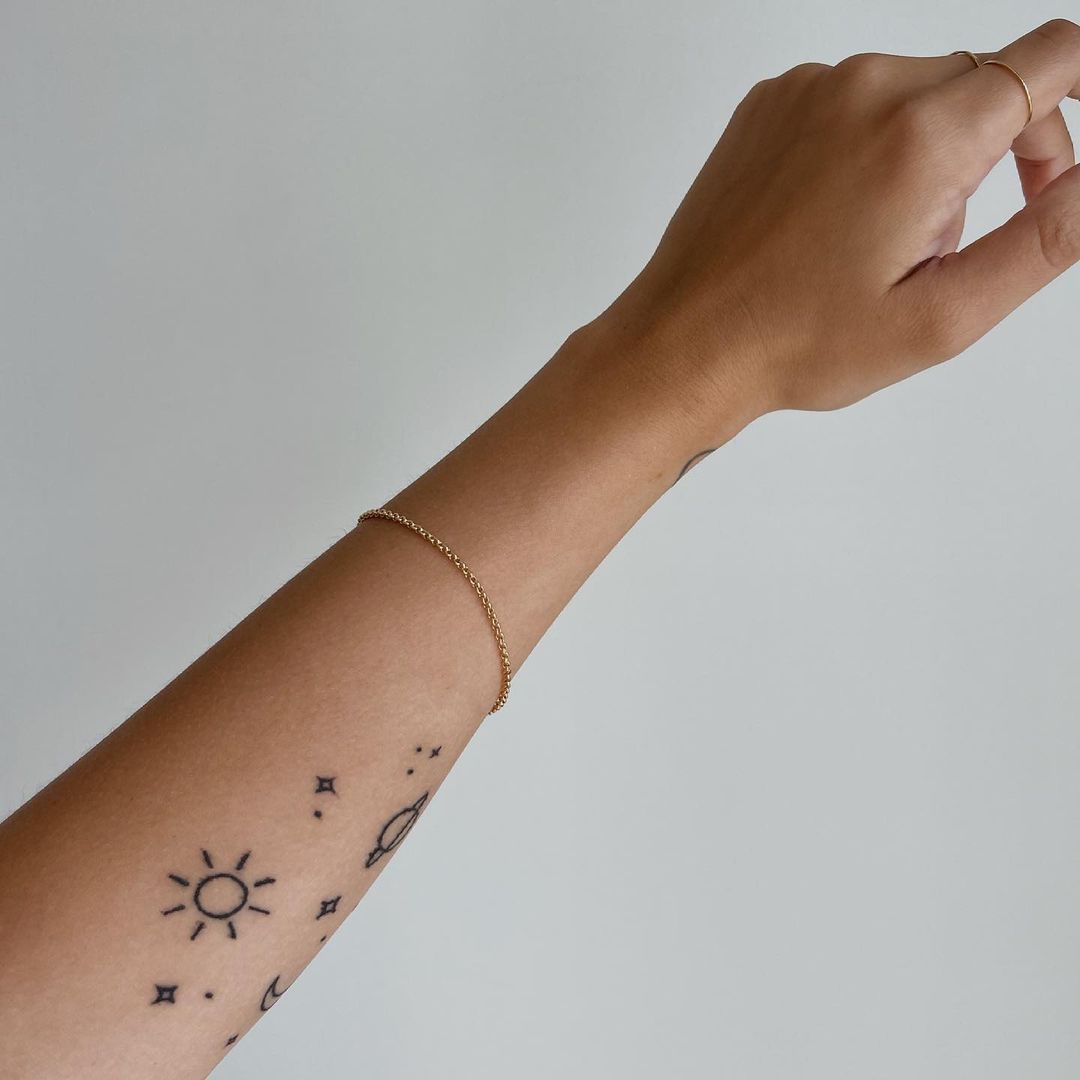 Small star tattoos represent spirituality, protection, or guidance. Your stars will always help you find your way home. When you're feeling lost, you can look at them and feel protected. No matter what, they'll always be there for you.
Small Quote Tattoos
Whether you're looking for small tattoos for women or men, quotes are always great options. You can choose a line from your favorite song, movie, or book. Or you could choose a single word that holds meaning to you.
The Sun Will Rise Tattoo
The sun represents the passage of time. This design will be a reminder of how many days you've survived. You've accomplished more than you think, so go easy on yourself.
Small Arrow Tattoos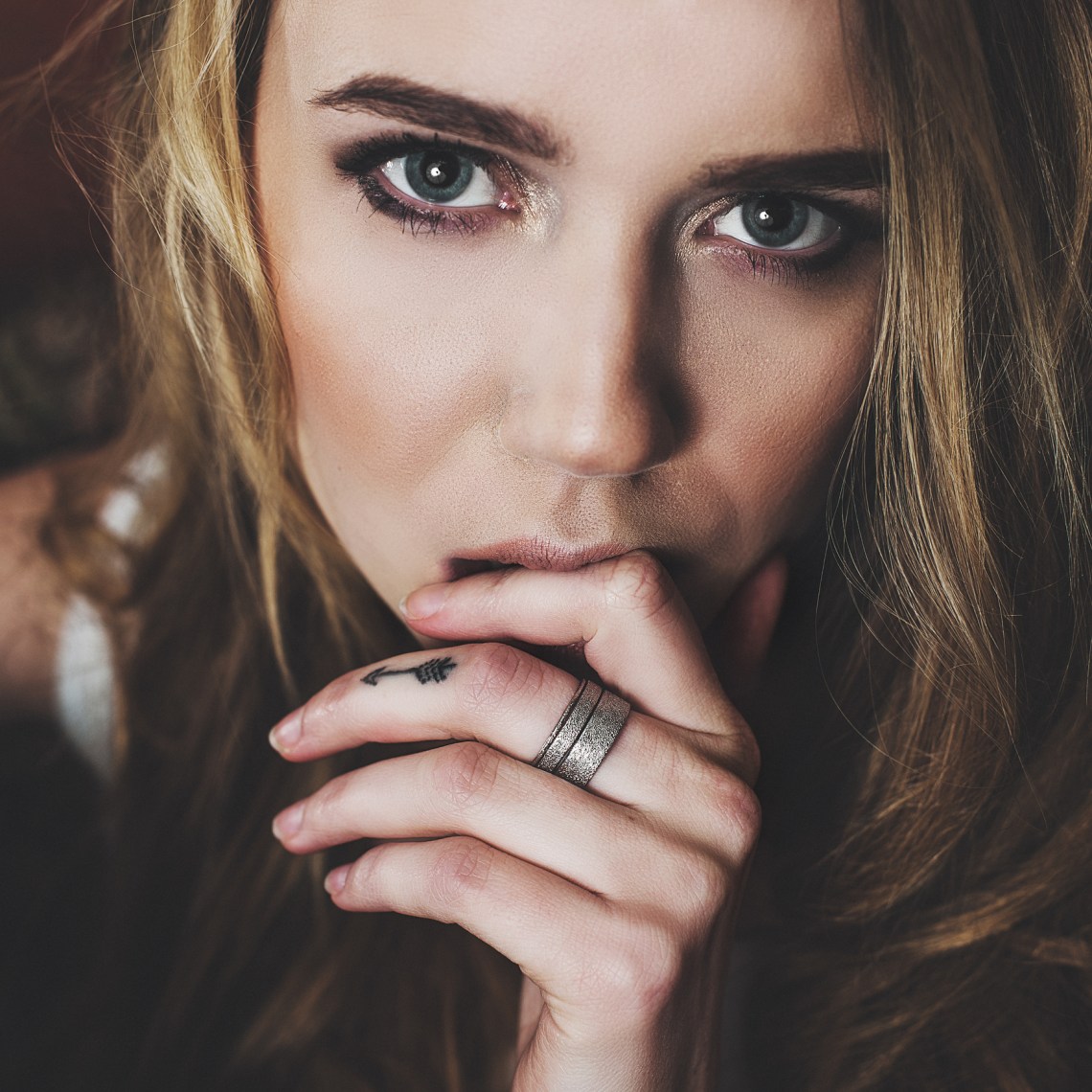 Arrows represent strength. Although they are a weapon, in some cultures, a downward arrow also represents peace. You could also get a tattoo of two arrows crossing in the middle. This represents a truce or friendship. It's another great tattoo to get if you want to match with a friend or family member.
Paw Print Tattoo
If you're a dog owner, you can get a puppy paw print in order to honor your pet. Show them how much you care by getting a small tattoo that represents your adoration and love. Whenever you miss them, you can look down at your tattoo and remember the good times you've shared.
Small Snake Tattoos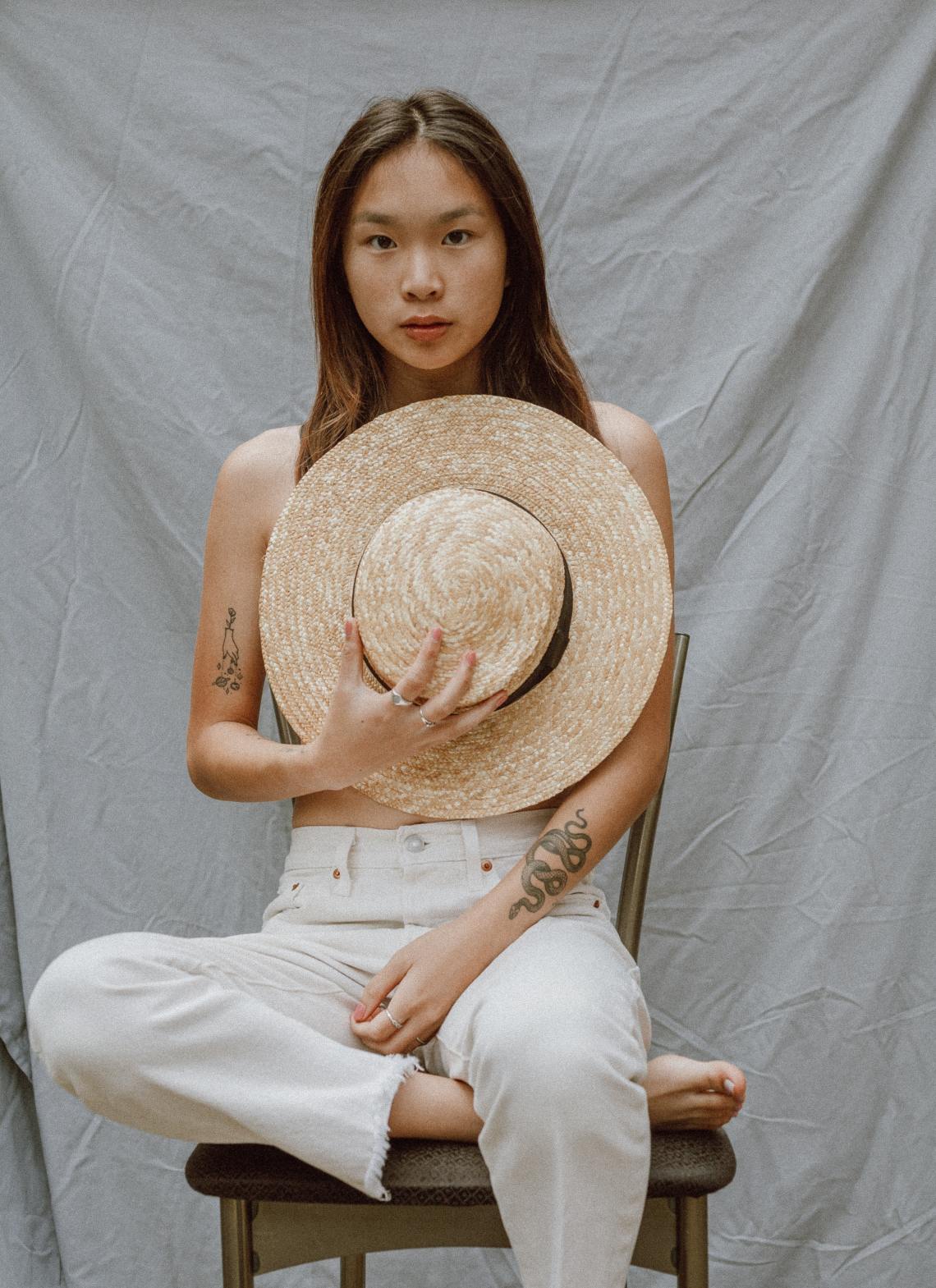 Snakes represent power, temptation, and rebirth. These animals commonly shed their skin. You can do the same and create a brand-new version of yourself. A snake tattoo will be a reminder that you can form your own identity. You can be anyone that you want. It's entirely up to you.
Small Geometric Tattoos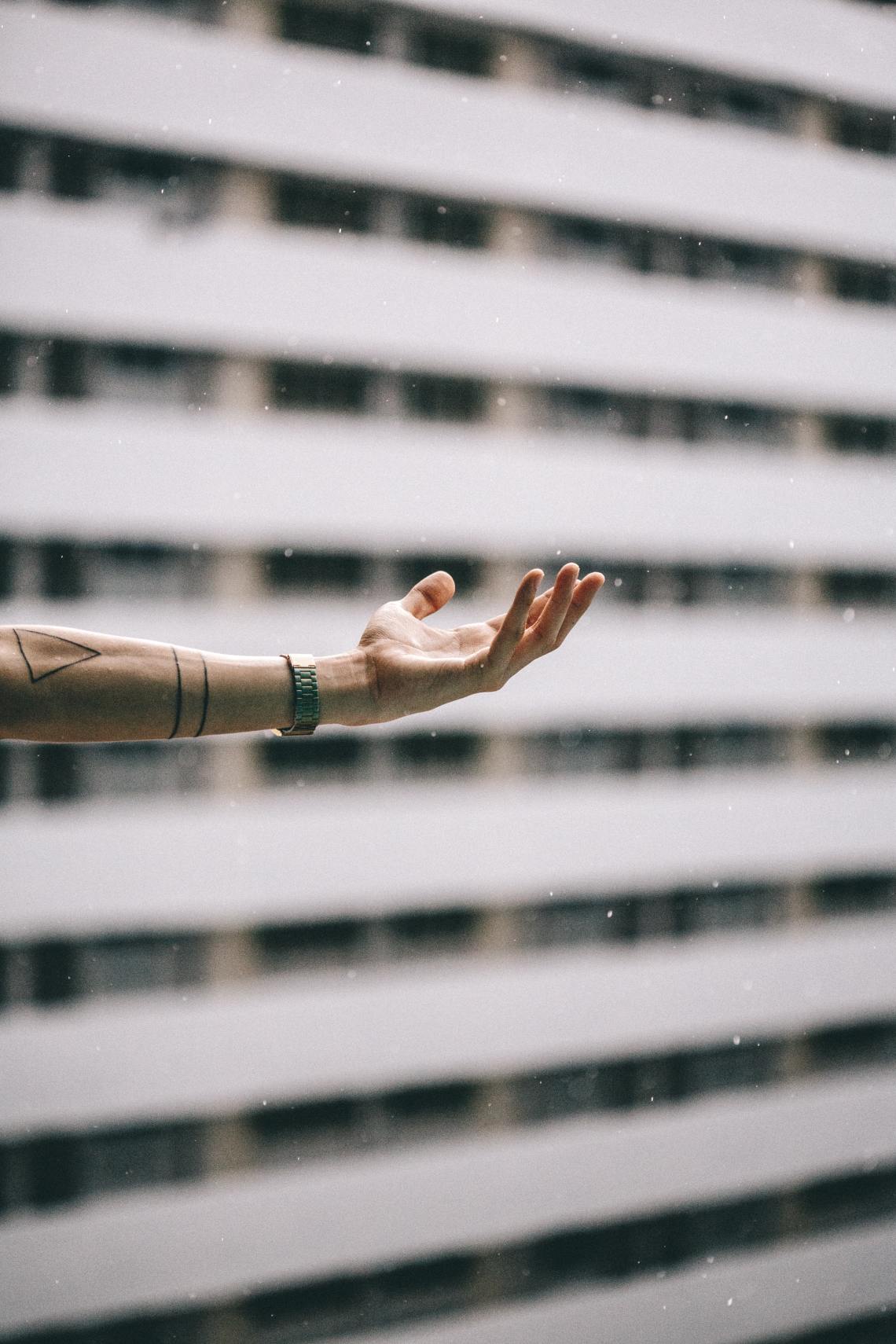 Small tattoos don't have to hold meaning. They can simply look cool. If you want to add some geometric shapes to your body in black ink, go for it! You can use triangles, squares, rectangles, or whatever other shapes speak to you.
Small Lotus Flower Tattoo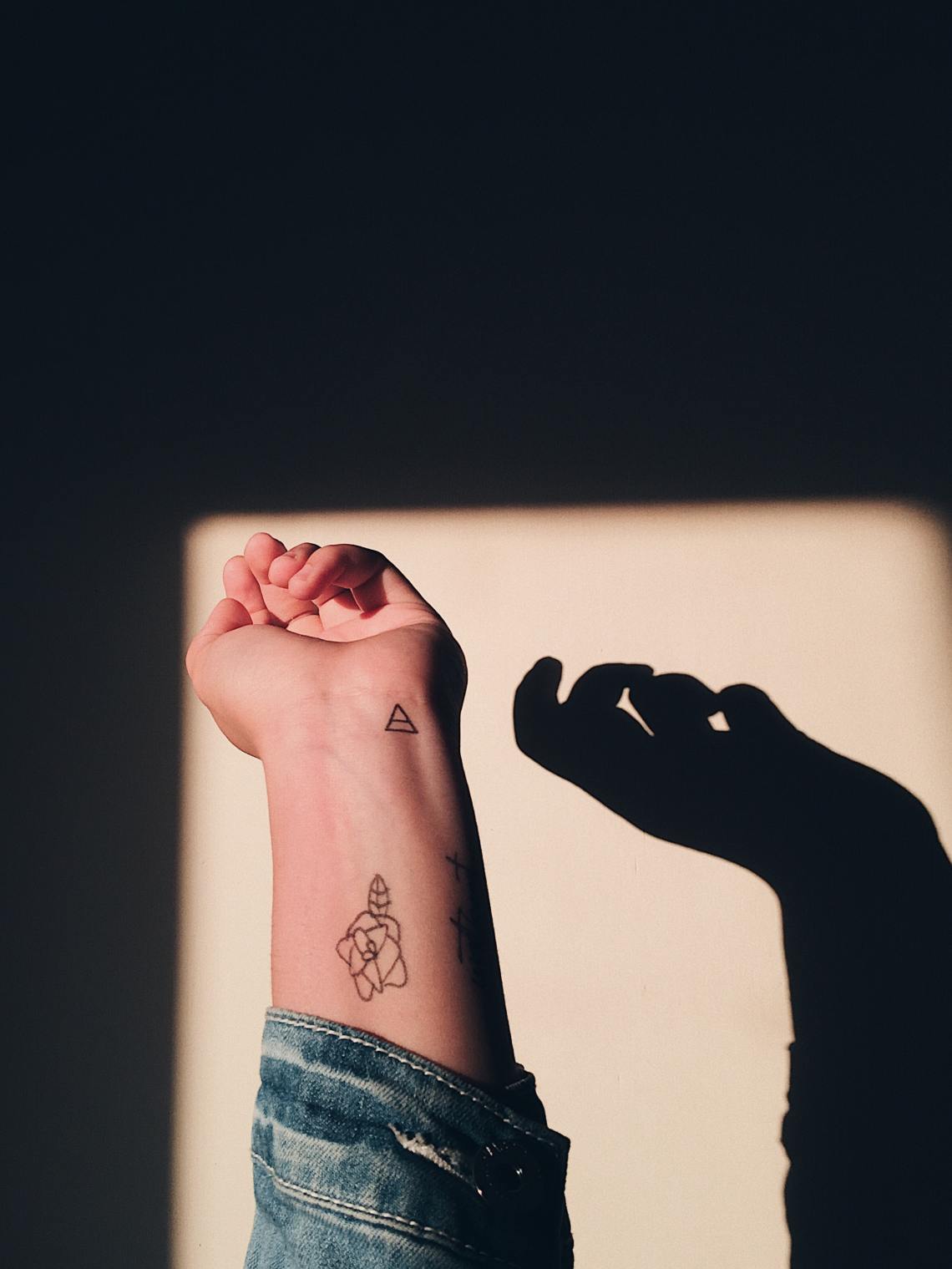 A Lotus flower represents beauty, compassion, and purity. These tiny tattoos will look beautiful on any part of the body. They can even accompany larger pieces. The best part? They can be drawn in black ink, or they can give you a beautiful burst of color.
"Keep going."
This tattoo will serve as a reminder that you are a strong, courageous, beautiful human being. Today might be tough, but you owe it to yourself to keep going. Don't give up. Don't let your doubts overwhelm you. Move forward, and soon, you'll be through this storm.
Small Mountain Tattoos
A mountain tattoo will remind you of all the challenges you've faced throughout your life, all the mountains you've climbed to reach this point in your journey. This tiny tattoo will represent your resilience and strength in the face of hardships.
Small Moon Tattoo
Moons represent growth and creativity. They are perfect tiny tattoos for anyone in the arts. They also make for a cute tattoo if you're into astrology or manifestation. After all, the moon has a huge influence on horoscopes.
Small Rose Tattoos
Roses mean different things, depending on their color. The most common color is red, which represents beauty, passion, and romantic love. Pink roses represent innocence or remembrance of a loved one. And yellow roses represent friendship and joy.
Small Owl Tattoos
Owls represent wisdom and knowledge. In some Native American cultures, this animal is associated with the afterlife. That means a small tattoo of an owl could be the perfect way to remember your loved ones.
Small Dreamcatcher Tattoos
This design represents safety and protection from harm. It is another symbol present in Native American cultures. If this is part of your heritage, you might want to consider a small tattoo of a dreamcatcher.
Small Tribal Tattoo
You've definitely seen your fair share of tribal tattoos before. They represent power and strength. Even though these tattoos can take up entire sleeves, you can also get smaller-sized tattoos. Their meaning is just as strong, even though their design is smaller.
Small Eternity Symbol Tattoo
Some people believe this small tattoo represents rebirth. Others believe it represents endless possibilities. It's a reminder that your life is whatever you make it. You can do anything you want, so don't limit yourself.
More Ideas For Cute Mini Tattoos
If you still haven't found a tattoo idea that speaks to you, that's okay! There are plenty of more options. Here are some more adorable small tattoo ideas that would look beautiful on any part of your body!
Peace Sign Tattoo
A small tattoo of a peace sign shows that you care about your community. You care about whether other people are happy. You want everyone to feel safe and protected. You wish everyone could simply get along, and the world would be a much better place.
"Be still."
This quote tattoo is a great reminder for anyone prone to worrying. It will remind you to relax your body. Drop your shoulders, unclench your jaw, and soften your vision. Be still. Be calm. Be present in the moment whenever you look at this small tattoo.
Mickey Mouse Tattoo
If you're a fan of Disney, get the Mickey ears tattooed onto your body. It will remind you of all the fond memories you have with your family at the parks. Even though this tattoo is small, it's versatile. You can get a simple outline, or you can get it filled in entirely in black ink. You could even add a bow if you prefer Minnie.
Music Note Tattoo
If you're a musician, the best tiny tattoo you could get is a music note. You can place it anywhere, from your wrist to the back of your neck to the spot behind your ears. Your options are endless! Just make sure you show it off to your musician friends.
Feather Tattoos
Feathers represent bravery, courage, and freedom. Like birds, they symbolize the desire to make your own choices and act as an individual. Escape your cage and spread your wings. Don't stay in one place if it's making you unhappy. Do whatever is best for yourself.
Ribbon Tattoo
There are many different types of ribbon tattoos, some of which represent different causes. For instance, pink ribbons represent breast cancer awareness. If there's a cause that you feel strongly about, then you can get a ribbon in order to show your support.
Crown Tattoo
This tattoo represents strength and glory. If you want to feel powerful, you don't have to wear a crown. You just need a tattoo of one. It will make you feel like royalty, and remind you not to settle for less than you deserve. Keep your standards high.
Small Cat Tattoos
If you have a pet cat, you can get a small tattoo that looks just like them! That way, you'll be able to carry them with you wherever you go. You'll never get the chance to miss their furry face.
Diamond Tattoo
Diamond tattoos symbolize wealth and the desire to succeed. However, since diamonds are placed in wedding rings, they can also represent loyalty and love. If you want to get a matching tattoo with your partner, you can both get diamonds. Or you could even get a wedding band!
Heartbeat Line Tattoo
These tiny tattoos symbolize endurance. They represent your ability to keep going, even when times are tough, even when the world is against you. Nothing can bring you down. Your heart is still beating. You're still here. And you aren't going anywhere.
Small Butterfly Tattoo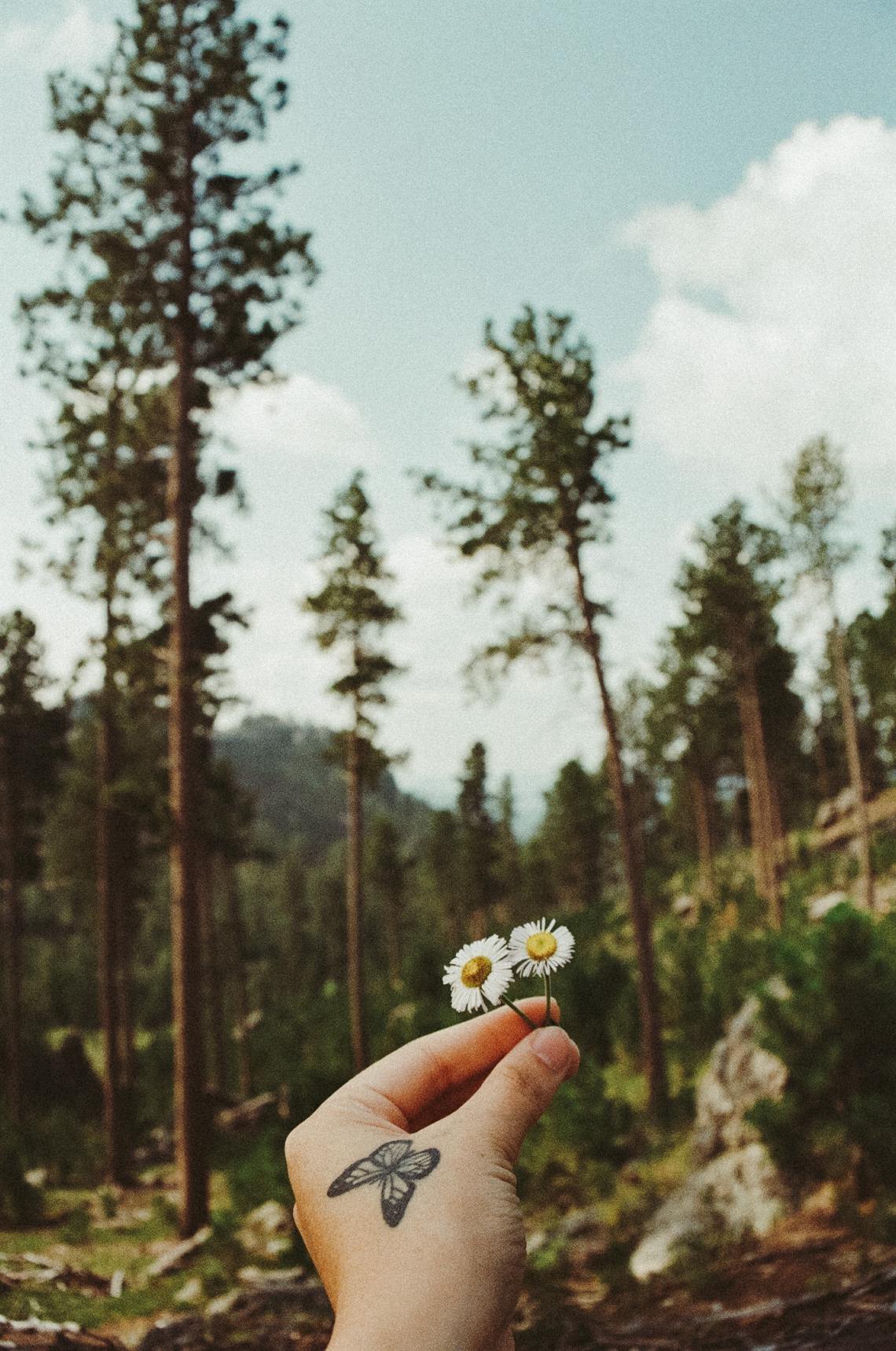 Butterfly tattoos make great small tattoos for women (or men!). Butterflies represent rebirth, change, and hope. They are reminders that life is short and you should enjoy every moment you're given. This tattoo is a great idea for anyone who wants to make a change in their life.
Balloon Tattoo
Balloons can represent your desire to hold on–or to let go. If you want to release the negativity in your life, consider getting a balloon tattoo. It will be a reminder that you shouldn't dwell on the things that hurt you. Let go of your past. Focus on the present and the future instead.
Palm Tree Tattoo
Palm trees represent regeneration and immortality. However, they can also symbolize that fun vacation you had with your friends. You might want to make this one a matching tattoo! You and your friends can get the same tattoo on different parts of your body, then snap some pics for Instagram.
Leaf Tattoo
Leaves represent the cycle of life. They are reminders that things keep changing. Nothing ever stays the same, not even leaves. Of course, you can also get this tiny tattoo if you love autumn and the crunch of leaves. Celebrate your favorite season with a fun tattoo!
Plane Tattoo
If you dream of living a life of adventure, you should get a plane tattoo. It will encourage you to travel more. When you're in one place for too long, it will push you to get up and go. Plus, it will remind you of all the fun memories you've had on vacations in the past.
Horseshoe Tattoo
You can get a horseshoe tattoo if you're a fan of horseback riding. Horseshoes also represent luck, wealth, and success. If you want to bring yourself some good fortune, get a horseshoe tattoo. Just make sure it's facing the sky so the luck doesn't fall out. Better safe than sorry!
Planet Tattoo
Each planet represents a different set of qualities. For instance, Mars symbolizes confidence, stamina, and strength. Saturn is all about discipline, maturity, and responsibility. Make sure you choose the planet that speaks to you the most.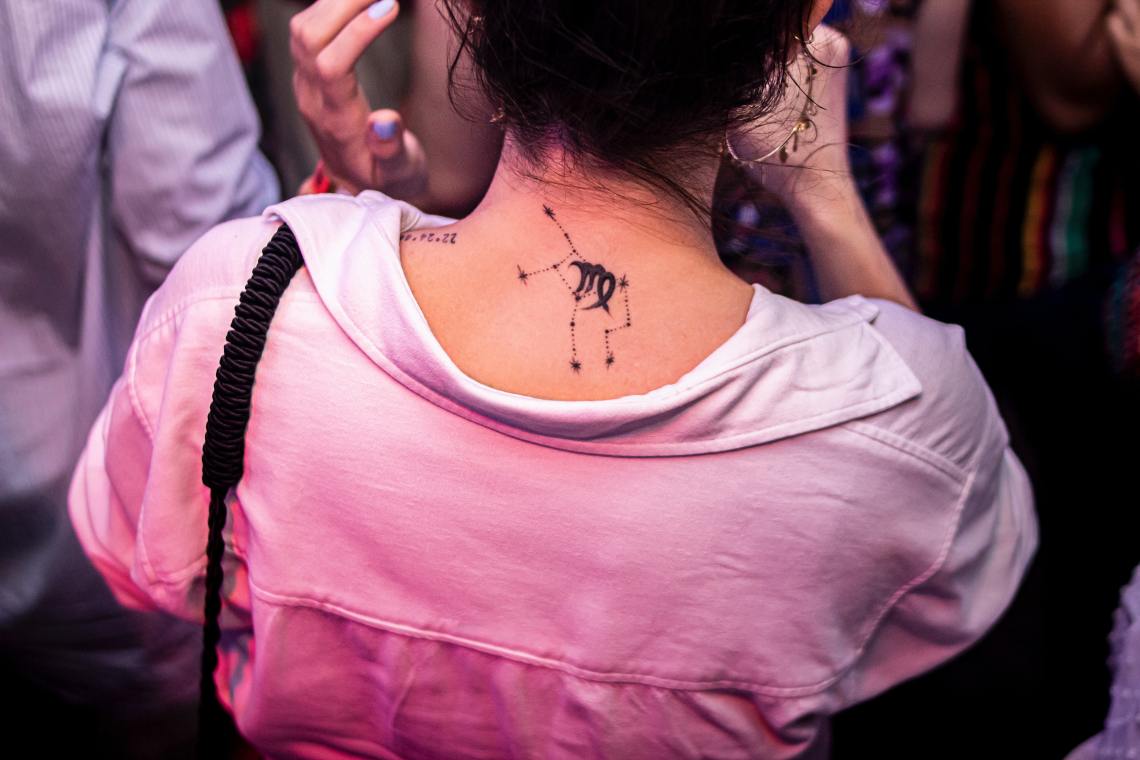 What's your zodiac sign? If you're an Aries, you can get a cute, minimalist tattoo of ram horns. If you're an Aquarius, you can get two wavy lines. Pick something that matches your star sign! That way, everyone will know your zodiac without having to ask.
Turtle Tattoo
Turtles represent stability and strength. They're a great option for anyone who needs a reminder of how strong they are and how much they've been through. It's also a great reminder to just keep swimming.
Seashell Tattoo
Shells represent protection, eternal life, and the home. Get a shell tattoo to represent the place where you feel like you're safe and sound. You can also get this tattoo to represent your desire to break out of your shell. When it comes to tattoos, anything goes! You get to choose your own meaning.
Book Tattoo
If you're a bookworm, you can get a tiny book tattoo or a stack of books tattooed onto your body. It will remind you to read more. After all, you should never go too long without a good book (or a Kindle) in your hands.
Seahorse Tattoo
Seahorses are magical creatures. They represent tranquility and tenderness. Just looking at them is calming because they're so adorable. Anyone who sees this tattoo is sure to pay you a compliment.
Roman Numeral Tattoo
Roman numerals are classy. They conjure up thoughts about nobility, honor, and respect. Many people get roman numeral tattoos in memory of someone who has passed away. You can get their birthday written out across your shoulders, back, or forearms to express how much you miss them.
Four Leaf Clover Tattoo
Four leaf clovers symbolize good luck. If you find one in the wild, it means you're going to have a wonderful day. However, it's just as lucky to have one tattooed onto you.
Cherry Tattoo
If you want a fun, cute tattoo, this is a great option. It will look adorable, especially if you get in shaded in with cherry red.
Small Tree Tattoo
Trees represent wisdom, longevity, commitment, and wisdom. They can also represent your ties to your family. Trees are great small tattoos to get with your parents, siblings, or friends. See if someone special will get a matching tattoo with you. That will give it even more meaning!
Small Flame Tattoo
Flames can represent burning passion. Or they can represent your fiery, fierce nature. A small flame tattoo will look great on its own, but it also makes for great background art behind other tattoos.
Mustache Tattoo
If you want a fun tattoo, then you could get a mustache on your finger. That way, you can raise it to your lip whenever you're feeling silly. Some people have even gotten these tattoos to show support for men with prostate cancer.
Small Wolf Tattoos
Wolves represent loyalty, teamwork, and the desire to protect your loved ones. If you're family-oriented, then a wolf tattoo will fit you well. It will serve as a reminder that you would do anything for your family and friends. You care about them more than you care about yourself.
"This too shall pass."
This quote has become famous because it speaks the truth. It's a reminder that everything ends. Nothing is temporary. Not even your negative thoughts. Soon, they will fade away and you'll be able to breathe again.
Small Sunflower Tattoo
Like most flowers, this tattoo design represents love and hope. This is a great small tattoo idea for your ankle, wrist, or the side of your hand. Really, it will look good anywhere! And you can always get multiple to create a field of sunflowers.
Small Anchor Tattoo
This nautical tattoo is a wonderful design idea for anyone who loves the water. However, anchors also represent resiliency. They are reminders nothing is going to bring you down. No matter how many challenges you face, you are going to overcome them. You will never sink.
"Love" Tattoo
Single-word tattoos are beautiful. You can get them in whatever font speaks to you, whether that is a script or a typewriter font. You can always add more words to your body later, like peace, hope, or strength.
Smiley Face Tattoo
A smiley face tattoo is fun and lighthearted. Every time you look at it, it will put you in a better mood. It will remind you that everything is going to be okay. You're going to find reasons to smile again soon.