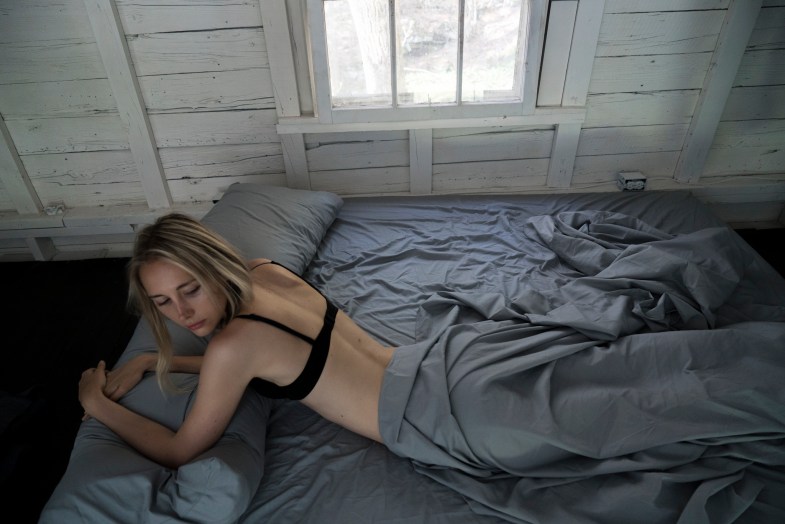 1. When he asks you to pick the position, choose Doggie Style or Reverse Cowgirl. Or just lean over the bed and let him thrust into you while standing. Just make sure he gets a great view of your ass.
2. When you're riding him, grab his hands and reposition them on your booty, so he can squeeze while you move up and down.
3. Take a shower with him. Make sure he stands in back of you, so he can watch you soap up your backside.
4. When it's time to dirty talk, ask him to slap your ass or to play with it. If you're not into any of that, you could just ask him if he likes looking at your tight little ass.
5. If you're up for it, offer to try anal. It'll make his entire week. Nay, year.
6. Buy plenty of yoga pants, high-waisted shorts, and whatever other clothing you can find that shows off your amazing ass.
7. Sit on his lap when you're out in public together. He'll want you, but he won't be able to have you, which will make him extra hard.
8. Buy special lingerie. There are some pieces of underwear with open backs, which will give him easy access to his favorite place.
9. When he's behind you, put your own hands on your ass to spread it. He'll enjoy it just as much as he enjoys watching you rub your clit.
10. Wear thongs one day. Wear cheeky booty shorts the next day. Let him see your booty in as many different types of underwear as possible.
11. When you're going down on him, position yourself in a way that allows him to see your ass, and maybe even touch it.
12. Bend over when you know he's looking at you. He'll love the view, especially if he sees your thong peeking out from your jeans.
13. Walk around in his oversized teeshirt, but don't put on any pants or underwear underneath.
14. When you're casually relaxing in bed or on the couch, rest on your stomach, so he sees your ass as soon as he walks into the room.
15. Give him a lap dance that involves sticking your booty in his face and grinding against his crotch.
16. When you exercise together, do some extra lunges and Downward Dog poses, just to tease him.
17. When you send him nudes, use a mirror to get a good shot of your ass. He'll appreciate it more than a picture of your boobs or vagina.
18. Dance with him. Grinding will give him a chance to rub his dick against your ass, which should make him hard in no time.
19. Moan extra loudly whenever he plays with your ass, so he knows you're enjoying his touches as much as he does. Your enthusiasm will make him even hornier.
20. Sit on his face when he eats you out, so it'll be easy for him to reach up and grab your ass.
21. When you're on your period, and don't want him to touch your pussy, ask him to play with your ass instead.
22. Walk in front of him whenever you get the chance, especially if you're going up and down the stairs, so he can enjoy the view.
23. Slap your own ass. It doesn't matter if you do it during sex or playfully during the day. Either way, it'll turn him on.
24. Buy a butt plug or any other sex toy that can come in handy during ass play.
25. Get changed in front of him. But make sure he's standing behind you, so he gets the best view in the house.
26. When you're sexting, put emphasis on your ass. Tell him about all of the dirty things you want him to do to it.
27. When you're spooning, wiggle your butt against his crotch. He'll initiate sex as soon as you do.
28. Grab his ass while he thrusts and dig your nails into the skin. Who knows? He might like being touched there, too.