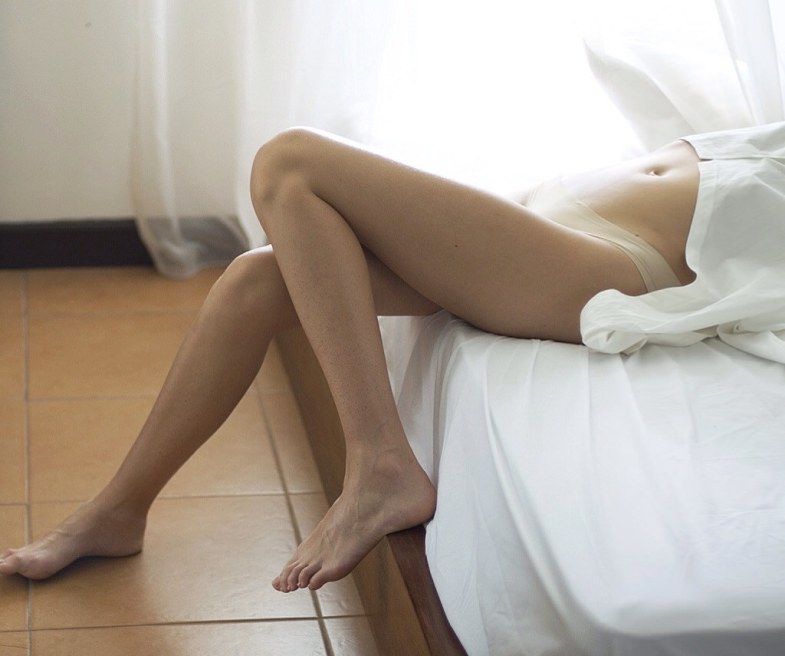 1. While you're casually enjoying the feel of his tongue against your clit, play with his hair. When that feeling intensifies, start pulling it instead.
2. Wrap your legs around his neck and when you come, make sure to squeeze your thighs together.
3. If he's an ass man, then lift up your booty, so he can reach underneath you and squeeze it–or play with two holes at once.
4. Instead of keeping your eyes closed the entire time and fantasizing about some other guy, look him in the eyes, so he knows that your focus is completely on him.
5. Touch your breasts. Some women get off on having their nipples played with. Plus, when he glances up at you, he'll have something sexy to look at.
6. Move your hips with the same rhythm that he's moving his tongue. He'll love feeling your pussy gyrate against his face.
7. Reach for your pillow and dig your nails into it, so he can see just how much you're enjoying your orgasm.
8. Or, if you can reach his shoulders, then dig those nails into him instead. He'll be able to tell how much you're enjoying his tongue by how deeply your nails penetrate his skin.
9. When his hands reach up to hold your hips down, grab them and reposition them so that they're caressing your tits.
10. Or, if you're in a position where you can reach his hands with your mouth, suck on one of his fingers. That way, he can imagining you going down on him while he's going down on you.
11. Don't forget to dole out compliments. Give him words of encouragement, like, "You're going to make me come so hard if you keep moving your lips like that." Or try something simple like, "That's perfect. Keep going. Don't stop."
12. Don't be afraid to order him around, either. Faster. Harder. Slower. Lighter. He'll be happy for the guidance.
13. When you like what he's doing, grab his neck to pull his head closer to your pussy. You might hate it when he grabs your head during oral, but he's going to get off on it.
14. If you're the type of woman who values romance over roughness, hold his hand and squeeze. You can even innocently rub your thumb across his skin. It'll make the act feel more intimate.
15. When you like what he's doing, moan as much as you can. It'll encourage him to keep up the good work.
16. If you're uncomfortable releasing porn-star style moans, then your heavy breathing will clue him in on how much you're enjoying his touches.
17. This should go without saying, but there's nothing he'd like more than to have his dick sucked while eating you out. 69 is his favorite number for a reason.
18. If any of the ideas on this list seem like a hassle, then fuck 'em. What your man wants most of all is for you to enjoy yourself. If all you want to do is lay back and relax, then go for it. Remember, oral is for your benefit. Not his.