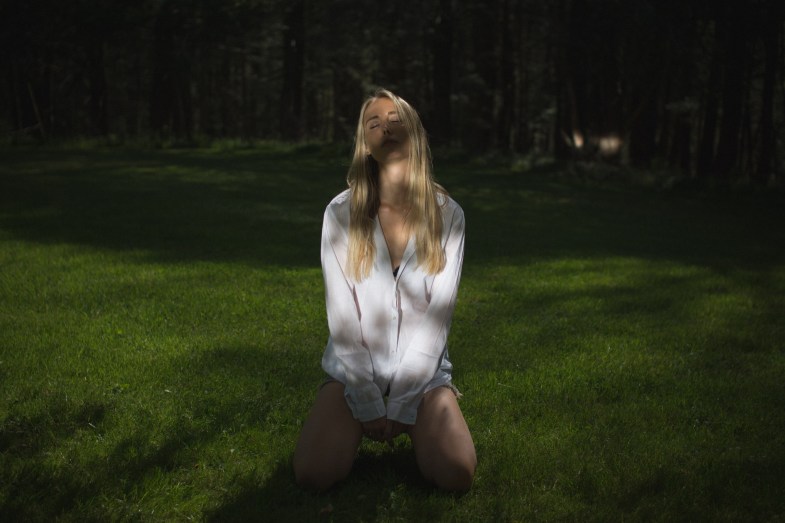 1. Imagine you're having sex with your favorite band member backstage after the concert.
2. Imagine getting naked on a secluded beach and riding your partner while looking out at the scenery.
3. Imagine getting a lap dance from your crush, and then having it turn into hot sex.
4. Imagine having a threesome with your favorite actor and athlete in a fancy hotel room.
5. Imagine you're having sex against the hood of your partner's Lamborghini in the rain.
6. Imagine you're having the same sex you read about in the last erotic novel (or fanfiction) that you picked up.
7. Imagine you have your partner tied up and are free to do whatever the hell you want to them.
8. Imagine you're going down on someone sexy, and get to listen to their moans as you move your mouth around.
9. Imagine someone sexy is going down on you, and they keep flicking their eyes up to look at you.
10. Imagine you're fucking in the shower with water-proof sex toys.
11. Imagine you got drunk with your best friend and ended up making out with them.
12. Imagine your super hot professor asked you to stay after class and then banged you on their desk.
13. Imagine your coworker offered to drive you home, and then fucked you in the backseat of their car.
14. Imagine having rough sex in the bathroom with a stranger you've just met at the bar.
15. Imagine you've met someone young (but legal) and are about to take their virginity.
16. Imagine you're having sex in front of a group of people, and are enjoying being watched.
17. Imagine you work at a strip club and are making a customer so horny that they ask you back to their apartment.
18. Imagine that your partner is pinning you down, and has complete control over you.
19. Imagine you're in a heated argument with someone sexy, and then they suddenly push you up against the wall and slide a hand up your skirt.
20. Imagine you're making out with someone of the same sex.
21. Imagine you're watching your partner make out with someone of the same sex.
22. Imagine seeing someone covered in tattoos at the gym, and then fucking them on the exercise equipment.
23. Imagine dancing with a stranger at the club, and then getting so turned on that you have to sneak away to have sex.
24. Imagine having sex on a hotel room balcony, where anyone could look up and catch a glimpse of you.
25. Imagine you're a porn star and you're fucking a stranger while cameras are pointed in your direction.
26. Imagine you're having sex in an elevator and you almost get caught again and again.
27. Imagine you're sitting on a train and your partner uses their hand to make you orgasm while others are bustling around you.
28. Imagine you're your favorite Disney princess and are about to make love to your prince for the very first time.
29. Imagine your partner has brought home some new sex toys and asks you to engage in role reversal.
30. Imagine a cop has just stopped you for speeding, and you need to go down on them in order to get out of the ticket.
31. Imagine your partner is baking dessert for you, but then gets distracted and ends up covering you with whipped cream.
32. Imagine you're stuck in the hospital, but your doctor is super sexy, and agrees to get you off to make you feel better.
33. Imagine you're stranded on an island and end up having sex in the middle of the forest.
34. Imagine you're at your high school reunion and the most popular kid there tries to hook up with you.
35. Imagine an attractive stranger delivers your pizza, so you invite him inside to give him something in return.
36. Imagine your partner is masturbating next to you, because they saw you touch yourself and got incredibly turned on.
37. Imagine you're tired after a long day of work, so your partner gets on top of you and does all of the work.
38. Imagine watching a sexy couple get naked through their bedroom window.
39. Imagine you're getting a relaxing massage at a quality spa, and they finish you off with a happy ending.
40. Imagine you're 69ing with someone who knows exactly how to move their tongue to make you moan.
41. Imagine you're flying overseas and you sneak away to have sex in the plane's bathroom.
42. Imagine you've just moved into your partner's apartment and are fucking on the new floor.
43. Imagine you're on a boat in the middle of the ocean, and are having sex while looking out at the water.
44. Imagine you landed a role on your favorite TV show and your character gets to fuck your favorite character.
45. Imagine having a threesome with your friend and her hot boyfriend.
46. Imagine you're fucking while you're on the grass, looking up at the fireworks in the night sky.
47. Imagine you're young again, and are sleeping with the ex that was a pro in the bedroom.
48. Imagine you're driving your car, and your partner is reaching over to rub between your thighs.
49. Imagine you're having sex in a French honeymoon suite on your wedding night.
50. Imagine you're on a bed full of rose petals, surrounded by vanilla-scented candles, and are getting eaten out by the sexiest man you've ever met.