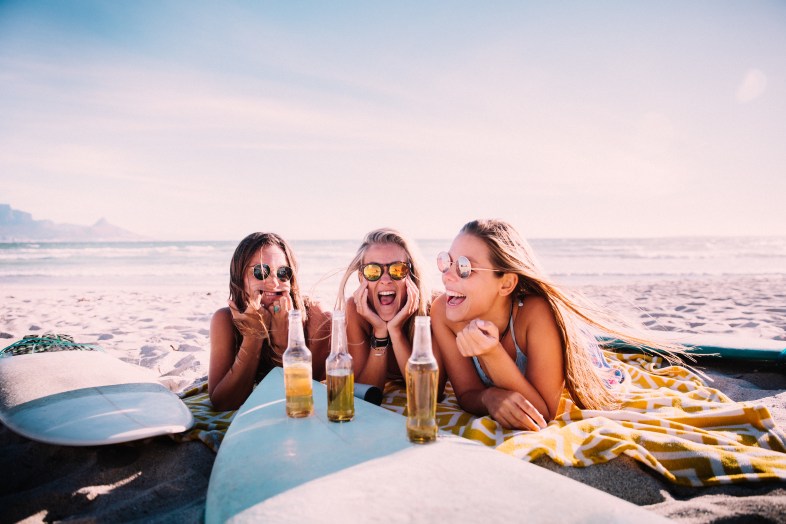 1. Have a classic "It's my 21st birthday" night out with a twist: take "before" and "after" pics with everyone from right when you're finished getting ready and looking perfect, to looking a little sloppy (but very happy) at the end of the night.
2. Have all your close friends over, flex your new (legal) ability to buy booze, and spend all night playing an increasingly rowdy game of Truth or Drink.
3. Do something other than drinking. It's what everyone else does and you've got your whole life to go out drinking. Try something you really want to do instead — like making a themed dinner for all your friends.
4. Champagne Jell-o shots.
5. Throw a party and have everyone who walks in the door write a birthday wish to you on a poster of your fav celeb or a map of your dream city. You can frame and display the art later on and see everyone's well wishes every day.
6. Start a lifetime habit of keeping a bottle of champagne in the fridge for good luck. (The thinking is, if you have champagne on hand to celebrate good news, you're more likely to hear some news worth celebrating).
7. Decorate a beautiful birthday cake made entirely out of booze.
8. Throw a funeral for your fake ID.
9. Do a drinking "scavenger hunt" with your friends. Make a list of classic night out activities and hand them out to everyone. Make a bet about who can check the most boxes off by the end of the night.
10. Buy an instant camera and spend all night capturing the moment with fun, silly pics you'll treasure forever. If you stay in, you can use the camera as a guest book, and have everyone take a selfie and sign it (along with a birthday wish) when they arrive.
11. Have everyone crash at your place and wake up to a mimosa or bloody Mary bar.
12. Invite your girlfriends over and write the hardest 'would you rather' questions you can think of on notecards. Attach them with string to balloons. Fill the room up and aim to get through them all before the night is over.
13. Go to the bar with your friends, but have everyone dress in your favorite color.
14. Tour a winery or brewery in your city now that you can sample the merchandise.
15. Do something nostalgic like getting a slip and slide or going sledding.
16. Make a bucket list of 21 things you want to accomplish in your 20's. Make sure a few of them are things you can do in the next year.
17. Create your own "truth or dare" Jenga. Just sharpie your own options on a regular Jenga game and whatever piece you pull out, you must answer the question or complete the dare.
18. Get a magnum bottle of champagne and metallic sharpies. Have all your friends write a note or just sign their name on the bottle. Afterwards, display the bottle or store it for a special occasion like next year's bday.
19. Get your girlfriends together and order some wish lanterns. Spend some time writing your hopes and dreams for your 20's on them and then light 'em up and watch them float away.
20. Splurge on a dress that makes you feel amazing and get your hair blown out and your makeup done before you go out. Take lots of pictures. You'll love being able to look back on a big day and think about how young you were and how much fun you had.
21. Build your own photobooth or step and repeat with party store items, flowers, or balloons. Find some props from a thrift store or costume shop and watch your friends make fools of themselves all night.