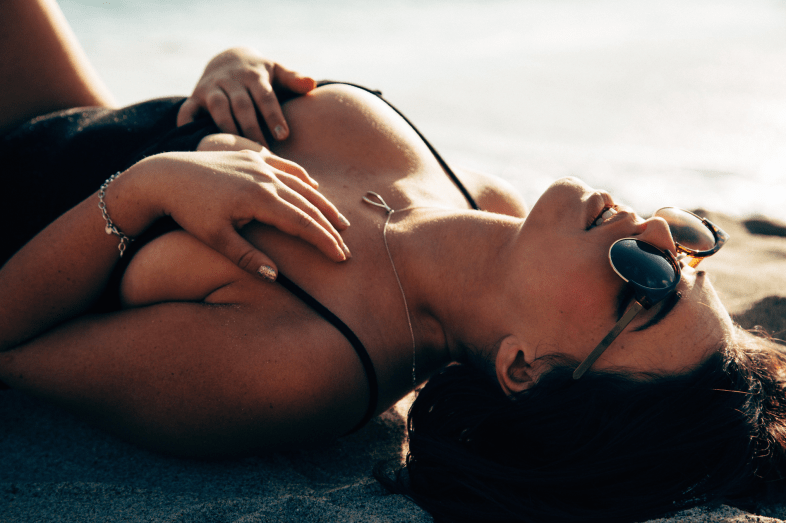 I was lazing in bed one Sunday morning with my SO. We're lightly fooling around and chatting about sex. I love nipple stimulation and mention how I liked them squeezed really hard. We get an idea and he nips downstairs to the kitchen and comes back with two different types of clothes pegs. We try the wooden ones first but they hurt too much, the plastic ones still cause intense pain but I can just about take it. We're lying next to each other and I'm feeling pretty good about being able to take it when I notice that I'm insanely turned on, I mention this to him and he slips his hand down there to check for wetness. I'm soaked!
He immediately gets the hardest boner ever. Feels like I can barely get my hand around it. He tries to finger me but I can't wait. I throw him on the bed and jump on his magnificent cock. I cum almost immediately, really hard. Hard enough to push him out of me but I'm on top so I use my bodyweight to keep him in. I can feel my pussy contracting around him, he has this huge grin on his face. Almost as soon as I finish orgasming I'm aware of the clamping pain on my nipples, it sets me off again so I fuck him a bit more. It takes virtually nothing before I cum again. Over and over I repeat this cycle, I cum five times in five minutes. It's insane, my body has become some kind of orgasm machine. I can't take any more and ask him to take the pegs off me. Bloody hell that hurts!
I lay down to recover while he massages my poor abused titties with this dopey ear to ear grin on his face. I needed a bit of time to compose myself but then fair's fair I suck him off until he cums (it doesn't take long, he was so turned on). Afterwards we lay in each other's arms wallowing in our love for each other.
Enthusiasm. I once hooked up with a girl who had it in spades. When I replay that night over in my head there's not really anything physical about her or the sex that stands out.
But, my god. This woman was enthusiastic. She made me feel like a God damn porn star from the moment when she got my pants off and said "oh wow" to later when she was saying shit like "your cock is so deep inside me."
Don't get me wrong, I don't consider myself to be anywhere near a sexual God our anything, but this girl sure made me feel that way.