This summer's season of the best show on ABC, Bachelor in Paradise is probably cancelled following production being shut down to investigate a third party complaint filed by one of the show's producers. The contents of the producer's complaint is not public and all we know right now are various leaks and rumors about a drunken poolside hookup that may have involved a lack of consent. I don't want to comment on what may or may not have happened because we don't know the full story, but I do want to point out how gross and out of line some of the cast's responses have been.
Far from being concerned about their friend(s) who may have been sexually assaulted or accused of sexual assault, many of the Bachelor/ette castoffs seem more concerned that their summer party was ruined. An anonymous cast member summing up the cast's reaction told People: "I didn't suffer like other people are suffering, but still. It just sucks."
Dominique Alexis from Nick's season is sad about the alleged sexual assault, but (VERY BIZARRELY) talks about about being happy she "at least got to see her friends".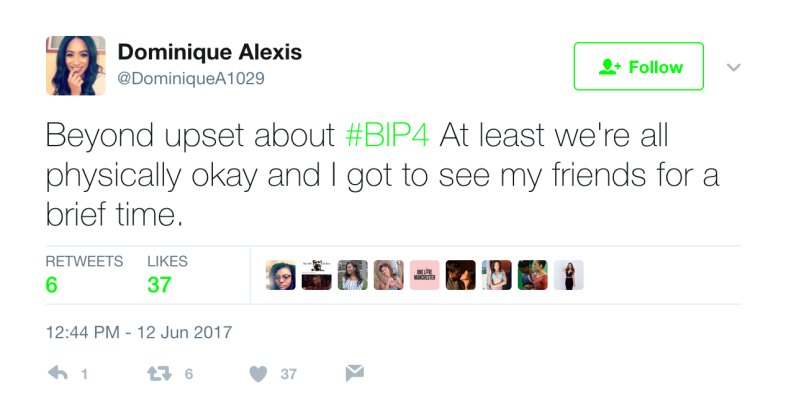 Did you know Dominique also sells detox tea on Instagram?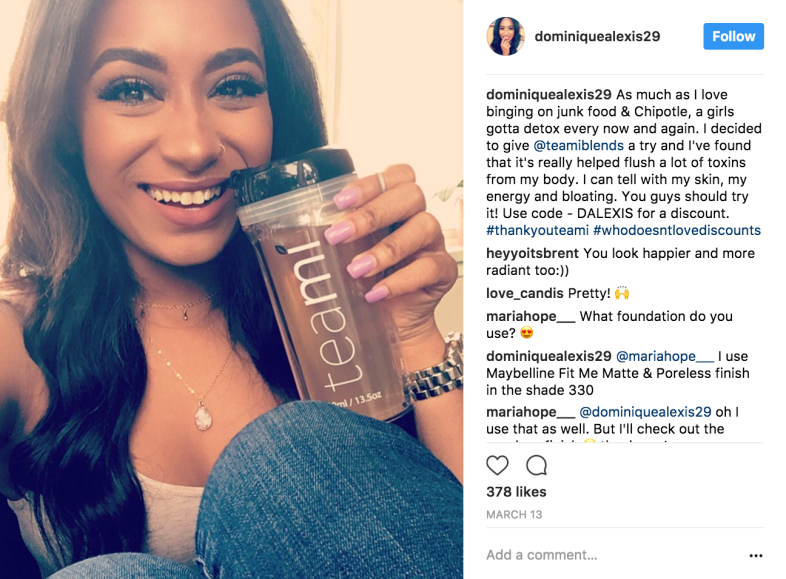 Raven Gates is also sad — not about someone possibly being sexually assaulted — but about the show itself:
https://twitter.com/ravengates09/status/874311884828266496
Here's how she's reacting to people calling her out in now deleted tweets:
Here's her fav-ing a "hope they are happy" tweet. To be clear the "they" seems to refer to people engaged in a non-consensual sexual situation.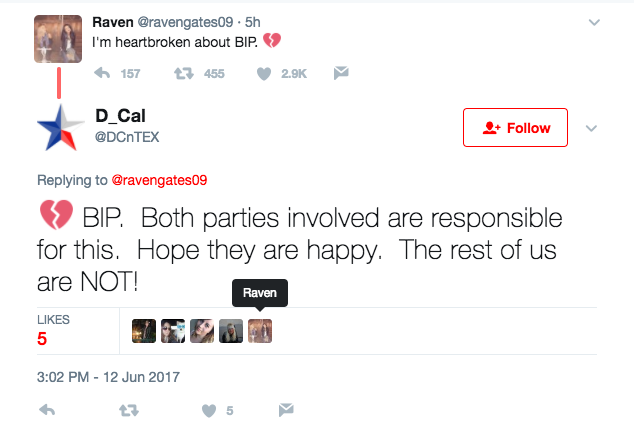 Her emotional response probably stems from knowing that the show being cancelled would affect her ability to sell ads for Fab Fit Fun box on Insta: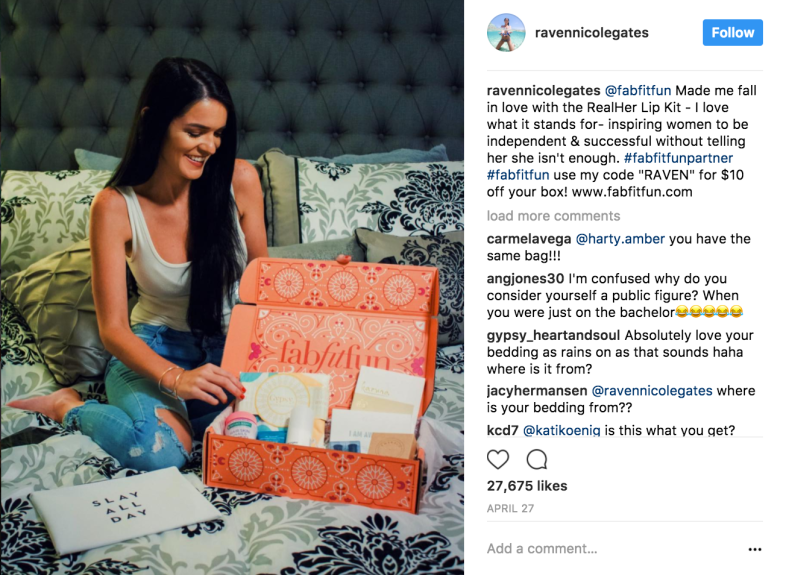 Robby Hayes from Jojo's season tweeted (and later deleted) this borderline sociopathic response, as if the incident in question is some harmless drunk shenanigans: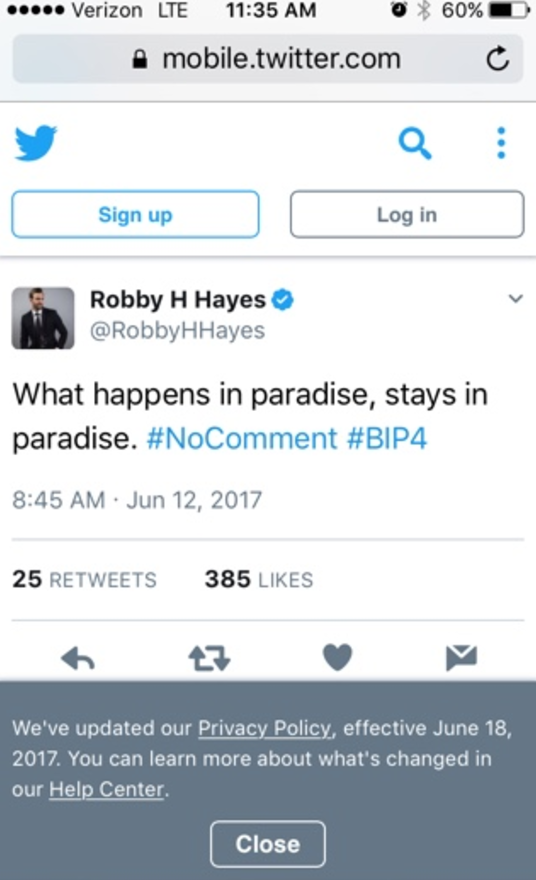 Maybe he's sad he won't get paid to sell diet creamer if he's not on TV anymore?
Jasmine Goode went down a well-worn path when talking about sexual assault — that it doesn't happen to people who exercise personal responsibility/ are "grown-ass adults" while also saying she's "crushed" about the show (but not about what went down).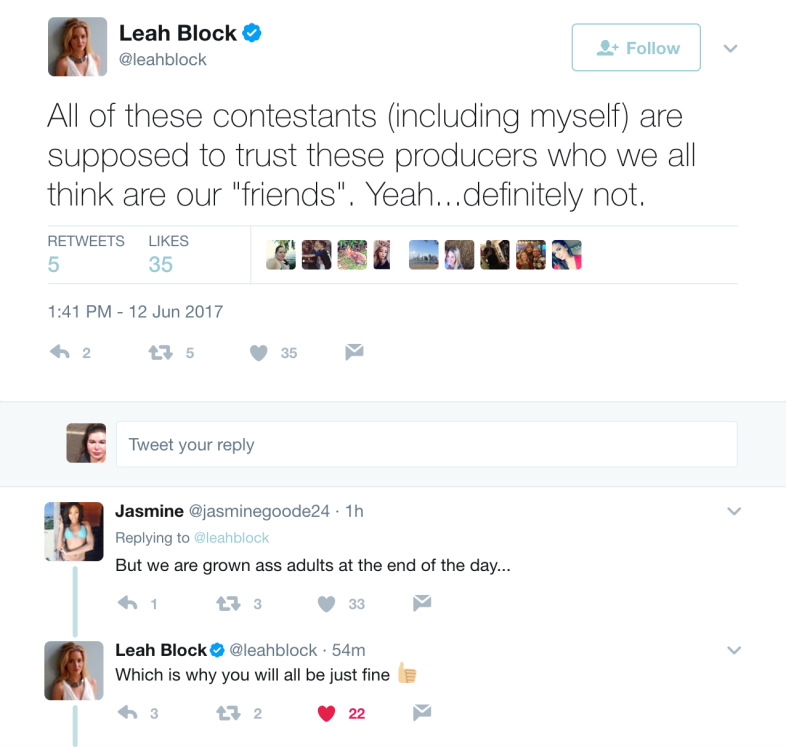 It should be noted that Danielle Lombard and Raven Gates from Nick's season liked Jasmine's tweet. Both women sell ads on Instagram and would have been able to use their appearance on this season's Bachelor in Paradise to increase their followers and get more money for these ads.
The lack of empathy for the person or persons involved in this situation might seem breathtaking if you don't know that most of these people have boyfriends and girlfriends back home and only go on the show for fun and exposure. Despite what viewers are lead to believe, they aren't actually in Mexico to find love so much as get an Instagram following big enough that they can sell ads for detox teas and sugar bear hair vitamins.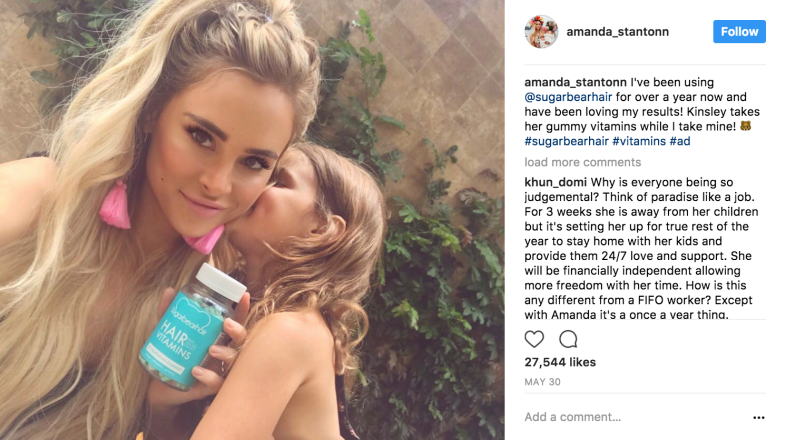 Just for going on the show Bachelor in Paradise contestants are paid between $7,000-$15,000 depending on how many days they last — not bad for a few weeks drinking on a beach. More importantly, appearances on the show allow the contestants to become popular characters in Bachelor Nation, which means appearances on future shows and spinoffs as well as shows on other networks like Famously Single and Marriage Bootcamp. The most accessible way contestants make $$$ from being on these shows is the way the notoriety allows them to amass Instagram followers and sell ads.
Back in October, one YouTuber broke the silence and talked about exactly how much people get paid for promoting shitty products on Instagram, screenshotting an email in which she was offered $11,500 for a single ad:
This is why people sell out lmao WOW pic.twitter.com/NDdAEtkHj3

— ari✨ (@AriannaDantone) October 7, 2016
With this kind of money on the table, it's no wonder many cast members seem more concerned about their summers being ruined than the wellbeing of their friends.