Two 16-year-old high school boys from Iowa have been charged with the murder of their 66-year-old Spanish teacher, Nohema Graber. Police say the boys spent time planning the November 2, 2021 murder, following Ms. Graber's daily routine before ambushing her on a walk at Chautauqua Park and forcing her into the woods where they beat her to death. The boys returned to the scene of the crime later that day to better hide her body. Nohema Graber was found underneath a wheelbarrow dead of blunt force trauma to her head. She is survived by three children.
Willard Noble Chaiden Miller and Jeremy Everett Goodale were students at Fairfield High School in Fairfield, Iowa where Mrs. Graber taught Spanish for almost 10 years.
Police say the boys posted about the murder on social media, but those posts have not been identified or released to the public. At least one other student saw the social media posts, which implicated the boys in the teacher's murder. Bloody clothing was recovered from Goodale's home and Miller confessed to police that he was involved.
Iowa Assistant Attorney General Scott Brown said the boys were charged with the 'extremely brutal murder of an innocent person".
While not providing evidence to back up their claims, police say Ms. Graber's Mexican heritage was not a motive in the murder. The reason she immigrated to the US had been to give her sons a life somewhere they would grow up without having to put bars on the windows. The Iowa town of Fairfield has only 10,400 residents. Another student at Fairfield High School says Ms. Graber was sometimes made fun of for speaking English with an accent. She is remembered by the community as an especially encouraging teacher who attended all the school events and concerts she could and joined in school spirit days like pajama day by wearing cat slippers in the hallway.
The boys have pled not guilty to first-degree murder and conspiracy to commit murder and asked the judge to move their case to juvenile court. They are both being held in a juvenile detention facility on a $1 million bond but are currently charged as adults. If tried as juveniles, they boys would leave the system when they turn 18, which means they could only serve very short sentences. A hearing will take place on January 27th to determine whether they will be tried as adults.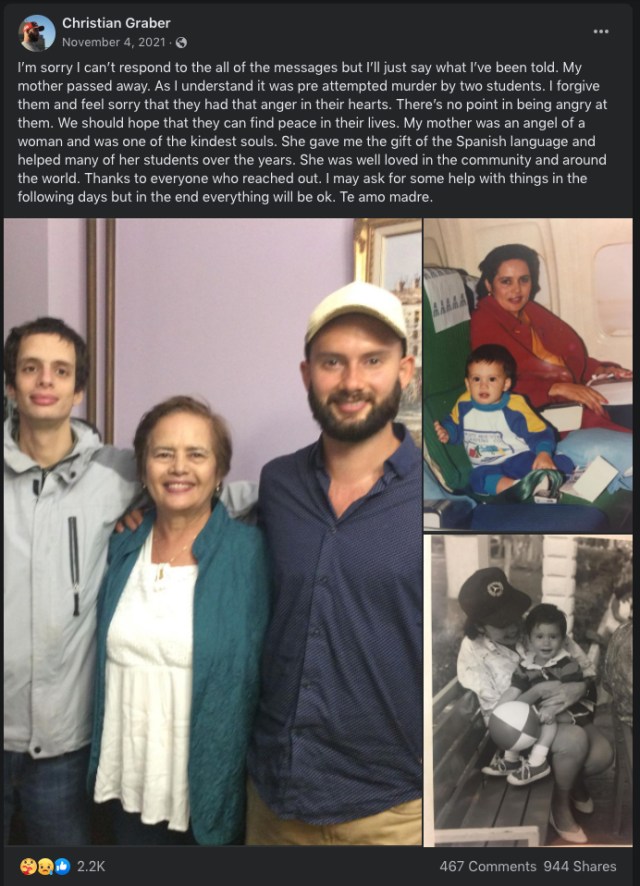 Two of Nohema Graber's children have taken to social media to say they forgive the boys for murdering their mother. At a memorial service, her son read a heartbreaking note Nohema had written:
"My plan is very simple and I think very powerful. My plan is to smile all of the time. The reason is that I think that a smile is contagious. What is a better positive attitude than a smile? I will smile to everybody I will encounter in the building: the administrators, colleagues, custodians, students, etc. I will start in the school year. So far I do this already but with this plan I will be sure that I do it all the time and I will be aware of people's reactions.

…

Dealing with young students makes me conscious that in some cases I may be the only grown up person that will teach not only Spanish but how to behave and to interact with others. We the teachers must be a positive role model for our students and even if the students forget about my Spanish classes, I hope they will remember how and why to smile to life and be honest."
Currently the trial is scheduled to begin on April 19, 2022.