The Talented Mr. Ripley is an awesome late 90s movie staring Matt Damon, Jude Law and Gwyneth Paltrow. Based on a Patricia Highsmith mystery novel of the same name, the story follows Tom Ripley (Matt Damon) a seemingly well-mannered man from modest beginnings who turns out to be a social climber willing to do anything to get the life he wants. Ripley meets a man who mistakenly believes he is a Princeton classmate of his son Dickie and pays Ripley $1,000 to go to Italy and bring his rebellious son home. In Italy, Ripley is charmed by Dickie (Jude Law) and his girlfriend (Gwyneth Paltrow) and eventually decides to steal Dickie's identity rather than return to his own life.
This complicated plot seems so difficult to pull off. For the entire duration of the movie, Tom Ripley is in danger of almost getting caught. I assumed that he was able to succeed only because it's a movie and he was following a script. However, in real life, there are people who who do actually assume the identity of others. We saw it all the time on Unsolved Mysteries they'd run an episode abut some scumbag who'd been living off the grid for a decade and by the end of the episode someone recognized them and their days on the run were over as their neighbor or accountant or something.
One of these cases of assumed identity is so bizarre it actually does rival the plot of The Talented Mr. Ripley.
This story started in 1990 in Pompano Beach, Florida when a 34-year-old bank teller named Beverly Ann McGowan placed an ad to rent out the second bedroom of her condo in order to make some extra money. Through this ad Beverly met a woman named "Alice" who seemed like a good fit. Alice was from England and said she worked for IBM. Beverly told her friends and family that Alice was interested in numerology and in order to tell Beverly's future, Alice had asked to see the numbers on Beverly's passport and driver's license. The two hit it off and made plans for Alice to move in on July 17.
On July 18, no one could get ahold of Beverly Ann McGowan.
On July 19, Beverly's family received a letter from Beverly in her own handwriting stating that she was quitting her job and selling her condo in order to travel. They discovered Beverly had also written a letter to her mortgage lender asking them to foreclose on her condo and dispose of the property left there. The extremely mutilated body of Beverly Ann McGowan was found in a swamp soon after.
Crime scene investigators could not find any fingerprints, hairs, DNA or evidence of any kind to place "Alice" at Beverly's apartment at all.
After leaving Florida and returning to London, Alice used the names Sylvia Ann Hodgkinson and Charlotte Cowan while traveling. In 1991, Alice flew to Los Angeles and rented a car under the name Charlotte Cowan. When she was pulled over, she identified herself to the police officer as "Elaine Parent" and was released. When police began realizing this woman was "Alice" from the Beverly McGowan case, they realized no one had seen or heard from Sylvia Ann Hodgkinson since 1986.
They did find Charlotte Cowan alive, and she told them a chilling story.
In 1986 Charlotte Cowan met a woman named Elaine Parent at a bar. Charlotte hit it off with the bubbly English woman and they kept talking. Charlotte even wrote down her birthday and drivers license number on a napkin so that Elaine could predict her future using numerology. A few days later Charlotte invited Elaine to have lunch with her and her mom. Charlotte's mother gave a glowing report on Elaine.
Here's where things get weird.
The two didn't keep in contact until Elaine randomly called Charlotte and told her that her brother had committed her to a mental hospital so that he could steal their aunt's inheritance from her. A month later, Elaine showed up at Charlotte's home at 3 am wearing a fake mustache. Elaine repeated her story about her brother trying to steal her inheritance and begged Charlotte for her birth certificate. Eventually, Charlotte relented and Elaine used the document and mailed it back to Charlotte afterwards as promised. Charlotte had not heard from Elaine since.
Another woman, known only as "witness X" for their own safety, met Elaine Parent in 1985 and they were in a relationship for several years. When they broke up Elaine ran off with one of the woman's dogs and asked for a ransom in order to return it. This woman said Elaine Parent was attractive and "extremely intelligent" but no longer has any idea where she is.
Elaine Parent knew that police were looking for her.
She sent one detective an oil painting of herself with a note that read "Best Wishes; your Chameleon".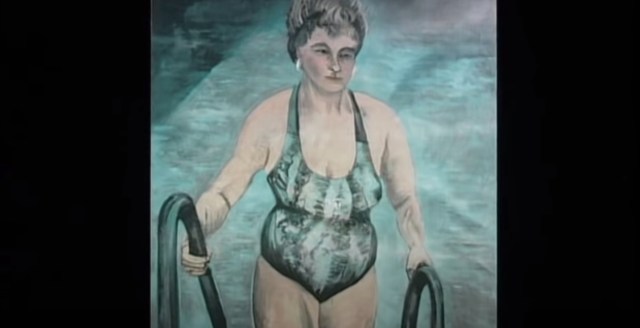 Elaine Parent was so intelligent and meticulous at stealing identities that she lived a full decade on the run before police caught up with her. During this time she was so successful at faking identities, she was part of a lawsuit for an injury she received at work. She settled the lawsuit out of court for a number that was not made public.
It wasn't until the publicity created from airing all available information on Elaine Parent as part of an episode of America's Most Wanted on April 6, 2002 that someone said they knew who she was. Police went to the Panama City, Florida apartment of the person who was suspected of being Elaine Parent, but they did not think the woman as the address was Elaine Parent at all so they allowed her to change before coming with them to answer questions at the police station. While she was in her bedroom, "changing", Elaine Parent killed herself with a .357 magnum.
In Elaine's apartment, police found stage makeup, a book on how to speak French, and a notebook with personal and financial information about a local man, including his birth date, social security number, and the names of his family members. They also found a fake wanted poster with the name "Antonia Rhyes-Ormond" they believe was used to intimidate someone.
There are at least seven people with identities Elaine Parent was known to use who are still missing.
Elaine Parent's birth certificate, laptop, and family of origin were never found.