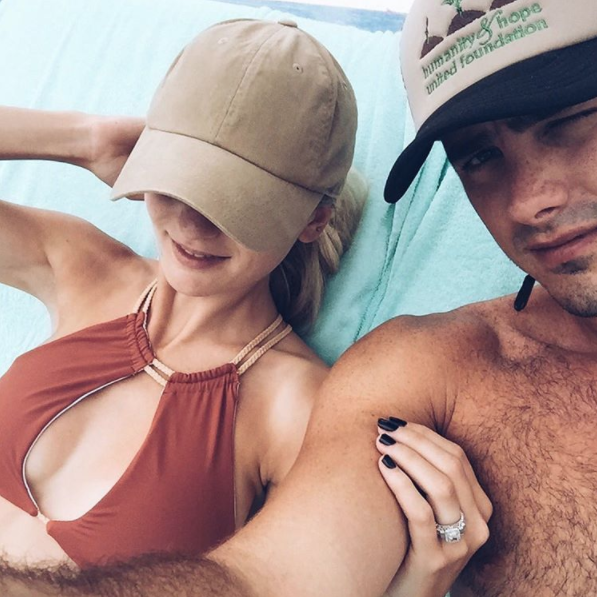 Ben Higgins and Lauren Bushnell got engaged in the season finale of the last Bachelor. Throughout the season Ben proved to be the corniest basic bro in the history of the show, which was almost unwatchable because all he wanted to talk about was being from Indiana or whatever. Predictably he turned down the most vibrant woman on his season, Jojo Fletcher, for the most boring, Lauren Bushnell. Inexplicably, the couple got a spinoff show, Ben & Lauren: Happily Ever After? for which this whole calling of the wedding thing is probably just a desperate ratings ploy.
Earlier this month viewers saw Chris Harrison fly to Denver to meet with the couple where he proposed that they get married live on ABC in a Bachelor special. Lauren jumped at the chance while Ben was more hesitant because it meant significantly moving up the wedding date for a couple who had probably already jumped the gun in getting engaged. But hey, who can turn down a $95,000, 4.6-carat Neil Lane diamond?
On Tuesday's episode Ben called off the wedding saying "I feel like we have so much to figure out that it's hard for me at this point to really feel comfortable getting married."
He also assured Lauren he's not leaving her — his cooler head just prevailed in knowing rushing to engagement and rushing into marriage with someone who was a stranger a year ago probably isn't wise. He told her during a therapy session "There's still things that we need to know. And I would rather do that now than get into … after a wedding and then, all of a sudden, sit down and be like, 'What the hell did we just do?'"
That, or he's trying to get their spinoff picked up for season 2.