Take a deep breath and say it with me now: If you are in a relationship, do not try to slide into other people's DMs. Please and thank you.
You'd think it'd be pretty intuitive, but apparently this dude didn't get the memo because he waited about a whole .2 seconds before he slid straight into someone else's DMs, despite already being in a relationship. But don't worry, she shut him down real fast — by sending the receipts to his girlfriend.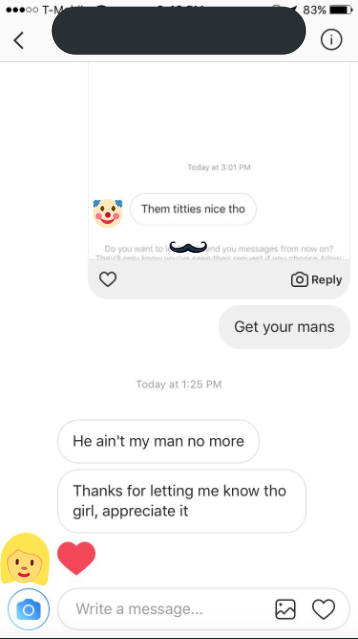 Okay, can I just say how happy I am that it didn't become a conflict between the women? I'm all about women who don't take their grievances out on one another — because let's be real, this is all his fault.
Not that he's willing to take responsibility.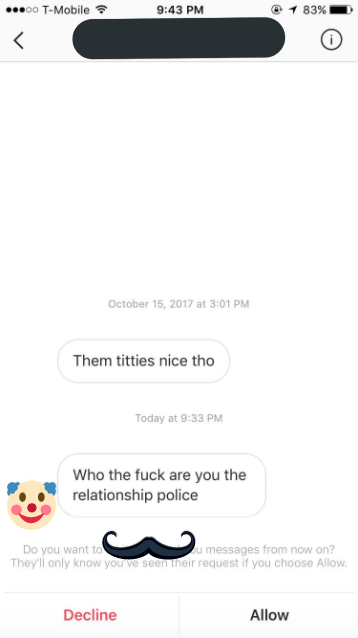 Lololololololol.
The woman posted about it on Twitter and it didn't take long for the tweet to go viral. Let's just say a lot of us think he had it coming.
https://twitter.com/aerincreer/status/920511551051894790
https://twitter.com/ladysaane/status/920734211144802304
Others (*cough* dudes *cough*) thought it was a little out of line, though.
seriously? Just for saying that?

— ✌🏾 (@AFOR_Viber) October 19, 2017
https://twitter.com/BHARMINGG/status/920602459747377153
https://twitter.com/burga_boy/status/920737249423233024
But honestly, I'm just here for the love and respect between the two women. If you can't count on each other to help you out, who will?
https://twitter.com/SlowCheetah/status/920543831761866753
I'm so glad she appreciated you. Can't help no one out these days, you become the enemy.

— amberlarosa. (@ambermonet7) October 18, 2017
Ladies, next time some dude who's in a relationship tries to slide into your DMs, you know what to do.