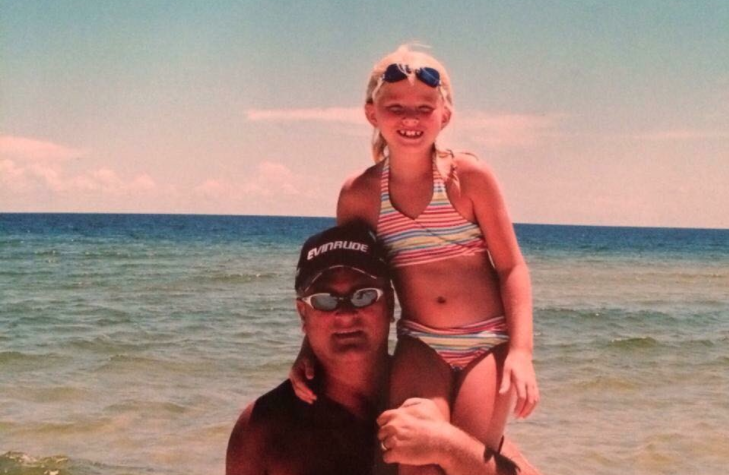 Anyone who has lost a parent before knows how incredible difficult it is to deal with, especially on holidays or special occasions that you're used to spending with them. As Twitter user Bailey Seller found out, it never gets easy, but her father did his best to be there for her even after he passed away.
Bailey's father died when she was 16, nearly five years ago. But before he passed away, he found a way to send her flowers every year on her birthday. But on her 21st birthday, she received her last gift from her father, along with one final message.
My dad passed away when I was 16 from cancer and before he died he pre payed flowers so i could receive them every year on my birthday. Well this is my 21st birthday flowers and the last. Miss you so much daddy. 💜 pic.twitter.com/vSafKyB2uO

— Bailey Sellers (@SellersBailey) November 24, 2017
While the whole thing is pretty emotional, nothing got people quite like the letter Bailey's father wrote her.
That was probably the hardest thing I have ever read. 💔

— Bailey Sellers (@SellersBailey) November 24, 2017
Unsurprisingly, people got pretty emotional after reading it.
https://twitter.com/thesn0wmexican/status/934186059738488832
https://twitter.com/gutowski_brie/status/934264957771886592
ugh bailey i literally cried. i'm so sorry for your loss as i know how losing a father feels. this is so so special. i hope you had a happy birthday and know your daddy is looking over you girl 💓💓💓

— Hunter Kington (@HunterKington08) November 25, 2017
GODDAMNIT MAN IM CRYING . & the flowers are so beautiful. Happy birthday

— C ✨ (@_thatMDgirl) November 24, 2017
Though Bailey's pretty heartbroken over the final present, she's lucky to have people by her side who love her.
I know. Every year I looked forward to my birthday because I felt like he was still here with me but this is the last year I get them so it's so heart breaking. 😐

— Bailey Sellers (@SellersBailey) November 24, 2017
Already been the best birthday of my life. Thank you to everyone who shared my dads flowers and note today. ❤ I am trying to message everyone back but it might take me a few days. @Daniel_T_West pic.twitter.com/yqqHHZWfDI

— Bailey Sellers (@SellersBailey) November 26, 2017
Hey Daniel, can you pick up the flowers from here on in? At least for now, you have a very special role in life. Best wishes for happiness.

— Annette Hughes (@net_hues) November 26, 2017
I most certainly can. Just like her daddy blessed her life, she's the blessing in mine.

— Daniel West (@Daniel_T_West) November 26, 2017
The whole thing has me in tears and reminds me how incredibly lucky I am for the people I have in my life. And that's something we should all try to never take for granted.