Yesterday, a story hit the Internet that's absolutely too good to believe! But a nurse on her deathbed swears it's true. According to Regina Bell Wilcox, an 87-year old retired nurse who worked her entire career in Knoxville hospitals, Elvis Presley is Quentin Tarantino's biological father. If this is true, it's one of the craziest stories in pop culture paternity since Mia Farrow "joked" that her ex-husband Frank Sinatra is the real father of her son, Ronan.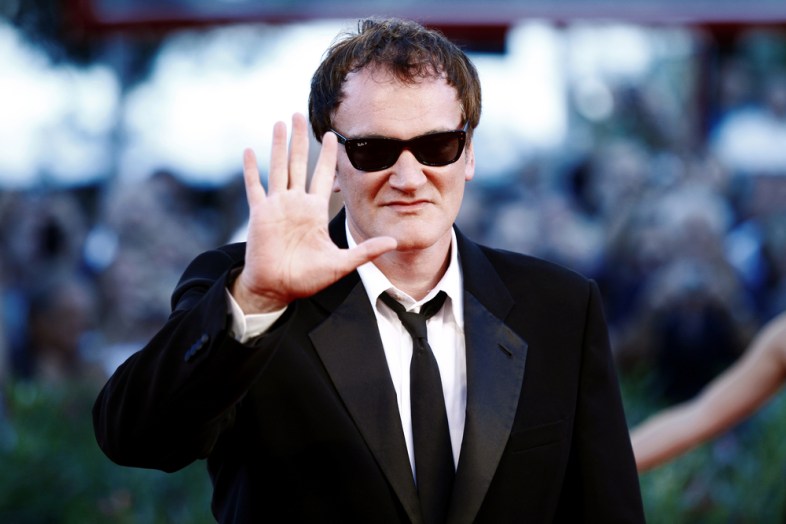 Quentin Tarantino was born on March 27, 1963. Back then, Knoxville was a segregated southern city mired in the Civil Rights struggle. But the city hospitals were already in the process of desegregating. One late spring night, a sixteen-year-old girl was dropped off at the Knoxville Catholic hospital by a long black Cadillac. Staff helped her into the emergency room. The teen girl said her name was Connie McHugh. Working as the night nurse, Wilcox, remembers the girl asked to be brought to the Catholic hospital for two reasons. One, she's Irish. And two, as a nursing student she knew the Catholic hospital had already desegregated and, unlike other hospitals in town, it wouldn't turn away an unwed mother. What the teenager didn't say was that she was pregnant with a powerful secret. This is the story according to an elderly black nurse, recalling events that took place decades ago.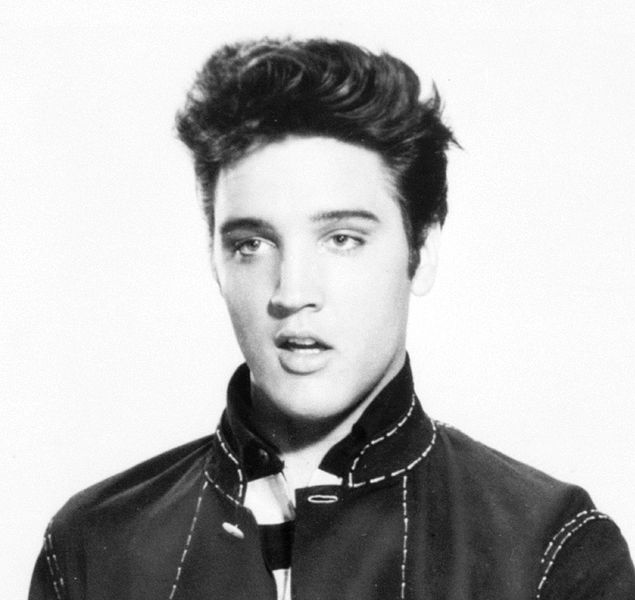 As she tells it, Wilcox was working the emergency room on a graveyard shift. The overworked and unmarried thirty-five-year-old nurse felt for the scared teenager, whom she stills calls Miss Connie. Wilcox says that men, who hospital orderlies claimed worked for Elvis, showed up the next day to check on the baby. They also paid the teen girl's hospital bills.
Wilcox recalls that when Connie McHugh was ready to leave with her baby boy, those same men arrived, and helped her out to the same long black Cadillac that dropped her off. For a brief moment, Wilcox glimpsed the King, seated in back, waiting to meet his illegitimate son. Wilcox says she's held this secret for years. Until now. The reason she's coming forward is that she's not been feeling well, and she's grown worried this secret will go with her to the grave.
Again, at this point, her story is just a rumor. But oh! What a rumor! Wilcox has released no substantial evidence, although she swears she has inarguable proof. The 87-year old Tennessee native's story first broke yesterday on a local Knoxville music blog. We'll have to wait for facts and confirmation. Perhaps, Lisa Marie and Quentin will agree to a DNA test and put the rumors to rest. For now, let's consider the evidence.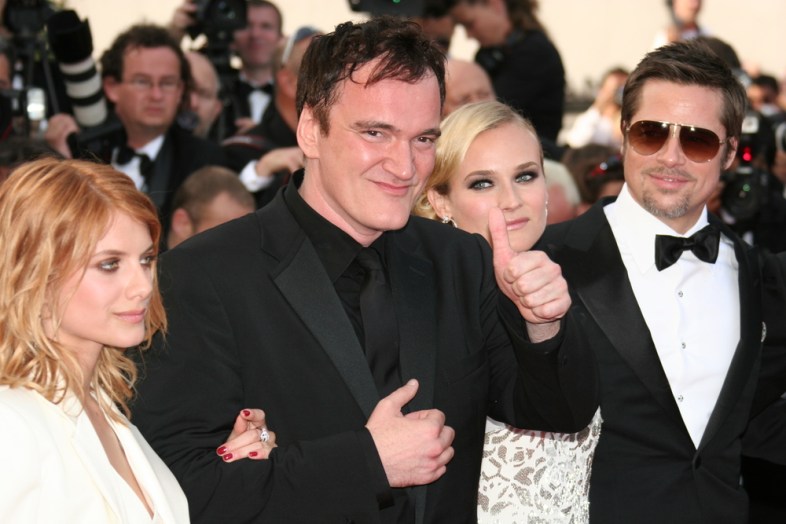 We know that Quentin's mom was eye-catching back in the day. The filmmaker has said in interviews that his mother once dated NBA star Wilt Chamberlain. From what we can tell from our Internet research, forty weeks before baby Quentin was born, back in May of '62, Elvis was a twenty-seven-year old, unmarried rock star. And he was in Tennessee. He'd been playing music in Memphis, Nashville, and Knoxville clubs. He was getting ready to film Girls! Girls! Girls! More importantly, he had yet to meet a teen girl named Priscilla, who he'd later fall in love with, and marry. At that moment, Elvis was a single, traveling musician. When he passed through Knoxville that month, he certainly would've had the time to romance Quentin's mother. As fate would have it, Elvis would meet Priscilla in just a few weeks.
---
1. The Elvis Impersonator
Did you know one of Quentin Tarantino's first jobs in Hollywood was as an Elvis impersonator? That's right! He was on an episode of the "Golden Girls" and the role made a deep impression on him. Perhaps, because he was playing his long-lost father.
In an interview, Tarantino told Playboy back in 1994:
Well, it was kind of a high point because it was one of the few times that I actually got hired for a job. I was one of 12 Elvis impersonators, really just a glorified extra. For some reason they had us sing Don Ho's Hawaiian Love Chant. All the other Elvis impersonators wore Vegas-style jumpsuits. But I wore my own clothes, because I was, like, the Sun Records Elvis. I was the hillbilly cat Elvis. I was the real Elvis; everyone else was Elvis after he sold out.
[youtube https://www.youtube.com/watch?v=sT9cCsjIuYU&w=420&h=315%5D
Knowing what we know now, this feels more like a strange Oedipal fantasy that only a man with Tarantino's imagination could dream-up.
---
2. "And then one day, when I was eighteen…"
Here's Tarantino being interviewed by Howard Stern, and although he doesn't admit to his mother's secret, he does describe his sudden adolescent awakening.
You see, Tarantino attended a predominantly black high school. One day, he woke up and felt an indescribably powerful identification with one man. Elvis Presley. He wanted to be Elvis. He felt like he was Elvis. There was no denying it. He had rockabilly in his blood.
---
3. "I like you, Clarence. Always have. Always will."
[youtube https://www.youtube.com/watch?v=k_OhoEW1XWY&w=560&h=315%5D
Although he didn't direct it, "True Romance" is most certainly a Tarantino film. Throughout the movie, the main character, a dude named Clarence (in a script written by Tarantino, with a hero who's clearly a stand-in for his young ego) talks to Elvis, who he sees in the bathroom mirror. What a field day a psychiatrist would have with that symbolism. Do with it what you will. In a scene, late in the movie, just before the climax, the hero has a pow-wow with Elvis, and the singer tells him "I like you, Clarence." After hearing this nod of approval from his dad/soul father he's ready to rock and roll and face his fate.
---
4. "I'd fuck Elvis…"
[youtube https://www.youtube.com/watch?v=8YGlaL_-tRQ&w=420&h=315%5D
This one's another gem from "True Romance." At the beginning of the movie, drunk in a dive bar, our hero chats with a female barfly. He tells her that if he had to fuck a man, he'd fuck Elvis. In light of his paternity, this is a truly inspired Tarantino-esque twist on the Oedipal complex — instead of his mother, he wants to fuck his dad. Tarantino suffers from the female equivalent, called the Elektra complex. With Tarantino, the idea that he wants to fuck his dad, that he wants to fuck Elvis, is more like the "Buick Elektra" complex. Somehow, he makes fucking Elvis sound macho and American.
---
5. "There's only two kinds of people in the world: Beatles people and Elvis people…"
[youtube https://www.youtube.com/watch?v=qDbWwJJm0yI&w=420&h=315%5D
Here's a rare deleted scene from "Pulp Fiction." We see Vincent Vega, high on heroin, having just met Mia Wallace for their date night. On sight, she rightly labels him an Elvis man. She can just tell. We're now into some deep psychological territory. Essentially, Quentin Tarantino has his characters telling him the truth he knows down deep. He's an Elvis man.
(And even though it's only 2:45 long, you still see why this scene didn't make it into the movie.)
---
6. "Almost none of this is true…"
…because April Fools!