It has come to my attention, that romantic comedies are not seen as a serious form of art. To some, it is just a way to pass the time and I am deeply offended by this idea. The greatest stories ever told were romantic comedies.
A bold statement, I know, which is why to prove my point, I have decided to delve into some of my favorite rom coms and exemplify what they have taught me. I have selected only the most heart swelling, tear jerking, love searing tales. So here it is, what I learned from romantic comedies.
"Annie Hall"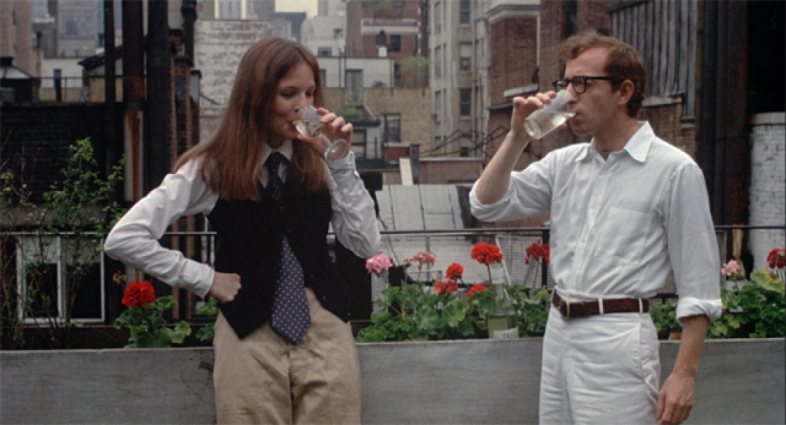 "I would never want to belong to a club that would have someone like me as a member."
Isn't that always the problem? It took two heartbreaks for me to understand this. Annie Hall is about Alvy's neurosis, despite the title. Basically, he's running through past memories of him and Annie, trying to find where it all went wrong. Why did Annie leave him?
But the allusion he makes to Groucho Marx at the very beginning says all. Humans, for whatever lovely reason, have a tendency to mess good things up. Will we ever find happiness with another person?
What I learned from "Annie Hall," among many other philosophical/life lessons, is that sometimes we are the problem. It might be hard to admit it, as it was for Alvy, but the futility of a relationship comes from us. Maybe we are unable to accept happiness and convince ourselves that it's "too good to be true." Thus we unknowingly destroy our relationships so that we can be right.
"I knew he was no good for me," we proclaim, when in actuality, maybe it is we who is no good for them? Food for thought.
"Fever Pitch"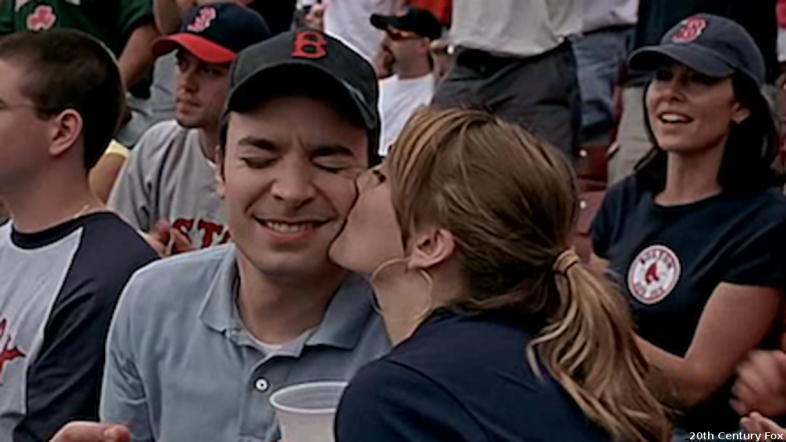 This movie was never widely accepted as a top rated rom com, but I believe "Fever Pitch" deserves much more credit than that. Maybe it's because I genuinely love the story and the characters and their situation, or maybe it's because of my undying love for Jimmy Fallon.
When the two characters, Ben and Lindsey, first start dating, everything is going incredibly well and they fall in love immediately. (Which is how all relationships begin, utter euphoria.) Everything is perfect, they're perfect, no one else can compare, and you ask yourself how you ever got so lucky.
Then one day you wake up, and all of a sudden you despise that ugly hat they wear. Or you hate the way they chew their food. In Lindsey's case, the obsession Ben has for the Red Sox is what draws their honey moon phase to a sudden stop.
Needless to say, they do learn to love one another just the way they are and as a result a lesson was learned. When the honeymoon stage comes to a unfortunate end, we must learn to accept our significant other's flaws. Whether that be a fulsome obsession with baseball or dedication to a career.
"You love me enough to sell your tickets, I love you enough not to let you."
After running across Fenway Park in heels, during a game, Lindsey stops Ben from giving up his tickets for her. No one is perfect. But, how else will we find someone who loves us unconditionally despite our many flaws if we can't do the same for them?
"Hitch"
A movie for the clueless. A movie with all the answers. A straight forward "How to get the girl/guy."
Hitch, a professional "date doctor,: aids single men in their quest for their dream girl. But that is not to say that women can't take away something from this movie, too. While it may seem Hitch has it all figured out when it comes to the opposite sex and the game that is love, in actuality, he like the rest of us, is clueless.
Hitch meets Sarah, however for whatever reason, his charm fails to work and he ends up embarrassing himself time after time. Despite that, they still grow closer and closer but due to circulating rumors, Sarah gets the wrong idea of Hitch and everything falls apart. At their lowest point Hitch says to Sarah, "This is why falling in love is so goddamn hard."
It's hard because we do it against our better judgement, then we get hurt. The movie exhibits the two sides to of relationships, the initial dating scene where you must navigate your way into someones heart and then the second side of the dating, the complications and hesitations we feel that comes with falling in love. I
learned that, underneath the suave pick up lines and attention getting tactics and the persona we put on when trying to impress someone new, deep down we are all vulnerable. We're all hesitant to go forth in a new relationship because we're afraid that this person may or may not love who we are after the first date. We're afraid of falling in love and getting our hearts broken. It can be scary because we have no idea what this new person will be to us, but in the end it may be worth it.
"You've Got Mail"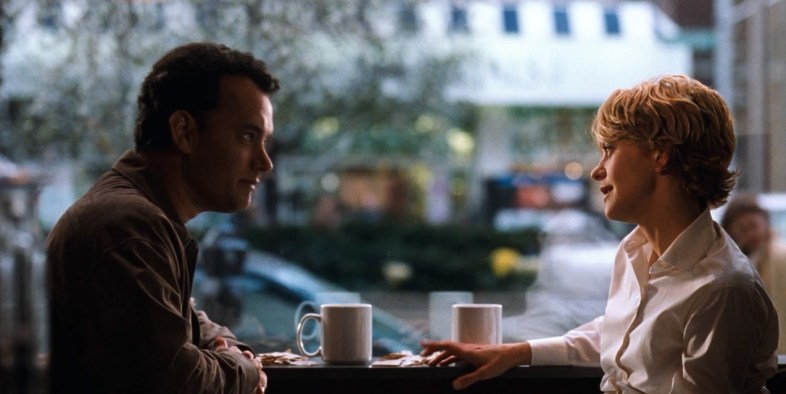 Before I talk about this movie, I would just like to come clean. I still use AOL and because of "You've Got Mail," I will continue to use AOL. For all I know, the love of my life is just one outdated chat room away. I mean, after all, what other email provider can say that they are the catalysts of love?
Oh, the mystery of love! My favorite line from the movie happens when Kathleen and her current boyfriend finally admit that they have fallen out of love for one another. They joke about how relieved they are that they both share mutual feelings of indifference. Kathleen asks if he had found someone else and he says "Yes." He then asks the same and she romantically answers, "No, but there is the dream of someone else."
Every romantic's thoughts exactly, while there may not be someone who has the attention of our hearts, there is the idea of it. The idea of meeting the one at a farmers market, or literally falling into someones arms afters stumbling over your feet, or even mysteriously coming across the one in a chat room. The dream in itself is what I, personally, find myself gushing over. The amazing part of not knowing exactly who that one maybe is
that in your head he (or she) could be anyone you want or hope for them to be.
What "You've Got Mail" has taught me is (aside from the fact that AOL is a force to be reckoned with) "The One," the one we dream about, the one we search endlessly for, the one we hope and pray for might already be there we just have to be willing to not hide behind a wall (or an online chat room).
Kathleen and Joe meet through this chat room and because of this, they share intimate conversations that people would be less willing to ponder over with in person. They feel less vulnerable and safe. Then the rest is left up to imagination. They have no idea what each other look like or what their mannerisms may be and so they fill in the gaps themselves, illustrating for in their head the perfect one. All the while, they forget that they need to push out of the comfort of online chatting and become vulnerable to one another.
Initially, their relationship only worked online and faltered in real life, but once they decided to put themselves out there, and become vulnerable and share these intimate details in person, did their love finally prevail.
"When Harry Met Sally"
While yes, this movie is fictional, that is not to say that it isn't based in truth. The interviews that take place throughout the movie are in fact real, and the stories that the couples tell are real. So to all the romantic comedy naysayers, suck on that. Lasting love does exist and "When Harry Met Sally" is a testament to that fact.
The big question that circulates the film providing us with the central conflict is, can men and women just be friends? Perhaps Harry and Sally are so obsessed with proving to themselves that it is possible, they don't allow themselves to fall in love with one another which brings me to what I learned from "When Harry Met Sally."
Never to deny your feelings. Don't stop yourself from falling in love. Exhume your emotions and take your own breath away. Harry and Sally spend the majority of the movie denying their feelings from one another, until finally they realize that this foundation of friendship that they have built, was only in preparation for the love they share.
In that heart warming moment where Harry runs to be with Sally on New Years Eve and admits his love for her, he then say, "I came here tonight because when you realize you want to spend the rest of your life with somebody, you want the rest of your life to start as soon as possible."
Life is far too short to put away our true feelings. So instead of wasting time and beating around the bush, just go for it.
"Sleepless in Seattle"
There are a few things I'd like to address before discussing this movie. Firstly, Meg Ryan is the undisputed queen of romantic comedy. Secondly, New York City is the undisputed location for love. All the movies that I have talked about all take place in NYC. Even "Sleepless in Seattle" finds its way into the Big Apple.
Now that that is out of the way.
To begin, I have no reason to be ashamed of the fake Instagram account I created using an old actresses name to stalk some guy I work with whom I'm almost definitely sure has no clue of my existence. Some would say that this is crossing some type of line, however if Annie can fall in love with a guy after hearing him on the radio, stalk his information, do a background check on him, hire someone to follow him, and then fly all the way to Seattle to approach him and tell him she fell in love with him over the radio, then I think I'm fine.
So to summarize, I learned that I'm not crossing any sort of line. The movie kind of makes fun of itself. It makes fun of the obsession that women have with romantic movies, and because of our obsession, i'ts hard for some of us to find happiness in our relationships because we're always dreaming of our Noah from "The Notebook: when that godly man doesn't actually exist. The movie makes the case, however, that there is a personalized version of Noah for all of us, and I the hopeless romantic would have to agree.
"Destiny is something we've invented because we can't stand the fact that everything that happens is accidental." Annie says this because sometimes, even for the most hopeless of romantics, we too sometimes wonder if we truly are destined for anything. When we make a decision, are we following fate? A path laid out before us, leading to where fulfillment leads? Or is it all a huge coincidence?
In the end, Annie and Sam find one another showing that maybe sometimes following fate is like following our good senses.
"Bridget Jones's Diary"
If there were any a fictional character that I couldn't identify more, it would be Bridget Jones.
I am all too familiar with lonely nights spent cooped up in my room, lounging in around my favorite pair of over-priced lingerie, my unshaven cactus legs exposed, with only the comfort of "Fatal Attraction," a pint of Ben & Jerry's, and "The Tonight Show" (Jimmy Fallon, the love of my life) to keep me company, dreaming of the day Mr. Right appears before me. A somewhat similar ritual to Bridget's.
But it is in this setting that Bridget realizes that Mr. Right won't just appear. It is up to her to take control of her love life and that is what many people forget. One cannot leisurely sit about and wait for life to happen. We have to shave our legs, put on our big girl panties, and actively pursue what we want. And when things go wrong, we cry about it, take a few shots, eat our feelings, grow our leg hair out, and then we pick ourselves up, shave our legs yet again, learn from our mistakes, and do better.
"At times like this, continuing with one's life seems impossible, and eating the contents of one's entire fridge seems inevitable. I have two choices: to give up and accept permanent state of spinsterhood and eventual being eaten by dogs…or not. And this time I choose or not. I will not be
defeated by a bad man and an American stick insect. Instead, I choose vodka and Chaka Kahn."
Bridget Jones is my fictional hero. She is awkward and down to earth, and considers the idea of working out but doesn't (if that ain't me), and she is exactly what every woman is like. This movie helped me come to the realization that in the pursuit of love, we're going to embarrass ourselves, but its worth it.
Eventually though, we will find someone who likes us "just as we are," but trials and tribulations precedes that part.
***
To those who shun romantic comedies, I think I've thoroughly made my point. We, as humans, have this obsession with love and finding it. Which is understandable, after all; mankind's greatest possession is a partner to love.
We go through life, we buy things, meet people, make memories, get jobs, move around, and throughout all of that, we devote our time to finding the one. A partner to love. It can be tough because when things don't always workout with someone in the end, and we lose hope. The idea of long lasting love becomes questioned.
"Will I find the one?" is a depressing thought, really, and it's a shame so many of us waste our time pondering this. Hence, why there is no shame in loving a good romance movie. We find ourselves submerged in a tale where happy endings prevail. It reminds us to never lose hope and it teaches us where we might have went wrong in the past and how we can work on it.
It's impossible to live life, free of heartbreak. It's inevitable. It's a requirement. But when it does happen, there is no better ailment than a cozy pair of pj's, a pint of the finest frozen dairy treat, and, of course, a good romantic comedy, reminding us to laugh it off. And when our two heroes finally share that cathartic kiss at the end, we get up, go out, and keep on playing the game.