Chasing a dream is never easy, but the most passionate people stop at nothing once they decide to go for it. Tito of
Tito's Handmade Vodka
abandoned a safe job for the uncertainty of entrepreneurship after realizing in one life-changing moment that he was born to distill vodka. In partnership with
Tito's Handmade Vodka
, we invited readers to submit their own passion driven tales reflecting the spirit of Tito's Story for inclusion in a TC Original Book. After reading all the amazing submissions, we narrowed the lot of Fresh Start stories down to a few finalists. Below is one of the winning entries!
Click here
to read more inspirational stories in the TC original book, From Failure To Fresh Start.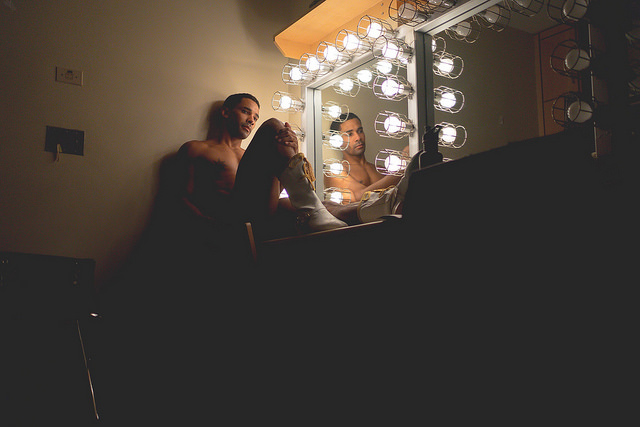 What happens when the dream you've had for most of your life is suddenly in reach? The answer to that is usually not: Turn it down. Except when it has to be.
In 2009, I wrote an article about stoicism on Tim Ferriss's website. It was unquestionably the biggest opportunity I'd had as a writer up until that point and it was the largest audience I'd ever reached—even after years of posting on my own site. It was a great opportunity, though not actually my dream. My dream happened a few months later when I got an email from a book publisher: What did I think about turning the article into a book?
What did I think? That was what I wanted to do more than anything in the world.
Over the next few days, I had conversations with the smart people in my life. They were universally positive conversations. Then I spoke with Robert Greene, the writer that I had trained under and was a researcher for. I can still very vividly remember the conversation—I was walking up 6th Street in Downtown Los Angeles on a summer evening when he called—and the memory of it is etched in my mind.
Robert was as happy for me as everyone else, but he told me he didn't think I should do it. Not because it wasn't a good deal, but because I wasn't ready. You're 22 years old, he reminded me. Are you sure you can speak from a place of real understanding about the subject matter, he asked? He told me that everyday I was experiencing new things, that I was widening my understanding and authority on the topic by living, and improving as a writer. "The book would be better the longer I waited" was his nice way of saying "It wouldn't be any good if it came out now." He advised me to pass.
I wanted so badly to ignore him. I wanted him to be wrong.
Because if he wasn't it meant admitting that I wasn't as good as I needed to be. It would mean exercising real patience—which was just about impossible for a manic kid like me.
Against almost every instinct, I listened. I passed.
The intervening years are a blur of events—some good and some pretty bad. I would rise pretty rapidly in business. Around that time, I became the Director of Marketing at American Apparel. The chaos and the conflict in that company—to say nothing of the temptations and responsibilities—would shape me as a person. I learned how to manage people, I learned how to maneuver and accomplish things. Mostly, I learned how to survive—crisis after crisis after crisis. The stuff that Ben Horowitz calls the hard things…
As a marketer and writer, I got a lot better too. I wrote every week, slowly growing my audience. I wrote press releases and worked with reporters. I wrote a statement during the Woody Allen lawsuit against American Apparel that was published in The Guardian. I worked on Robert's books and with other authors on the side. I read constantly—hundreds of books in that time—about history, about the classics, about life.
The obstacles and adversity we face in life are not to be avoided but embraced
I struggled too. My dealings in the corrupt world of media and marketing sent me down a dark rabbit hole. At one point it threatened to overwhelm my identity, even change who I was. A movie I worked on, I Hope They Serve Beer in Hell, got all sorts of attention—but ultimately failed at the box office. I had been set for a $50,000 bonus if it had worked. It crushed the 22-year-old me.
After a few more years at American Apparel, I decided I had to get out. I recall being at some annual conference, filled with advertising people much older than me and thinking: "If I stay on this road, this is who I will become." I made the decision that I would walk away. I would leave my job. My then-girlfriend (now wife) and I would sell all our stuff and move across the country.
Why? I'd decided to finally write a book.
But a totally different book. The book I wrote was about marketing—an exposé of the media system. I said in an article at the time that it wasn't the book I wanted to write, but I had to. Those days, sitting in a library, knowing very few people—having no fucking clue how to write a book. Those were some of the loneliest days of my life. I fought all the time with my girlfriend, we nearly—probably should have—broken up. I was a wreck.
The book sold to Penguin six months later for $250,000. Trust Me, I'm Lying came out about eight months after that, debuting on the bestseller lists and kicked off massive waves of publicity.
So what does this have to do with the original book offer? Here's where it comes full circle. I'd started working on a proposal for another book. A book about stoicism.
But even then, I wasn't ready. I didn't know that up ahead lay the slow and steady dissolution of my relationships with two of the mentors I'd long looked up to (not Robert). I didn't know that American Apparel (who I still advised) would begin to tear itself apart. I didn't know that I'd lose my grandfather—one of the few people in this world that I wanted to make proud. I couldn't have known he'd never see me become a writer or how badly that would hurt. I didn't know that on a dark night in the middle of the desert, a woman would step out in front of our car and that a millisecond of difference could have killed her, and my wife and I in the car. I didn't know, as we sat in a hotel room in Los Angeles a few days later, still in shock, we'd get a call informing us that our house had been broken into and everything stolen—including the engagement ring I'd been waiting to propose with.
By all that I mean, I had no way of knowing that every second I'd wait would portend not just difficulty and hardship—stuff I would have certainly avoided if I could—but that it would also be shaping my understanding of the material I would ultimately write about. The Stoics say that "the impediment to action advances action. What stands in the way becomes the way."
The obstacles and adversity we face in life are not to be avoided but embraced. We're not supposed to get everything we want, exactly when we want it.
Had I gotten what I wanted in 2009, had I said YES! the way I so desperately would have wanted to, how differently would things have turned out?
Not "a little bit." Things would have been impossible without them.
Which is why the obstacle is always the way. Even if that obstacle looks like a life-changing opportunity. Even if passing on it seems like the craziest thing in the world.